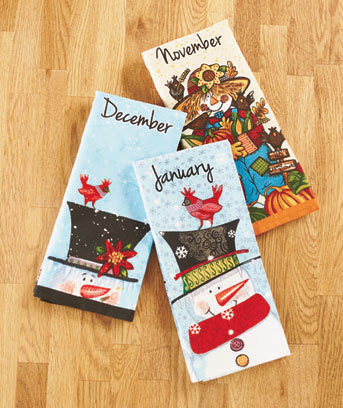 Happy Friday everyone! Today?s LTD Commodities picks for the week highlight your last-chance Christmas and holiday items. January is coming to a close, which means you better stock up on your favorite holiday gifts and d?cor accessories before they?re gone! Check out these fun and useful holiday items at LTD.
Seasonal Kitchen Towel Sets
Many of us have several different towel sets for different times of year, but this set of seasonal kitchen towels streamlines your organization. One set includes three cutesy towels from the designated season. Choose winter, spring, summer, or fall, or get the whole bunch! They?re a great way to change up your seasonal d?cor without searching through dozens of boxes in the garage.
Gift Wrap/Ornament Storage Organizer
Without fail, every Christmas comes with box after box of decorations and wrapping paper, and somehow, at the end of every season, the boxes just don?t want to close. Which is why we love this storage organizer, perfect for gift wrap, ribbons, and ornaments. Use it to organize those odds and ends that don?t have a home, while you?re waiting until you have to scrounge up another empty box. This holiday organizer is perfect for under-the-bed storage or small vertical spaces.
Record a Story Books
Twas the Night Before Christmas is an all-time holiday classic, but this clever record-a-story book takes it to another level. These books record and play back your voice, so you can ?read? to your little one, even if you?re not there. This is a great gift if you?re a faraway grandparent or relative, or if you?re a parent who works late nights, is in the military, or travels a lot for work.
Christmas Memories Book Boxes
So we understand if you don?t want to save every single Christmas card you receive, but there are some you just can?t bear throwing away: the family picture of your niece/nephew/grandchild?s first Christmas, or the last card sent by an older relative. For these occasions, we recommend the Christmas Memories Book Boxes. These decorative ?books? are hollow on the inside with magnetic closures on the cover, creating a perfect place to store memories. The fun part is putting them out every year and getting the chance to go through some of your favorite memories from holidays past.