7 Affordable Ways To Make Your Bathroom Look Luxurious
You don't have to spend a fortune to get the bathroom of your dreams. Simple low cost updates and additions can transform your bathroom into an elegant and beautiful space. There are many things you can do to update the look of your bathroom in the blink of an eye! Whether you want your bathroom to look like a spa, a hotel, or a chic modern masterpiece, here are 7 affordable ways to make your bathroom look luxurious.
---
1. Store All Your Bathroom Necessities In Glass Containers For A Cheap Upgrade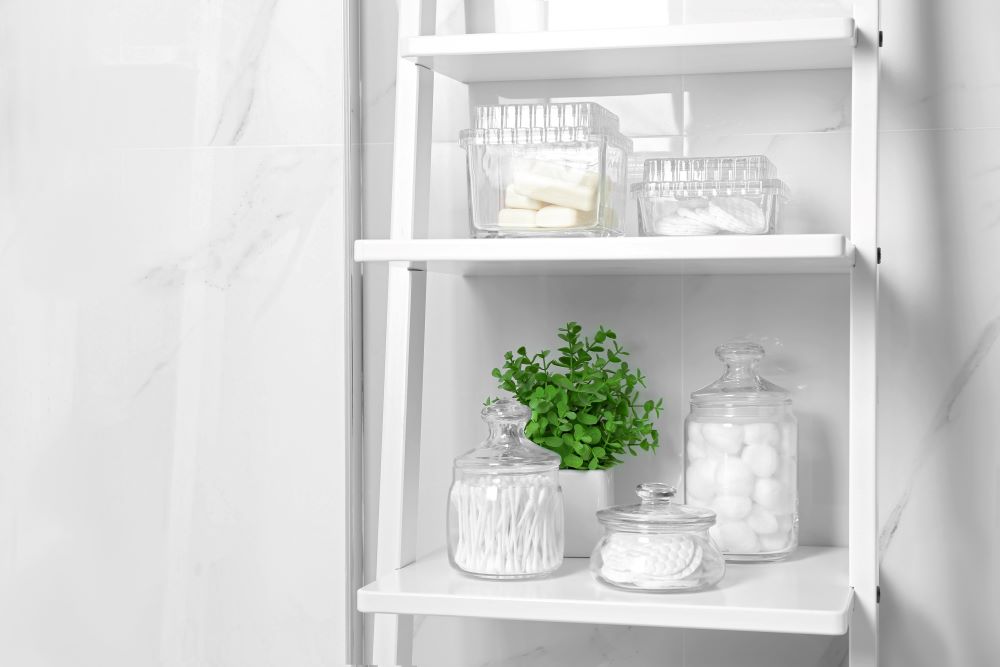 Bathroom storage doesn't have to look like traditional storage. Instead of using typical plastic baskets and bins, upgrade to glass canisters and containers to store all your essentials in a luxurious way. The simple swap will give the appearance of an elegant style without the high costs of luxury items.
Store essentials such as cotton balls, cotton swaps, extra bars of soap, cosmetics, and more in clear glass canisters. This looks much cleaner than keeping products in their original packaging and the glass gives a high-end appearance. Luckily, glass canisters don't have to cost much. You can easily find nice looking canisters for cheap at thrift stores or dollar stores. It's a smart way to save!
In addition to essentials, you can also transfer other bathroom items to nice containers. Lotions, shampoo, hair products, and more can be emptied into decorative soap and lotion pumps. You can even label them nicely to keep track of all your products. This will add some elegance to your shower and bathroom counters.
---
---
2. Paint Your Bathroom Cabinets To Give Them An Affordable Modern Makeover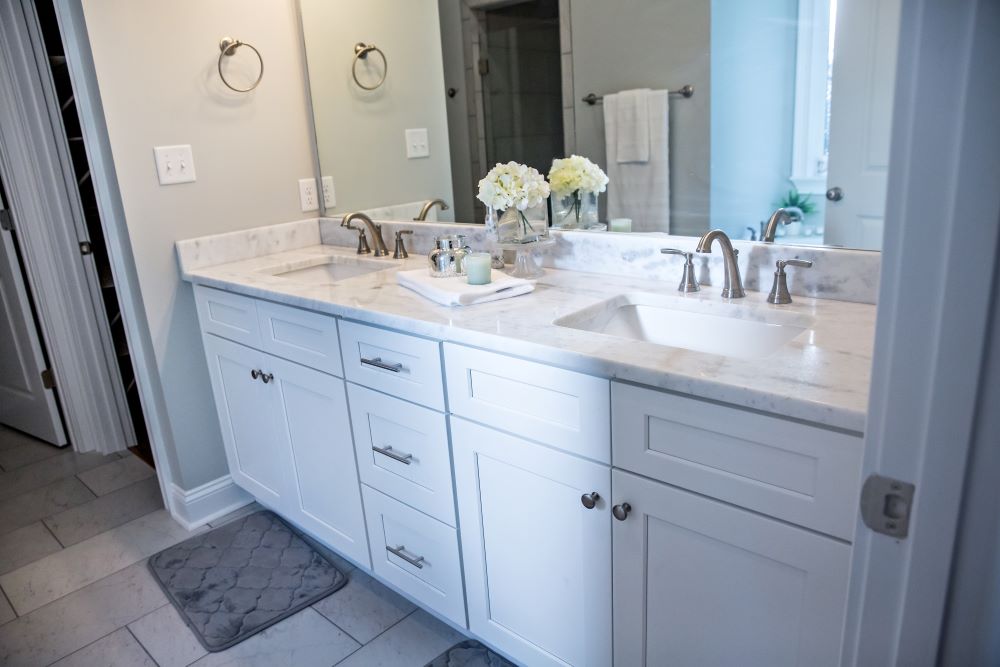 Paint can work wonders in freshening up any space and giving an instant upgrade. If your cabinets are outdated, you can make your bathroom look luxurious by painting them with a fresh color. This will set the stage for the rest of your bathroom and can be a huge piece of your transformation process.
You can paint your cabinets almost any color, but for a true look of luxury opt for neutrals such as white, gray, or black. White will give a clean and upscale look, gray will give a stylish and fancy look, while black will give a sleek and modern look. Depending on the exact look you want, decide on the color scheme that will fit into your bathroom. You can also upgrade your cabinet hardware to match the elegant style of your new look.
If you're willing to put in a little extra money, you can also consider upgrading your bathroom counters. While this idea isn't necessarily for a small budget, it can make a huge difference that can be well worth it in the long run. This doesn't even have to cost a lot of money if you have a small counter space or if you choose a low-cost material for the countertop.
---
3. Hang Up A Framed Mirror To Give Your Bathroom An Elegant Look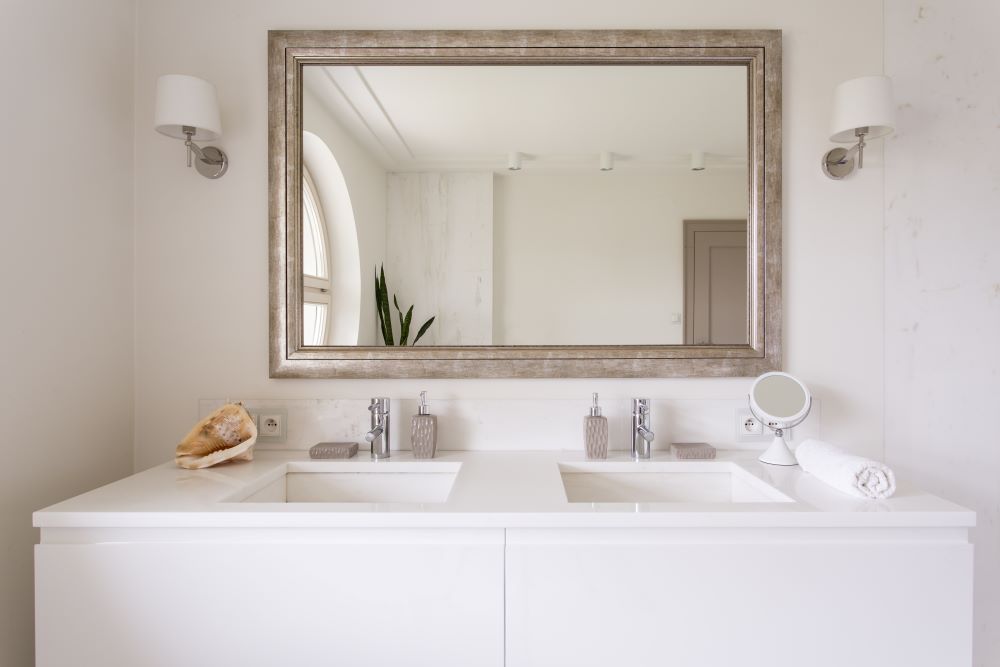 Another way to make your bathroom look luxurious is to hang up a new mirror. This simple change will work wonders for your space and make it feel like a brand new room. Changing your bathroom mirror is an affordable way to add more elegance into the area.
A framed mirror can look especially good in your bathroom because it allows the mirror to stand out nicely on the wall. Choose a gold or silver frame to amplify the classy look or choose a black frame for a more bold look. You should also consider the size and shape of the mirror. If you have a double sink, you can use one large rectangle mirror to cover the entire space, or two separate ones to sit above each sink. A round mirror can also be especially fitting for an upscale look, especially if it has an antique style frame.
For an even more affordable option, you can DIY a framed mirror. Simply buy a framed mirror at a thrift store and upgrade it with a fresh coat of paint. If you're extra skilled, you can also buy a plain mirror and build a custom frame for it. Crafting your mirror can help you get the exact look that you envision for your bathroom.
---
---
4. Swap Out Your Bathroom Faucets & Cabinet Hardware For Brass For A Low-Cost Upgrade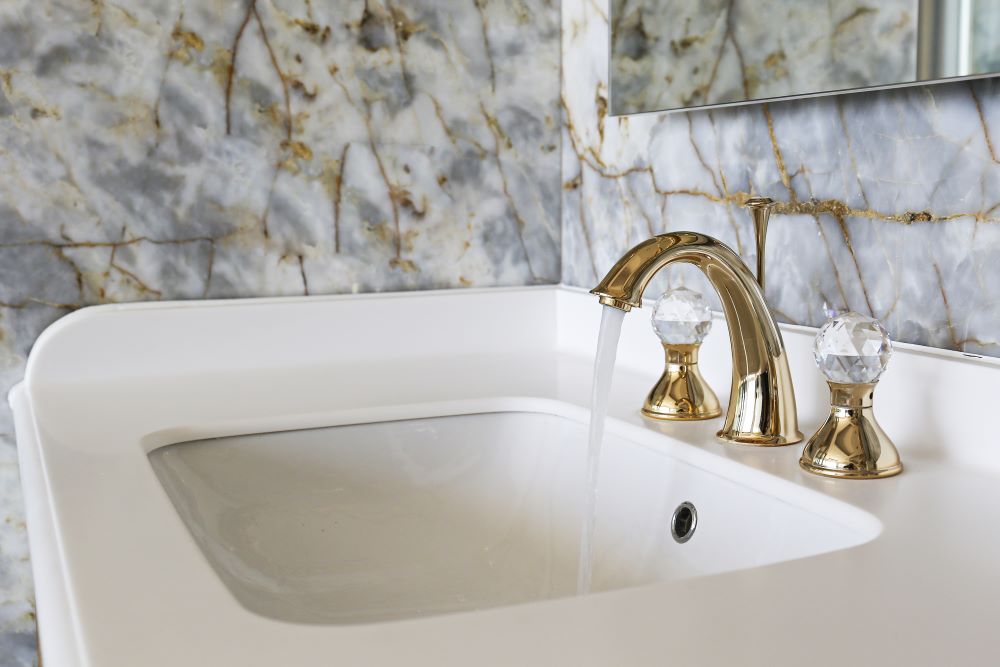 Metallic finishes are great for any modern style rooms; however, if you want a true luxurious look, brass is the better option. Simple upgrades to brass in your bathroom can transform the room and make it look way more expensive than it actually is.
Swap out your sink faucets, bathtub faucet, and cabinet hardware to brass. The faucets may require some extra work, but it'll be worth it to get a brand new look. Look around to find your favorite style faucet and hardware – you can either go for a vintage style to look extra classy or a modern style to look more chic.
You can also incorporate brass into your bathroom through decorations such as a soap pump, toothbrush holder, tissue box cover, and small accents displayed on the counter or shelves. Bringing these into the bathroom will accentuate the sophisticated style and make your bathroom look elegant for cheap.
---
5. Use Removeable Wallpaper To Give Your Bathroom A Dressed Up Look For Less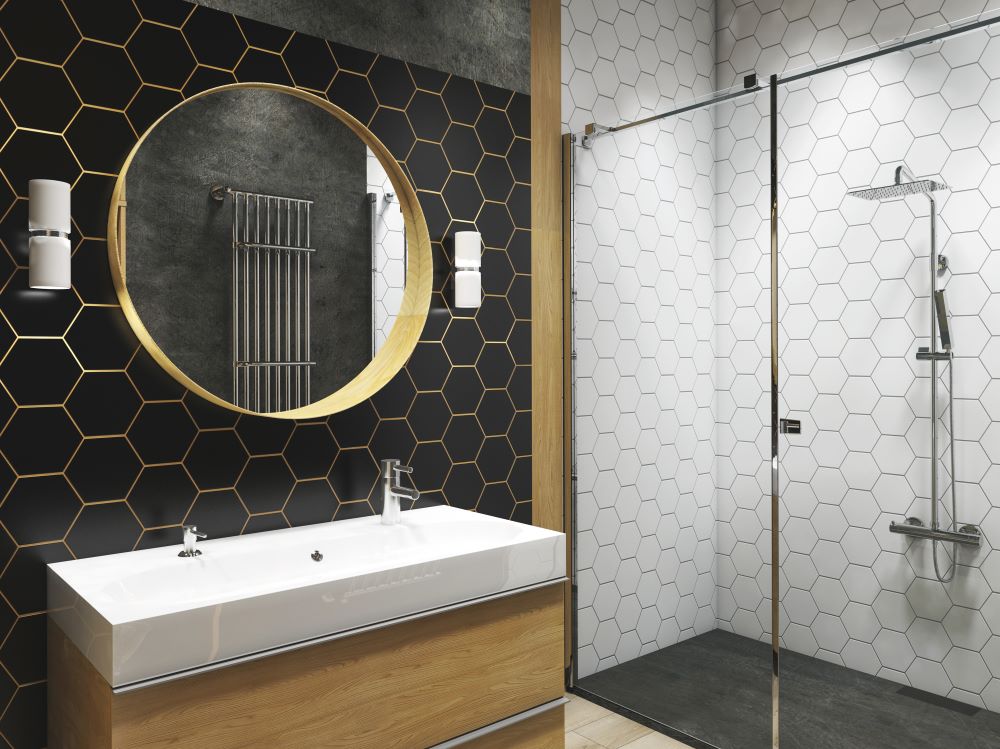 Your bathroom walls can make or break the entire aesthetic of the space. Transform your bathroom into a luxurious area with the help of removable wallpaper. Removeable wallpaper, or peel and stick wallpaper, is an easier and more affordable option to regular wallpaper.
Creating an accent wall in the bathroom can amplify the elegant feeling you're trying to accomplish. Choose a wallpaper with a nice geometric pattern and apply it to the wall behind your sink. Then, paint the rest of the walls with a coordinating color. An elegant bathroom can feature color schemes such as black and gold, white and gray, or even some calming shades of blue or green.
You can also choose use wallpaper on all the walls in your bathroom instead of an accent wall. Just make sure to choose a basic pattern that won't distract from the simple elegance you're trying to create. Optionally, you can line bathroom shelves with wallpaper instead for just a touch of a unique pattern.
---
---
6. Install New Lighting Fixtures To Give The Illusion Of An Elegant Bathroom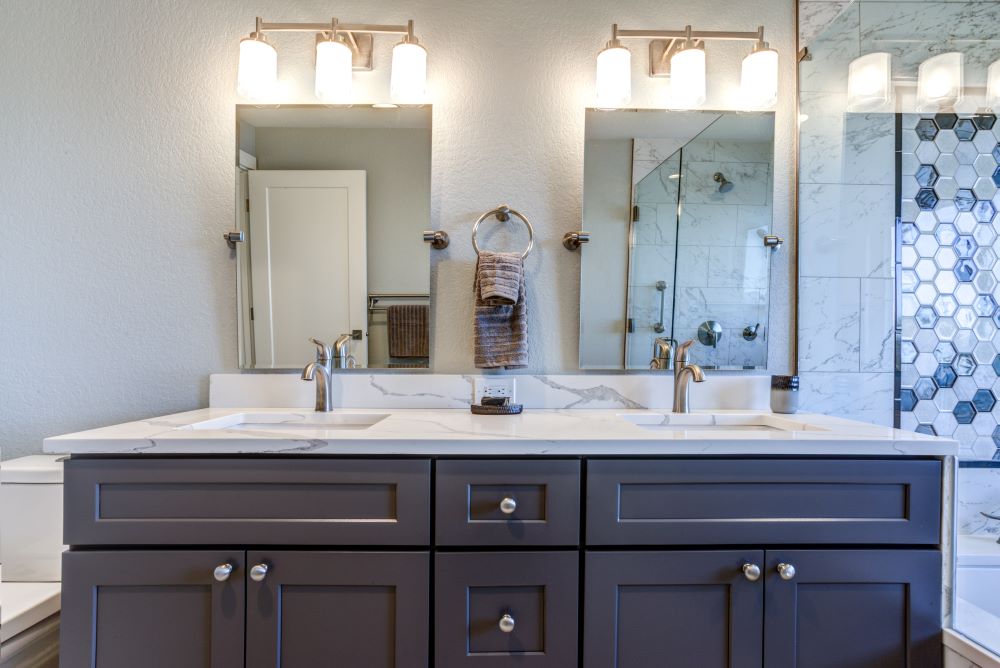 Lighting is another important part of a bathroom. Proper lighting can make the room feel more open and refreshing. Change out your lighting fixtures to make your bathroom look luxurious and elegant.
Consider adding a chandelier type light in your bathroom for a vintage luxury look, or add some modern light fixtures for a more sleek look. You may need to hire an electrician to install the lights, but overall this is a low cost way to transform your bathroom in one fell swoop.
If you don't want to add lighting fixtures to the ceiling, you can also add some wall sconces instead, or even a lighted mirror. Changing up the lighting in just a small way will bring a lot of unexpected luxury to your bathroom.
---
7. Use A Mirrored Tray For Bathroom Essentials & Accents To Create An Upscale Look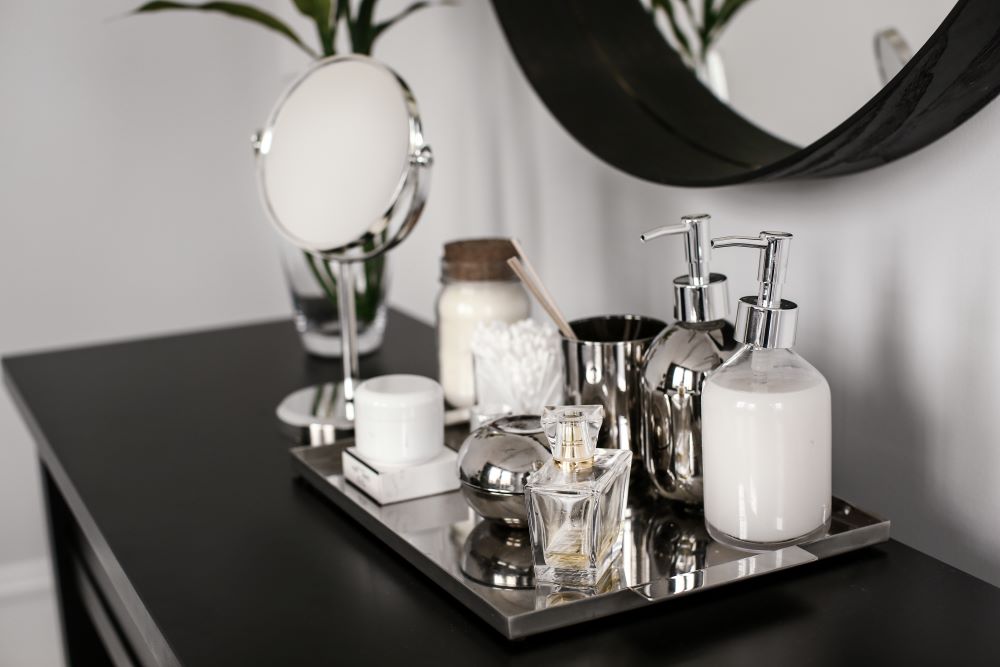 Another way to create an upscale look for cheap is with the simple addition of a mirrored tray on your bathroom counter. The mirrored tray gives a fancy appearance and can organize all your decorations and bathroom essentials.
You can easily find an affordable mirrored tray or you can even just use a regular small mirror as a makeshift tray. Put a variety of your necessities on the tray, mixed in with some decorative accents, to make the look feel complete. Here are some ideas for what to put on the tray:
Lotions
Perfume
Cosmetics
Candles
Glass canisters of essentials
---
---
Now that you have some inspiration on how to make your bathroom look luxurious, shop our Bed & Bath section to find bath collections, towels, bathroom storage, accents, and much more to transform your space!