How To Decorate Your Bedroom For Christmas
When decorating your home for Christmas, you can bring festive cheer into every room! Create a cozy holiday space in the comfort of your own bedroom with some easy decorating ideas. From lighting to accents to greenery and more, here are some simple tips on how to decorate your bedroom for Christmas.
---
Decorate Your Bedroom With Christmas String Lights & Candles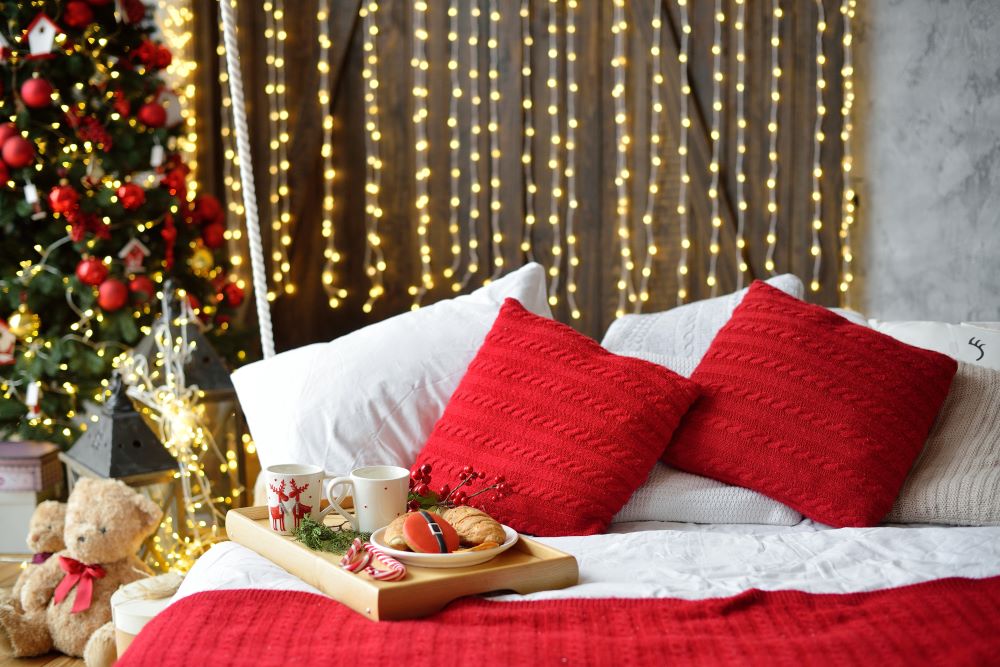 Lighting can completely change the aesthetic and overall feeling of a room. Whether you want to create a cozy and comfortable holiday vibe in your room or a bright and magical look, lighting will help you achieve it!
String lights are a great place to start for your Christmas themed bedroom. You'll need to decide on the color of the lights to set up your room. If you're aiming for the warm and cozy look, opt for clear or white lights. However, if you want a more festive look, choose multicolored or red and green lights.
You can hang up your string lights in a variety of ways: hang them on one of your walls, wrap them around your headboard, drape them across your dresser, or frame them around your windows. Get creative with how you choose to display the string lights in coordination with your other decor.
In addition to string lights, you can also include decorate with Christmas candles throughout your bedroom. Not only will they add to the lighting in the room, but they'll also give your room a lovely holiday scent. Aim for Christmas scented candles such as pine, cinnamon, gingerbread, vanilla sugar, and peppermint.
---
---
Drape Your Headboard With A Christmas Garland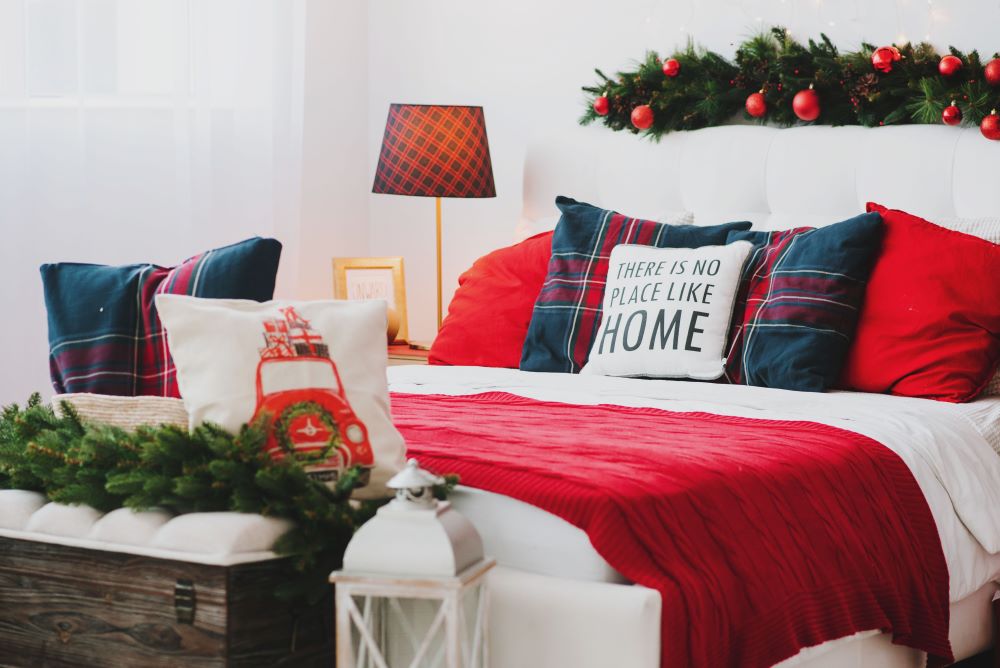 Another way to decorate your bedroom for Christmas is to incorporate greenery into the room. Pine greenery looks especially festive for the holidays and can help create a natural and nostalgic feeling.
The easiest way to add greenery into your room is to drape a garland across your headboard. You can leave the garland as is, or you can hang some ornaments on it to bring in small pops of colors. If you hang holiday ornaments on it, match your bedding to the color scheme for a coordinated and clean look.
You can also display garlands in other areas of your bedroom instead of your headboard. Lay a garland across the dresser, hang it up around the window frame, display it on top of a ottoman bench, or hang it up in a creative way on the wall.
Aside from garlands, you can also hang Christmas wreaths up in your bedroom. Place one on the wall above your bed or on your headboard, hang one on a hook on your bedroom door, or display a couple on the wall on each side of the dresser.
---
---
Put A Christmas Tree In Your Bedroom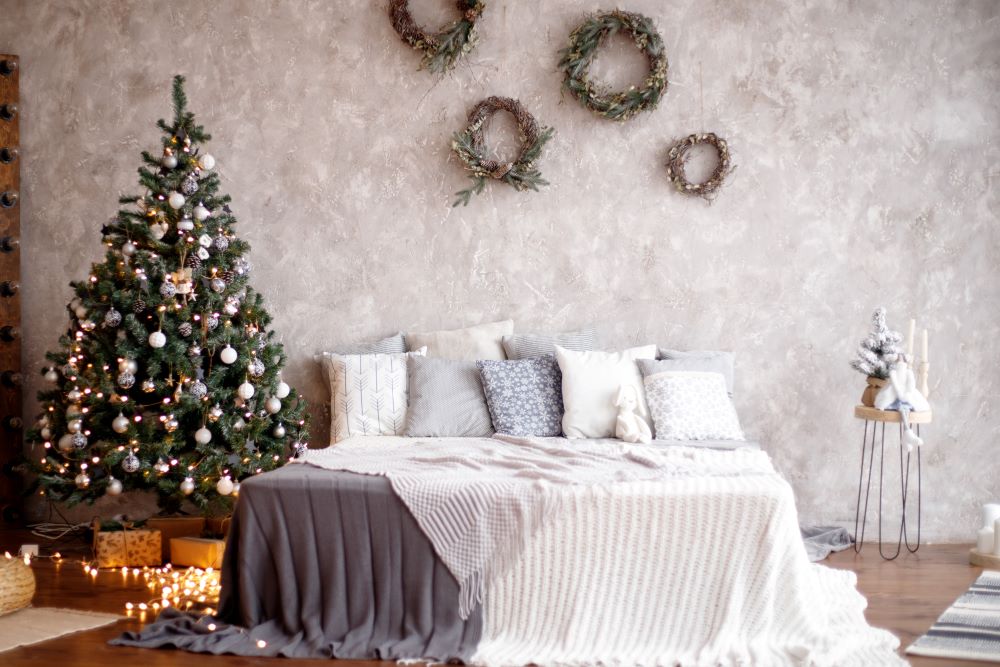 Christmas trees aren't limited to certain areas of your home! Adding a fully decorated tree in your bedroom can instantly transform your room into a cheerful wonderland. No matter what size room you have, you can find a tree that will fit in well.
Display a Christmas tree in the corner of your room, beside your bed, or next to your dresser. It helps if you have an open area for the tree to prevent the room from looking cluttered. If your room is small, you can bring in a smaller sized tree such as a potted one. You can even simply decorate with miniature brush trees on your dresser if you don't have room for a regular sized one.
Decorate your bedroom tree just as you would any other Christmas tree. Choosing a cohesive theme for the tree will help it look more put-together inside the room. Here are a few themes for inspiration:
Classic Christmas – features traditional characters like Santa and reindeer, a red, green, and gold color scheme, and white or clear lights. Check out these classic Christmas decorating ideas for inspiration!
Winter Wonderland – showcases a winter scene through snowball and snowflake ornaments, a blue and white color scheme, and sometimes a white tree.
Country Christmas – gives a charming look with galvanized metal and rustic wood ornaments, buffalo plaid ribbons, and warm colored lights.
---
---
Change Up Your Bedding & Pillows For The Holiday Season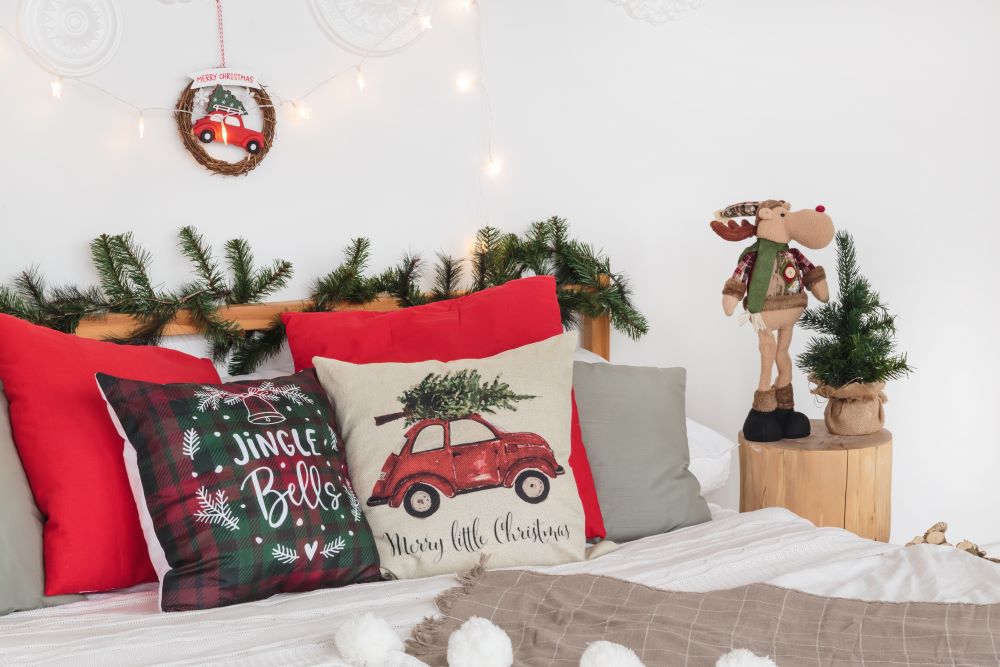 Give your bedroom a Christmas makeover by changing up your bedding! Your bed is the main piece of furniture in the bedroom, so you'll want it to stand it when you decorate for the holiday season.
Start by swapping out your comforter for a holiday themed one. This can include anything with a buffalo plaid pattern, red and green color scheme, Christmas symbols and sentiments, or anything that matches the aesthetic of the jolly holiday. You can also choose to swap out your sheets for festive ones to complement the comforter.
After you've changed your bedding, it's time to add some holiday throw pillows. You can add a bunch of different throw pillows but ideally you'll want 3-5 of them to maintain balance. The pillows don't need to directly match the comforter; have fun with them! Use pillows with quirky Christmas sayings and different symbols such as trees and Santa.
If you want a more subtle look for your Christmas themed room, you can simply place a holiday themed throw blanket on top of your bed for a simple touch of cheer. Lay the blanket out on top of your comforter for display, or fold it neatly at the end of your bed as a decorative accent.
---
---
Decorate Your Dresser & Bedside Tables With Festive Christmas Accents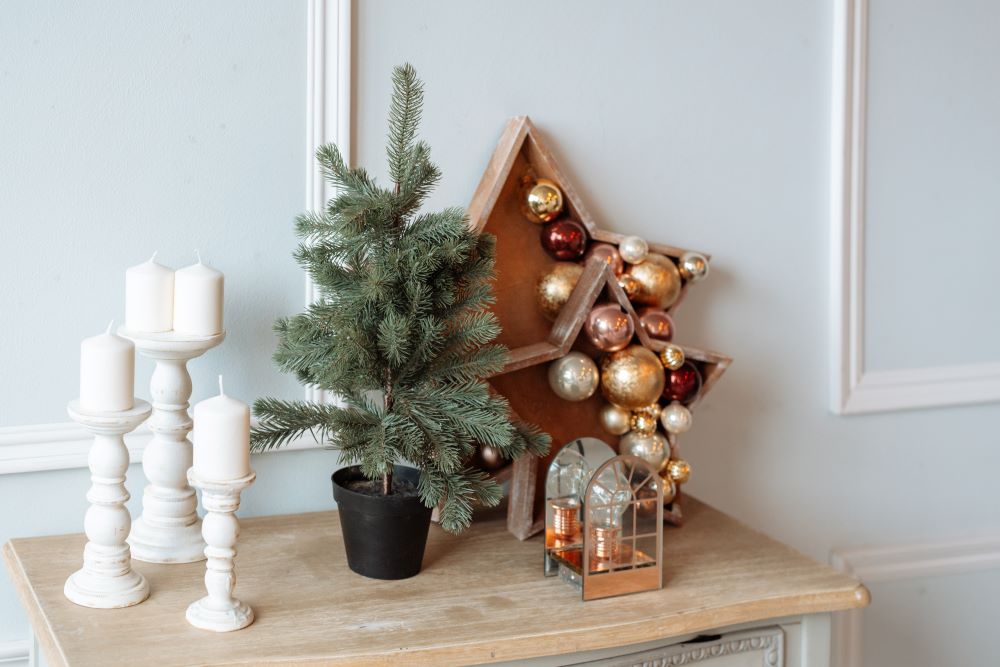 The last step when you want to decorate your bedroom for Christmas is to add some fun accents around the room! These small details will work wonders for your holiday theme and will tie everything in the room beautifully.
Arrange Christmas accents on any surfaces in your room by coordinating with the bigger decorative elements in the area. Add the accents to the walls, bedside tables, the dresser, bookshelves, a desk, and even on top of an ottoman.
There are many different types holiday accents that you can decorate with but here are some ideas to get you started:
Brush trees or small ceramic trees
Sentiment block signs
Holiday themed lanterns and lamps
Tabletop character figurines like Santa, reindeer, elves, and snowmen
Ornaments displayed in a decorative bowl
Bonus: create a charming look with rustic Christmas decor
---
---
Looking for more ways to decorate your bedroom for Christmas? Our selection of Christmas Decor & More will help you transform your entire house! Shop now to find tabletop accents, ornaments, bed and bath collections, yard decor, and more.