Items We Adore: LTD's Product Picks for the Week
Happy Valentine?s Day! The day of love is here, so how could we not focus on our favorite fun and romantic items today? We really hope that you aren?t scrambling for gifts and ideas this morning, because you should already have everything wrapped and ready for a big night ahead! Here are some of the great items we?re using today for a romantic evening, or gifting to our loved ones tonight.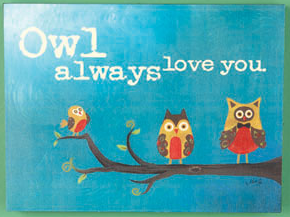 Give a Hoot Sentiment Wall Art
We all know that owls are adorable, and these cute sentiment?wall art?pieces are a great gift for your significant other, your kids, or your fun-loving parents. We love these as gifts for ourselves too! Choose from ?Owl Always Love You,? and ?I Love You To The Moon and Back.?
Marla Rae Wedding Frames
This creative Love Frame is a great gift for the newlywed couple still trying to frame a few of their wedding pictures! It?s a really unique way to display any 8×10 photo?at home. We really love this one as a gift for your sweetheart no matter how long you?ve been married. You can choose from the sign language LOVE or the hands making a heart for whichever fits your home best.
Kitchen Krumblers Apple Cinnamon Dessert Candles
What better way to set the mood than by turning off the overhead lights and lighting a few scented candles? We love the soft glow of the flickering candlelight and the amazing scents available with the Kitchen Krumblers Dessert Candles! Who needs to make cinnamon apple pie when you?ve got casino online these amazing candles?
Simmering Fragrance Chips and Warmer
Not into the whole flickering candlelight thing? Many of us have young kids and pets wandering around the house, so an open flame just isn?t going to cut it! You can still have the beautiful scent of candles for a romantic evening without the actual flame with these simmering fragrance chips and warmer! You can even trick your loved ones into thinking you?ve baked oatmeal cookies with their Oatmeal Cookie scent!
LOVE Sheets Sets
Seasonal sheets are such a fun way to spruce up the bedroom, and we are digging these adorable LOVE sheets sets for young girls this February! Pair it with an ombre pink comforter, or even a white duvet to keep the pink a little more muted. Fun and funky!
Peace, Love, & Cupcakes Beauty Sets
We love these adorable Peace, Love, & Cupcakes sets of lip-glosses, shower gels, or body mists for the young girls in our lives. These beauty sets are our go-to gifts for nieces and daughters this Valentine?s Day, and we?ve even seen girls split them up to pair with a Valentine?s Day card for all their female friends. You can get a single pack, or grab the whole bunch!
If you see something here you love – you can always order it to give as a late gift, or pack it away for next year"s Valentine"s Day!