Items We Adore: LTD's Product Picks For The Week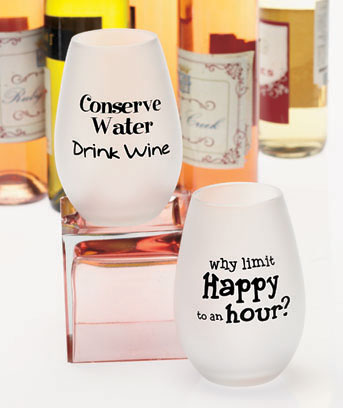 Another week is over and it is finally time for the weekend! We think Fridays should be reserved for fun and relaxation, which is why we're highlighting the perfect happy hour essentials for Friday happy hour at home. You don't have to get dressed up; you don't have to worry about crowded bars, and you don't even have to put on real pants! Change out of those uncomfortable shoes immediately and kick up your feet for a fun happy hour at home. Now's the time to send the invitation around to your favorite happy hour crew and have them join you at home for a relaxing night with your favorite friends.
Frosted Fun Stem-Less Wine Glasses
Stems make your glass look classy and elegant, all while trying to disguise the fact that you're going to down that Chardonnay long before it gets warm. Ditch the stem and opt for these fun stem-less wine glasses instead. They've got great phrases like, 'Why limit happy to one hour?' and "Drinks well with others.' The frosted sheen is perfect for hiding drying water droplets so you don't have to worry about polishing them before placing them out on the table. They're also great for serving fruit juice on the rocks and soda for the drivers.
Prescription Bottle Kooler
We love these great novelty coolers for keeping your beer cold and the mood light. Perfect for hiding a cheap-o bottle of beer, or for enhancing the humor of any beer you've got! We love the Prescription Bottle cooler, because self-medicating is what happy hour is all about, but you can grab the whole set of four and let your guests decide.
Playing Card Set Tin
Start up a friendly game of cards with The King himself this weekend using these great playing cards. Go ahead and make up a drinking game, or just play a few rounds of everyone's favorite poker game. You deserve the opportunity to unwind with a little interesting competition.
Can Dispenser Shelves
If things are getting really out of hand on Friday, you're sure to run out of classy wine and bottled beer. You might want to grab a box of wine just in case, and you're definitely going to need back-up cans of beer. Well, what better way to keep those cans of beer cold than nestled together in the fridge on these can dispenser shelves? And, if you've got a few designated drivers in the bunch, this is a good place to store the soft drinks for the sober ones.
Party Snacks Cookbook
No happy hour is complete without the right spread of delicious snacks, and we recommend checking out this Party Snacks Cookbook for some great ideas at a bargain! With great snack-attack selections like stuffed mushrooms and veggie quesadillas to BLT bites and sweet peanut butter cup popcorn, you'll never want to leave the house for happy hour again! (And, if you're a guest for an at-home happy hour, all of these Party Snacks recipes travel well!)
Hors D'oeuvres Baking Set
Last but not least, you can make anything into fun bite-sized happy hour snacks with this great hors d'oeuvres baking set. Make your own little brownies, mini muffins, baked Brie bites, or stuffed spinach-artichoke sliders for your happy hour get-together. Everyone will love the tiny hors d'oeuvres and this baking set makes preparation a breeze! Now get outta here and enjoy your Friday!