Items We Adore: Product Picks for 4th of July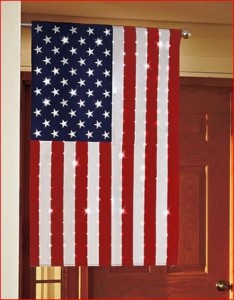 We're less than a month away from Independence Day — it's our big mid-summer celebration and we want to do it right! We have a few ideas to make us feel a bit more patriotic. Here are Items We Adore: Product Picks for 4th of July.
Red, White & Blue Radiance Add a festive radiance as the stars and stripes wave in the wind with a Fiber-Optic Flag. 242 Fiber optics create solid or blinking lights on this large flag, making it the perfect accent for Memorial Day, July 4th, or any day you want to show off your American pride. Slides easily onto your own flagpole for hanging.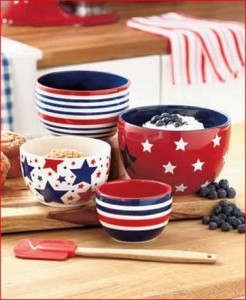 Patriotic Prep Set of 4 Multicolor Mixing Bowls turns cooking and serving into an event. Each of the bowls has a different design and colors. Contrasting interiors give them extra interest and personality. Use them for kitchen prep or for serving sides, chips and snacks. Stoneware. Dishwasher, oven, microwave and freezer safe.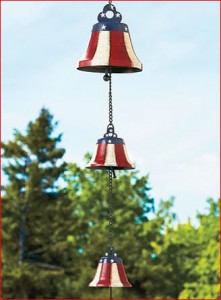 Bells & Whistles Celebrate your patriotism with this Metal Americana Garden Decor. The navy blue, cream and rustic red colors give these pieces a classic, nostalgic look. Printed with the stars and stripes of the flag, the Triple Americana Bells progressively get bigger from bottom to top. A ring on the top makes it easy to hang anywhere the wind blows. Each of the "blades" on the Embossed Metal Pinwheel has 3-dimensional swirls that spin in the wind. Stakes easily into your yard.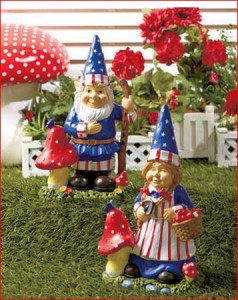 Star Spangled Gnomes Show your love for your country with a Patriotic Garden Gnome Statue. Painted with the American flag, this gnome is proud to be an American. Fun accent piece for your flowers and garden decor.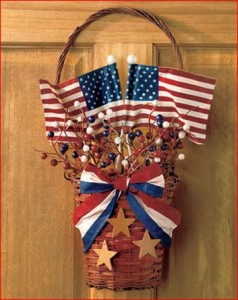 Patriotic Frills Patriotic Wall Decor has an appealing vintage look. Their eye-catching red, white and blue designs are a festive way to decorate for summer's patriotic holidays, or use them all year. The Set of 5 Painted Stars has a 3-D style that adds texture and visual interest to any wall. Group them together or scatter them for a larger display. They arrive ready to hang. Metal. Highly detailed Patriotic Basket is a fresh alternative to a door wreath. You also can hang it on an interior wall or remove the handle and set it on a table as an accent or centerpiece.