7 Ways to Wear a Scarf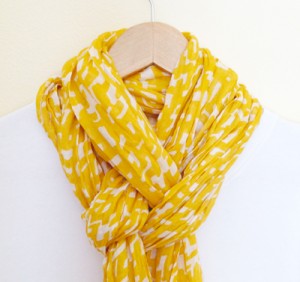 Scarfs aren't just to keep us warm these days. They can add a lot to an outfit and can be worn in many different ways. With tons of materials, patterns, and colors to choose from, scarf wearing is now a year-round trend! Here are seven ways to get the most out of your new scarf.
1) Infinity Knot
This one is perfect for both warm scarves and also various long fashion scarves. Begin with the scarf folded in half and place it around your neck. Put one arm of the scarf through the loop, then twist the loop a couple of times to the left, the end of the scarf should be hanging down. Put the other scarf through the top of the loop and let it hang, and you?re done! Once you master this scarf knot, you?ll be happy to use it for just about any long scarf.
2) Scarf Bow?
Place the scarf behind your neck and check that both sides are even, and then simply tie it the same way you learned to tie your shoes, or any bow! It will be loose and a little floppy, depending on how soft or stiff your scarf is.
3) Layered Knot
This is perfect for a lightweight fashion scarf, as it is high on your neck. Put the scarf around your throat so the ends hang in back. Wrap the ends around to the front and loosen the front section. Tie the ends in a loose knot, and cover with the section around your neck.
4) Belt Accessory
You can brighten up your boring brown or black belt with a twist of color by wrapping your scarf around the belt after you put it on. Secure the belt into place, then wrap the scarf as loosely or tightly around the belt as you like. Leave the ends long, continue wrapping, or tie them together in a bow.
5) Headband
There?s really not much difference between a fashion scarf and a loose headband, so spruce up your ?do with this elegant style. This look is good for ladies with lots of hair, especially on bad hair days. Bunch up your hair in a messy bun and wrap a colorful scarf around the base, where the bun meets your scalp. Tuck it into your hair tie or bobby pins as much and as tightly as you like, or tuck it a little and pull the edges loose for a messy look.
6) Fake Tie Knot
The fake tie knot is a really unique way to wear a scarf. It looks almost like a tie, but it?s not. It?s a scarf. Tie a loop at one end of your scarf, but leave it kind of loose. Run the other end of the scarf around your neck and through the loop and tighten!
7) Knotted Shawl
This is another great way to wear a scarf as a something other than a scarf! This shawl style works best for large scarves and pashminas, as it will be wrapped around your arms. Put the scarf around your shoulders just like a shawl, then wrap the ends below your arms and tie a knot behind your back. Pull the knot up high and the loose outside down low and you?ve got yourself a shawl!
Image Source: One Good Thing By Jillee