Cabin Fever: How to Entertain Your Kids This Winter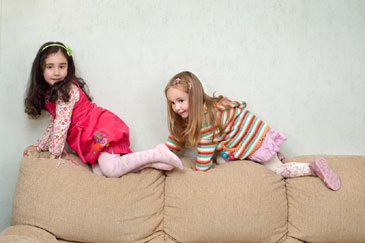 Most of the U.S has been experiencing the worst winter in many years. We've seen wind chills fall as low as negative 40 degrees in some areas of the country! With temperatures this low it's not safe for the kiddos to go out and play, but what are they to do? Below is a quick list of things to do in your home to keep the kids happy and your sanity in tact.
Hot Chocolate Bar
With sub-zero temperatures outside, it?s not always easy to stay warm inside. Instead of simply huddling together in front of the fireplace, how about making a fun hot chocolate bar with different kinds of toppings? From peppermint sticks to marshmallows to sprinkles to whipped cream, there are plenty of fun things to add to your hot chocolate. Have your kids help prepare the different toppings and set up the hot chocolate bar, and then have fun making different concoctions. For added fun, invite a few of their friends over and make it into a party!
Play Active Indoor Games
There are plenty of indoor games that help get you and kids moving without putting a football through the TV. Start with simple games that require a little activity like WiFit, charades, and indoor Olympics. You can also have a great time by creating an indoor obstacle course! Have the kids follow a specific path, such as over the back of the couch, under the kitchen table, etc., and give them little challenges along the way, like bouncing a ball in a hula hoop, or doing a somersault.
Dress Up and Put on a Show
Got a few fancy dresses and Halloween costumes? What about props and accessories? Pull out whatever dress-up materials you can find and plan a play for you and the kids to put on at the end of the day! You can make up your own script, or base it on a popular story like Frozen or The Lion King. Check out your kids? fun books and comics for ideas. It?s a great way to pass a snow day!
Build a Blanket City
Yeah, not just a fort, build an entire city. Pull out blankets, ladders, sofa cushions, throws, and all the pillows you can find, and actually create blanket forts throughout the entire house (maybe skip the kitchen and bathrooms). You can name each room, create a royal city, and pretend the hallways are moats so you have to row your (skateboard) boat to get from room to room. This is a great game for a Friday or Saturday so you can leave the forts up overnight!
Have Fun in the Kitchen
Cold and icy snow days remind us of baking cookies and getting marshmallow mustaches from hot chocolate, so give your kids the same memories! Make it a little healthier by cutting vegetables into fun shapes, making fruit kebabs, or even making snowmen out of varying sizes of fruits! You can also get crazy with decorative cookies, making your own chocolate, snowman cupcakes, and more. If you?ve got older kids, you can use this opportunity to teach them to make special family recipes.
Image Source: Fun Family Education