4 Tips for Home Organization
 Some of us just get organizing. It's easy. For the rest of us, there is just no hope. You have great intentions and then all of a sudden you ask yourself–how did it get this bad? Don't worry, we understand. We've got 4 tips for home organization to help you with all your spring cleaning this season.
1. Cabinets of Discord In order to clean, you must have cleaning products, but finding them in the cabinet under the sink may prove to be a challenge. Putting in an extra sliding shelf to compartmentalize an open cabinet can help keep cleaning products neat and manageable.
2. If You Can't Stand the Mess, Stay Out of the Kitchen Making use of the kitchen means making a mess of the kitchen. And if you?re an avid cook, the number of items you need to make that perfect meal are endless. Unfortunately, space is endless. Adding an organizer to your pots and pans cabinet will straighten out all your new gadgets. You won?t have to spend so much time looking for what you need for your next great meal — time you can spend on cooking it.
3. Book Worm's Dilemma All of the indoor time this winter made it convenient to read more books, and more books means less space. It would be easy enough to bring in another book shelf, but it does little good if you don?t have a place for it. Consider making space for your books on that blank wall where you haven?t been able to find a picture for. A?wine box book shelf or a floating book shelf?lets you keep your books, adds decoration and gives you more surface area for any new treasures you haven?t found a place for yet.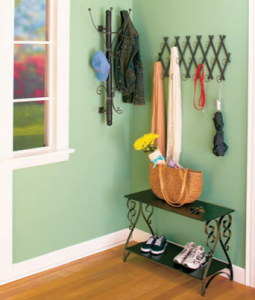 4. Crossing the Threshold without Chaos Your entryway doesn't have to look like a storage area. You can tastefully make use of this space with accordion coat hooks or a mounted coat rack. A two-tier table gives you a spot to put shoes and bags so you don?t track dirt into your spring-clean home. Keeping your outdoor items in their place allows for less clutter in the more comfortable rooms in your home.