10 Small Patio Decorating Ideas To Open Up Your Space
Having a small patio doesn't mean you can't have a beautiful outdoor space. Making the most of your small space will allow you to have a space where you'll always want to sit and enjoy the weather. Here are 10 small patio decorating ideas to open up your space and give you the outdoor area of your dreams.
---
1. Brighten Up Your Small Patio With Outdoor Lighting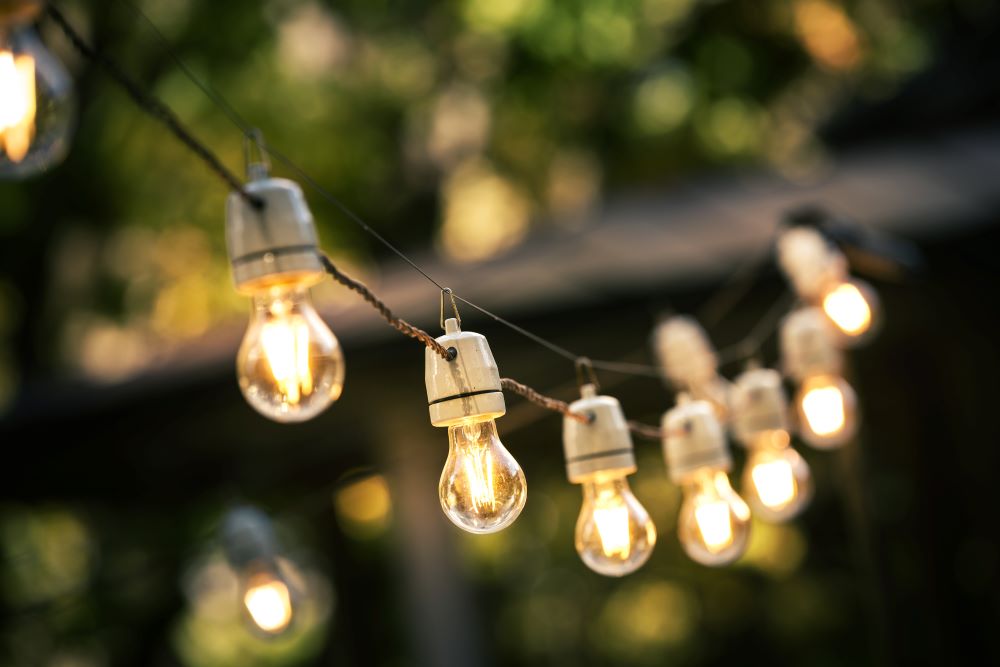 While you may not think too much about lighting during the day, having a sufficient amount of outdoor lighting can be a smart addition to your small patio. Outdoor lighting can allow you to fully enjoy sitting out on your patio at night and make you feel like your space is bigger than it actually is.
Decorate with warm string lights, line your patio with unique stake lights, or add bright automatic lights onto the back of your house.
Test your lighting out at night to see if you need to add more. You can always start small and work your way up to a full, brightly lit patio.
---
---
2. Use Vertical Planters To Conserve Space On Your Patio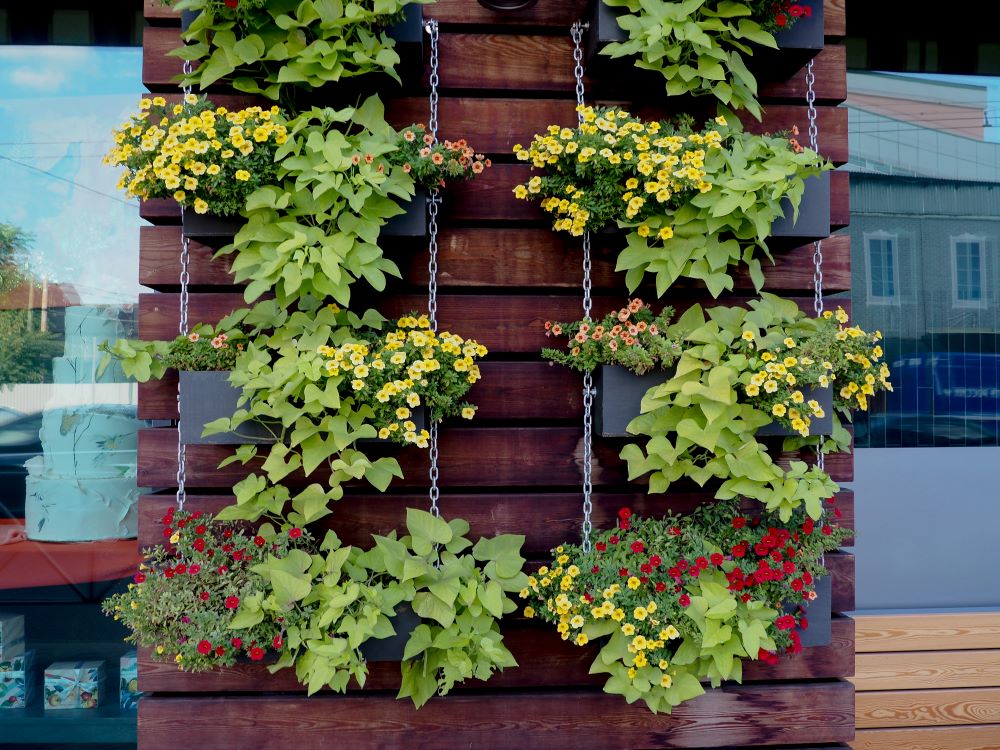 Planters don't need to take up a lot of space on your patio. If you want to have beautiful plants and flowers on your patio, there are ways to include them without sacrificing much room.
Vertical planters are one of the best ways to conserve space on your small patio. These planters can be hung up on a fence, the wall of your house, or you can even find ones that will stand up on their own.
Display your favorite plants on the vertical planter and place smaller pots and planters around the patio, but make sure to do so sparingly.
---
---
3. Use Folding & Collapsible Furniture On Your Small Patio To Save Room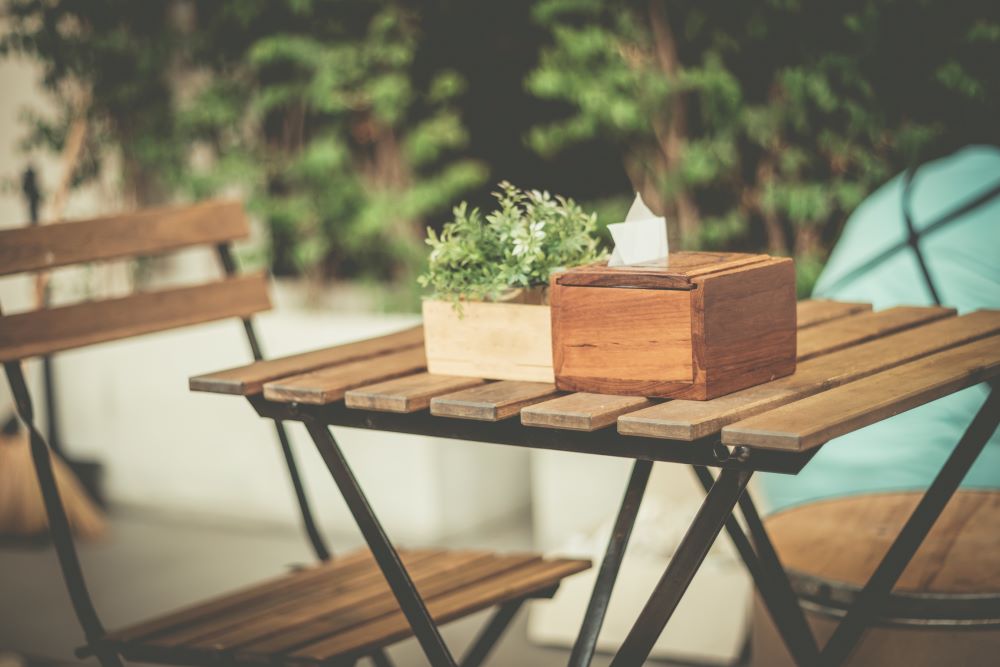 Furniture can make a patio feel more homey, but it can also take up a lot of room in an outdoor space. If you want a nice seating area in your backyard but don't want to take up all your patio space, opt for folding furniture.
Folding chairs and tables, collapsible storage bins, and other foldable furniture is a great choice to have on your patio. You can store this furniture away when you're not using it and take it out when you have guests over.
You can also include an outdoor umbrella stand to add something extra to the porch. These can also been collapsed and stored until they're needed.
---
---
4. Add Mirrors To Your Patio To Create The Illusion Of Open Space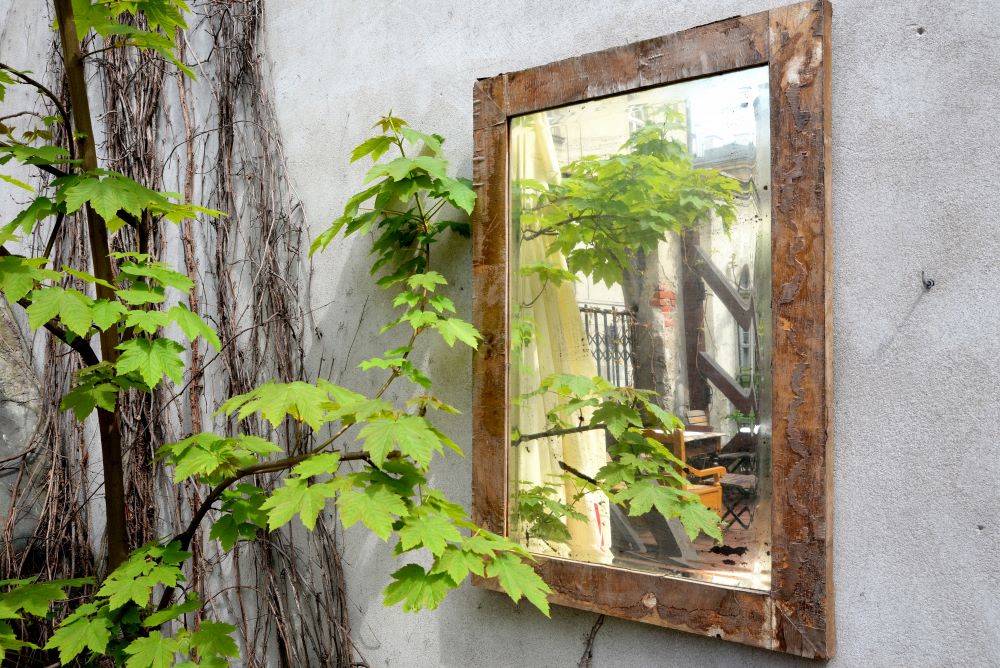 Who said mirrors are just for indoors? If you want to think outside the box and be a little more creative with your outdoor decor, consider adding a decorative mirror to your patio.
Hang a decorative mirror on the wall of your house or place a standing mirror on your patio. Mirrors can make a space feel more open than it is because they give the illusion that there's more room. Mirrors also bounce light, which helps in reflecting the sun and outdoor lighting.
Mirrors work best on patios that are covered. Make sure to consider the weather in your location so you can keep your decorative mirror in good condition.
---
5. Maximize Your Patio Space By Dividing It Into Sections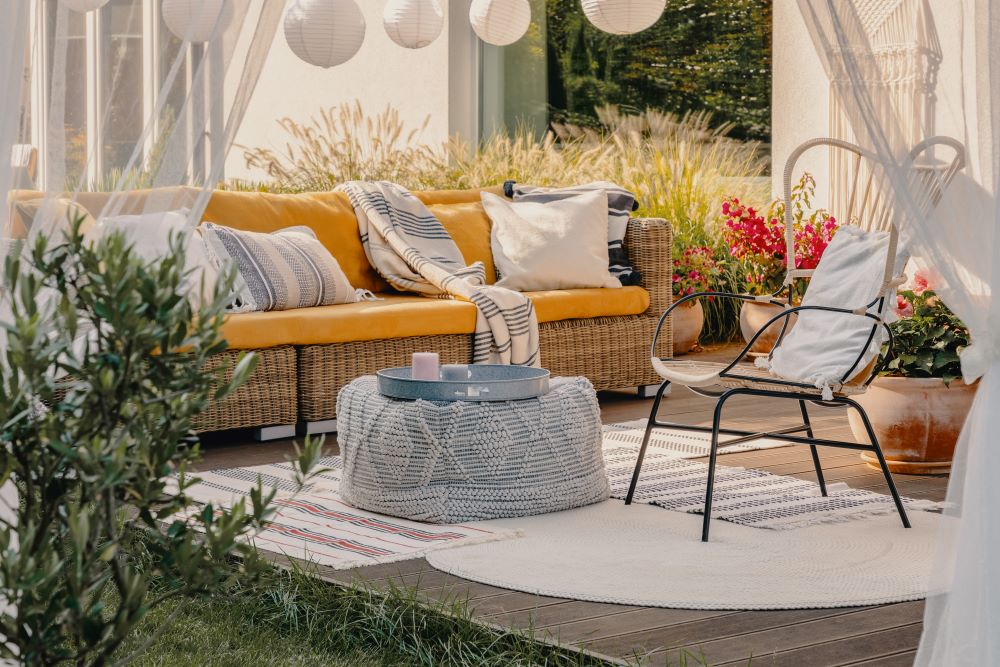 Just because your patio is small, doesn't mean you can't divide it up into different sections and areas. Creating separate areas will make your space feel more unique and will allow you to use your space sparingly.
You can section off different areas by using an outdoor curtain, a small fence, or plants. Create a seating area with comfy chairs, an area with a small table, and an area with a grill.
Make sure to use your space wisely when creating your different areas and sections. Only include the things that are absolutely necessary in your space.
---
6. Decorate Your Patio With Bright Colors & Patterns To Open Up Your Space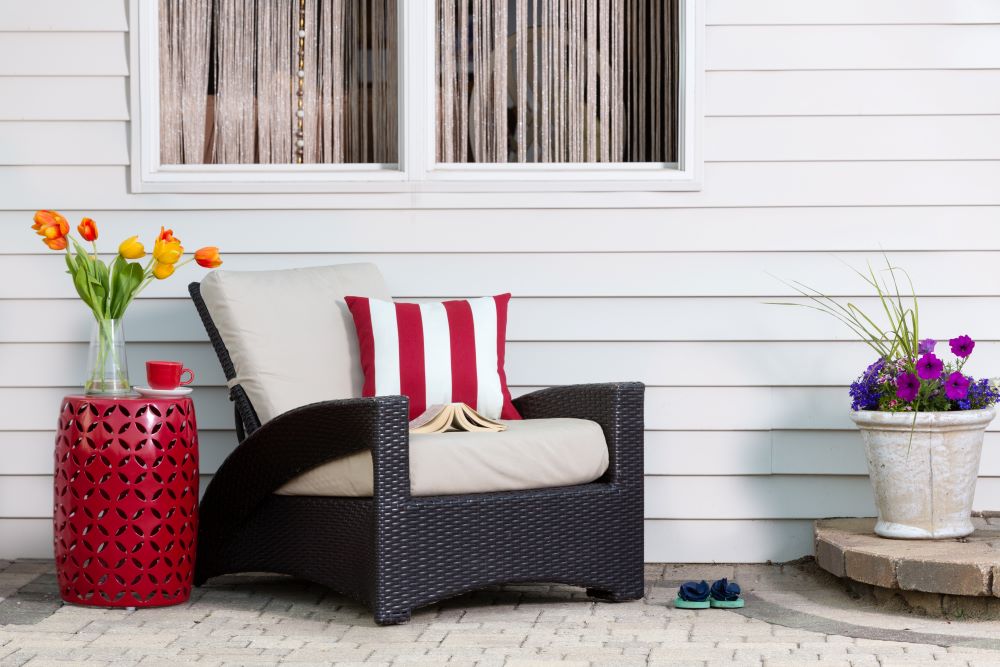 Decorative accents are a huge part of making a patio feel welcoming and bright. Using bold colors in your patio decorations is a great way to make the space feel more open.
You can add colors with the help of outdoor pillows and cushions, live plants and flowers, unique yard statues, and tabletop accents. Develop a color scheme to make your patio flow be aesthetically pleasing.
Play around with different patterns but be sure to not go overboard. Using too many different patterns can actually make the space feel smaller and more cluttered, so decorate with them sparingly.
---
---
7. Be Creative With Your Patio Seating To Make The Best Use Of Your Space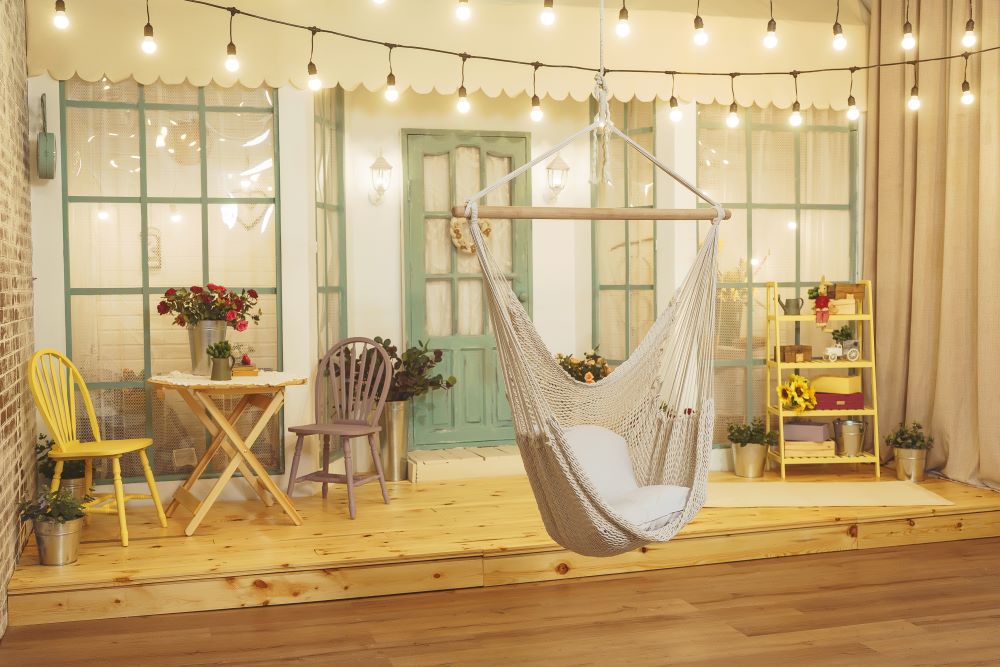 You don't necessarily need to use chairs and tables to have a quality seating area on your patio. Think outside the box and do something different!
A small hammock or a hanging chair can work wonders for your small patio. This only has to take up a small area and is perfect if you're usually the only person out on your patio.
You can also use a storage bench as your main patio seating. This is great multi-use seating that will allow you to store away all your outdoor essentials and will also give you a cozy place to sit down and relax.
---
8. Place Rugs On Your Small Patio & Install Unique Flooring For A Welcoming Feeling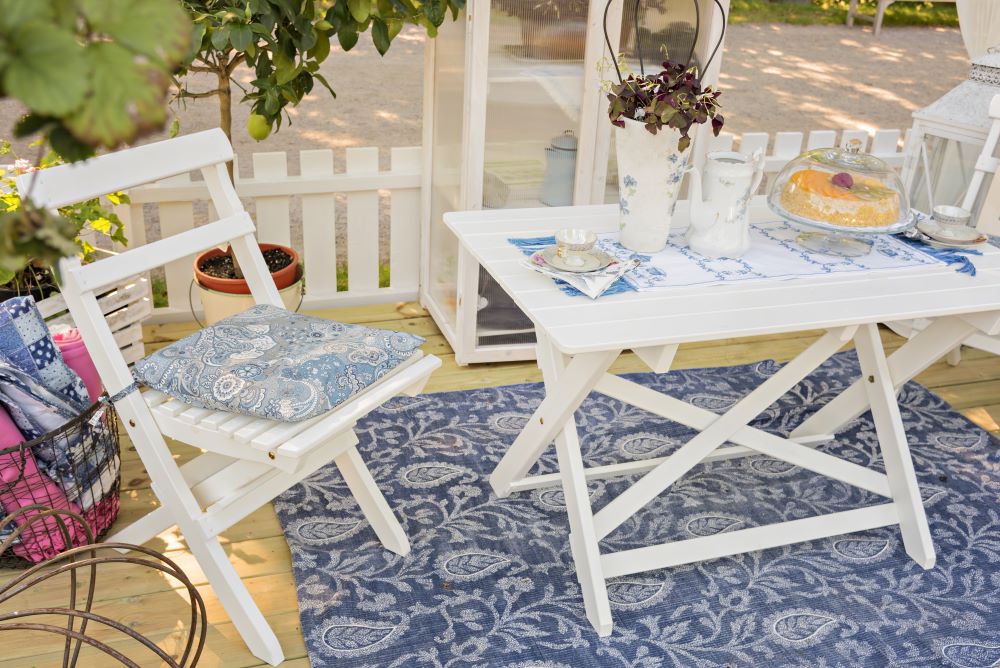 While the furniture and other decor can add to a patio's entire vibe, the floor of the patio is just as important and shouldn't be overlooked.
An area rug can bring the entire patio together and it can make the patio feel more homey and welcoming. Place a large one underneath all your furniture or use a smaller one under a table. You can also use one in front of an outdoor cushioned bench to give the appearance of a "living room".
If you don't want to use a rug, you can also consider changing the the actual flooring of the patio. From outdoor tiles to wood planks to stone and even outdoor carpeting, there are so many ways to make the most of your small patio.
---
---
9. Build A Canopy To Nicely Frame Your Small Patio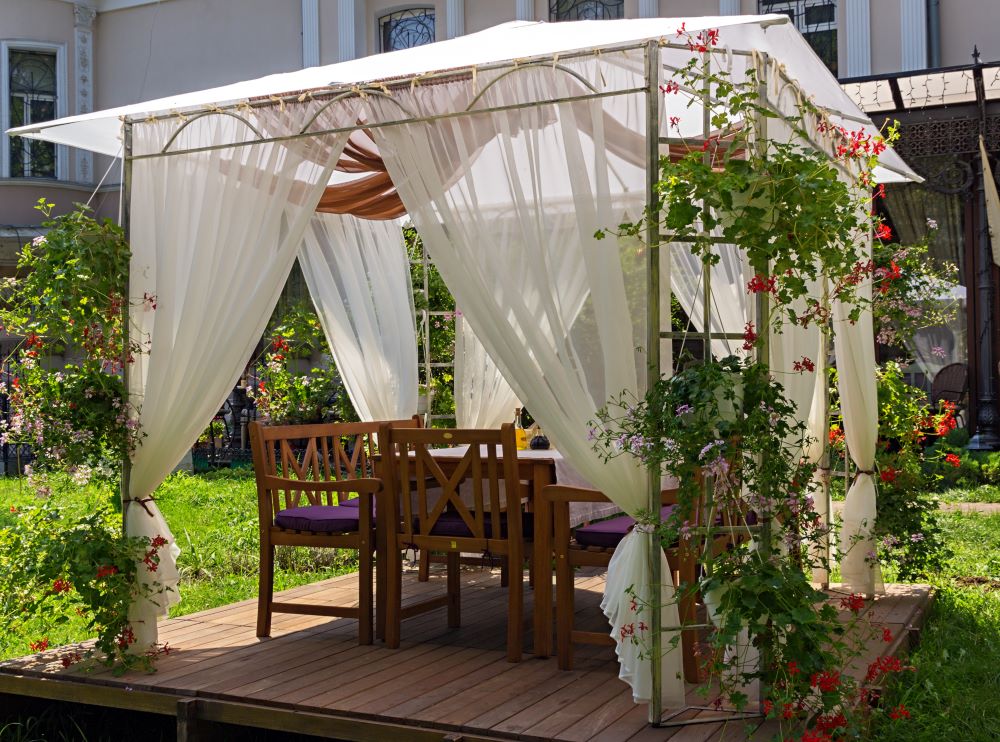 Canopies aren't just for large outdoor areas. Building a small canopy on your patio will nicely accentuate it and actually make you feel like it's bigger.
You can either build a half canopy to place over your seating area, or you can buy a full canopy to cover the entire patio. A large canopy with outdoor curtains is a great option because you can open the curtains when you want to get some sun and close them for shade or to protect yourself from bugs at night.
You can also build your own canopy if you're feeling handy. That way, you'll be able to get the exact size that you need to cover as much area as you want.
---
10. Plant Green Bushes Around The Perimeter Of Your Small Patio To Make It Feel Grander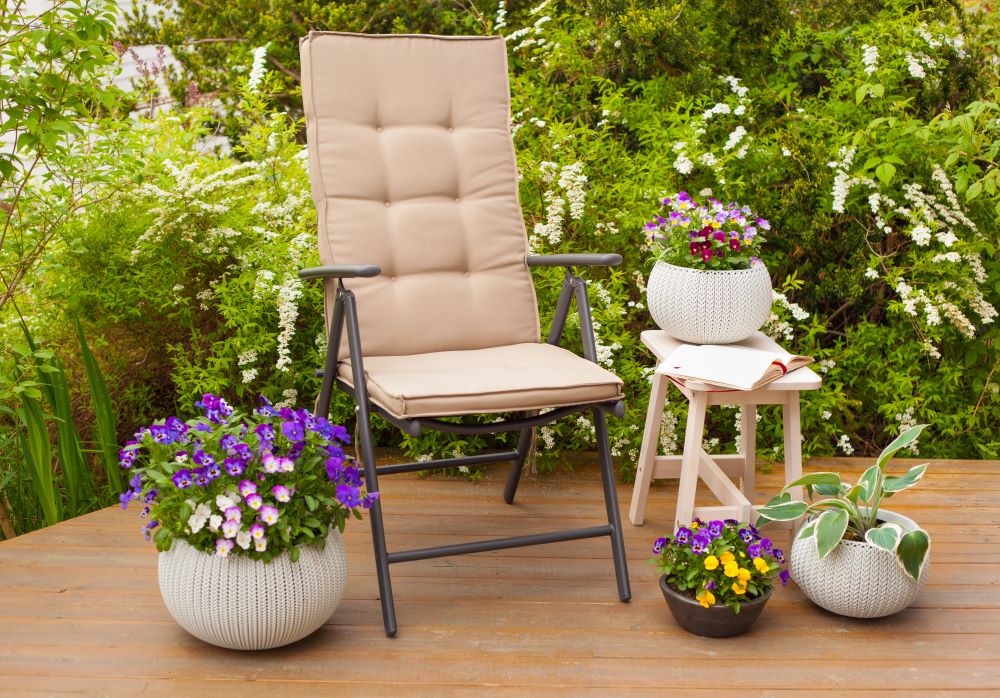 Greenery can add a lot of life and uniqueness to a small space. Add bushes all around the perimeter of your patio to upgrade your outdoor area and make it feel more grand.
This is also helpful if you have a small yard and you don't have a fence. The bushes can act as a makeshift fence while also creating a beautiful atmosphere. Make sure to keep your furniture and decor to a minimum if you're creating a border of green bushes.
If you're feeling more ambitious, you can also choose to plant a bunch of flowers around the perimeter instead of bushes. Please note that this requires much more maintenance, but if you're up for the challenge, it can be very beautiful.
---
---
Looking for even more ideas to make the most of your outdoor space? We've got you covered! Shop out selection of outdoor decor, solar lighting, outdoor furniture, planters, and more!
---