3 Steps to Update Your Account
With a variety of experiences in our lifetime, there are some situations that will result in having to update everything that has your name and address attached to it. Getting married may have a last name change, buying a new home would have a new address or maybe you have multiple address locations. Here are some easy steps to help guide you on updating your information with LTD.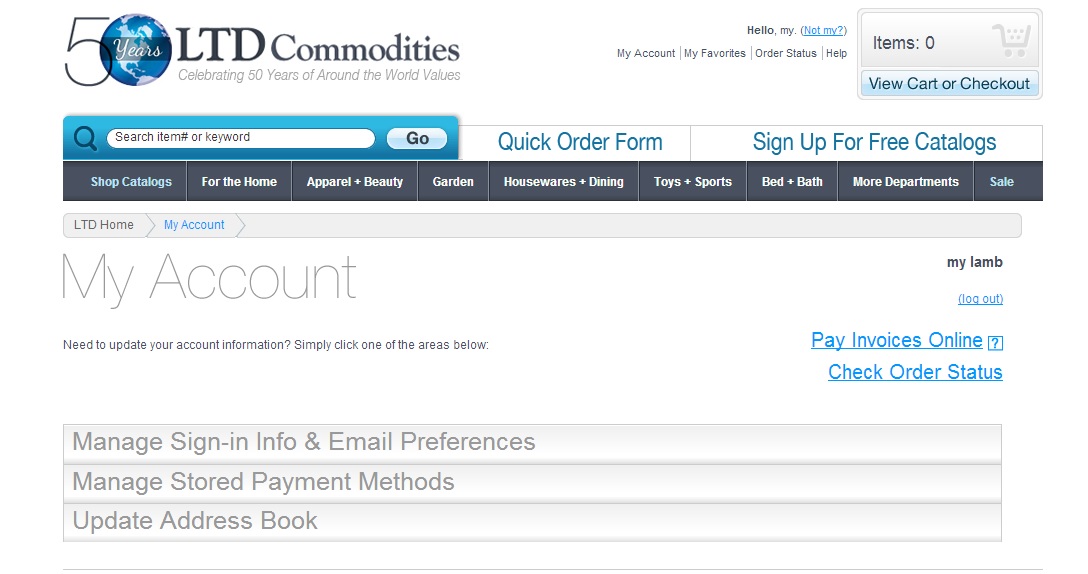 1. How do I change the address listed for the account?
You can change your address by clicking on the My Account page and selecting "Change the account information." You can also update your address on your account when you place your next order. Please note that these changes must be made prior to submitting your order. Unfortunately, we cannot change "ship to" addresses on orders already placed or in process.
2. How do I update My Account information?
Once you have logged into My Account, you have the option to update and change your Sign-in & Subscriptions, Address Book, Stored Payment Methods and Business Account Information. After entering the new information, click the UPDATE button for your changes to be effective
There may be some additional changes or updating that you may need to do periodically.? As we like to make your shopping easier, this step below will help you make changes to your personal contact information, your gift addresses and your email information.
3.How can I change my Address Online?
You can update your account information at any time by logging into My Account. In My Account you can make changes to your address, personal contact information and manage your gift addresses and email preferences. You can also update your address during the checkout process on your next order. Please note that changes to your shipping address must be made prior to submitting your order.
Or if you do not have online access, below are other available options to update your information.
Submit your request in writing via mail or fax. Please include the company account number and the old and new address.
Fax: (847) 283-8124
Mail: LTD Commodities, LLC
Account Maintenance
2800 Lakeside Drive
Bannockburn, IL 60015
Now that you have LTD checked off on your list of updating.? Visit our website and check out all of our great products & deals that just might look great in that new home.