8 Rustic Christmas Decor Ideas
The rustic Christmas decor style can make any space look extra charming and unique. This decor style typically includes rustic materials and warm color schemes, along with an overall country or lodge theme. Decorating with a rustic style for the holiday season is a great way to give your home a welcoming and beautiful appearance. Whether you want a farmhouse country style for Christmas or a traditional holiday style with rustic charm, you can easily transform your space for the season. Here are 8 rustic Christmas decor ideas to include in your home this holiday season.
---
1. Incorporate Plaid Decor Into Your Rustic Christmas Space
---
The rustic Christmas decor style is all about charm and warmth, so it only makes sense to use patterns that give off that vibe. Incorporate plaid decor into your rustic theme to keep the welcoming and charming feeling going.
When bringing plaid into your rustic decor theme, stick to warm colors like red or neutrals like black and white. This will help to complement the rest of your space nicely. There are so many ways to bring plaid into your rustic Christmas space. Check out some ideas below.
Plaid Decor Ideas For Your Rustic Christmas Home
Add some plaid throw pillows to your couch and bed. Find ones with burlap accents for a rustic touch.
Use a plaid tablecloth and coordinate it with rustic dishware.
Hang up some plaid Christmas artwork in rustic wood frames.
Display some plaid patterned candles on top of rustic wood candleholders.
Accent a rustic Christmas porch with a plaid doormat.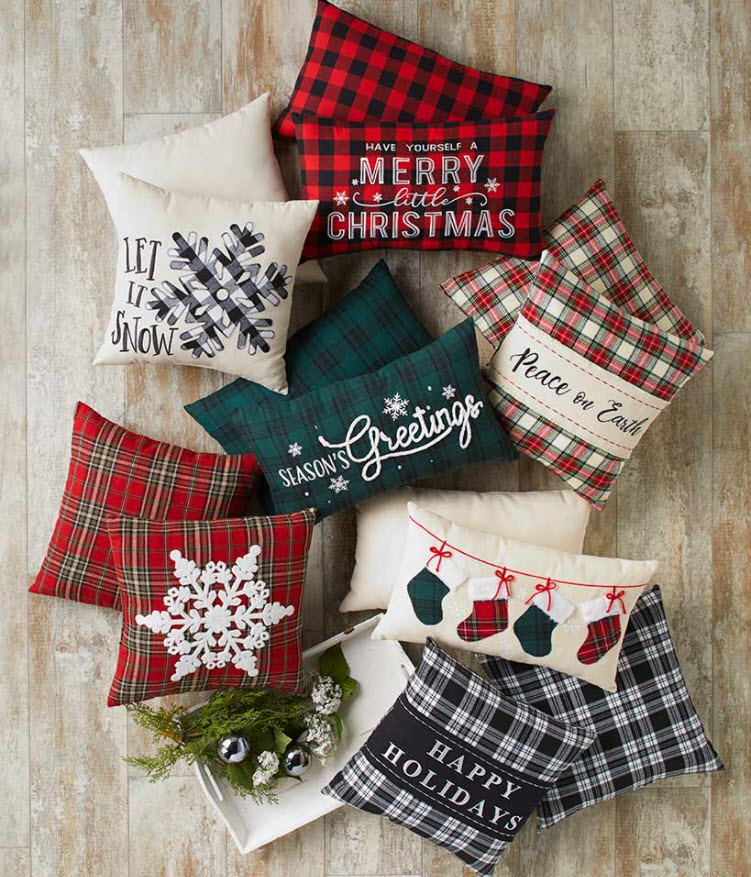 ---
2. Create Unique Rustic Christmas Displays With Cloches
---
You can easily set up a rustic Christmas decor style by display small sets of charming accents throughout your home. Creating these displays will help you instantly transform your space in an easier way.
There are so many ways to set up Christmas displays around your home. You can place accents on top of tray, inside of decorative bowls, or even use metal cloches for a unique look. If you need some ideas on rustic Christmas accents to display, check out some inspiration below.
Rustic Christmas Accent Ideas
Pinecones
Candles on rustic wood candleholders
Wooden Christmas sentiment signs
Rustic wooden figurines like Santa, reindeer, or snowmen
Mini galvanized metal Christmas trees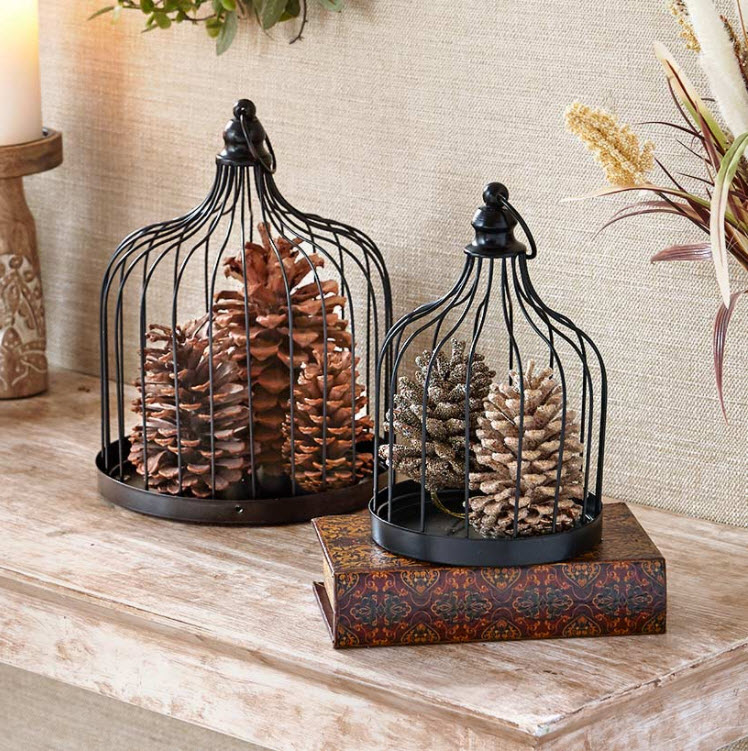 ---
3. Set Up A Rustic Farmhouse Christmas Tree
---
The farmhouse style contains rustic elements that can bring your rustic Christmas theme to life. Decorating with these styles can help you establish a more specific theme throughout your space.
A great way to incorporate the farmhouse style into your Christmas decor is to set up your tree with this theme. Creating a rustic farmhouse Christmas tree will add some extra charm and style into your home. Check out some ornament ideas and more below for creating this themed tree.
Rustic Farmhouse Christmas Tree Decor Ideas
Buffalo plaid ornaments
Wooden farm animal ornaments
Rustic wood sentiment ornaments
Burlap tree ribbons
Warm colored string lights
Galvanized metal star tree topper
Buffalo plaid tree skirt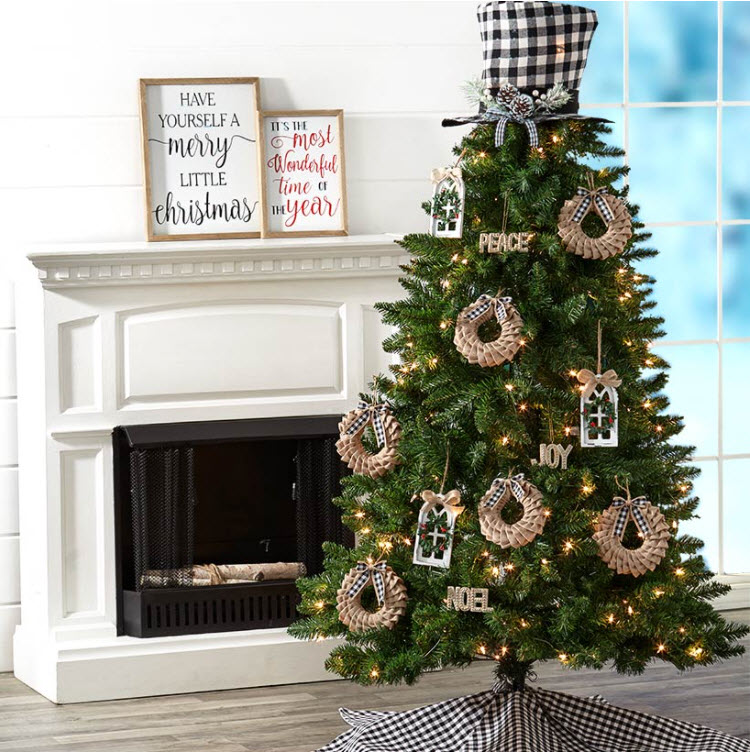 ---
4. Decorate Your Rustic Christmas Home With Wood Log Accents
---
In addition to the farmhouse style, the lodge decor style is another theme that fits in nicely with rustic decorations. This style is all about incorporating natural elements, warm colors, and comfortable fabrics.
Decorate with the lodge decor style by including wood log and tree accents throughout your space. This will help you maintain the natural elements of the lodge style and the unique charm of your rustic Christmas home. Check out some ideas below for creating a rustic lodge look with accents.
Rustic Lodge Decor Ideas
Wood log candleholders
Lighted tree branches
Wood slice plates
Placemats with a woodsy design
Wood slice wall hangings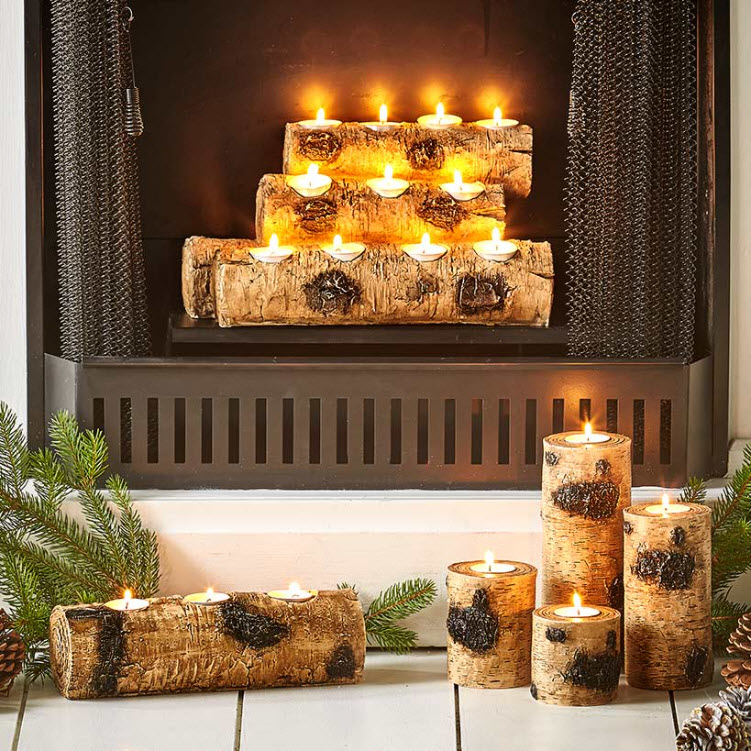 ---
5. Accent Your Rustic Christmas Space With Wood Plank Wall Art & More
---
To really elevate your rustic Christmas space, make sure to decorate with a lot of wood accents. Using distressed wood is an especially great way to emphasize the natural and comforting appearance.
Wood plank style decorations can look stylish and unique in your spread of Christmas accents. Find wood plank or distressed wood wall hangings and other decorations to include in your holiday decor plan. Check out some ideas below for inspiration.
Rustic Christmas: Wood Plank Decor Ideas
Display your Christmas cards on a wood plank wall hanging.
Use a wood plank tray to display festive holiday accents.
Set up mini wood plank houses to create a fun little Christmas town with other accents.
Hang up a Christmas sentiment wood plank sign on the wall or door.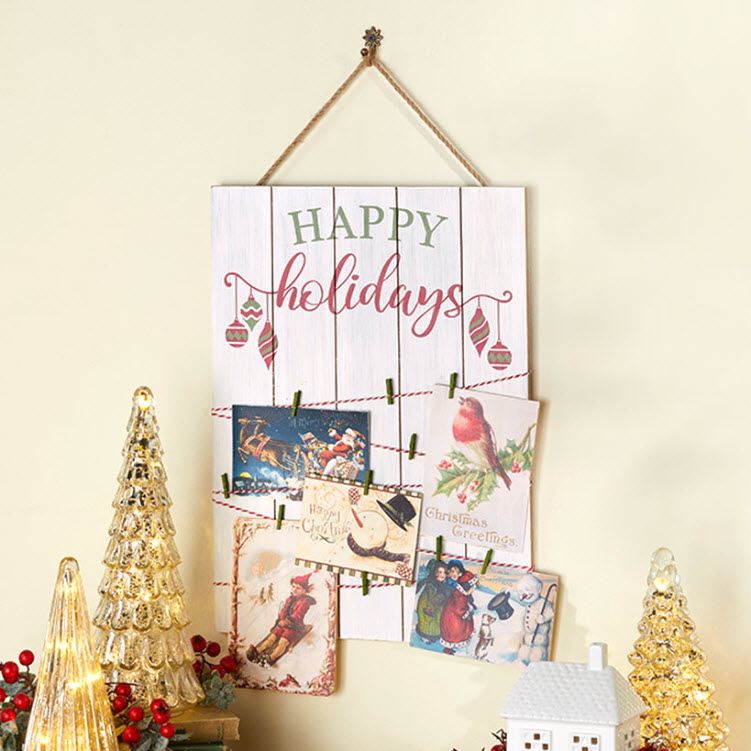 ---
6. Create A Red Truck Theme Within Your Rustic Christmas Space
---
Another common symbol within the rustic deocr theme and the country theme is red trucks. Red trucks can add to the charm of your rustic decor along with the festive nature of your Christmas accents.
Create a full red truck theme to amplify the rustic country style, or simple include a few red truck accents to display around your space. There are so many ways to include red truck Christmas decor in your home; check out some ideas below to get started.
Red Truck Decor Ideas
Red truck yard stake in the front yard.
Accent pillows on the porch or couch with a red truck design.
Red truck welcome sign on the front door.
A decorative red truck displayed on the entryway table.
Red truck shaped string lights across the mantel.
Kitchen towels and bathroom towels with the red truck design.
Red truck themed bedding or throw blankets.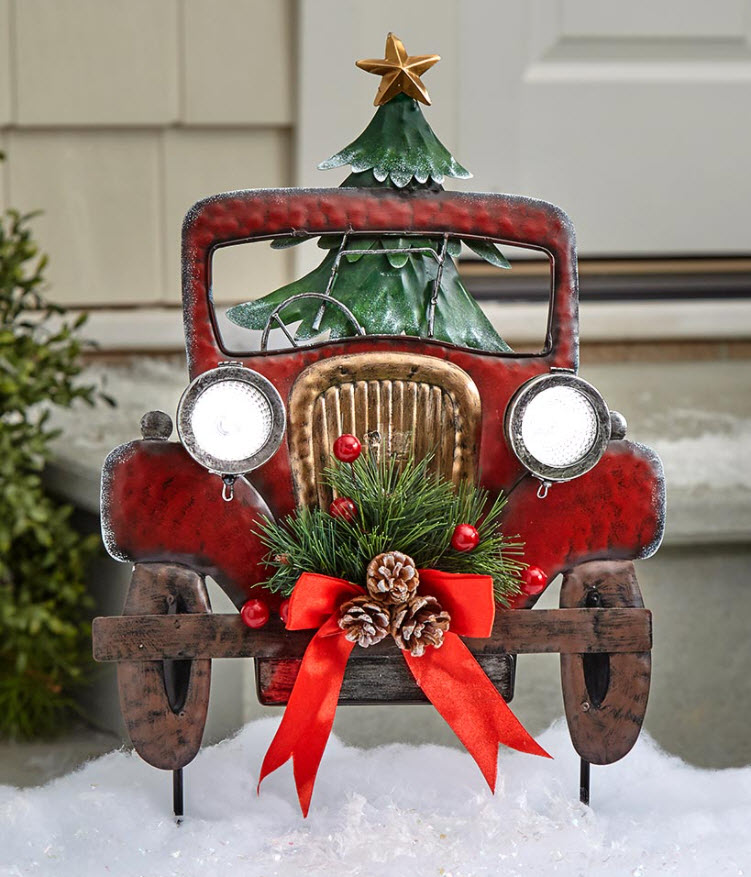 ---
7. Add Some Rustic Accessories To Your Christmas Tree For Extra Charm
---
If you're setting up a farmhouse tree as mentioned earlier, or any other style tree, you can easily bring some rustic elements to it to make it more charming. Add some rustic accessories to your Christmas tree to contribute to your overall theme.
Whether you just want a simple rustic touch on your Christmas tree, or if you want a full charming look, you can easily create a comforting and unique tree. If you need some ideas, check out some simple ones below.
Rustic Christmas Tree Accessory Ideas
Galvanized metal tree collar
Burlap tree skirt
Galvanized metal star tree topper
Rustic wood ball ornaments
Decorative wooden gift boxes underneath the tree
Red truck tree topper
Burlap ribbons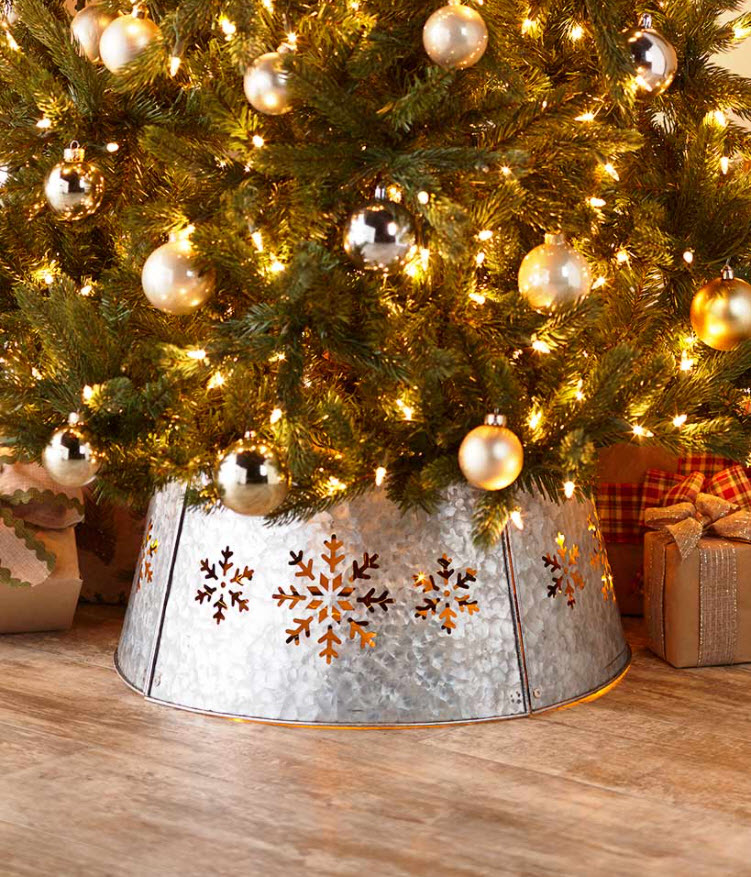 ---
8. Find Ways To Decorate With Rustic Metal Accents This Christmas
---
Another common rustic material to decorate with is metal, specifically galvanized metal. This type of metal gives off a worn and natural look, perfect for the charming appeal of the rustic style.
In addition to the wooden decor and the other rustic Christmas decor ideas mentioned earlier, add some metal accents to complete the look. Check out some popular ideas below for adding metal decor into your holiday spread.
Rustic Metal Christmas Decor Ideas
Rustic metal lanterns
Galvanized metal tray filled with accents
Metal wall hanging with Christmas sentiment
Galvanized metal string lights on the mantel or porch
Christmas candles on galvanized metal candleholders
Galvanized metal yard stakes with Christmas symbols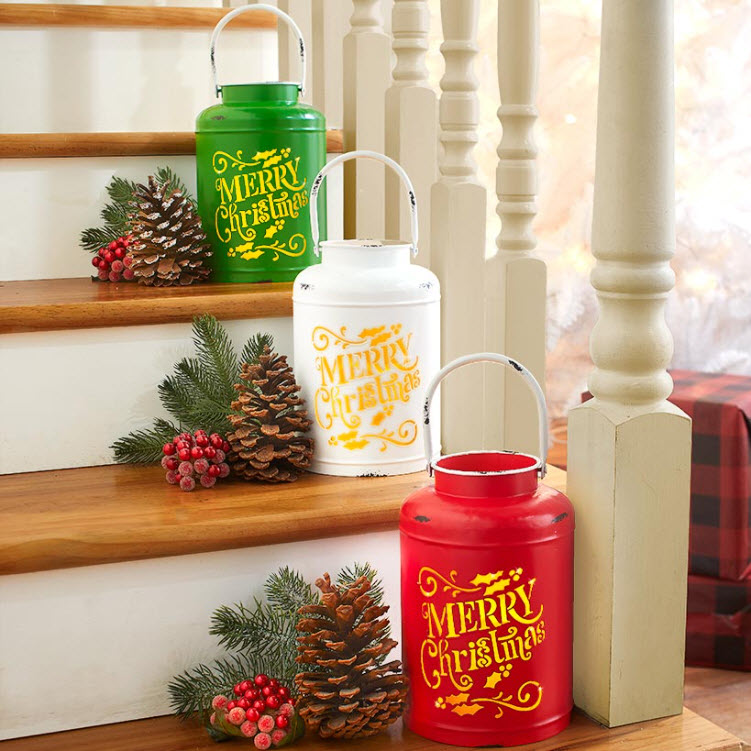 ---
Enjoy these rustic Christmas decor ideas? Shop our full selection of Christmas Decor & More to find additional inspiration for the holiday season! Find ornaments, festive wall art and accents, themed home collections, and much more to decorate your space for a rustic Christmas.