Dress for Success: Tips to Look Great at Your Office Holiday Party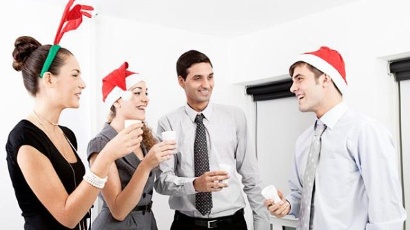 That time of year has arrived again and it seems like everyone is throwing a party. It can be easy to find some fab outfit options when you are with your friends but when it comes to your office party that can be tricky. You want to put your best foot forward and glam it up to celebrate with your co-workers but also maintain professionalism, even with that holiday martini in hand. We gathered some of the best trends in holiday fashion to help you get the party started.
Sparkle and shine
If you are a lover of glitz but hold back during the year, now is the perfect time to let loose. Bring out the sequins, glitter and everything shiny and strut your stuff. So many items around the holidays such as ornaments, lights, and garland glow with holiday radiance so glam it up and take the spotlight!
Be bold
It can be dreadful to think that a holiday party means an obnoxious sea of red and green. Like a fish out of water, dare to be different. Choose gorgeous hues of sapphire blue and deep amethyst. These jewel tones will make you stand out like royalty at your office party.
Little black dress
Never underestimate the power of the little black dress.The staple in your closet can go anywhere and do anything with you! If you feel your dress is too plain and not filled with enough holiday spirit, jazz it up with some shimmering jewelry. Just by adding this extra touch, you bring your outfit from drab to fab.
Texture your way to the top
Forget silver and gold this season- bring on the satin and lace! Beautiful textured pieces can add drama to any simple garment. Pair a lace blouse with a pair of black pants or a satin jacket over a simple top. The element of texture opens the doors to endless possibilities to mix and match with items you already own.
Layers
The most important thing to remember is many office parties occur at work so depending on the timeframe, you may be going straight to the party from your desk. Instead of bringing a change of clothes just use layering pieces to transform yourself. Take your little black dress and pair it with a suit jacket for a sharp daytime look. When it's time for the party, just loose the jacket and you're ready to boogie.  If a dress isn't your style just get out your trusty black pants with a satin top and use a jacket as your daytime staple. Layering is a classy and simple way to bring your office wear from day to night.
With these tips you will be sure to wow everyone at your office party this year.  When everyone has resorted to the same boring Christmas sweaters, you'll be rocking your look with confidence.
Do you have some great holiday fashion tips? Share your favorite tips in the comments below.