How To Create A Cozy Outdoor Living Space
Your outdoor space should be a relaxing and peaceful area to sit and entertain in. Whether you want to transform your patio, yard, or front porch, it can be fairly simple to make your outdoor space feel comfy and homey. No matter the size of your space, you can easily add some comfortable elements that will help you enjoy the great outdoors all spring and summer long. From furniture to lighting to accents and more, here are some simple ideas on how to create a cozy outdoor living space.
---
Start With Comfortable Outdoor Furniture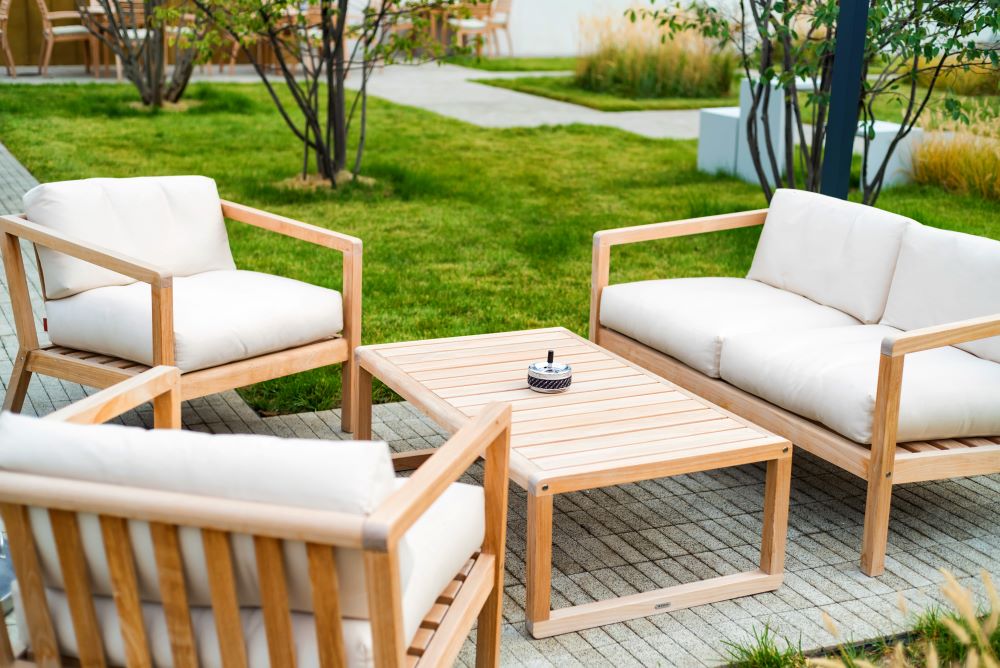 Furniture is a great starting point when creating a cozy outdoor space. Consider the areas of your outdoor space where you'd want to relax and enjoy the weather. Take note of which spots get a lot of sunlight and which areas get the most shade. Depending on your relaxation needs, you might want to place comfy seating in various places in your yard.
Outdoor seating is the first piece of furniture to consider. Whether you're looking to relax by yourself outside or entertain guests with a backyard cookout, comfortable seating is always a must. For amplified comfort, you can pair your seating with cushions and throw pillows. Here are some cozy seating ideas to focus on for each part of your outdoor space:
Front Porch: A cushioned bench or a couple lounge chairs
Patio: Cushioned chairs around a table and lounge chairs for sunbathing
Backyard Garden: A swinging bench or a hammock
In addition to seating, you'll also want to include tables and tall stool for outdoor dining. If you have a large patio space, you can use a full size dining table. For smaller spaces, use tall stools or slim side tables. You can also use side tables on your front porch to make relaxing even more convenient for your snacks and drinks. Convenience is key when it comes to outdoor furniture because convenience is synonymous with comfort. Style is also important for a beautiful outdoor space; however, you should always think about comfort first if you want an enjoyable space.
---
---
Include Cozy Cushions, Throw Pillows, and Outdoor Rugs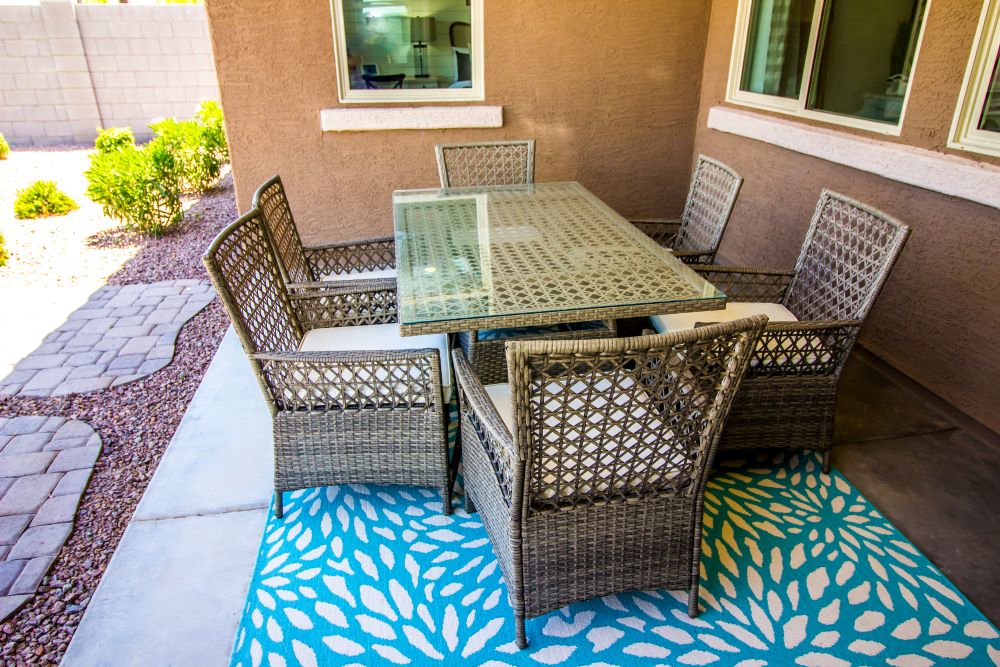 Linens and fabrics are another essential aspect of creating a cozy space, even outdoors. Despite weather concerns such as rain and wind, you can very easily add these elements to your outdoor space in many different ways. If you want to have some relaxing seating areas, make sure to include cushions, throw pillows, and even some outdoor rugs.
Cushions and throw pillows are great for your outdoor benches, chairs, and hammocks. Adding a rug to your outdoor area may seem tricky, but it's much simpler than you think. Check out how to add a rug to your patio below.
How To Add A Rug To Your Patio
Start with a brightly colored rug or one with a fresh pattern. For spring and summer, this can be a rug with patterns such as flowers, butterflies, or lemons. If you want a more simple and sleek look, opt for a colored rug with geometric patterns. The best spring and summer colors for outdoor rugs are teal, yellow, pink, orange, and green.
Next, decide if you want a casual seating area or a full outdoor dining area. It depends on the size of your space, along with your specific needs.
For a casual seating area: set down a rug with a side table in between two lounge chairs.
For a dining area: set down a rug with a clear dining table and comfy dining chairs. The clear table will emphasize your rug design.
---
---
Use Outdoor Curtains For A Private Patio Space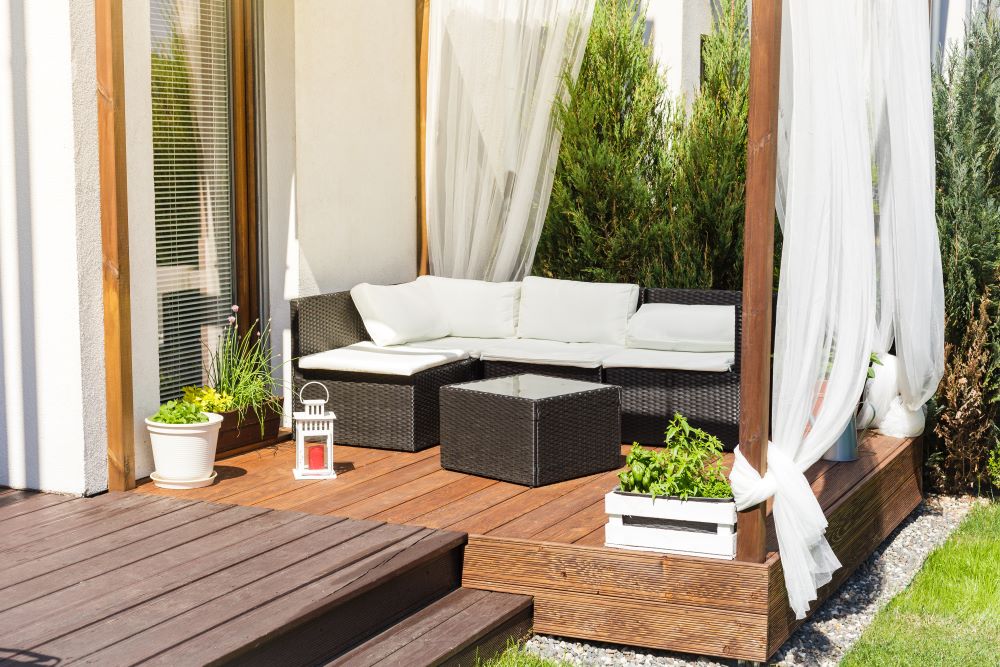 Taking the indoors outside is a big trend for the spring season! The concept is all about making your outdoor space feel as cozy as your indoor space. Using certain elements on your patio and porch can help you obtain this type of feeling while maintaining a trendy and stylish space.
Sheer curtains can give your patio a more breezy appearance while still blocking the sun and keeping insects away. On the other hands, thicker curtains can provide a better sense of privacy and tend to work best for evening entertainment outdoors. Just make sure to choose a material that is fade-resistant and mildew-resistant. Outdoor curtains also come in many different colors and patterns that can amplify the theme of your patio.
Adding curtains to your patio or porch is an easy and quick way to bring that coziness to your yard. Curtains not only provide a sense of privacy, but they also add to that comfortable feeling by blocking the sun, keeping bugs away from your seating area, and making your seating area feel extra cozy as a whole. There are easy ways to add curtains to your patio. Check out some ideas below.
3 Ways To Add Curtains To Your Patio
Attach curtains to a patio awning
Place a tension rod with curtains on the inside of a screened porch or pergola wall and hang
Hang curtains from a sturdy structure by using wire and wall anchors
---
---
Incorporate Outdoor Lighting & A Warm Fire For A Comfy Space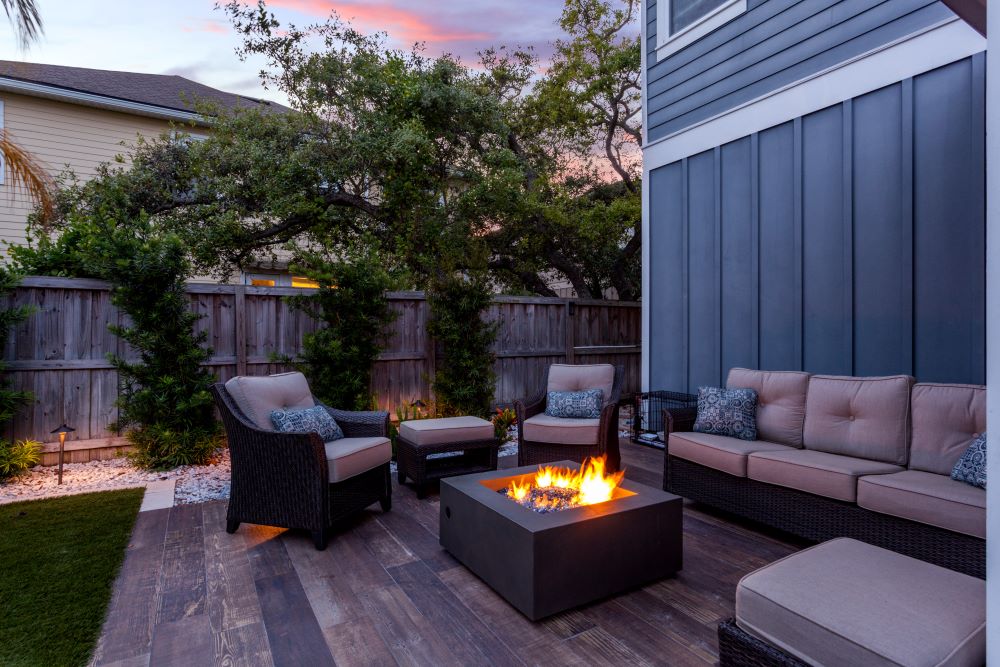 Another way to create a cozy outdoor living space is to set the scene with warm lighting. Evening relaxation in your backyard and on your front porch during the spring and summer should be comfortable and homey. Choosing the right type of lighting and solar accents can really give your space that extra level of coziness.
One great way to create a warm lighted environment is to invest in a firepit or even an outdoor fireplace. A firepit can be the perfect addition to your outdoor seating area because it'll keep you warm on a chilly evening and it can set the stage for a calm and welcoming space. Whether you build your own firepit on your patio or buy a firepit to place anywhere in your yard, you can easily incorporate this warm element to create a cozy outdoor living space.
In addition to a firepit, you can also focus on the lighting for your patio and porch. You can include anything from string lights, to solar decorations, to tiki lights, to candles, and much more. Think about your specific needs when it comes to your outdoor lighting. If you want a more relaxed space, opt for simple string lights. If you want a brighter nighttime space for dining and entertaining, you might want to go for bright wall sconces and table lanterns. Either way, you can make your space feel cozy and complete in whichever way you need it.
---
---
Decorate Your Outdoor Space With Plants & Flowers For A Fresh Look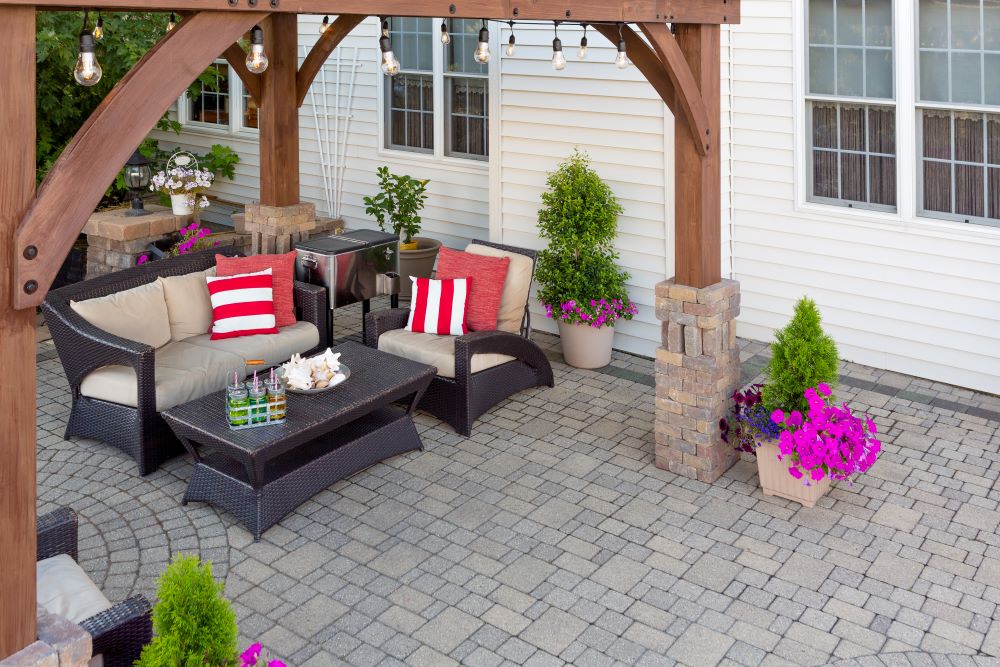 Ultimately, the simplest way to make your outdoor space feel cozy and fresh for spring and summer is to add live plants and flowers. Plants and flowers can add beautiful bright colors to your patio along with delightful scents that can make your outdoor relaxation even better.
Use decorative planters throughout your space to make the area look even more beautiful. If you have a large patio, make use of your space and add a variety of plants and flowers in different sizes. The more you add, the more unique your area will look and the more complete it will feel. There's nothing better than sitting outside on a warm sunny day and admiring some fresh and colorful flowers in the comfort of your own backyard.
Best Patio Plants
Begonias
Coleus
Gardenias
Boxwood
Chrysanthemums
Herbs
Marigolds
Lavender
Succulents
Creeping Thyme
Ornamental Grass
---
---
Now that you've gained some inspiration on how to create a cozy outdoor living space, check out our selection of Outdoor Decor to get started! Shop solar lighting, garden statues, yard stakes, planters, porch decor, and much more to complete your space.