Items We Adore: LTD Product Picks For The Week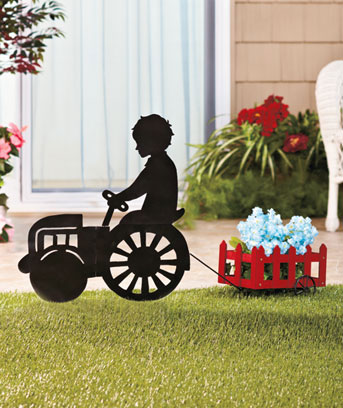 We see clearer skies and warmer days ahead, so today?s picks are all about your garden! It?s time to start thinking about the best ways to get things blossoming this year, and LTD Commodities can help! Here are our weekly picks for items to spruce up your garden this spring!
Silhouette With Wagon Planter
Set the right tone in your garden with this perfectly adorable silhouette with wagon planter! You can choose from either a boy riding a tractor or a girl with a bonnet pulling the wagon. You simply attach the silhouette to the planter and it looks like he or she is pulling your planter! We love the cute nostalgic charm this planter brings to the garden, and think everyone should have one on his or her spring decorating list!
Solar Metal Garden Birds
Want to get a little tropical in the yard without resorting to plastic flamingos? How about these cute solar metal garden birds instead? You have the choice of a cool blue peacock or a warm coral flamingo, both with glowing orbs that run on solar power! The panels save up the sunlight during the day, and then the solar power is used to light the orbs at night. This is the perfect addition to gardens that do a lot of evening entertaining!
Boy & Girl on Bench Garden Statue
We just had Valentine?s Day, but how cute is this bench garden statue? Reminiscent of the old Precious Moments knick-knacks, this statue is a cute addition to any garden d?cor. This detailed statue is durable cold cast ceramic, so it will surely outlast every plant in your garden! Set it up near your flowerbeds for the perfect effect.
Hanging Animal Bird Feeders
Do you like the sound of birds chirping in your garden? Are you always trying to feed your feathered friends? Whether you?re a bonafide bird-watcher or not, these great hanging bird feeders are perfect for every bird lover. Coming in a number of different animal shapes, including a frog, fish, and ladybug, these great feeders add the perfect touch of fun to any garden design.
Pocket Hose Ultra
Now that we?ve got the garden d?cor items covered, it?s time to talk about function! We love this pocket hose, which is available in both 50-foot and 75-foot versions. This clever hose features and expanding accordion design, so it fits perfectly in small spaces, but expands when in use. Made from rubber, nylon, and plastic, it is stronger than traditional hoses, and never kinks or knots while you?re trying to use it! When the dry summer weather arrives, you?ll be so glad you ordered one of these!