Kitchen Gadgets You Didn't Know You Need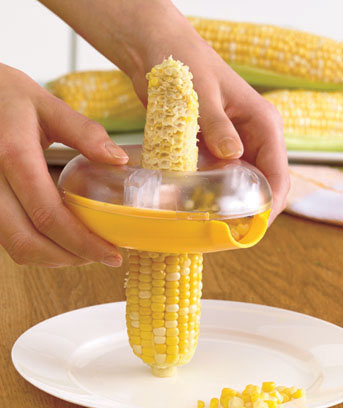 There are thousands of kitchen gadgets on the market, and plenty of people hoard these single-use items like it is their job. Any visit to a home with fun gadgets will make you wonder why you don't have them all! Well, we're here to help. We've got a list of 5 fun kitchen gadgets you didn't know you need (and where to find them!).
5-Piece Corn Accessory Set Barbecue season is right around the corner, and with copious amounts of grilled meat as the entre, you're sure to have a lot of corn on the cob on the side. We love this corn accessory set for everything from huge barbecues to simple family dinners. You can easily de-kernel the cob to eat with a fork, serve to the kids, or mix into a fun corn salsa or salad. These butter spreaders are perfect for keeping your hands clean while getting just the right amount of butter on your corn! Butter the cob, remove the kernels, and enjoy. Everyone should have this great kitchen accessory.
Ice Cream Sliders Makers Another great addition to your summer menu, ice cream is an American pastime. These slider makers take it to the next level. Rather than buying an ice cream sandwich from the ice cream truck, you can make your own with your favorite homemade cookies and ice cream! You simply place one cookie in the bottom of the slider-maker, add ice cream, top with the other cookie, and press all the ingredients together. Pop them out and you?ve got the perfect summer snack!
Electric Hands-Free Can Opener This can-opener is especially good for those of you who hate struggling with those manual openers. Simply place the opener on the top of the can and press start. Watch it spin around to open the can, and pull the lid away using small magnets. So easy! Whether you've got arthritis, carpal tunnel, limited dexterity, or none of the above, this electric opener is the perfect simple solution.
Onion and Potato Cutter When you're cooking for a crowd, cutting ten pounds of potatoes is sure to give you a hand cramp, and if you've been cutting onions, you'll be crying all over yourself. To avoid this tragedy, check out this great onion and potato cutter! You simply push the food down through the stainless steel blade and it?s sliced! It is so simple, and with a container on the bottom to catch the sliced pieces, you won't even need to dirty a cutting board.
Pineapple Slicer One of the reasons we don't eat as much fruit as we should often has to do with the difficulty of preparing it. Well, when it comes to pineapple, this great slicer removes all impediments, making it easy to enjoy this great tropical fruit all year! This great gadget peels, cores, and slices a fresh pineapple in less than one minute! Now you can make pineapple salsa, fruit salad, or even pineapple Hawaiian Sloppy Joes!