Last Minute Easter Decor Ideas
Easter is just a few days away. That means if you haven't started your Easter decor, you're going to have to scramble! But don't worry — there are plenty of cute ideas you can put together yourself in no time — you can even enlist the kids to help! Here are a few last minute Easter Decor ideas.
Egg Garland The easiest Easter egg garland to make is using pastel paint chips — if you happen to have paint chips leftover from your last home makeover. Modern Parents Messy Kids makes it look so easy! Just create a template of an egg so all of your eggs are the same, trace them onto your paint chip, cut them out, poke holes in the tops and string them together with fancy baker's twine and you have Easter egg garland. Of course, you don't have to do egg shapes — you can do the garland in the shape of bunnies and you don't even have to use paint chips — just use construction paper and you can have your kids decorate whatever Easter shape you choose.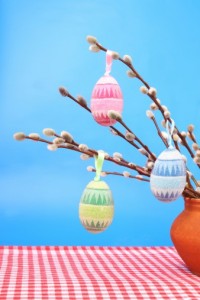 Easter Trees Pussy willow branches in vases are used as accent pieces year-round, but you can tailor them to suit your Easter celebration. You can use the paint chip egg garland idea to make eggs or bunnies but instead of stringing them together, you can tie little loops of twine or ribbon through the holes so you hang them on your pussy willow branches. If you don't have pussy willow branches, a few bare sticks from the yard will do the job just as well.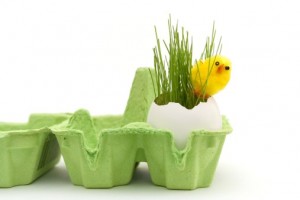 Eggshell Planters This one isn't new, but it's a favorite! Eggshell planters are super easy to make and small succulents are relatively inexpensive. Just cut the top off  of however many eggs you want to use, poke a hole in the bottom for drainage, fill it with soil and a succulent and you're done! They're so cute and you'll be able to enjoy them long after Easter.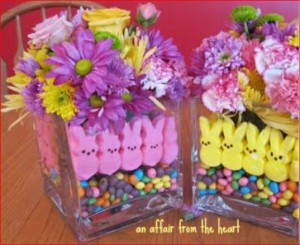 Vases and Jars There are so many pretty, little things you can do with vases and upcycled jars to enhance your Easter decor. An Affair from the Heart has, by far, the most clever curation of Easter vases. With a small jar inside of a bigger vase, she filled the bottom with a layer of Easter candy followed by a layer of Peeps — reserving the inner jar for water and Easter flowers. It makes an impossibly adorable center or accent piece. If you want to simplify the idea, you can layer different colors of jelly beans and instead of flowers, use the center for a candle. If you don't want to use candy, you can fill large jars with Easter basket grass and top it with colored eggs. There is no end to what you can do with a jar!

We've got ideas and products for every season at LTD! From Easter to the Fourth of July, shop LTD for products priced for fun.