How to Choose Monogrammed Jewelry for The Perfect Gift
There are certain pieces of memorable jewelry that most women – regardless of their style – would love to own. Monogrammed jewelry is that special category we're talking about. Beautiful, classic, and elegant, these types of accessories are excellent gift ideas you might want to consider for a spouse, girlfriend, or mother. Monogrammed jewels are usually available in the shape of several initials. It can be from a name, or it can sum up an entire word. The engraving is extremely special too, so if you're looking for an ideal gift, think no further and opt for such unique jewelry types.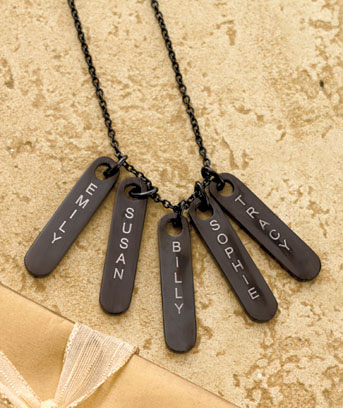 Different monogram styles
Prior to investing your money in monogrammed jewelry pieces, it might be a good idea to get to know the style first. It should fit the personality of your loved one, it should come in a great color, and of course, it must have the correct engraved initials. If you're looking for monogram jewelry as gifts, it's best to find something that can matches the character and spirit of the one you adore most.
Block Lettering
Block lettering is an amazing style of monogrammed jewelry.Suitable for men, such items usually come in the shape of a necklace. Bold, strong, and classic, monogramming jewelry in the block lettering style will certainly appeal to the senses of your fiancé or spouse. The monogram usually features capital letters in order to convey a robust look and a strong manly accessory.
Interlocking monogrammed pieces
For women usually contain the first, last, and middle name initials. The initial of the woman's last name have to be the largest and placed in the center. If you're looking to surprise your girlfriend with a couples monogram jewelry set, you can always combine her initials with yours. You'll surely manage to astound your loved one, not to mention such romantic types of gifts are genuine proofs of love and commitment.
Monogrammed jewelry for men and women as ideal gift ideas
You don't have to be Greek to receive or give a monogrammed necklace engraved with such beautiful letters. This style is perfect for those who want to make an original gift for someone they love. You can always write their initials in Greek letter to make your present stand out. As far as the material is concerned, you can never go wrong with gold, sterling silver, or platinum. It's amazing how beautiful Greek letters can look on a piece of jewelry, so if you're out of gift ideas, opting for monogrammed accessories will certainly make an impression.
While women love to receive necklaces and earrings, men would definitely appreciate monogrammed signet rings and cufflinks. If you're running out of ideas, the following items might just help you make an amazing selection:
A Bracelet with monogrammed initials

A beautiful bracelet is absolutely divine. Your girlfriend will simply adore it. Make sure to engrave her initials, or have something meaningful imprinted to help her remind the present forever. It's really important that to opt for quality silver, and if your budget is more substantial, golden monogrammed bracelets are even more amazing for women.
Monogrammed cufflinks
Men deserve to be loved and appreciated just as much as women. Hence, if you're looking for an original gift idea, a set of cufflinks with his initials engraved will definitely blow him away. It doesn't have to be a special occasion, and if you feel that your loved one deserves a gift, think no more and make a sensible investment. Who knows maybe you'll get a diamond ring in return?
Are you looking for a special gift but you're out of ideas? Does buying simple jewelry sound a bit too dull? Then maybe it's time to think outside the box and opt for monogrammed jewelry for your loved one. Both men and women love to be spoiled with present. Hence, you can never go wrong if you choose to buy your spouse a pretty necklace. Men are a bit more pretentious, so if they're not into perfumes and watches maybe you can win his heart with a set of beautiful monogrammed cufflinks. They don't have to be made of platinum to be appreciated, and as long as you picked the ideal type of engraving, your husband will love them.