Pinteresting Picks for October
It's finally time to get the house dressed up to suit the season! It's not quite time to put up the holiday lights, but inside, we're working on making our homes more welcoming for holiday guests and our Pinterest followers are starting to get into the spirit, too. From clever storage solutions to the warm glow of a scented candle, they're getting their homes in shape for the season! Here are LTD's Pinteresting Picks for October.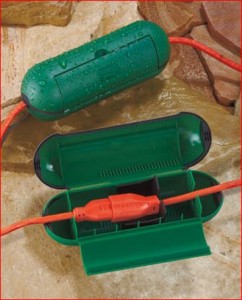 Electrical Protection Protect outdoor electrical connections for a holiday display or at a job site with a Set of 2 Extension Cord Safety Seals. The case snaps around the point where the cords come together, and a rubber seal keeps out rain, snow and mud. An internal locking safety mechanism holds cords securely together. These cases are a simple solution that will prevent shorting out and eliminate the chore of reconnecting cords that have been accidentally pulled apart. 3″ dia. x 8'L. Plastic.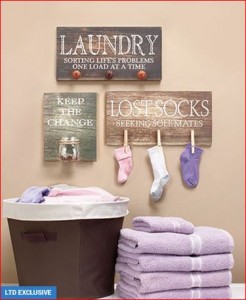 Sock Sorter Lighten the load on laundry day with a funny yet functional Laundry Room Wall Hanging. Each wooden sign features a visual accent that can also come in handy as you work. The Laundry sign (15-3/4″H x 7-7/8″W x 1-1/2″D) has 3 knobs to hang small articles of clothing as you fold or sort. Keep the Change (10″H x 8″W x 3-3/4″D) has a glass mason jar attached with a raffia tie that you can use to hold coins found in pockets, buttons that have come loose and other small objects left in the hamper. Lost Socks (15-7/8″H x 9″W x 1″D) has 3 clothespins to hold separated socks while you look for their mates. Each comes ready to hang.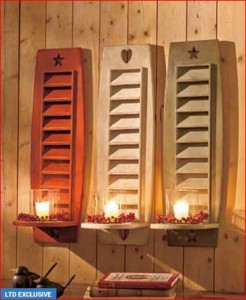 Cozy Accents In charming country style, this wooden 22″ Shutter Candle Sconce features cutout accents and a rustic finish. The red berry ring adds a pop of color around the clear glass candleholder. Add your own votive, tea light or up to 3″ dia. x 3″H pillar candle. Sconce, 6-3/4″W x 6-3/4″D x 22″H. Candleholder, 3-1/2″ dia. x 3-1/2″H. Mounting hardware included. Some assembly required; assembly hardware included.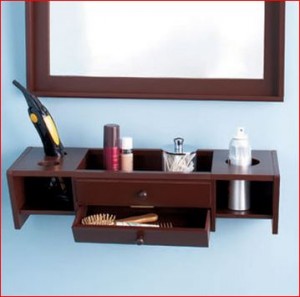 Compact Vanity This wooden Ready-to-Go Vanity Shelf adds attractive storage and organization. Perfect for makeup, styling tools, accessories and more. The large, open middle compartment has a faux drawer side. Underneath it is a functional drawer perfect for smaller supplies. Three surface holes are sized for curling irons, a hair dryer or other appliances. 23-1/4″ x 9″ x 5-7/8″. Assembly required; assembly and mounting hardware included.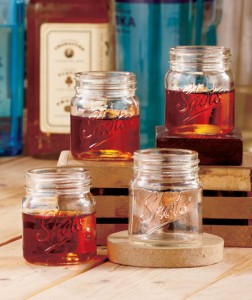 Country Charm Set of 3 Mason Jar Tea Light Sconces brightens the room with its country charm. Each wooden plaque has an inspirational word with artwork, along with a glass jar held by a metal hoop. The LED tea light is mounted in a holder that's easy to remove from the jar. Faux berry accents complete the look. LED candles have an on/off switch and run on the included button-cell batteries. Easy assembly required; assembly hardware included.