10 Fun Fall Activities To Do At Home
When the chilly fall weather arrives, sometimes it's nice to just stay inside. There are plenty of ways to enjoy the harvest season from the comfort of your own home! From cooking to crafting to movies and more, here are 10 fun fall activities to do at home with your family.
---
1. Set Up Your Home With Fall Decorations Galore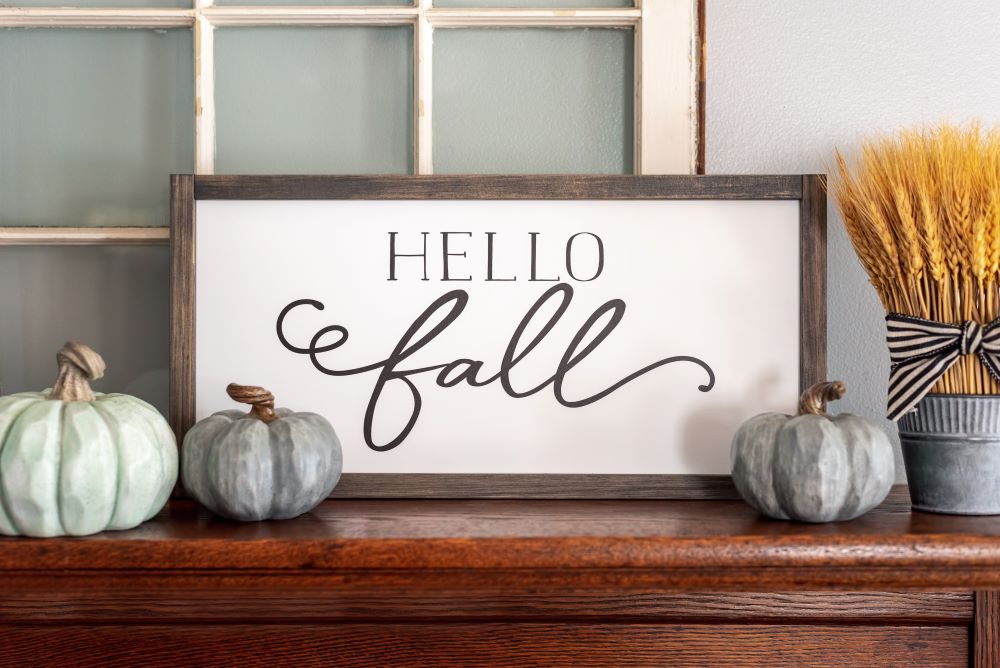 Your home wouldn't feel festive without the help of some fall decorations! Gather the whole family and decorate each room together.
Buy fall decorations online such as sentiment signs, ceramic pumpkins, decorative scarecrows, and candles. Have each family member decorate a room in their own style or team together to make your house look like a autumnal wonderland.
It's fun to get younger kids involved in the decorating process! Have them craft up their own fall decorations and display them somewhere in the house. This will make your decor feel more personal and meaningful. Check out these DIY fall decor ideas for inspiration.
---
2. Experiment With New Fall Recipes For The Whole Family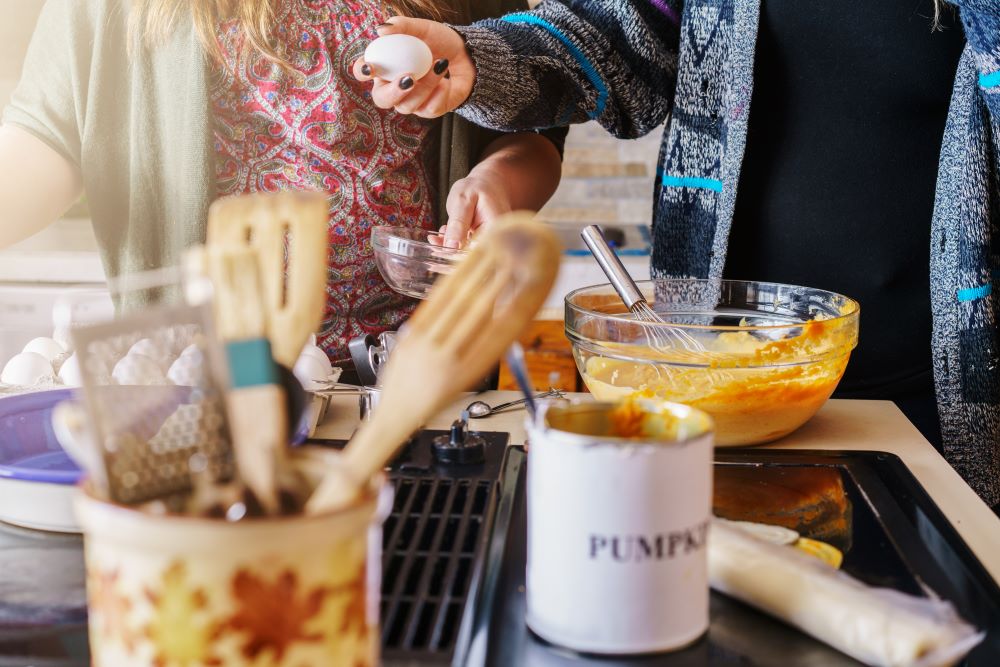 Cooking and baking are two activities that you can do in your home all fall long! Have fun experimenting with new recipes or returning to classic favorites that your family has always enjoyed.
Fall recipes are all about rich flavors and comfort foods, so try to find dishes that inspire those warm and cozy feelings. It can be anything from pumpkin soup to a creamy pasta dish or freshly baked cinnamon bread.
Have your kids help you bake some delicious fall desserts for some fun family bonding at home. Bake some pumpkin cookies, apple pie, or Halloween themed cupcakes. Getting the whole family involved will encourage team work and allow everyone to learn new skills. You can even serve your recipes on fall serveware and dishes to add extra festive cheer!
---
3. Have A Halloween Movie Night At Home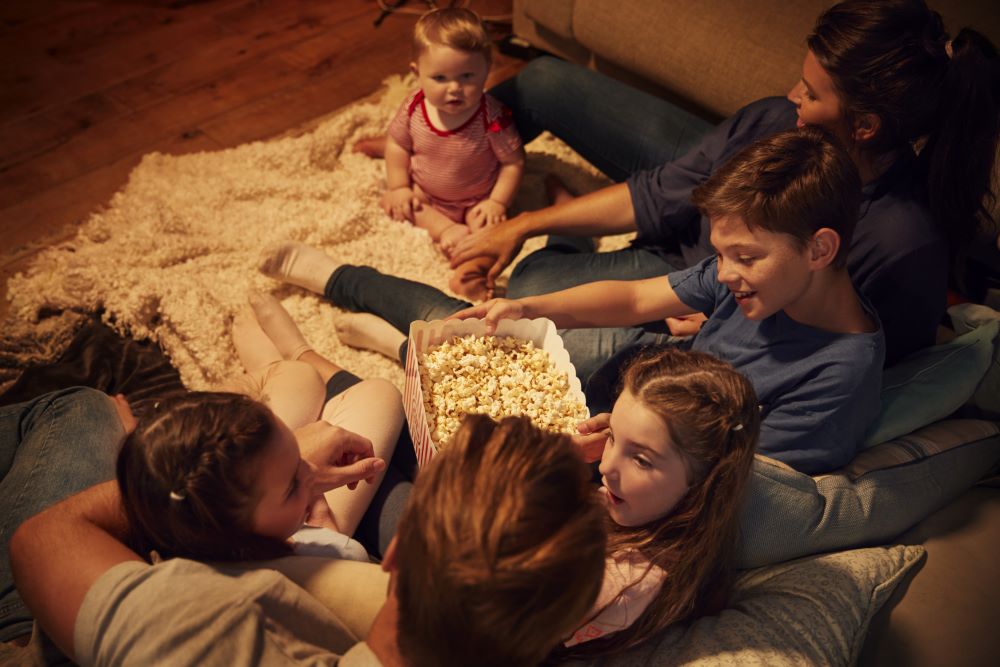 Nothing says warm and cozy quite like a movie night in the comfort of your own home. Have a Halloween or fall themed movie night with your family in the living room with a marathon of films that everyone will enjoy!
Start by setting the scene. Hang up twinkling string lights or lighted decorations to give the space some warm and comforting lighting. Then, you can bring in some comfy pillows and blankets for the couch or you can even take the time to build a blanket fort for added fun.
Make sure to have some essential snacks such as popcorn, everyone's favorite candies, hot chocolate or apple cider, and anything else you want! Make it a fun and exciting night for the entire family.
---
4. Create A Hot Cocoa Or Apple Cider Bar For The Family To Enjoy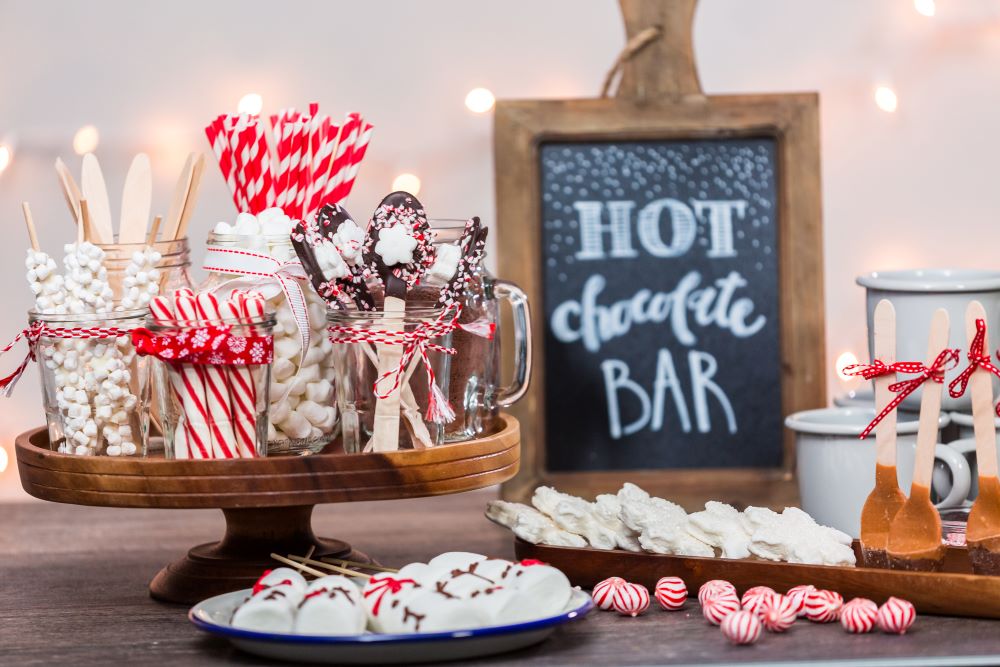 Warm drinks are one of the best ways to get comfy and cozy on a chilly fall day. Set up a hot cocoa bar or apple cider bar in your home for the ultimate fun family evening!
To set up a hot cocoa bar, display a variety of mix-ins alongside your hot chocolate mix. Set up jars with marshmallows, peppermint sticks, chocolate spoons, cookies, and other sweet sides. You can even decorate the bar with a cute chalkboard sign and your favorite fall mugs.
If you want to set up an apple cider bar, fill jars and platters with mix-ins such as cinnamon sticks, honey, caramel candies, orange slices, and apple or pumpkin cookies. Decorate the table with a bowl of apples, some ceramic pumpkins, and your favorite coffee mugs.
---
5. Have A Family Reading Night By Setting Up A Cozy Space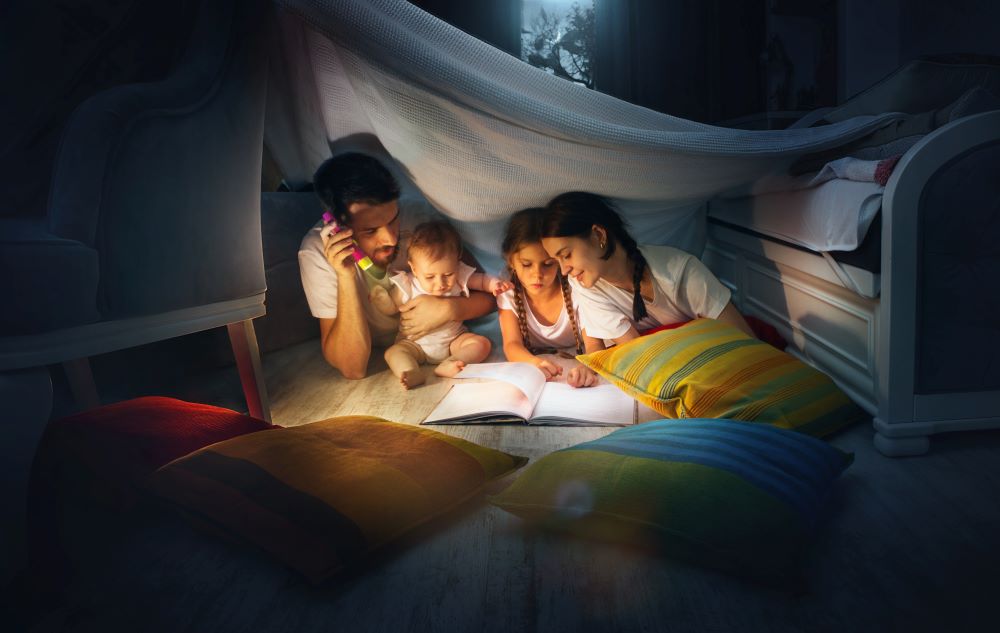 Reading can be a calming and relaxing activity no matter what age you are! Have a fun family reading night on a chilly fall evening or make it a routine activity to do each night.
First set up a reading area that everyone will be comfortable in. This can be a comfy corner in the living room, some cozy chairs at a table, or a temporary pillow/blanket for with string lights. Set up an area that will fit everyone comfortably.
Depending on the ages of your kids, you can either all read a book together or have quiet reading time where everyone reads their own book. You can even have a "book club" where you each read the same book and have discussions together about it. This is a great idea for older kids!
---
6. Learn How To Knit A Sweater Or Blanket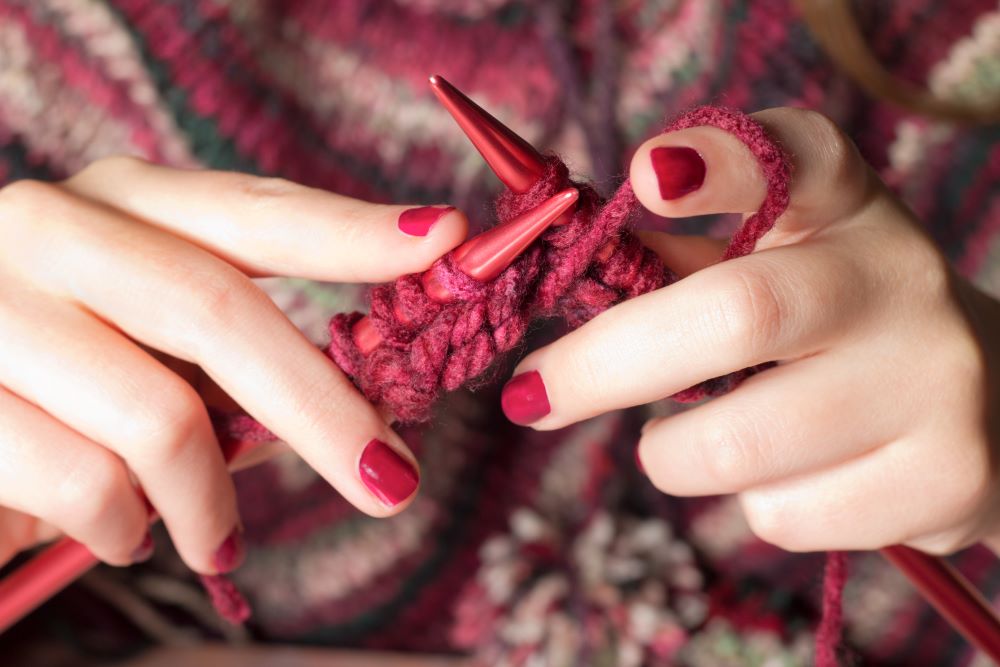 Spending a lot of time staying warm indoors means you have extra time to pick up new skills and learn new things. Why not learn how to make some comfy fall weather clothing and blankets?
Take some time to learn how to knit a sweater or a blanket. Knitting can be both fun and relaxing, and can result in a beautiful item of clothing or a comfy blanket that you can use yourself or give as a gift to a family member.
While knitting is often seen as more of an adult's activity, you can get older kids involved so the family can craft things together. You can even discover other ways to make blankets such as the tie blanket method, or using a sewing machine.
---
7. Do A Family Pumpkin Decorating Competition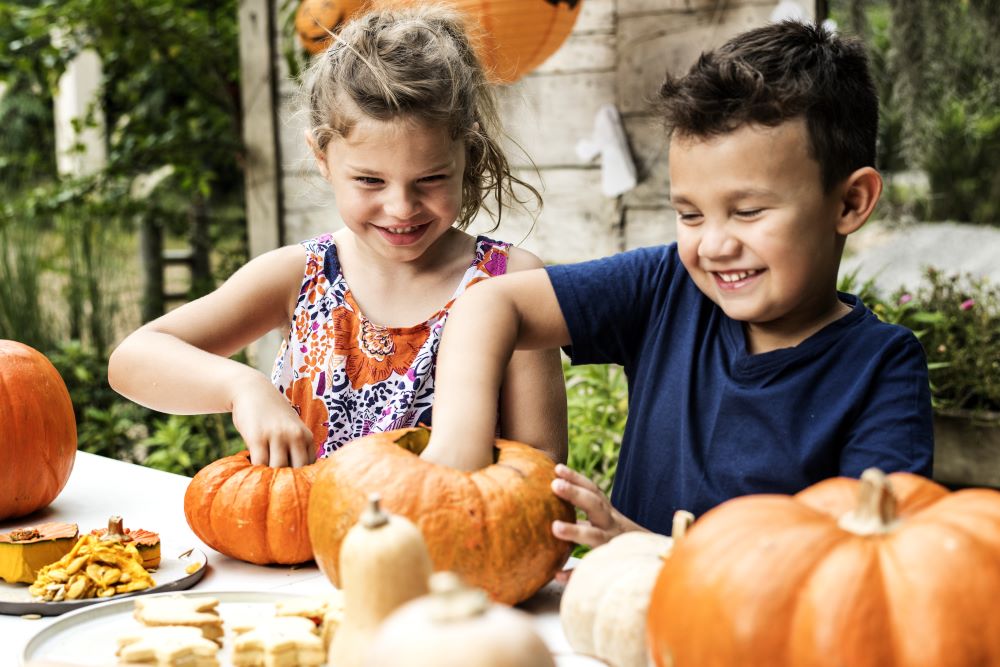 Take the pumpkin decorating up a notch by hosting a family pumpkin carving/decorating competition! This idea works best with older kids, but can also be done with younger kids with slight modifications.
Have each contestant come up with a general theme for their pumpkin and set a time limit for the decorating/carving process. This competition works best for a larger family but can still be done with just a few people.
Once each person has made their creation, post pictures of each pumpkin on Facebook or other social media platform and have people vote on their favorite ones. You can alternatively send a group text with the photos to friends and family and have them vote as well. The winner can get a special prize!
---
8. Play Halloween Themed Games Together As A Family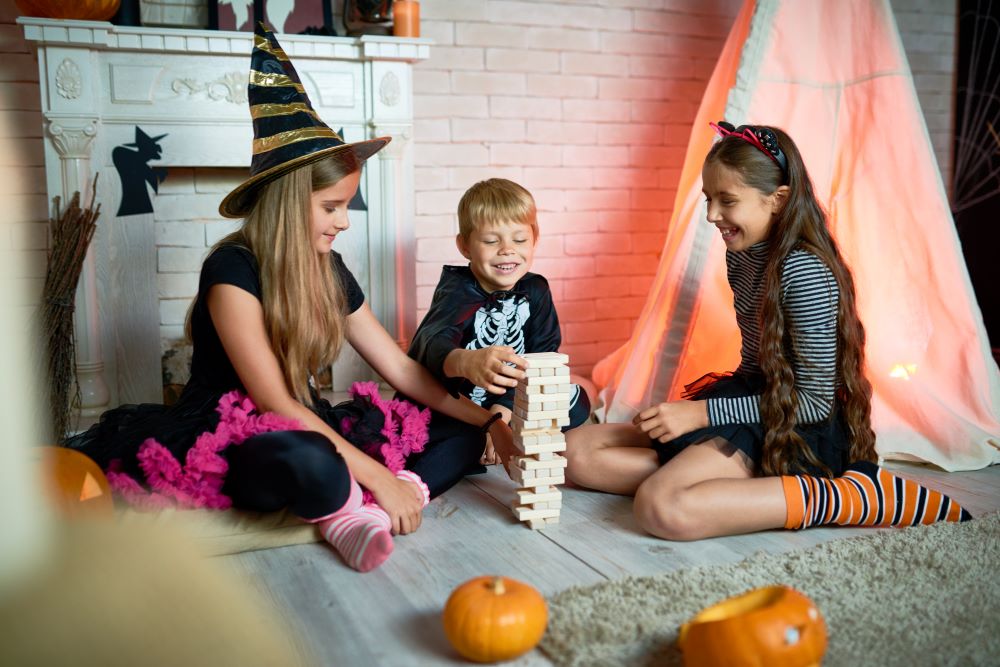 Family game night is a fun activity to do at home, so why not make it feel more like fall by playing Halloween themed games! Whether you come up with your own games, find ideas online, or pick up a holiday board game, find something that everyone will enjoy!
DIY Halloween Game Ideas
Mummy Wrap Game – assign a couple of people the be the designated "mummies". Each team wraps the mummy in toilet paper or crepe paper. The first team to finish wrapping the mummy wins the game.
Halloween Eyeball Hunt – fill a large bowl with spaghetti and mix in a bunch of craft eyeballs. Each player gets blindfolded and has to dig through the spaghetti to find the hidden eyeballs. See who can find the most eyeballs with a 1 minute time limit.
DIY Halloween Jenga – a fun twist on the classic Jenga game, simply write in some Halloween themed tasks on each blank block. This can include tasks such as "walk like a zombie", "pretend to chew on sticky candy", and "tell everyone your favorite Halloween memory".
---
9. Set Up A Backyard Picnic Or Bonfire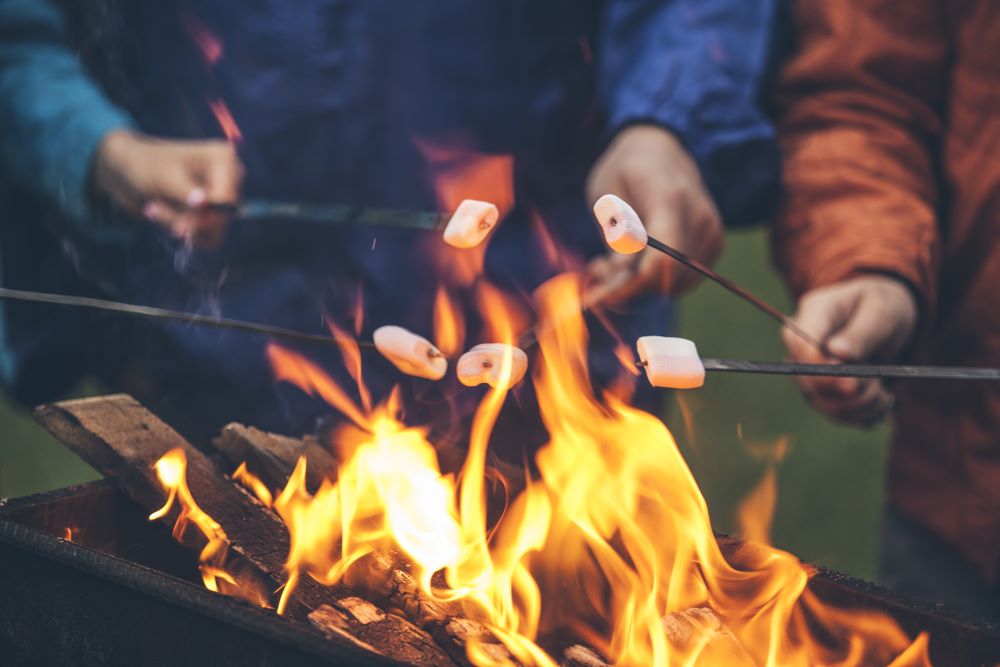 Take advantage of your backyard space this fall season by have a lovely afternoon picnic or a chilly evening bonfire!
Set up a fall picnic in your backyard by laying down some comfy blankets with some warm comfort food such as soup, freshly baked bread, or warm panini sandwiches. Be sure to serve with some delicious apple cider or other apple themed beverage!
If you're able to set up a bonfire in your backyard, this can be a great way to have some family bonding time on a fall evening. Roast some marshmallows, share some scary Halloween stories, and bundle up in cozy blankets.
---
10. Build A Blanket Or Pillow Fort For A Night Of Family Fun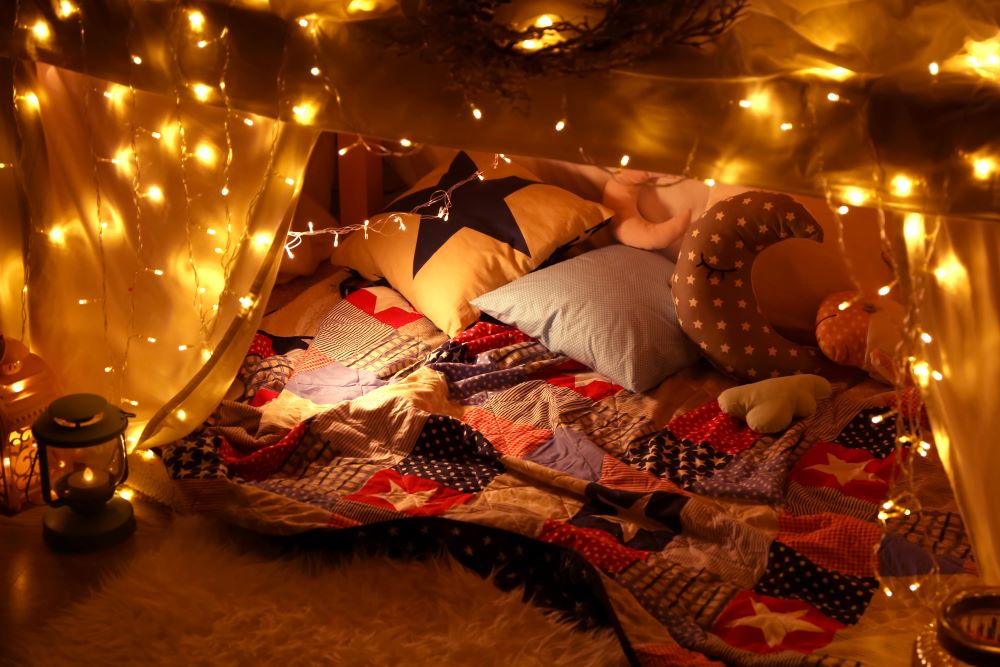 Lastly, a fun way to relax with your family in your home this fall is to build a pillow or blanket fort that everyone can spend time in to stay warm!
Build your blanket or pillow fort and fill it with cozy items such as stuffed animals, more pillows and blankets, lanterns and LED candles, string lights, and a faux fur rug on the bottom. You can also fill it with toys and activities depending on what everyone likes to do.
You can build your blanket fort around your television so you can combine it with movie night or you can make your fort the center of family reading night. Stay warm and cozy!
---
Looking for more fall activity and home inspiration? Shop our selection of Fall Harvest Decor to fill your home with autumn cheer! Find kitchen collections, decorative accents, lighted decor, and much more.
---
Read Next: 7 Thanksgiving Dishes You Can Make Ahead Of Time