5 Low-Cost Ways To Keep Your House Warm This Winter
As the weather gets colder outside, it's important to start preparing your home so you can stay warm all season long. There are many ways to make your home warm and comfortable during the winter without breaking the bank. Here are 5 low-cost ways to keep your house warm this winter.
---
1. Insulate Your Windows With Weather Stripping & Energy Efficient Curtains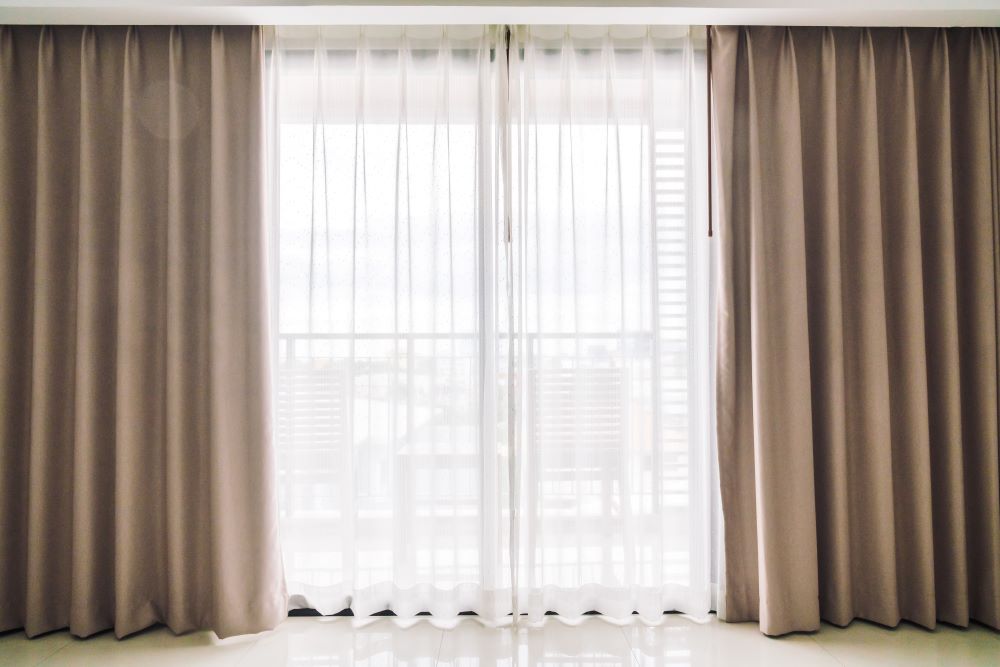 One of the first things you should do before the winter hits is check all your windows and doors for any air leaks. If your windows and doors aren't properly sealed, they'll let in cold air which will cause you to use your heating system more.
An easy and low-cost way to seal your windows and doors is through weather stripping. Weather stripping can be easy to install yourself. Simply buy a kit that works for your windows and doors and get it all set up before the weather starts to drop.
In addition to weather stripping, you can also swap out all your window curtains for energy efficient ones. Hang up curtains that block out the cold air to help you retain a warmer temperature inside your home. This will cut down your heating bill immensely and save you money all season long.
---
2. Use A Programmable Thermostat To Save On Heating Costs In The Winter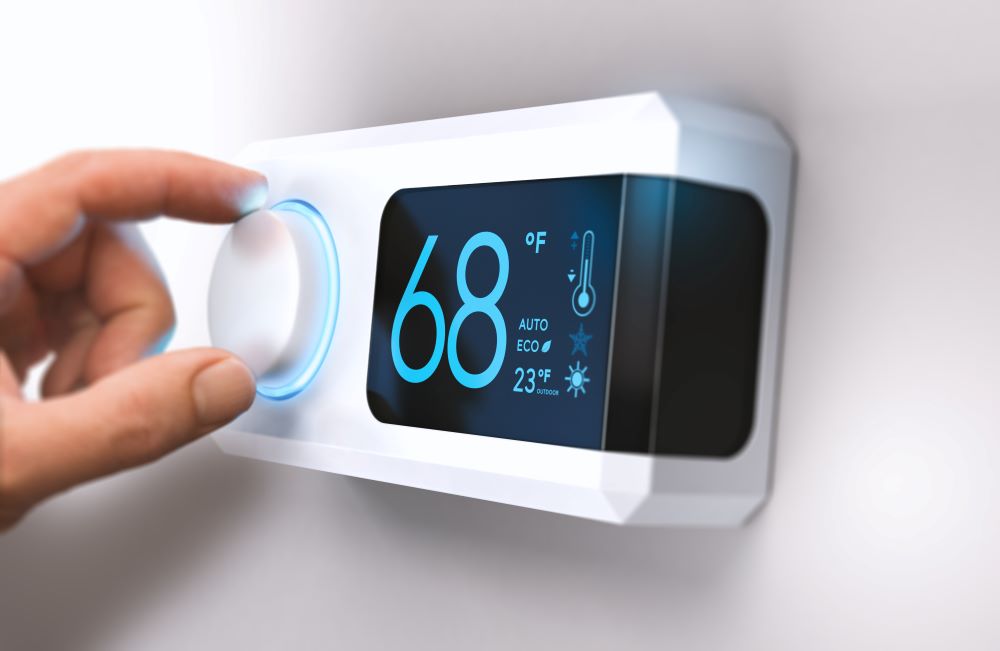 Using a programmable thermostat is a great way to save money in the wintertime and even during other seasons. Setting a specific schedule for your heating will prevent you from changing the temperature too often, leaving you with a steadier utility bill.
Thermostat Tips For Winter
Set your heat to 68 degrees during the day when you're home
Lower the temperature at night or when you're not home (ideally 6-10 degrees lower, if possible)
If you are going on vacation or leaving your house for an extended period of time, you can set the thermostat for around 50 degrees. This will help you save money without the pipes freezing.
---
3. Change Your Furnace Filter Every Month During The Winter Season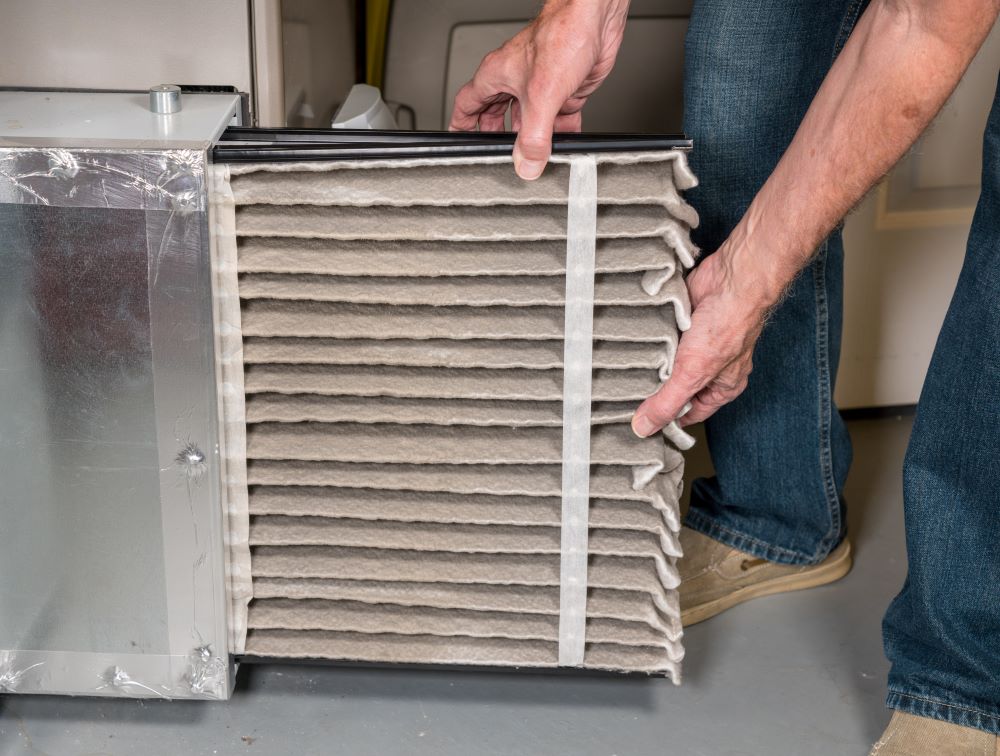 While you should generally be changing your furnace filter every few months, it's important to change it once a month during the winter season to save money and to assure your furnace is working properly.
Changing it frequently in the winter is crucial because of how often the system will be in use. You should also make sure that it's consistently clean to allow for full air flow throughout your home.
Continuously check to see if your furnace is in good health throughout the winter season. If there's an issue with your heating, make sure you get a professional to look at it as soon as possible.
---
4. Set Your Ceiling Fans Clockwise & Unblock All Your Vents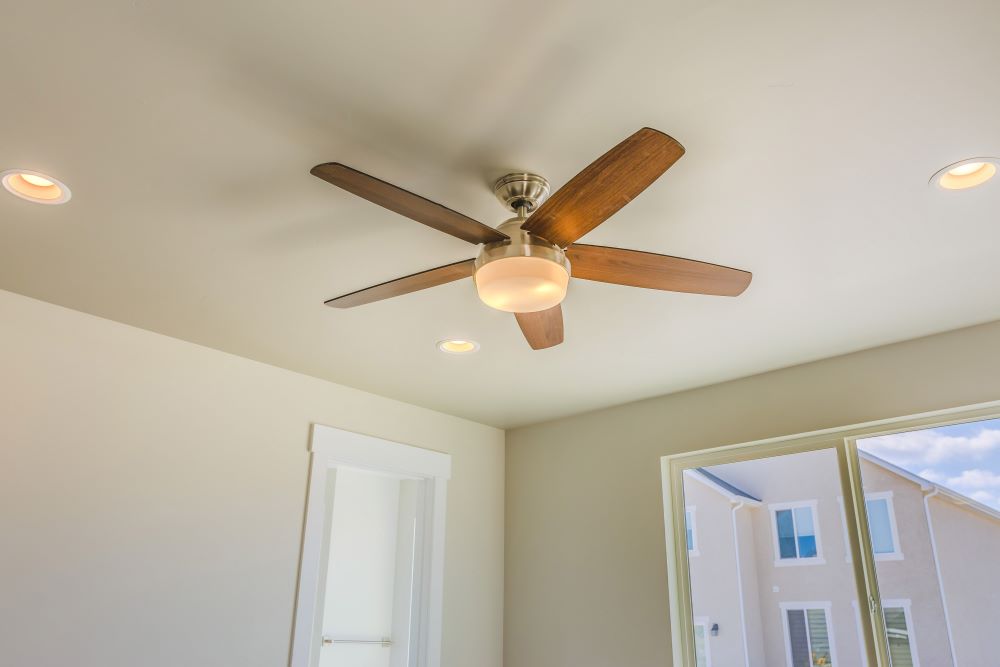 Did you know that your ceiling fans can actually be useful in the colder months? Setting them to spin clockwise to get a more efficient airflow in the fall and winter seasons. This low-cost way to keep your house warm is an easy fix!
When the fans spin clockwise, they lift the cold air up towards the ceiling and push the warmer air down into the room. Consider keeping your fan on while you're in the room to stay warm. This will allow you to keep your thermostat on a lower temperature to save money.
Additionally, you should also make sure that nothing is blocking your vents. If a piece of furniture, such as a couch, is blocking the heat flowing from the vents, it can make a room feel colder. In turn, if there are certain rooms that you don't use as often, you can close off the vents in those rooms to save energy.
---
5. Switch Up Your Decor To Make Your Home Feel Warmer This Winter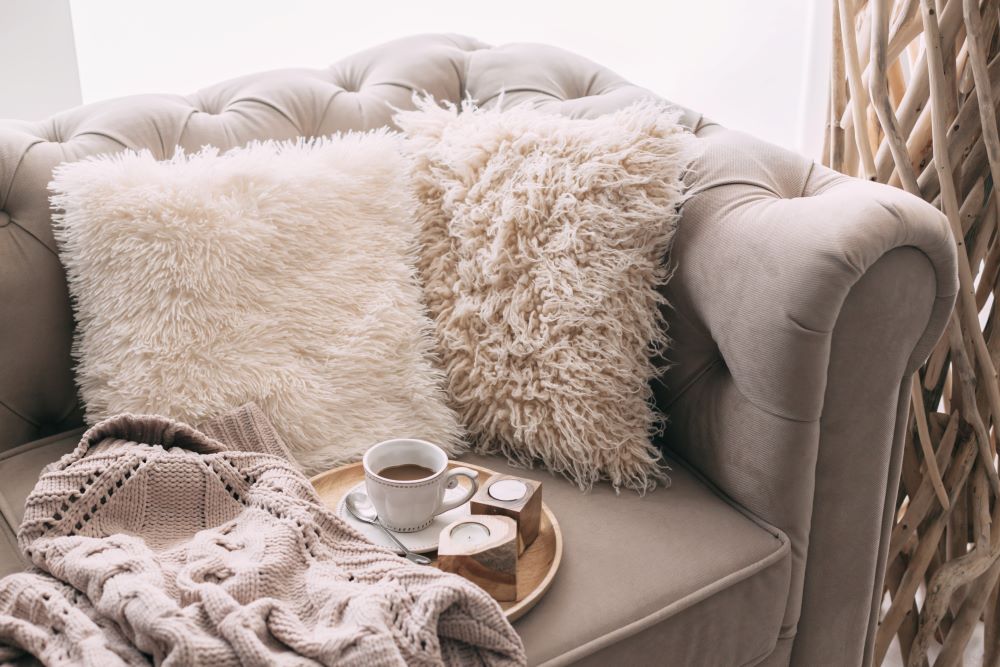 Another easy and affordable way to keep your house warm this winter is to switch up some of the decorations and accents. You'd be surprised how quickly you can warm up any room with some simple decoration updates!
Decoration Ideas To Warm Up Your Home
Fill up any blank walls with wall art. This will create a makeshift insulation on the wall in your room while also bringing your space to life.
Add extra throw pillows and blankets to your couch and bed. This will help you physically stay warm and also give off a warm appearance.
Place rugs onto bare floors. Rugs can instantly warm up any space, especially faux fur rugs. Make sure to bring decorative rugs into rooms with non-carpeted floors to make it more comfortable for your feet.
Decorate your home with candles and warm lighting. The appearance of warm colored lights can make your home feel more warm and cozy.
---
Looking for more low-cost ways to keep your house warm this winter? Shop our selection of home decor to find warm accents, curtains, rugs, and much more!
---
Read Next: 5 Winter Decorating Ideas For Your Front Porch