10 Gift Ideas For Teachers
For the past 3 seasons your kids have walked to school, hopped on a bus or some have remoted in, but summer is around the corner and that means it's almost the end of the school year! Their teachers have spent the past several months guiding your kids towards adulthood by helping them learn and grow. We appreciate everything teachers do in helping the next era of leaders and we're here to help you with teacher appreciation gift ideas as we get closer to that summer break.
To be a teacher takes a calling, and we have teacher gift ideas that say it loud and proud that they are teachers. Our Occupational Mug is perfect for sipping coffee during the next school year, but we won't judge the teachers who use it this summer. The Personalized Occupation Totes are great during the year for carrying school supplies, but will get use over the summer at farmers' markets or the beach.
An apple for the teacher has a long-standing tradition behind it–why not acknowledge that tradition with an apple-themed gift? A Set of 2 Bakery Recipe Tea Towels or the Pie Plate with Recipe make teacher presents that are charming and useful. If your favorite teacher isn't a fan of apples, each has recipes for other items such as Carrot Cake or Pecan Pie. To make the recipes easier, we also suggest a 3-In-1 Multifunction Slicer to cut those apples quickly and easily. How's that as useful gifts for teachers? We give it an A+!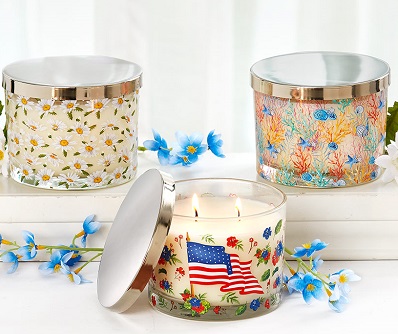 Are you looking for thank you gifts for teachers since your little one may not have been the most well-behaved student? A gift that pampers may be just what is needed. A Summer Glow Jar Candle will set a relaxing atmosphere while a Sweet Treat Bath Fizzer Gift Set seals the deal. A relaxed teacher is a happy teacher!
If you are thinking of a gift for teacher that is a bit more simplistic, such as a gift card for their favorite restaurant, why not give it some extra pizzazz and put the gift card into a Mysterious Gift Puzzle Box? They will appreciate the challenge as they figure out how to open the box. We would guess this box could make a fun challenge for next year's students as well.
If you need gifts for new teachers, we recommend some items that will help them organize, such as the Chic File Organizer or a Set of 3 Desktop Organizer Crates. Items that help in transporting assignments or keeping pens, pencils, crayons or other teaching tools orderly will be appreciated for many years to come.
We have an endless abundance of unique teacher gift ideas on our site if you know the teacher well and can cater to their specific tastes. Do they like farmhouse décor or maybe the ever-so-lovable gnome? Perhaps they enjoy beach escapes or stay at home with their fur babies? We have gifts for music teachers, inspirational gifts for teachers, funny gifts for teachers and even gifts for yourself. Check out what we have in store for you and remember to come back as we are always bringing you new and exciting gift ideas for everyone on your list.