5 Easy Outdoor Crafts To Do With Your Kids This Summer
Encouraging your kids to spend time outside can be made even more fun and interesting with interactive art projects! Here are 5 easy outdoor crafts to do with your kids this summer.
---
1. DIY Painted Terracotta Flower Pot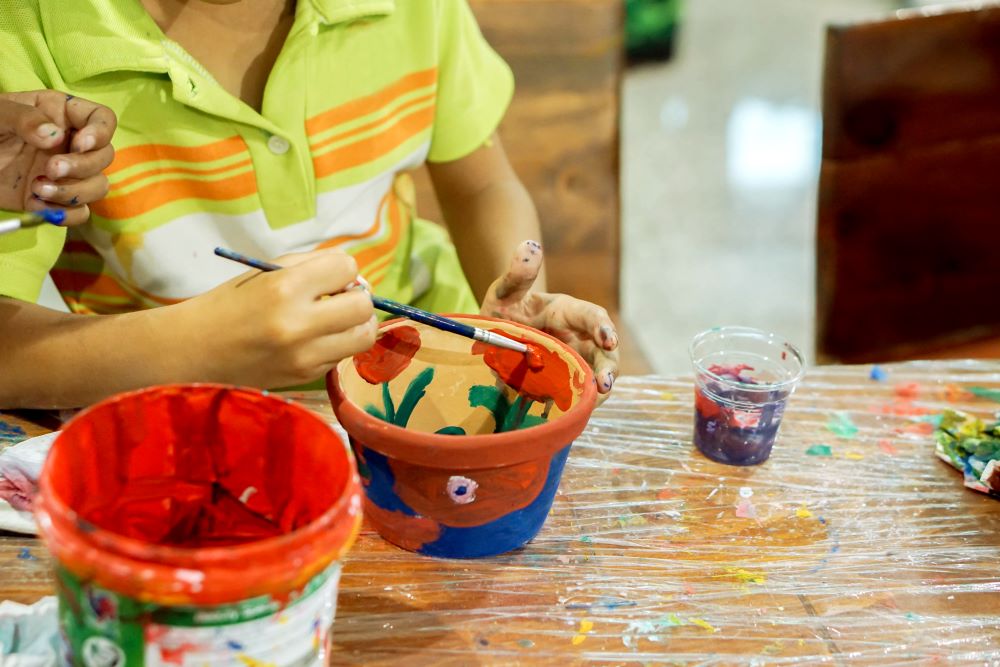 The first of these easy outdoor crafts is a classic one! Painted flower pots are the ultimate summer craft because they can be displayed outside all season long. Your kids can get creative with the design they paint or they can use stencils to guide them. Display their creations next to your other flower pots in the backyard and help them choose flowers to plant in their pot!
Supplies Needed
Terracotta Flower Pot
Outdoor Acrylic Paint (Assorted Colors)
Paintbrushes
Paint Sealer
Stencils (Optional)
Instructions
Put down some newspaper with all the supplies laid out. It's best to do this craft outside since it will get messy!
Let your kids pick out the stencils they want to use or have them freestyle a design.
Make sure to use outdoor acrylic paint if you plant on keeping these outside with flowers in them.
Once the kids paint on their design, help them spray on paint sealer after it dries.
When the sealer dries, help your kids plant some flowers inside! This can be a continuous project – have them be in charge of watering and caring for their flowers.
---
---
2. Butterfly Garden Planting Activity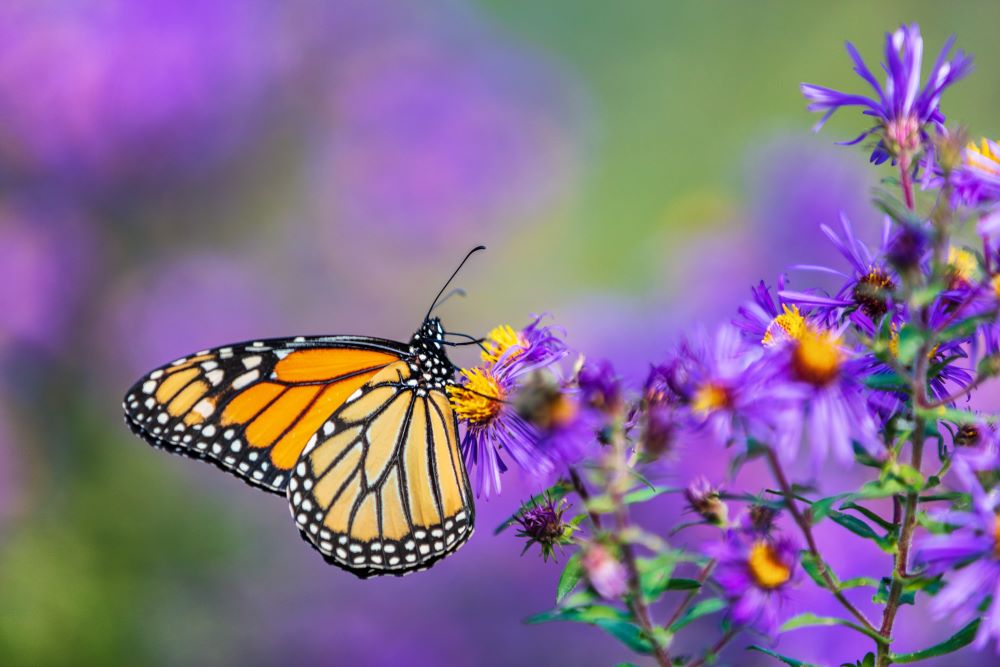 Gardening can be a fun activity with your kids because it's both a fun and educational experience. You can teach them how to follow directions and how to care for something that's living. Planting a butterfly garden with your kids is an exciting way for them to learn about different butterflies and learning about what types of flowers they like. With parental supervision and help, a butterfly garden is a unique outdoor activity that will keep them busy all summer long!
Supplies Needed
Butterfly-attracting Flowers
1-2 Large Flat Rocks
Birdbath or Other Water Source
Instructions
Start by choosing an idea area of your yard to grow a butterfly garden. It's best if you grow it near a bush or large tree so the butterflies can cool off when it gets too hot.
Add 1-2 large flat rocks on the ground nearby. Make sure these can get direct sunlight. The purpose of these is for butterflies to bask in the sun on cool summer mornings.
Butterflies also need a puddle to perch and drink – you can offer this with a birdbath or any other open container of water. Ideally, fill a birdbath with wet sand.
Plant your butterfly-attracting flowers. Make sure to research which types of butterflies live in your region so you can choose the right types of flowers. You'll want to select some nectar flowers for the butterflies and food plants for the larvae.
Water your garden as needed and watch the beautiful butterflies come to your yard! You and your kids can even take note of the different types of butterflies that you see so they can learn more about them.
---
---
3. Painted Monster Garden Rocks Craft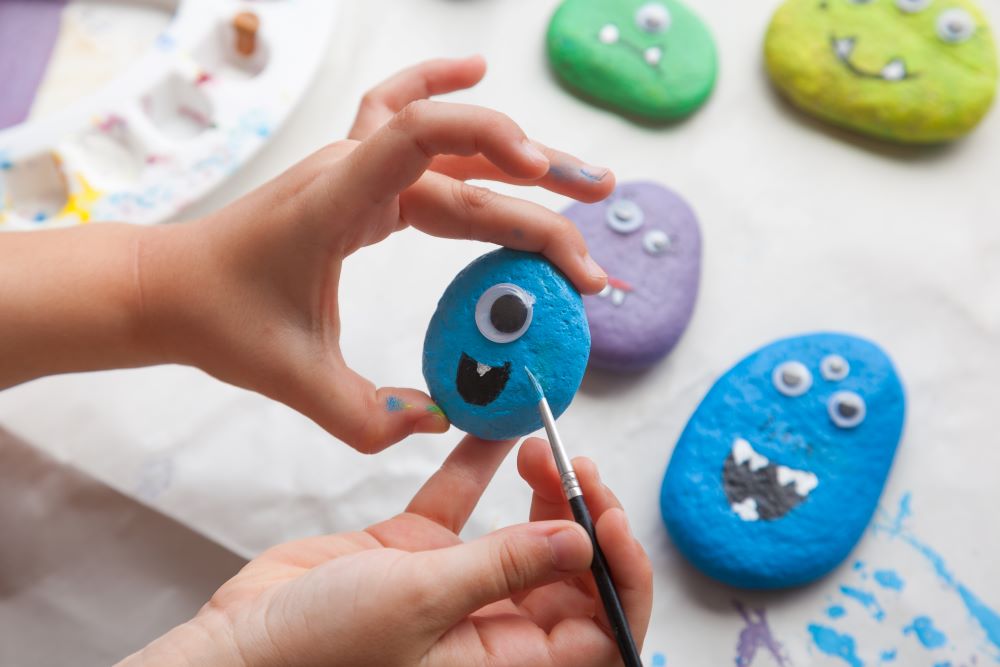 This easy outdoor craft is perfect for younger children! Help them go out into nature and pick out rocks and stones to make this craft even more fun. They can create their own unique little monsters and place them in the garden to look at whenever they want! Have them paint the rocks outside; this craft can get a little messy.
Supplies Needed
Rocks & Stones (From Outside or the Craft Store)
Outdoor Acrylic Paint (Various Colors)
Paintbrushes
Googly Eyes
Superglue
Outdoor Paint Sealer
Instructions
Go on an outdoor adventure to collect rocks and stones or get some from the craft store as an easier option.
Paint each rock with a solid base color; they can each be different colors for more fun variety! Let the paint dry completely before going to step 3.
Next it's time to add the monster faces! Start by gluing on googly eyes. Feel free to glue as many or as little googly eyes as you want; monsters all look different!
Paint on the monster mouth with black paint and then add some scary teeth using white paint.
Let the paint dry completely and then spray on sealer.
Display the monsters throughout the garden!
---
---
4. Natural Leaf Artwork Craft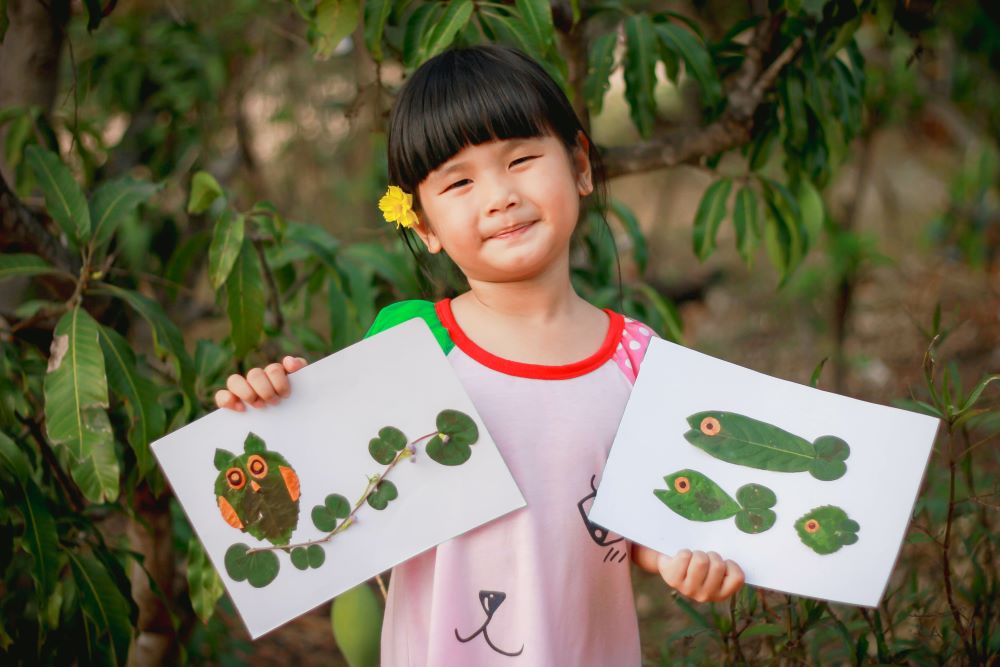 This Natural Leaf Artwork is a fun and different way to make a craft. Like the painted rocks, this is one of the easy outdoor crafts that incorporates natural elements. It's a two in one activity: first, go on an adventure in the woods to collect big and small leaves of all different shapes, then go back home to do the craft.
Supplies Needed
Craft Paper
Liquid Glue
Leaves
Markers
Instructions
Start by gathering a bunch of leaves from outside, preferably ones that have fallen to the ground.
Help your kids trace an animal, a shape, or a scene on the paper. Try to keep it fairly simple.
Glue the leaves onto the paper to fill in the design. You may need to rip or cut some of the leaves to fit into the design.
Use markers or paint to color in details such as eyes for animals, or just simply make all the leaves colorful for a more stunning design.
Feel free to finish it off with glitter glue, stickers, or any other fun craft elements!
---
---
5. Shaving Cream Kinetic Sand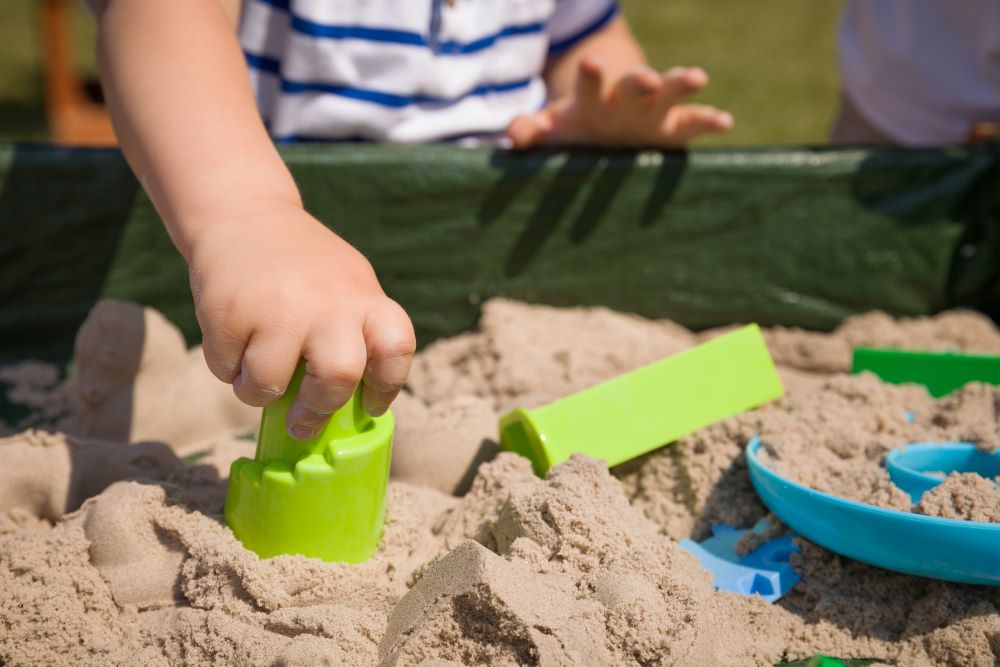 Out of all the easy outdoor crafts, this one is the simplest and quickest and allows for endless amounts of fun throughout the summer! Since this only requires two different supplies to mix together, your kids can have a fun time helping to mix it up.
Supplies Needed
3 Cups Of Play Sand
1 Can Of Shaving Cream (250g)
Sand Toys (Different Shapes & Sizes)
Instructions
Empty the sand into a small shallow box.
Add all of the shaving cream into the sand and mix together thoroughly.
Now the kids can play with the sand outside and mold it into different shapes using toys!
Once the foaminess fades away over time, feel free to add more shaving cream to make it foamy again.
---
Looking for more fun activities for your kids to do this summer? Shop our selection of Toys & Games to find outdoor and water toys, play sets, educational toys, and much more!
---
Read Next: 5 Fun DIY Wind Chimes To Hang On Your Porch