5 Items You Need for Your Christmas Party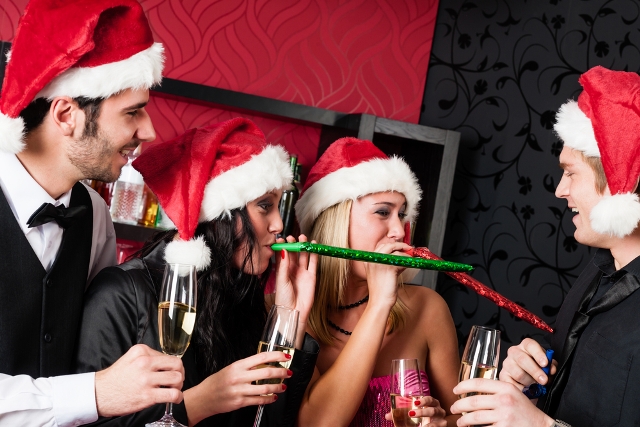 The holidays are creeping up fast and before you know it, it will be time to plan for this year's Christmas party.  With a busy schedule the party planning process can be over whelming which leads to forgetting important details. Within the everyday chaos, we have narrowed down a list of five items that you need to check off your list to have a fabulous party.
Invitations
The first thing you need to do when planning any party is to decide on a date. Choose a date that it gives your guests enough time to plan. We suggest a date no later than mid-December and to send your invites out two to three weeks in advance. The holiday season is a busy time, especially at the end of the month. Whether guests need to get a sitter for the kids or pick out a few ugly sweaters, you will end up with a better turn out when you give enough time to RSVP.
Decorate with a theme 
Every party needs decorations to create a festive mood. Many party planners choose a theme to dress up a room that will impress. If you want to keep it simple, snowflakes are a great theme that works well for a holiday party without being tacky. A popular holiday party theme is ugly sweaters. A light hearted take on a theme such as this brings laughter and calls for bold decorations. Choose multi- colored lights to wrap and hang anywhere with an outlet. Splashes of red and green decor on everyone wall will certainly make your party and affair to remember.
Menu
Keep spirits high and bellies full with an assortment of food. Find creative treats to make such as an edible bouquet or green frosted sugar cookie trees. Make some easy appetizers that guests can grab on the go such as pigs in a blanket. Many party goers want to continue to chat while stopping for a quick snack. To make the menu less stressful, make the party a potluck. Invite your friends and family to make and bake their most famous dish. To avoid too many h'orderves or desserts, ask your guests to RSVP what dish they would like to bring and let them know what types of dishes are still needed.
Entertainment
The key to any great Christmas party is to keep your guests entertained. Be sure to have enough holiday music to play throughout the duration of the party and don't forget to choose a variety of music. Playing slow songs for a few hours straight will be enough to turn your holiday party to a slumber party. You can find a variety of fun holiday music for free on Pandora just by searching for Christmas music. Another way to keep the party going is playing games. A few games of charades, a cookie decorating contest or even your own version of "whose line is it anyway" will keep your guests happy and keep the party from going stale.  Now that the adults are entertained; what about the kids?
Kids' corner
Among all the adults, kids may feel lost or get bored. To keep the party kid friendly, create a craft station on the side. Provide crayons with Christmas coloring books, green and red clay or even a fun game of pin the tail on Rudolph. Another great activity is a homemade ornament kit. Once the kids are done creating their own masterpiece, they can take it home and place it on their tree for a keepsake.
Holiday parties are a time to reminisce with friends and create memorable moments with those closest to you.  With a little organization your party will go down in holiday history!
Do you have some holiday party tips? Share your favorite tips in the comments below.
Image Credit: yachtchartersnow.com