5 Spring Decor Themes: Find Your Aesthetic
Spring decorations typically call for bright colors and refreshing patterns to add happiness to any room in your house. While you can mix and match different types of spring decorations, having an overall theme can tie a room together. Here are 5 spring decor themes explained for you to help your find your decor aesthetic.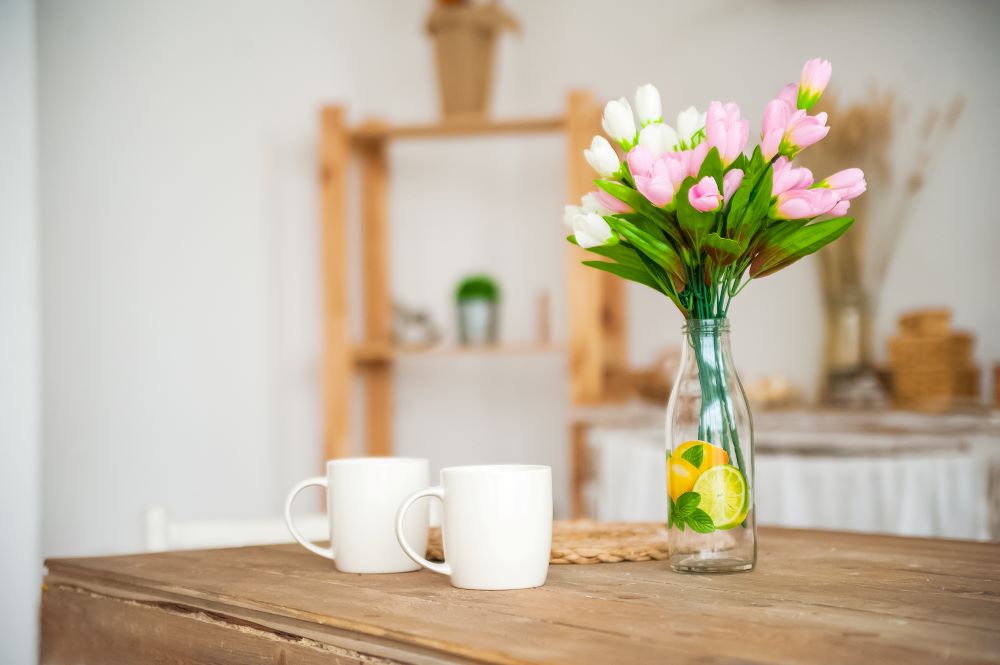 ---
Spring Decor Theme #1: Lemon Decorations
When you think of springtime food, your mind probably goes to citrus fruits that are refreshing and full of flavor. Eating fruit can cool you down as the weather gets warmer, while decorating with fruit themes can make your house feel like spring is in full force.
Lemon decorations are one of the most popular spring decor themes due to their bright and cheerful nature that reminds you of the sun. There are several ways to decorate with the lemon theme in your home.
Decorate with lemon kitchen towels, add a bowl of faux lemons to your coffee table, or hang up some clever lemon sentiment signs for a touch of personality. If you're decorating your kitchen with lemon decor, it's best to coordinate the entire room with the theme to get the full effect. You can also add simple touches of lemon decor throughout your house for a more subtle look.
Why You'll Love A Lemon Theme
Yellow can instantly brighten up any room and add a touch of spring color to your house.
You can combine it with other fruit decorations for an extra refreshing look.
A decorative lemon theme works especially well in the kitchen but can easily be incorporated in other areas such as the living room and entryway.
---
---
Spring Decor Theme #2: Honey Bee Decorations
As springtime emerges, nature starts to come back to life with beautiful colors and creatures. Bees are one of the most common symbols that you think of when you picture a flourishing spring garden.
The honey bee decor theme is friendly, bright, and works perfectly for the warmer seasons. Bee decor is a classic spring decor them that won't go out of style. You can keep this decor up through spring and summer; it will blend well with your other warm weather decorations.
Use the theme in your garden with honey bee stakes, flags, and statues. The bees will look adorable among your growing flowers. You can also use bees indoors with cute and clever wall signs, hand towels, or tabletop decor.
Why You'll Love A Honey Bee Theme
Bee decor will add some bright yellow colors into your home that matches well with other general spring decorations.
There are so many cute bee and honey decorations that can add extra charm into your home and garden.
The honey bee theme can look nice inside your home or outside in your yard and garden.
---
---
Spring Decor Theme #3: Coastal Decorations
Coastal decor can be used all year long, especially if you have a beach house or want to emulate the style of a beach house. However, if you enjoy switching decor themes throughout the seasons, the coastal decor theme is a great choice for the spring.
Coastal decor is a tropical theme that features various beach icons and symbols such as seashells, mermaids, anchors, and tropical phrases. Fun and bright, this decor theme matches the same energetic yet relaxed feeling that you get when you lay out on the sand and listen to the ocean waves.
Use coastal decor in your house by adding some themed accents pillows to your couch or deck your bathroom out with a coastal shower curtain, towels, and a rug. You can also bring the theme outdoors with a seashell welcome mat, anchor yard stakes, or a beach inspired garden flag.
Why You'll Love A Coastal Theme
Coastal decor can make you feel like you live by the beach even if you don't!
With so many different coastal symbols to mix and match, you'll never run out of ideas and you can switch it up all spring and summer long.
There are so many ways to decorate with this decor style. Check out these 10 Coastal Decorating Ideas For Your Home for more inspiration.
---
---
Spring Decor Theme #4: Butterfly Decorations
In springtime, we see a huge variety of bright colors and patterns, making it one of the most colorful seasons that we have. Butterflies are a huge springtime symbol that are plentiful in nature but rare in some areas.
Incorporating butterfly decorations in your yard and home will assure that you can see this beautiful creature every single day during the spring. These decorations typically feature various colored wings and are accompanied by floral accents and other spring patterns.
There are so many ways to include butterfly decor in your home and garden. From butterfly bedspreads to shower curtains to yard stakes to decorative lanterns, and more, you can find a way to include butterflies in any room of your house.
Why You'll Love A Butterfly Theme
Butterfly decor is subtle enough to use in any room but still colorful and unique to look beautiful and bright.
The butterfly theme will work inside your house but will also look nice outdoors in your garden.
Butterfly patterns will promote springtime happiness with their multi-colored wings and give you all the positive warm weather feelings.
---
---
Spring Decor Theme #5: Floral Decorations
Flowers are the most defining feature of springtime because this is the time of year that you're starting your garden and growing beautiful plants. Floral decorations will help you achieve the ultimate spring decor theme.
Bright and cheerful floral patterns are the best choice for your spring decor. Lean towards yellows, pinks, oranges, and blues to match the spring theme. You can do this through patterned decorations or you can place real or faux flowers in a unique vase.
Put floral place-mats on your table, lay a floral quilt on your bed, put a vase of real or faux flowers on your coffee table, or add some floral patterned throw pillows to your couch. With so many possibilities of floral decor, this is one of the spring decor themes that is the easiest to decorate with.
Why You'll Love A Floral Theme
Flowers automatically match with the springtime vibes that you want to convey and will brighten up any room.
You can use a combination of real and faux flowers, making it easy to decorate all season long.
Floral decorations are so versatile that you can mix and match floral patterns in each room of your house and you can even keep some of them up all year round.
---
---
Want more spring decor inspiration? Check out this guide on How To Brighten Up Your Home With Spring Decor