10 Simple Bedroom Makeover Ideas To Freshen Up Your Space
Your bedroom shouldn't just be a place where you go to sleep at night, it should be a room that reflects your personal style and it should be just as unique as you are. Whether you are bored with your current bedroom or just feel like changing things up, here are 10 simple bedroom makeover ideas to freshen up your space.
---
1. Paint Your Bedroom In A New And Exciting Way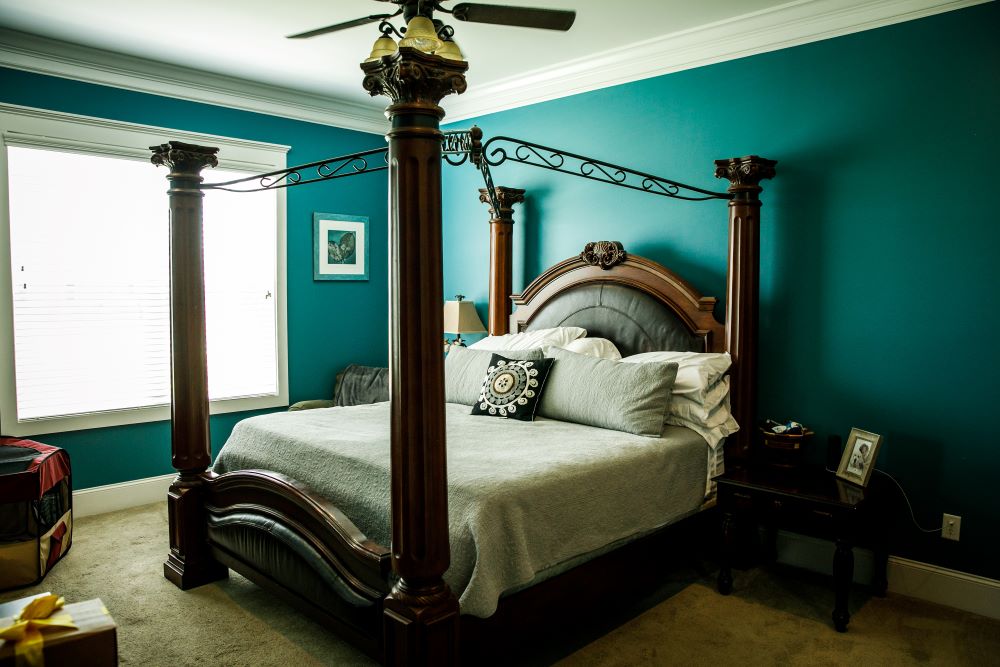 Paint is one of the best ways to change up your bedroom because of the variety of possibilities it has to offer. If you're willing to put in a little bit of time and patience into painting your bedroom, the results will be well worth it!
Paint your walls a bold color that you never thought of doing before. Whether you choose a cheerful teal or a bright yellow, make sure it's something that complements your style in a new and interesting way. Just be sure to stay away from dark colors because it can make the room feel small and suffocating.
If you want to take it up a level, you can paint your ceiling as well. Choose a contrasting accent color for your ceiling to give the illusion that you room is taller and bigger, or choose the same color as your walls to make the room flow smoothly.
---
2. Rearrange Your Furniture For A Quick & Easy Bedroom Transformation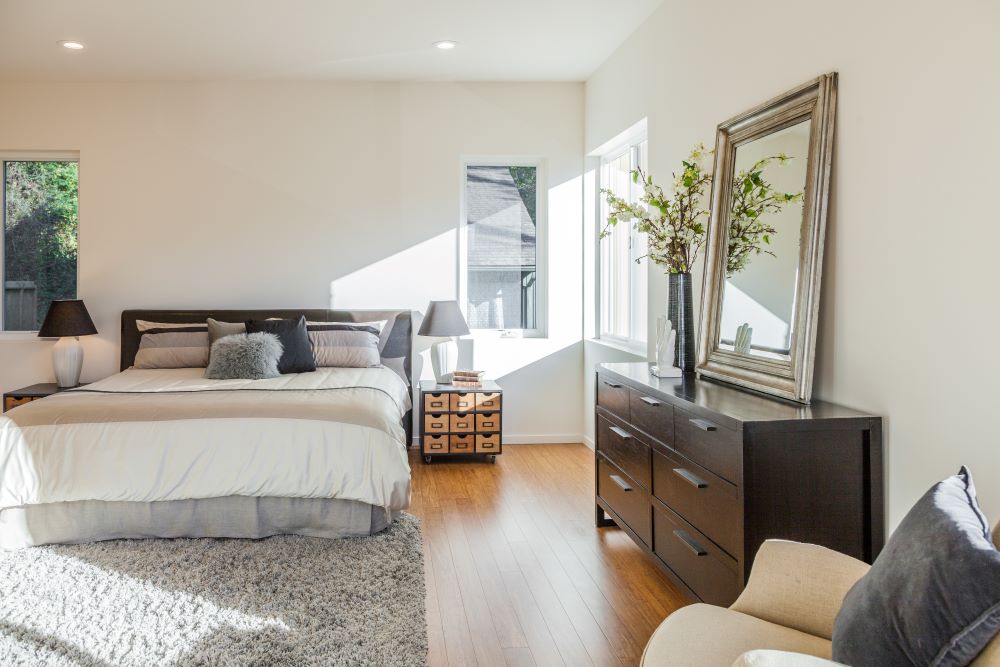 Sometimes all a bedroom needs is a small shift to give off the appearance of a full transformation. Rearranging your bedroom furniture is one of the simplest bedroom makeover ideas that can make a huge impact on the room.
Move your bed to the other side of the room, move your dresser opposite of your window so the sunlight reflects off of your mirror, and even move around your wall art to different walls. This will give you the impression that your bedroom has changed without spending any money on a makeover.
If you want to add a little something extra to your room, you can also bring in a new piece of furniture. This can be something small, such as a decorative chair in the corner, or something useful such as a large ottoman at the foot of your bed. These simple additions can make a huge difference in your bedroom.
---
---
3. Install A Headboard For A Subtle New Bedroom Style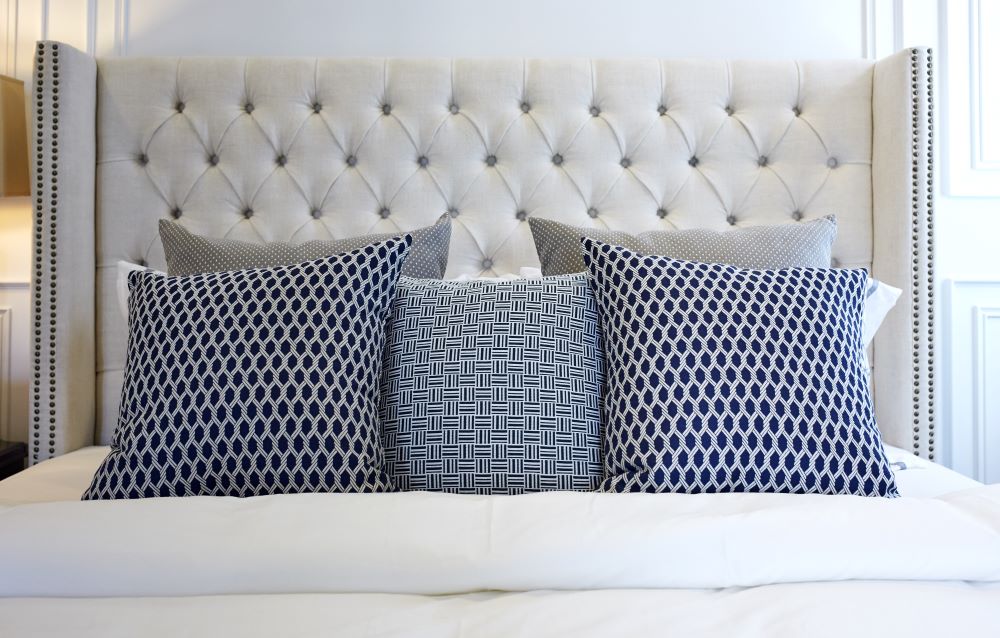 A headboard can elevate a room in an instant! Headboards can nicely highlight your bed and add some extra style into a dull bedroom. It can also make your bed more comfortable, making the room more welcoming and warm.
There are many types of headboard to choose from, so make sure to choose one that not only fits in with your bedroom decor but also gives your bedroom a whole new look. A sleek wooden headboard can give your bedroom a warm and modern feeling, while a cushioned headboard can achieve a more elegant aesthetic.
It can be quick and easy to buy a headboard, but you can also make your own if you're up to a challenge. Make your own wood headboard out of old wood planks, or create a framed mock headboard by using a large empty photo frame on the wall behind your bed. Feel free to also get creative with different materials such as tiles, cloth, and other refurbished materials.
---
4. Add A Hanging Light Or Chandelier For A Touch Of Elegance In Your Bedroom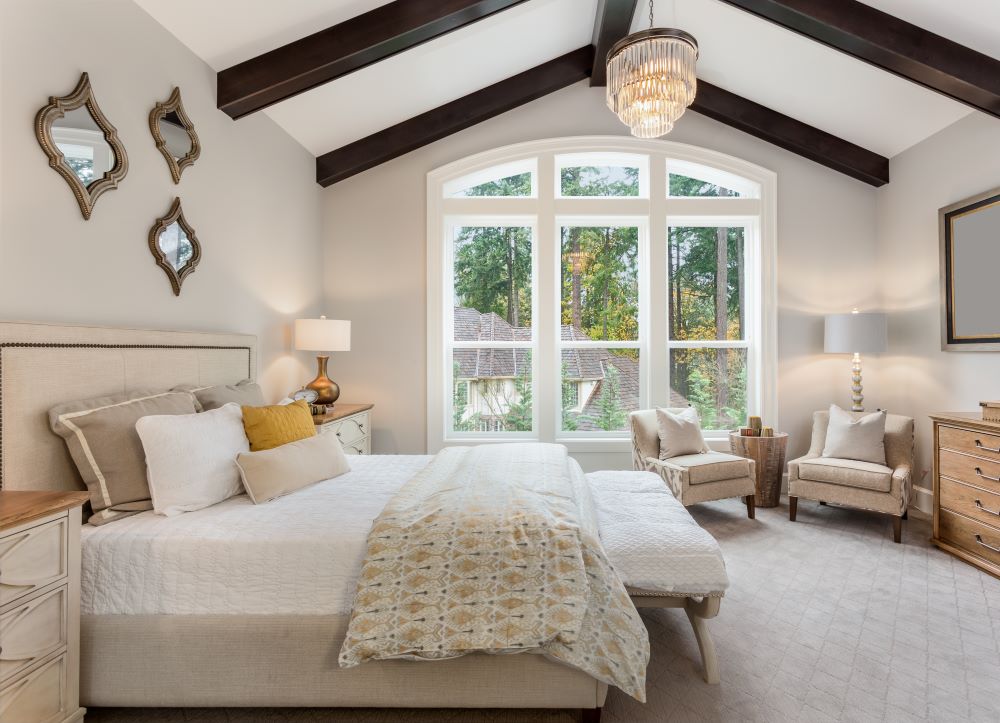 Lighting can really bring the room together and can make or break the overall aesthetic. Brightening up a room can make the area feel fresh and new and instantly change the environment.
Install hanging lights in your bedroom to add some more light into the room and to also add a new decorative element. A beautiful chandelier can add some elegance into the room while pendant lights can give your room a modern or even industrial feeling, depending on the style of the pendants.
You can also add a variety of lamps around the room to make everything look brighter. At night, turn off your main room light and simply turn on your lamps. This creates a relaxing environment for reading a book or listening to music.
Do you want to add even more elegance to your bedroom? Check out How To Make Your Bedroom Look Luxurious For Less!
---
---
5. Replace Your Bedroom Side Tables With Something More Unique & Unexpected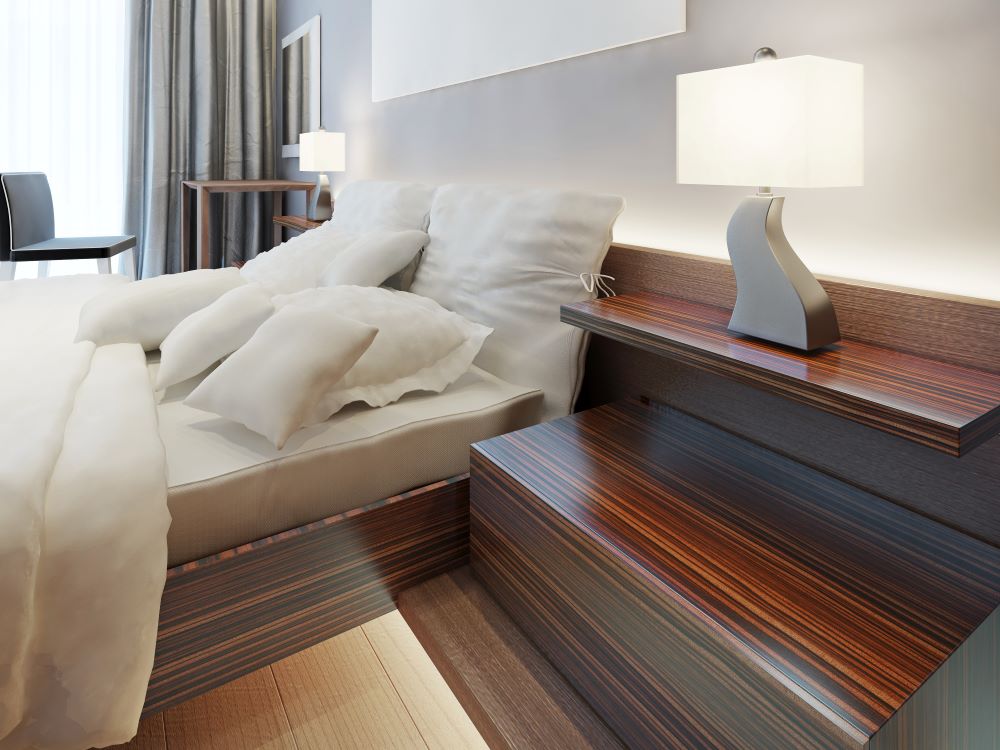 Swap out your simple bedside tables for something more unique and unexpected! Funky furniture can take a simple bedroom and transform it into a new space. This is definitely a quick an easy bedroom makeover idea that anyone can do.
Instead of using a traditional and typical side table, use something more interesting. You can install a shelving unit next to your bed to use as a side table, you can use a stack of antique suitcases, or you can even use a bar cart. Be as creative as you want to create a fun and different look in your room.
If you're a crafty person, you can even make your own bedside table using materials around your house. You can build one out of extra wood planks, or you can paint a design on one to make it stand out in the room.
---
6. Swap Out All Your Bedroom Linens With Something Bold & Different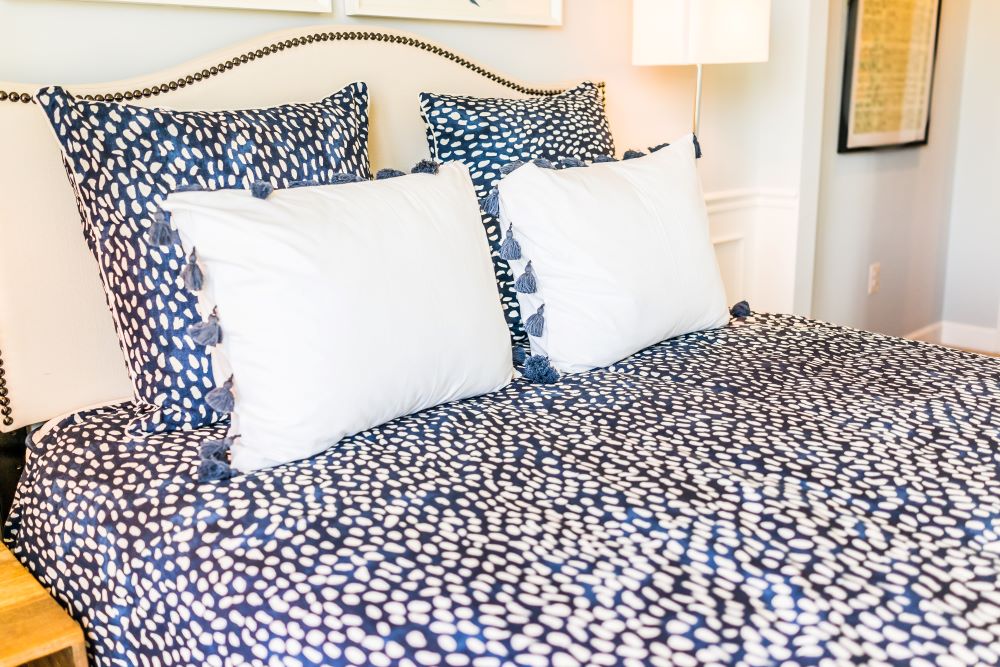 Bedding is one of the best and easiest ways to give your bedroom a quick makeover. Instead of playing it safe, search for bedding that is out of your comfort zone because it might just surprise you!
To make your bed stand out in the room, choose bright colors and funky patterns for your bedspread. Don't be afraid to get a little daring with your bed set; the more funky the bedding is, the more it will transform your room. If you have brightly colored walls opt for neutral colored bedding with fun patterns. If you have neutral colored walls, go for a more colorful bedspread.
You can also play around with your bedroom window curtains. Choose curtains that are more playful and colorful. They don't even need to directly match your walls or bedding – go for something bold for a whole new bedroom look.
---
---
7. Play Around With Soft & Cozy Textures Throughout Your Bedroom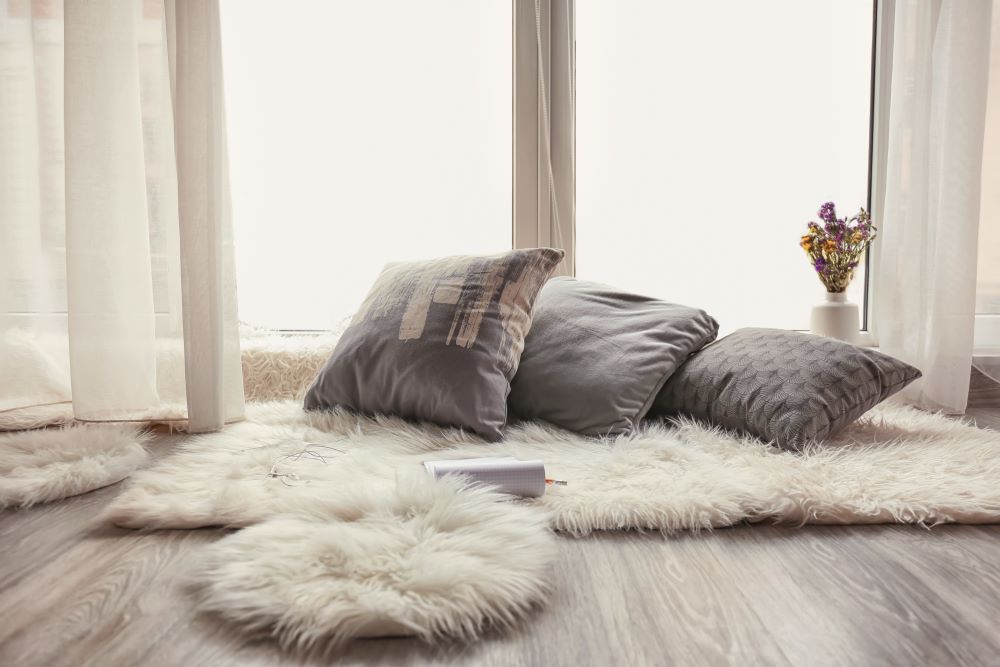 Using different textures in your bedroom can amplify the entire environment and give off a new room feeling without too much effort or too much change.
Soft and comfy materials are a good place to start in your bedroom because you want the room to be a warm and cozy space. From furry area rugs to silky sheets to fuzzy wall decorations, these soft elements will really bring a lot to your room.
You can also incorporate a variety of different textures and materials throughout the room to give your bedroom some contrast. For instance, you can hang up a rustic wooden wall hanging, place a large wool blanket on your bed, and put a furry accent chair in the corner. The simple addition of textured items and decorations will trick your eye into thinking you have a whole new bedroom!
---
---
8. Make Your Wall Art Personal With Your Own Vacation Photos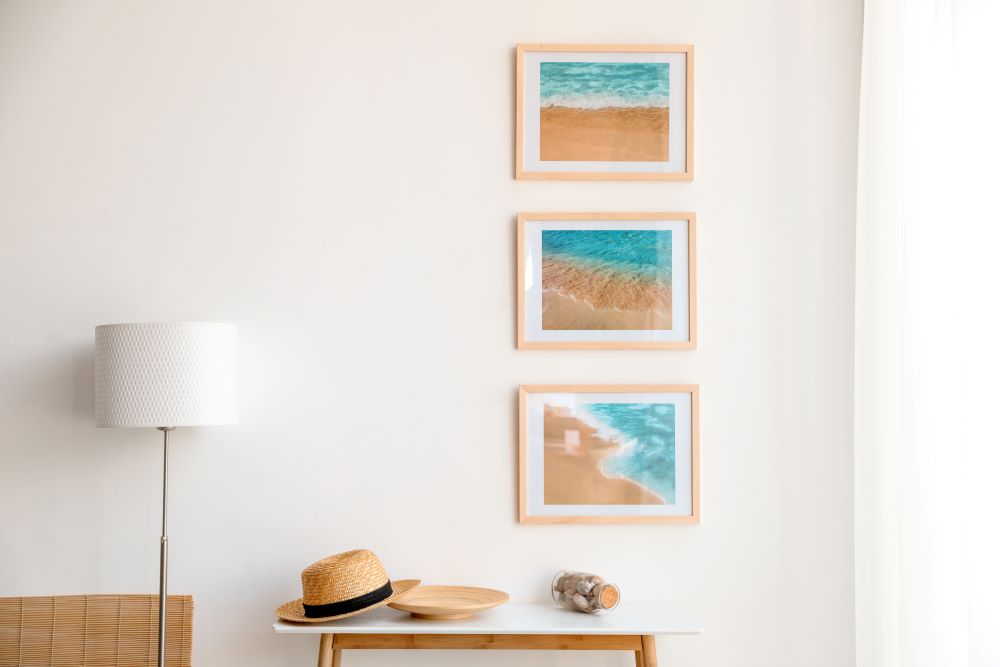 Changing up your wall art and decorations is a sure fire idea to transform your bedroom and give it an entirely new look. Additionally, making your wall art more personal can make your room feel more catered towards you and your style.
To make your wall decor more personal, hang up photos that you have taken. Vacation photos can work best for this, because it can showcase beautiful areas in an artsy way on your wall. Find your favorite vacation photos, get them printed, and frame them nicely. You can hang them all up on one wall or spread them around.
You can also go out to different towns in your area and take artsy photos to specifically hang up around your room. Be creative with the types of photos you take; these interesting photos will look incredibly unique in your bedroom.
---
---
9. Open Up The Bedroom With Multiple Mirrors To Reflect Natural Light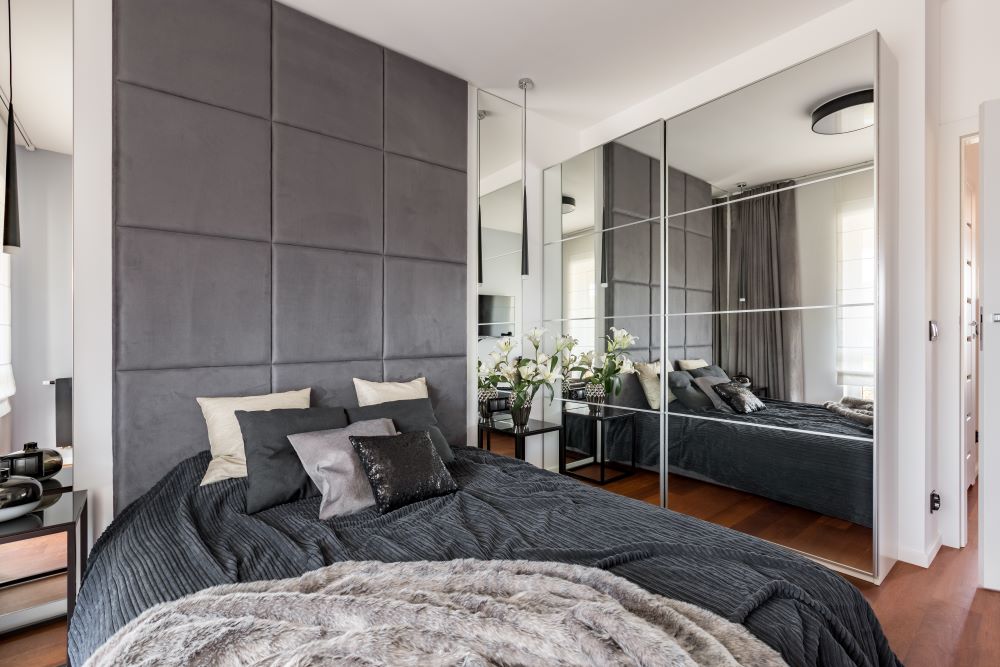 Mirrors not only make a small room look bigger, but they can also spread light around and make your bedroom feel fresh and renewed. This is a super simple way to give your bedroom a makeover with minimal effort.
There are so many ways to incorporate mirrors into your bedroom. While you can simply hang up a mirror over your dresser or lean a large mirror against the wall, you can also hang up decorative mirrors throughout the room, or you can use large mirror tiles on your closet doors.
The placement of the mirrors is completely up to you, but it helps to have multiple mirrors around the room. It can also make a huge difference to place your biggest mirror on the wall opposite your window so it can reflect the bright natural sunlight all day long.
---
10. Decorate With Real Or Faux Plants To Liven Up Your Bedroom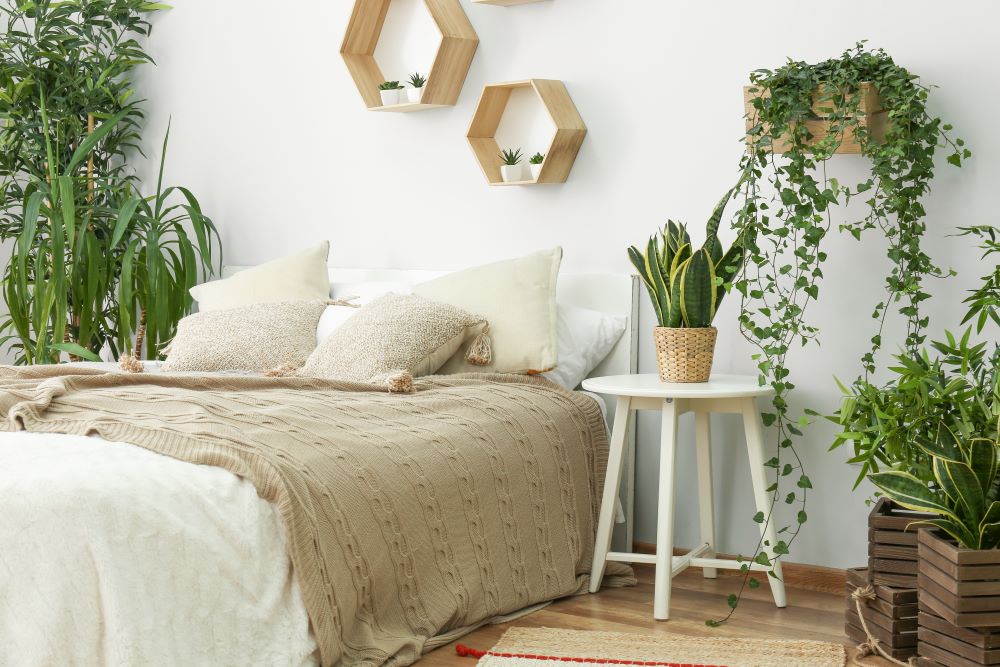 Plants and flowers can instantly liven up your bedroom thanks to their bright colors. Whether you go for live plants or faux plants, either one is a quick bedroom makeover idea that will make your room feel and look different.
Large floor plants will look bold and bright in the corner of your room, while smaller plants will look lovely on your bedside table or dresser. You can also place small succulents on floating wall shelves or install a wall planter for a more defining decoration.
Aside from green and leafy plants, you can also decorate with real and faux flowers to brighten up your room and give it a whole new vibe. You can place a vase of real or faux flowers on your bedside table or dresser to add some new colors into your bedroom.
---