5 Winter Decorating Ideas For Your Front Porch
Your front porch can still look magical and beautiful even after the holidays! Don't let the cold winter bring you down; decorate your porch with cozy and fun accents to brighten up the mood. Here are 5 winter decorating ideas for your front porch.
---
1. Decorate Your Winter Front Porch With Lanterns & String Lights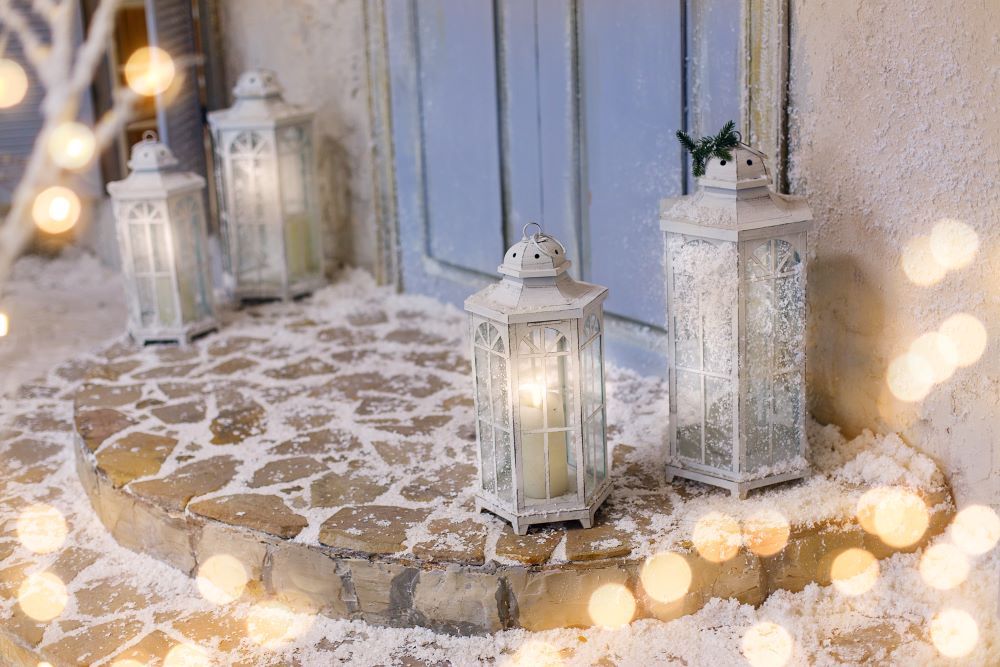 Lighting is an important part of setting the magical winter aesthetic on your front porch. String lights and lanterns are a great choice because they're both decorative and functional!
Start by displaying some lanterns on the floor near your front door, on the steps that lead up to your front porch, or on a small side table. You can also choose to hang lanterns from the porch if you don't have much space on the ground. Make sure to use LED candles for your lanterns for a more safe space.
In addition to lanterns, you can display string lights on your front porch for a magical winter glow. Use white or blue lights to fit in with the cold winter theme. Wrap the string lights around your porch railing, frame them around your front door, or wrap them around a bench to create a unique look.
---
---
2. Display Winter Characters & Accents On Your Front Porch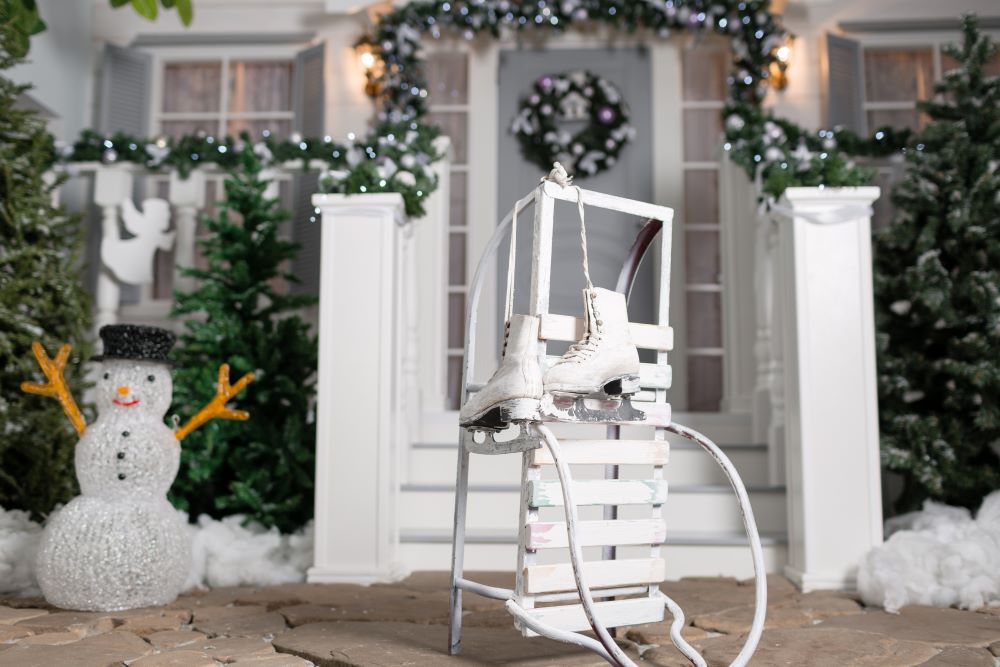 If you want to add a touch of fun and quirk to your front porch, try decorating with some winter characters and symbols! This will make your porch feel more cheerful in the midst of any cold winter season.
Depending on how much space you have on your porch, you may also want to add these accents in front of your porch to make them stand out more. There are many different characters and symbols you can decorate with, but here are some ideas to get you started:
Snowmen are the perfect cheerful winter character. Decorate with them through yard stakes, statues, doormats, and other accents.
Decorate with winter symbols such as ice skates, skis, mittens, and more. These symbols can be displayed on various decor such as leaning signs and doormats.
If you live in an area that doesn't get snow, you can play around with fake snow or snow dusted decorations. Create a spectacular winter scene on your porch without experiencing the actual cold weather!
---
---
3. Hang Up A Winter Wreath & Display A Themed Doormat On Your Front Porch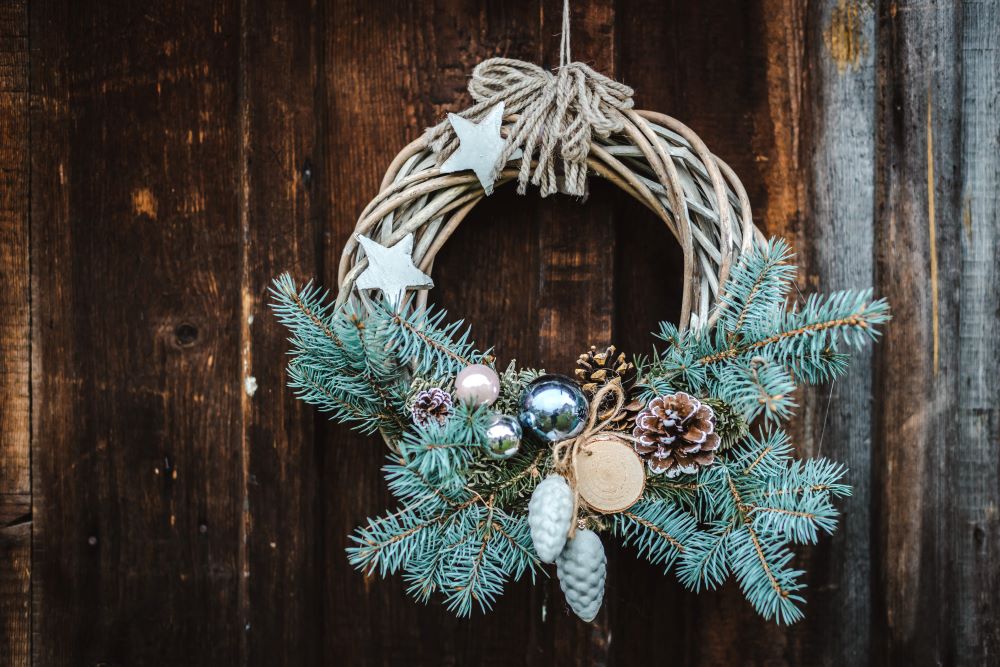 Wreaths aren't just for Christmas and the holidays. You can display a winter themed wreath on your front door to brighten up your space and make it feel more homey during the cold weather season.
When decorating your porch for winter, you can go with a traditional and simple green wreath or you hang up something more unique. To get the winter look, you can use a wreath that is snow dusted, one that is blue or white, or one that is accented with pine cones. You can also add your own accents to any wreath, such as small winter themed ornaments.
In addition to decorating with a winter wreath, you can also accent your porch with a cold weather themed doormat. Set down a doormat that has winter characters such as snowmen, penguins, and polar bears or winter symbols like mittens, ice skates, and snowflakes. You can also decorate with winter sentiment doormat for a fun touch.
---
---
4. Accent Your Front Porch Bench With Cozy Winter Blankets & Pillows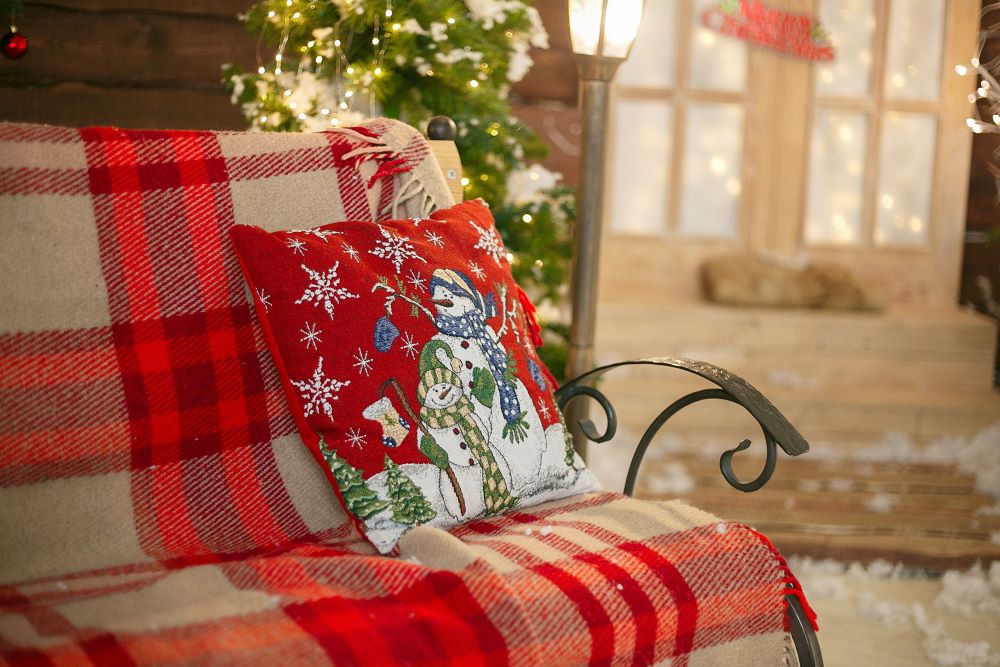 Just because it's cold out, doesn't mean you can't set up an outdoor seating area! A winter themed chair or bench should contain warm and cozy elements to make it relaxing and comfortable.
Accent your front porch bench or chair with throw pillows and blankets to make it look warm and inviting. You have a lot of flexibility when it comes to creating a winter look, but here are some ideas on the types of blankets and pillows to include:
Plaid patterns in almost any color but especially red or blue
Winter characters such as snowmen, penguins, and polar bears
Symbols and patterns such as snowflakes, mittens, boots, and ice skates
Any warm faux fur materials
---
---
5. Decorate Your Front Porch With Wood Logs & Branches For A Winter Look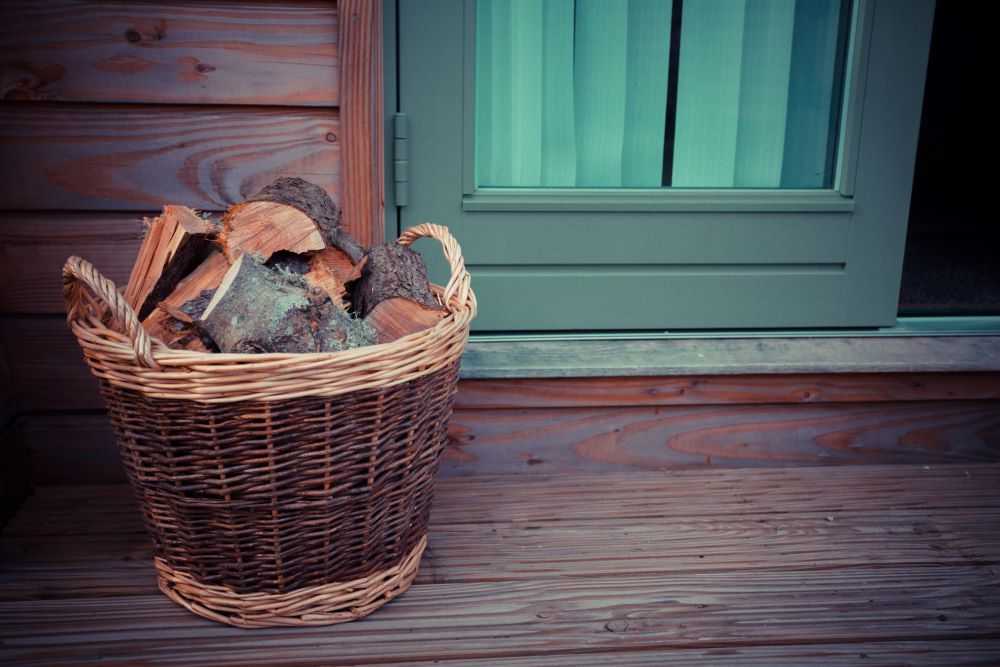 If you want a more natural and simple look on your front porch this winter, consider decorating with wood logs and tree branches. This will give your porch an authentic cold weather season appearance without putting in too much effort.
Decorating with wood logs is fairly simple and easy; you can find a wide variety of them at most craft stores. You can display some cut up logs inside of a basket on your porch, or stand some of them up on a side table. If you're extra handy; however, you can even make your own wood log side table.
Aside from decorating with the wood logs, you can also incorporate tree branches on your front porch. This can be done many ways such as setting up a lighted branch tree, placing some decorative branches inside of planters, or even placing a bunch of decorative branches around your door frame. Get creative to achieve the look you want!
---
Looking for more ways to decorate your porch this winter? Shop our selection of Christmas Decor & More to find winter themed accents, lighted decorations, greenery, and much more!