7 Christmas Activities To Do As A Family
Christmas traditions are all about spending time together as a family, no matter what you're doing. Bonding together as a family during the holidays gives everyone an important reminder of just how much you love and appreciate one another. Whether you want to start some new traditions or just add on some extra ones to your holiday celebrations, here are 7 Christmas activities to do as a family.
---
1. Go On A Walk Or Drive To Look At Christmas Lights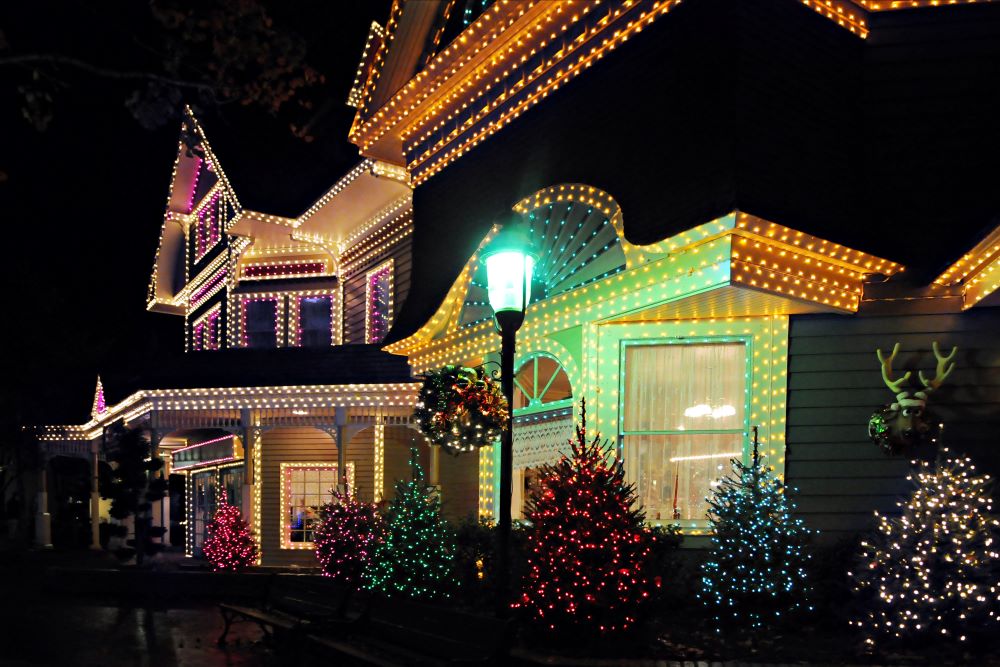 Looking at Christmas lights has become a fun and exciting holiday tradition for a lot of families! Whether it's going on a drive in a new neighborhood to admire the twinkling lights, or going on a brisk walk in your own neighborhood, it's a wonderful family activity that inspires magic and imagination.
While this activity is fun in itself, make it even more unique by turning it into a game. Count how many light up Santa's you see, point out every time you see a Christmas tree through someone's window, or keep track of each time you spy a new holiday character decoration. This can be a fun way for the kids to be more observant and interactive with their surroundings.
In addition to turning it into a game, you can also take turns telling Christmas stories as you drive or walk. These can be made up stories or traditional stories that you tell every year. The kids can have fun using their imaginations to create a holiday story to share with the family.
---
---
2. Bake Some Christmas Treats To Give To Neighbors & Family Members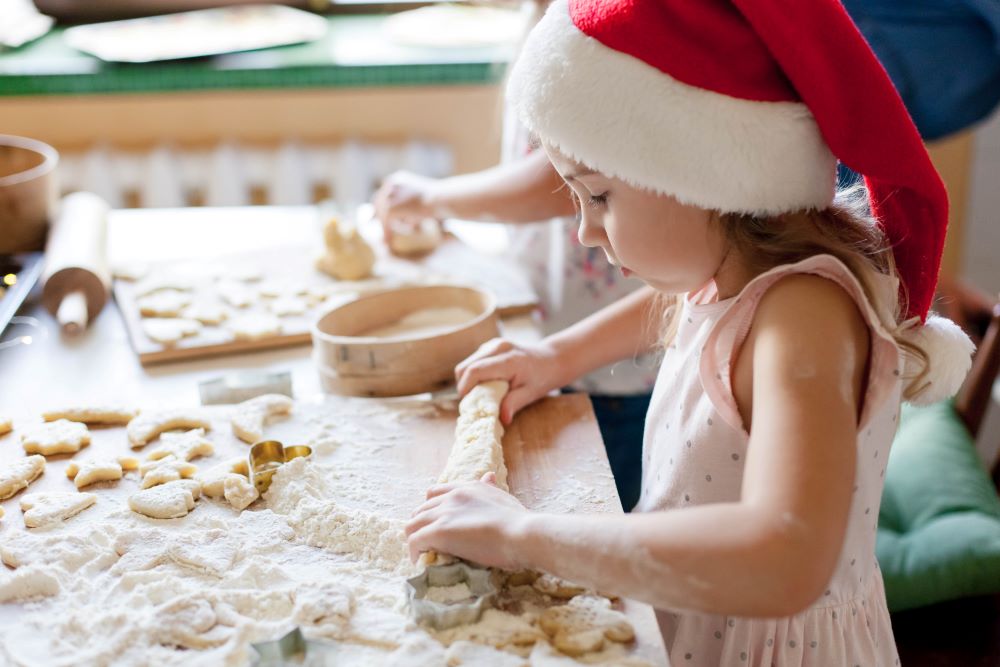 Baking is always a great family bonding activity during the holidays, and it can be even more special to bake for others. Get the family together for a day of Christmas baking!
Make sure everyone participates in each part of the baking process. Start by deciding who you want to give baked goods to and what recipe(s) you want to make. Each family member can be in charge of a step in the baking process. Then, everyone can have fun wrapping the baked goods and delivering them to people's doorsteps. Put them in a Christmas serving dish to make it even more festive!
Whether you bake cookies, brownies, pies, cakes, or other treats, you'll have fun making them together as a family. Plus, the recipients will be incredibly grateful. Check out these 5 Christmas cookie recipes for some delicious inspiration!
---
---
3. Have Fun Doing Some Christmas Crafts Together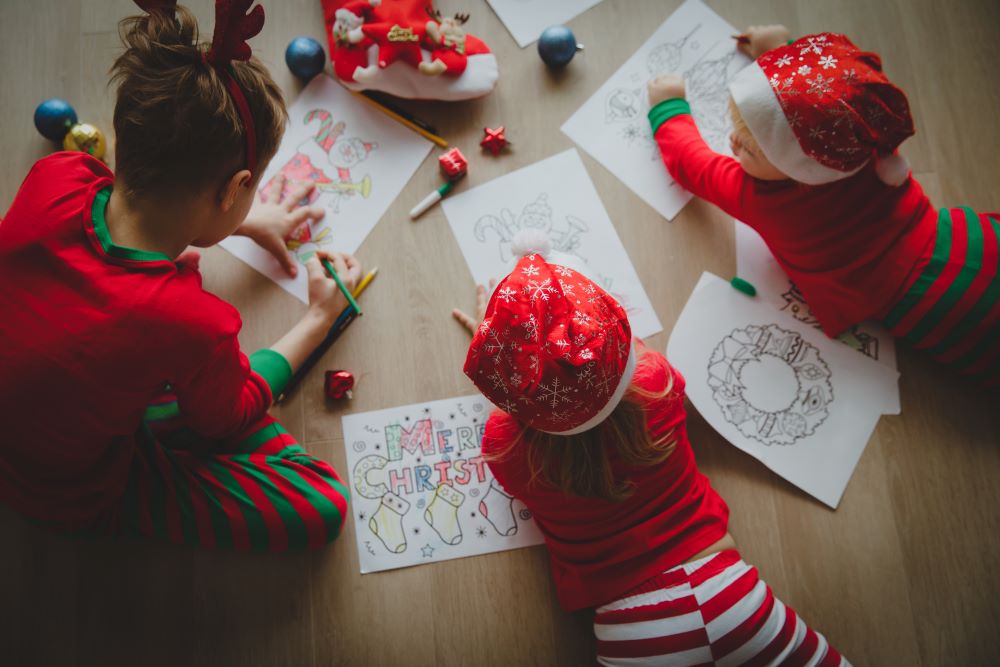 Crafting can be a fun Christmas activity to do at home because there is an endless amount of relevant crafts you can do for the holidays! Whether you make decorations to hang up around the house or you make DIY gifts for others, crafting is a great way to have fun together during the Christmas season.
Christmas Craft Ideas
Craft up some DIY ornaments – these can be made of salt dough or you can fill up plastic ball ornaments with glitter and other fun items.
Print out Christmas themed coloring pages and have a coloring day!
Make homemade Christmas gifts for your loved ones. Check out these 7 thoughtful DIY Christmas gift ideas!
Have everyone make their own mini wreaths using paper plates, markers, and festive crafting items to glue on.
Make homemade Christmas cards for each other and other family members. This can be a meaningful craft to do together.
---
---
4. Donate Christmas Gifts To Charity Together As A Family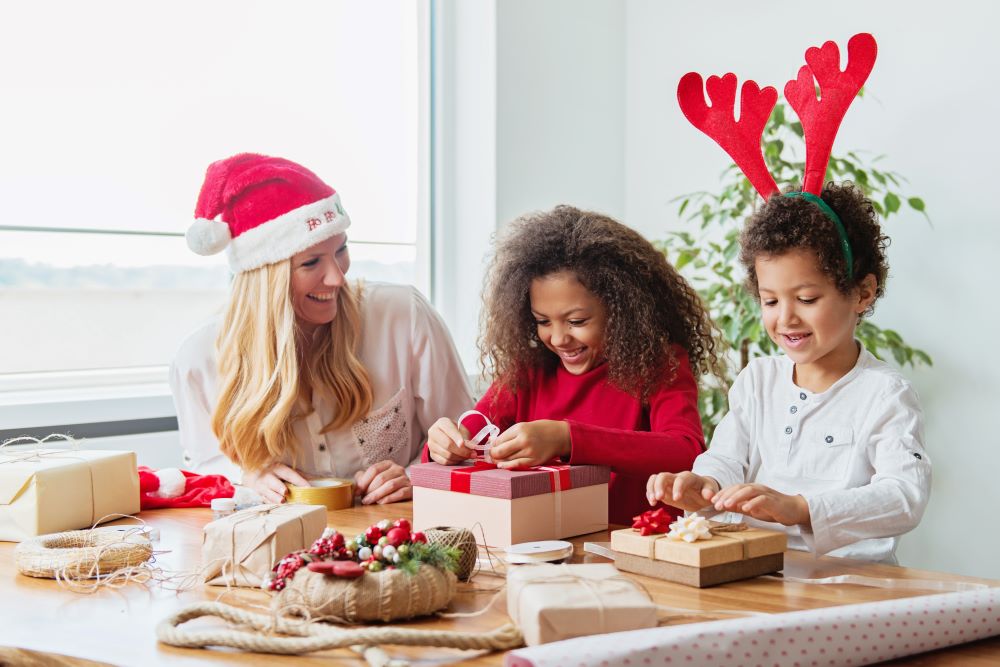 This Christmas, teach your kids the importance of giving back to others by donating gifts. Donating together as a family is a nice bonding activity and can be a reminder to everyone that a little love and care goes a long way.
Involve the kids in every step of the process. Pick out gifts together as a family to give to a charity or to give to families in need. Have everyone wrap them up in Christmas gift wrap and then go deliver them to the recipients or mail them out.
You can also choose to write Christmas cards for soldiers or for kids in the hospital. This can be a nice reminder that the holidays aren't all about gifts; this is a season for giving kindness and showing someone that you thought of them.
---
---
5. Have Each Family Member Decorate A Room In The House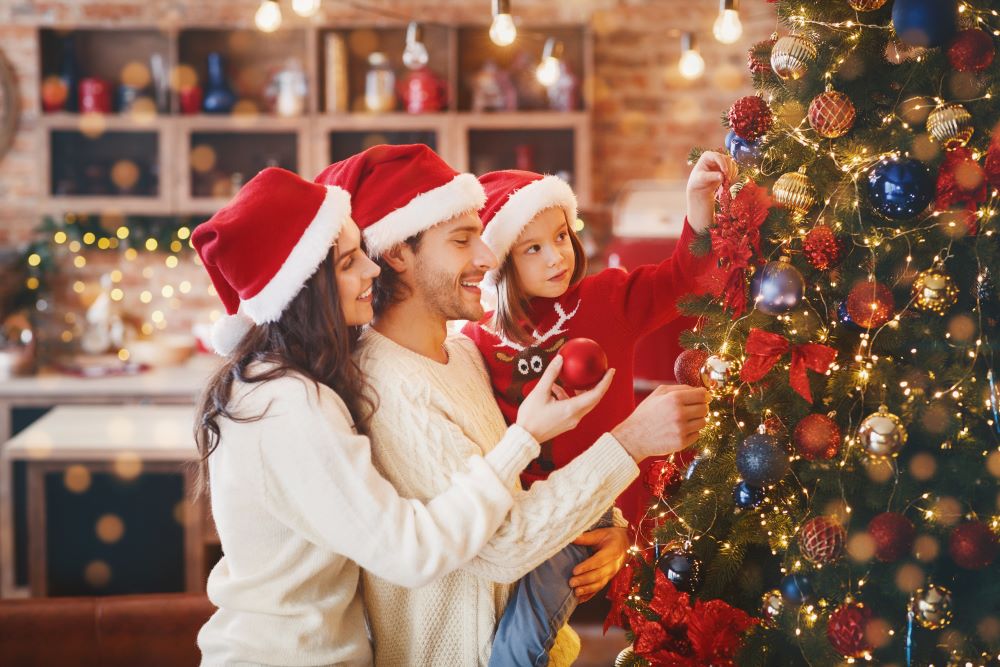 Decorating for Christmas is a fun activity because you can completely transform your home into a festive wonderland! While placing ornaments on the tree is a typical Christmas tradition for families, take it up a notch by having each family member decorate a room!
This is ideal for families with older kids; however, younger kids can also participate with some help. Assign a room of the house to each family member – they're in charge of transforming that room into a holiday theme of their choice. This isn't a competition, it's a way for each person to express themselves! They can use homemade decorations mixed with store bought ones to be creative.
Once everyone is done with their decorating, walk through the house together as a family. Each person can show off their decorating skills and explain their vision for the room. This is a unique way to make your house look extra festive during the holidays!
---
---
6. Have A Family Slumber Party Under The Tree On Christmas Eve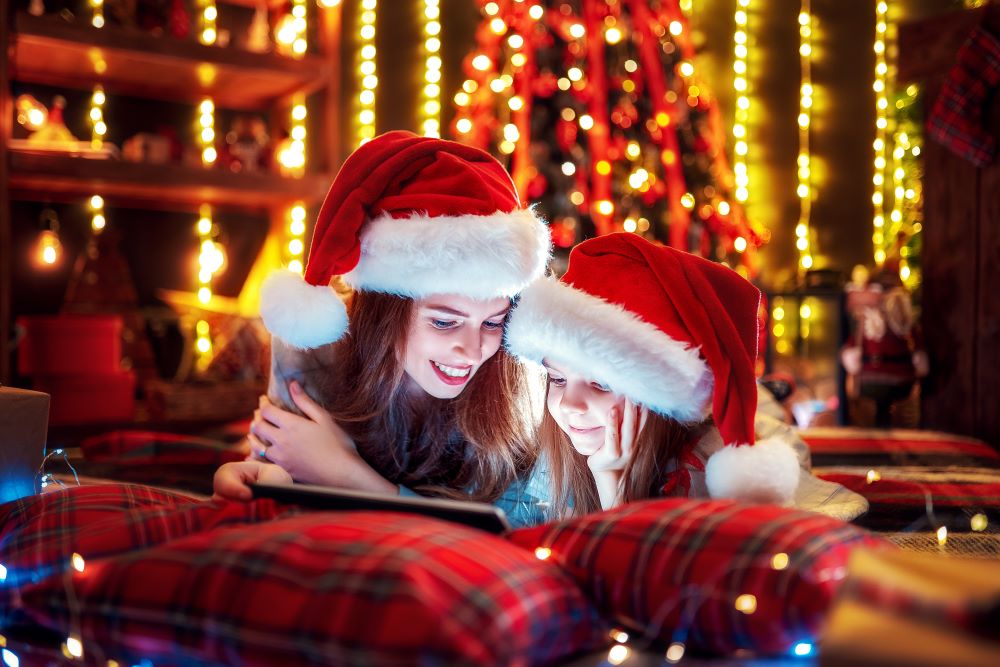 Family slumber parties are few and far between – make it a new Christmas tradition to have a sleepover under the tree! This is an especially fun activity for younger kids, although older kids will enjoy it as well.
Start by building a blanket or pillow fort in the living room, or simply lay out sleeping bags on the floor for everyone. Put on matching pajamas, turn the Christmas lights on, and listen to a holiday music playlist. Make the room as comfy and cozy as possible so everyone has a relaxing and enjoyable time.
Plan some activities for the slumber party to make it even more exciting. Read some Christmas books together, watch movies, play board games, and eat some snacks. Make it a rule that no one is allowed to go on their phones or social media so the night can be even more special and meaningful.
---
---
7. Have A Christmas Movie Marathon With A Hot Cocoa Bar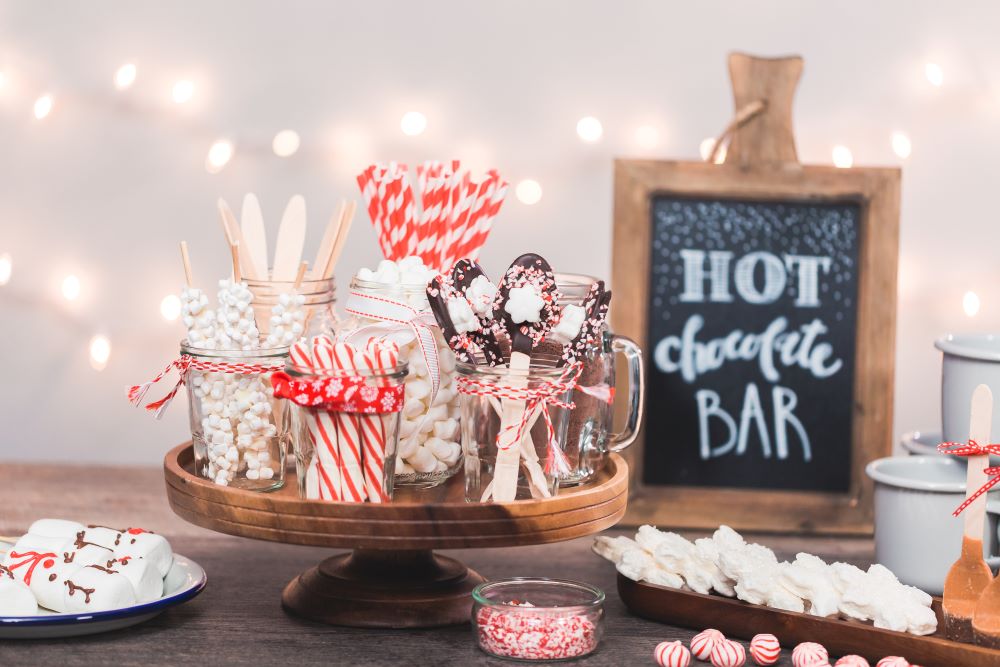 Watching Christmas movies is a great family tradition that can be taken up a notch by having a hot cocoa bar to go along with it! Whether you watch your old favorite movies every year, or choose some new ones to watch, it can be made extra fun with a delicious selection of hot cocoa and treats. You can also set up a snack bar for your movie marathon to make it feel like you're in a theatre!
How To Set Up A Hot Cocoa Bar
Choose a table or area that you want the bar to be on. Lay down a festive tablecloth and set up a chalkboard sign that says "Hot Cocoa Bar".
Start by setting up the main essentials: a hot water canister, some mugs, and a variety of hot cocoa mixes.
Add some extras on the table such as peppermint sticks, chocolate stirring spoons, and of course, marshmallows. Set these up in clear mason jars to make it look extra cute.
Finish it off with some additional treats such as cookies, candies, and other homemade baked goods.
---
---
Now that you've planned some Christmas activities to do as a family, you can plan the rest of your holiday tasks! Visit LTD Commodities for gift ideas, decoration inspiration, and much more.