7 Fall Decorating Ideas For The Front Porch
Fall is a wonderful time to decorate your house with pumpkins, leaves, and an assortment of red and orange colors. Your front porch is the first thing that people see, so it's no wonder that you want to adorn it in a full harvest spread.
While you may expertly decorate your home with fall table decor and fall kitchen towels, it can be difficult to figure out your outdoor decorations. Aside from placing carved pumpkins by your front door, you're probably searching for more unique ways to express your love of fall.
Here is our list of fall decorating ideas for the front porch, all inspired by our fall catalog.
Solar Acorn Collection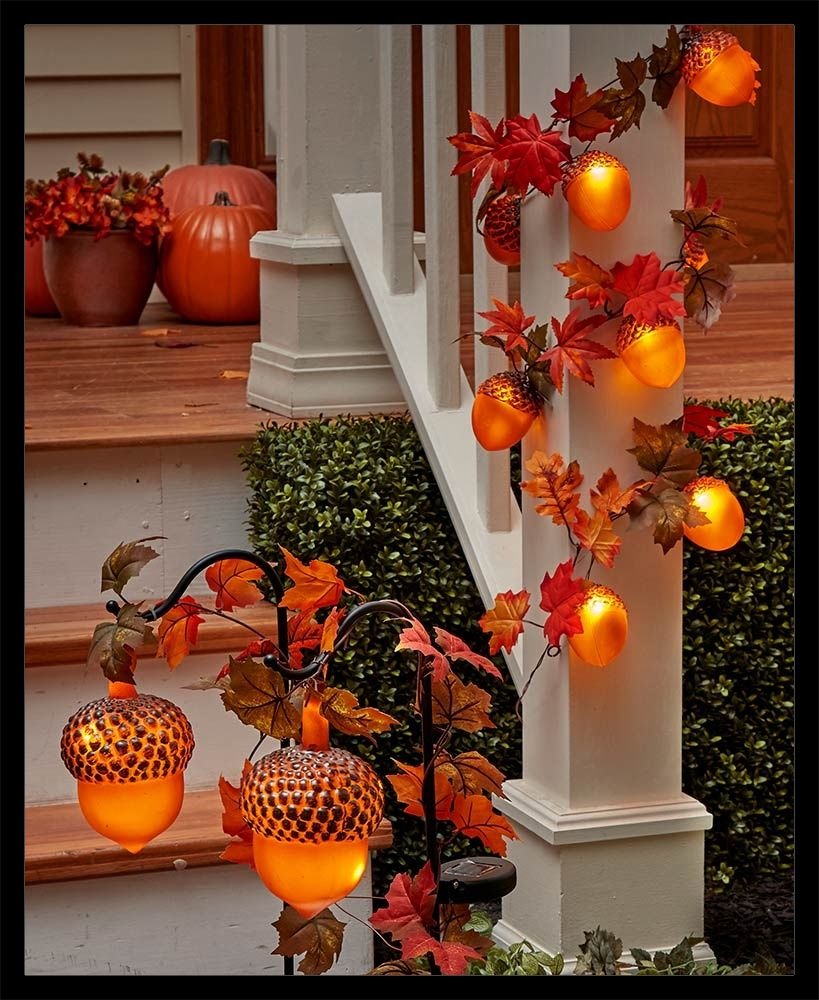 The Solar Acorn Collection will give your visitors a festive lighted pathway as they walk up to your door.
Take your outdoor fall decorations to the next level by wrapping your front porch handrails in acorn string lights.
The two lighted acorn stakes will complement the string lights perfectly as you turn your porch into a woodland wonderland.
The orange glow on your steps will bring you warm, fuzzy feelings as you step outside and feel the cool fall breeze.
Harvest Windmill Spinner Stake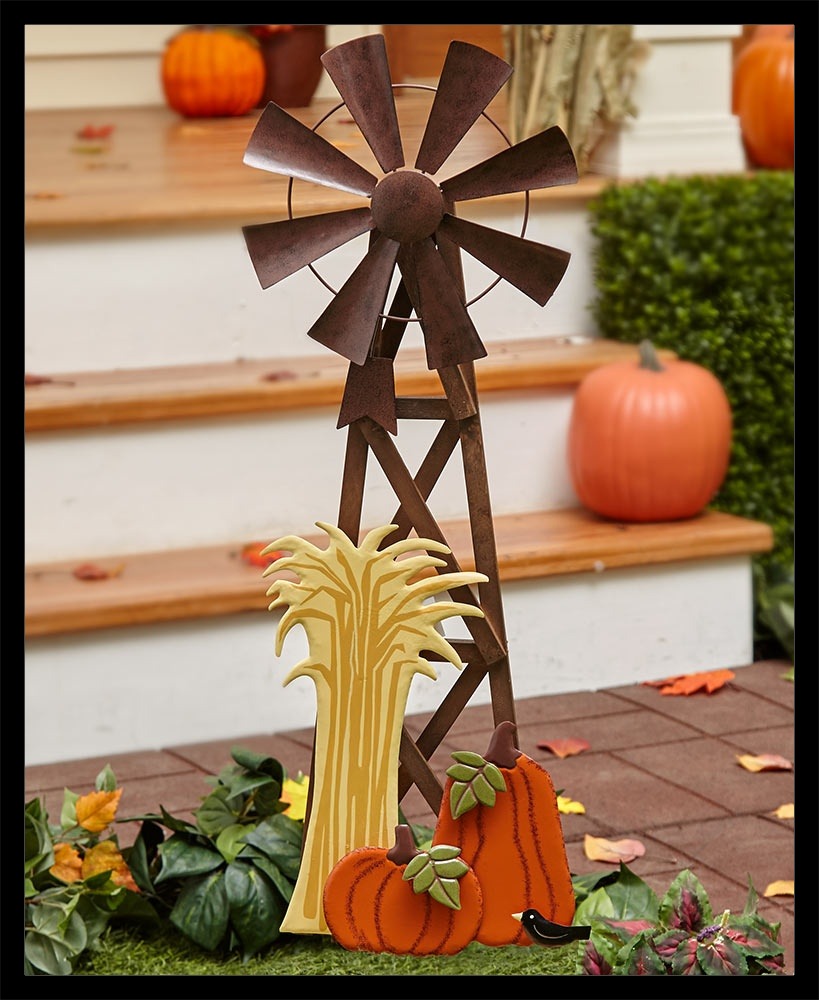 Get farmhouse vibes no matter where you live with the Harvest Windmill Spinner Stake.
This wood and metal windmill spins in the breeze and is accented with cutouts of hay, pumpkins, and a crow.
Its fall colors complement the leaves on the ground and any other pumpkin decor you set on your front porch.
As you sit outside on a beautiful fall day, you will be mesmerized by the spinning wheel.
Enamel Harvest Yard Stake or Planters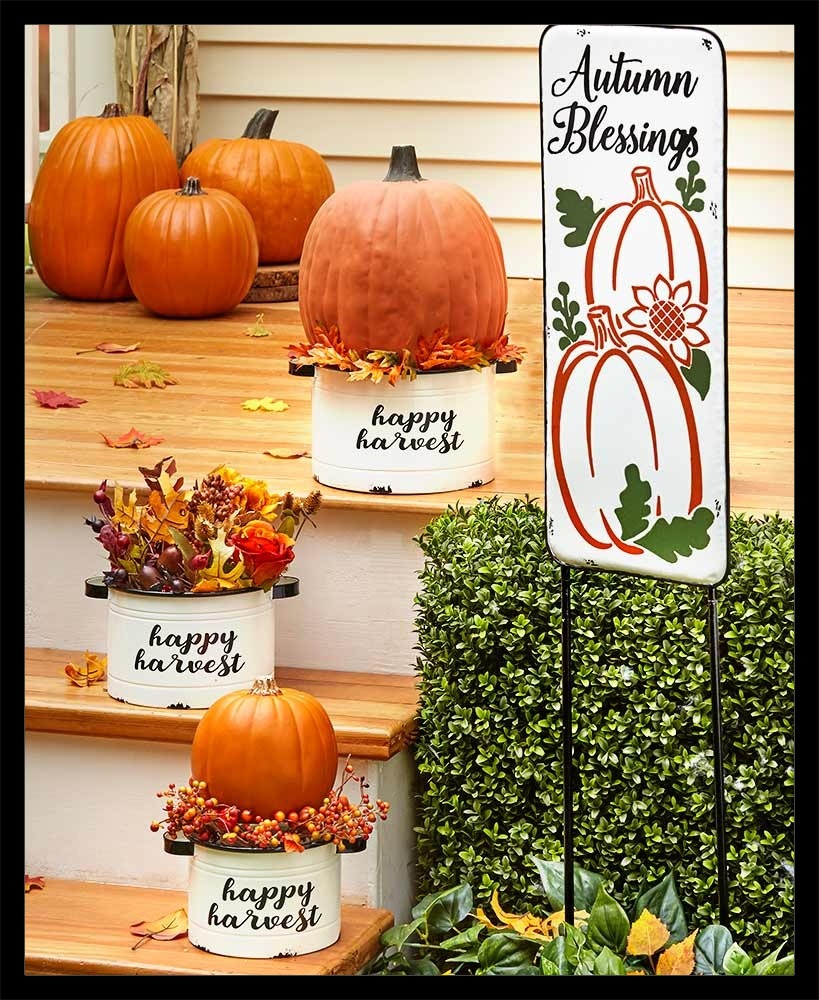 Make your front porch both autumnal and chic with the Enamel Harvest Yard Stake or Planters.
The happy harvest planters come in a set of three different sizes and provide a decorative way to display pumpkins or flowers up the steps of your porch.
The autumn blessings yard stake features the classic orange and green fall colors that blend well with the surrounding nature.
You will admire the classy cursive lettering every time you walk to your front door.
Set of 2 Harvest Planters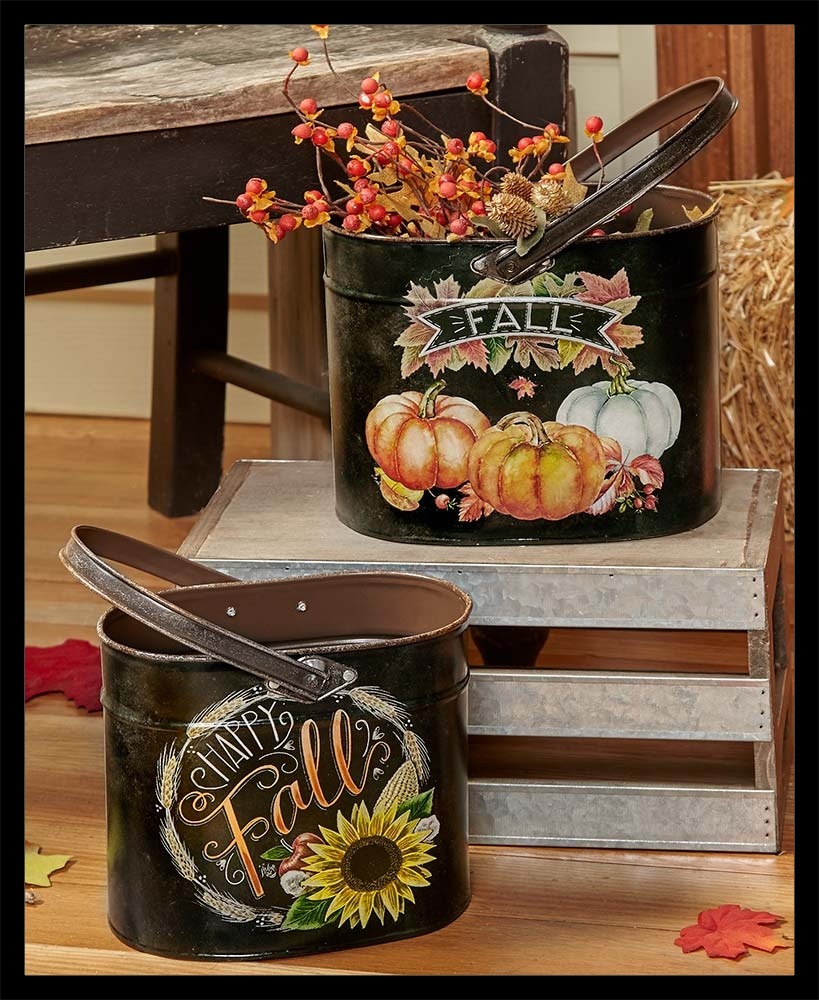 Display your fall flowers in a cute and artsy way on your porch with the Set of 2 Harvest Planters.
These tin planters have stunning artwork on both sides in soft fall colors.
The individuality of these fashionable planters give off a modern day vibe that onlookers will admire.
If you have a bench on your porch, pair the planters with our Interchangeable Seasonal Pillow to continue the theme of beautiful, soft fall colors.
Stacked Pumpkin Stake or Rake Door Hanger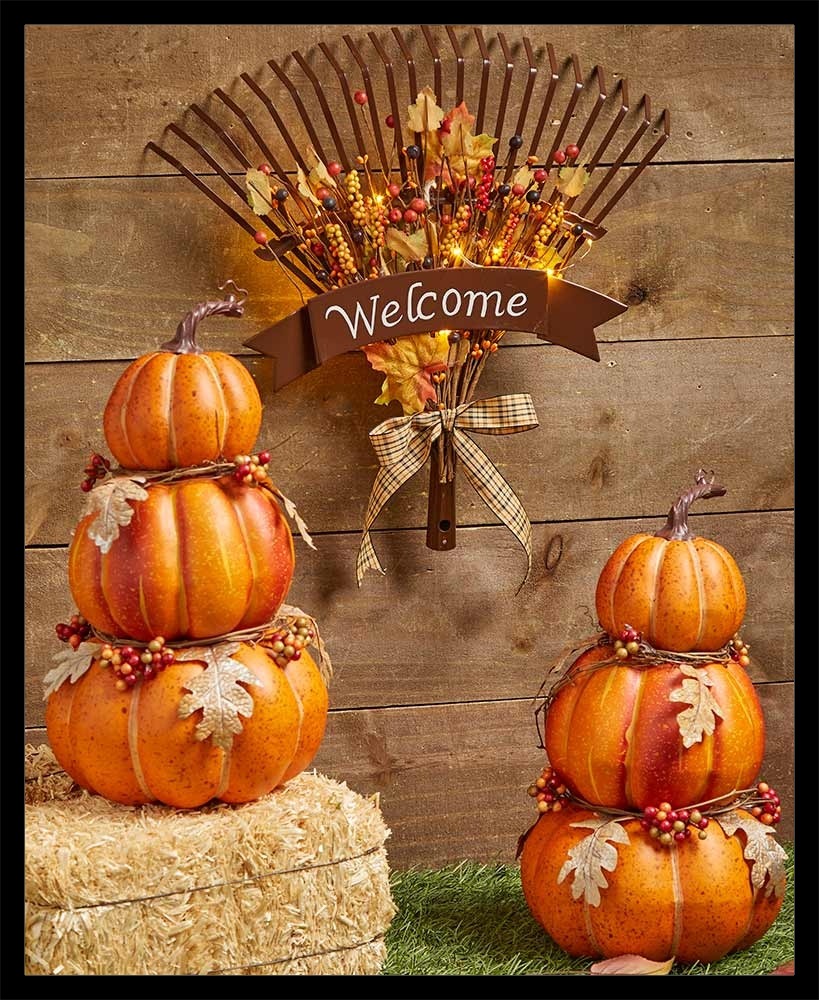 Sticking to the true symbols, the Stacked Pumpkin Stake or Rake Door Hanger will give you the ultimate fall feelings.
The stake in the stacked pumpkins can easily be removed in order to display them your front porch.
The Rake Door Hanger welcomes guests with festive harvest greetings and even lights up with warm, amber lights.
These outdoor decorations will bring you a modern twist on the classic image of fall.
6-Piece Interchangeable Seasonal Doormat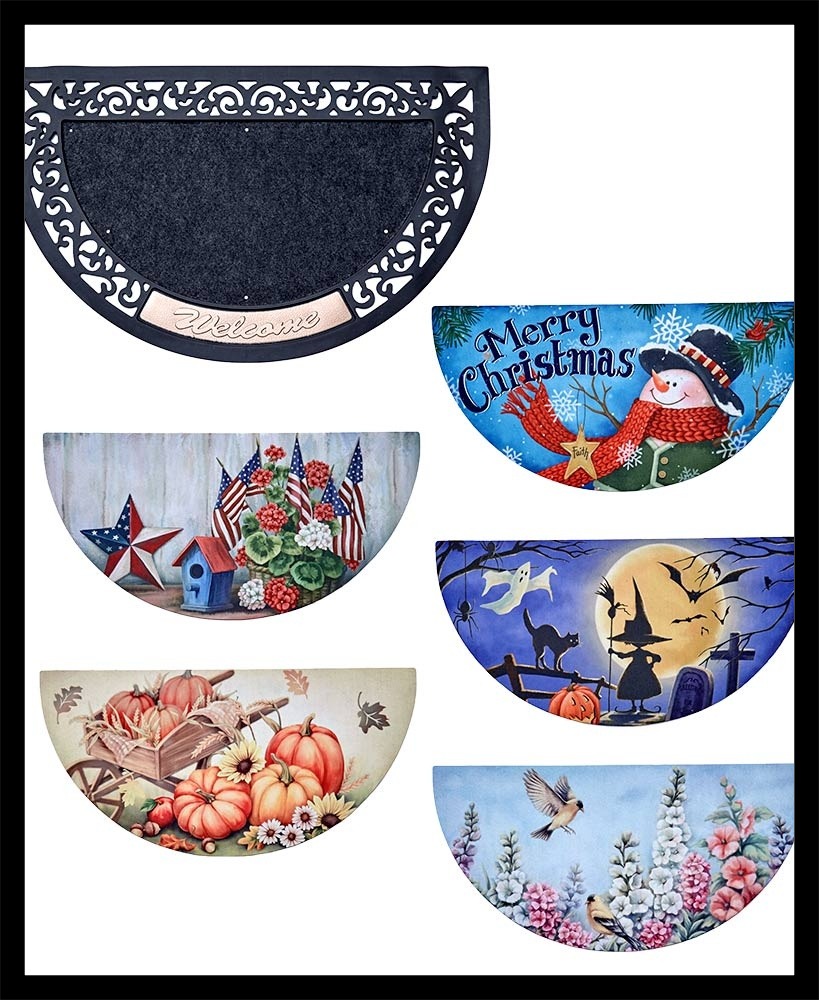 Wipe your feet in style with this 6-Piece Interchangeable Seasonal Doormat.
Due to the interchangeable pieces, you can use this doormat all year round. It contains a fall harvest mat and a Halloween mat that both fit perfectly with this pumpkin season.
The other pieces can be used for the summer, winter, and spring.
Pair it with a Home Harvest Flag for a welcoming front porch.
Harvest Porch Decor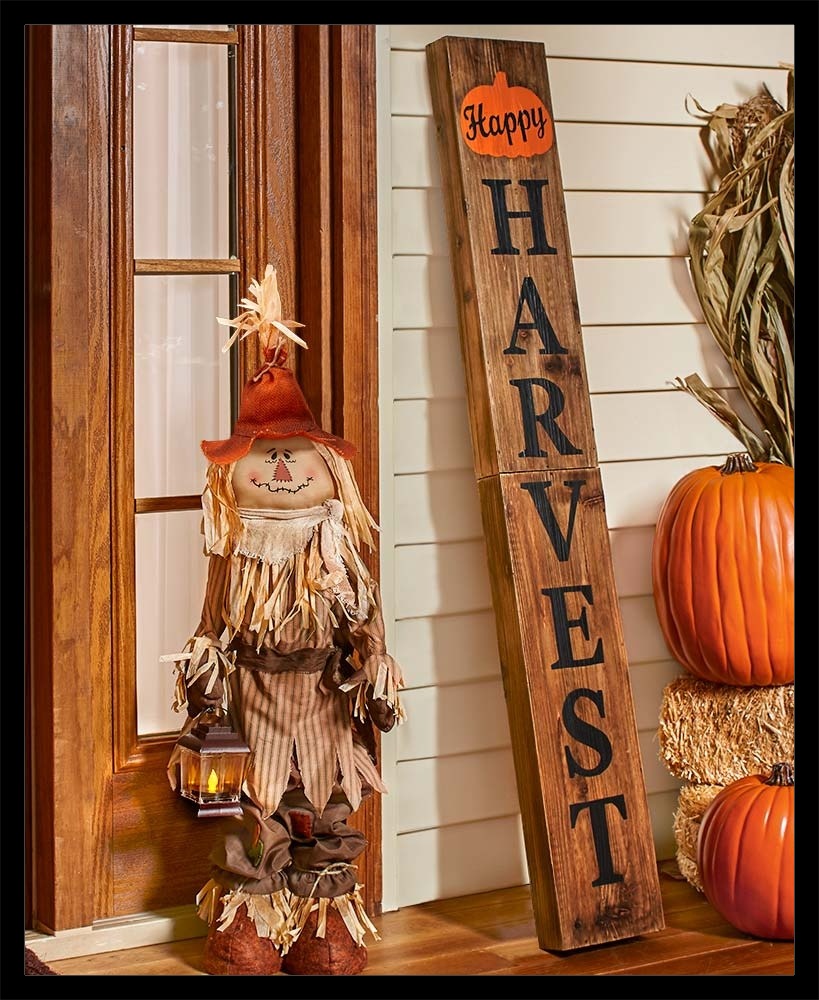 The Harvest Porch Decor collection is another way to bring country charm to your front porch.
This collection features a Happy Harvest wooden sign that can be leaned against any wall and will look magnificent next to your carved pumpkins.
The Expanding Scarecrow holding a lighted lantern is another great addition to your country harvest vision.
You can also stick these Silly Scarecrow Garden Stakes in your front yard to match the farmhouse theme.
---
Shop Our Full Selection of Outdoor Decor!
---
This is only an assortment of our decor that you can incorporate onto your front porch. Check out our Fall Catalog for more autumn inspiration and view our outdoor products for even more porch decorations and accents.