7 Interesting Easter Egg Decorating Ideas
Decorating an Easter egg is a traditional and fun activity that the whole family enjoys! Whether you are looking to step up your art game or just want to make something fun and creative, check out these 7 interesting Easter egg decorating ideas.
---
Unicorn Easter Eggs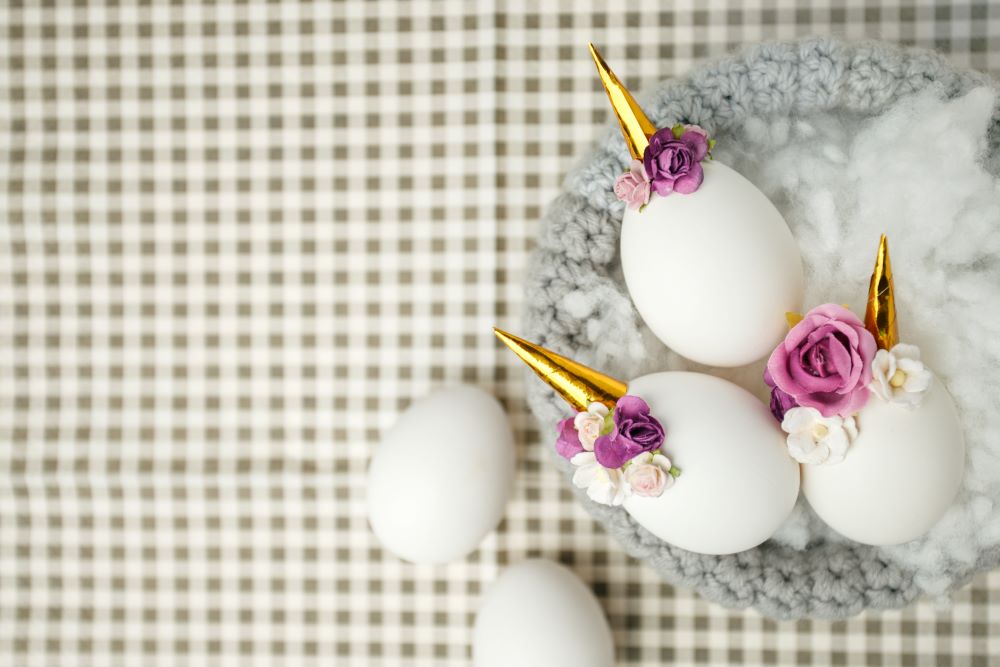 Bring a mystical element to Easter with these unicorn Easter eggs! This cute and feminine Easter egg design is perfect for both kids and adults to embrace their magical side. Feel free to use any colored flowers you want, and even add glitter to it for some extra radiance.
Supplies Needed
Thick metallic gold paper
Small craft flowers
Scissors
Glue
Permanent black marker (optional)
How To Make Them
Make the unicorn horn by cutting a 1 inch by 1 inch square out of the gold paper. Roll it into a cone shape and glue together. Then, glue to the top of the egg.
Glue some small craft flowers onto the egg near the top. You can be creative with this step – glue as many or as little flowers as you'd like and choose any colors that you want!
You can finish your Easter egg with step 3, or you can optionally add some eyes to your unicorn egg with a permanent marker. Simply draw 2 upwards half circles with lines for eyelashes to bring your unicorn to life.
---
Emoji Easter Eggs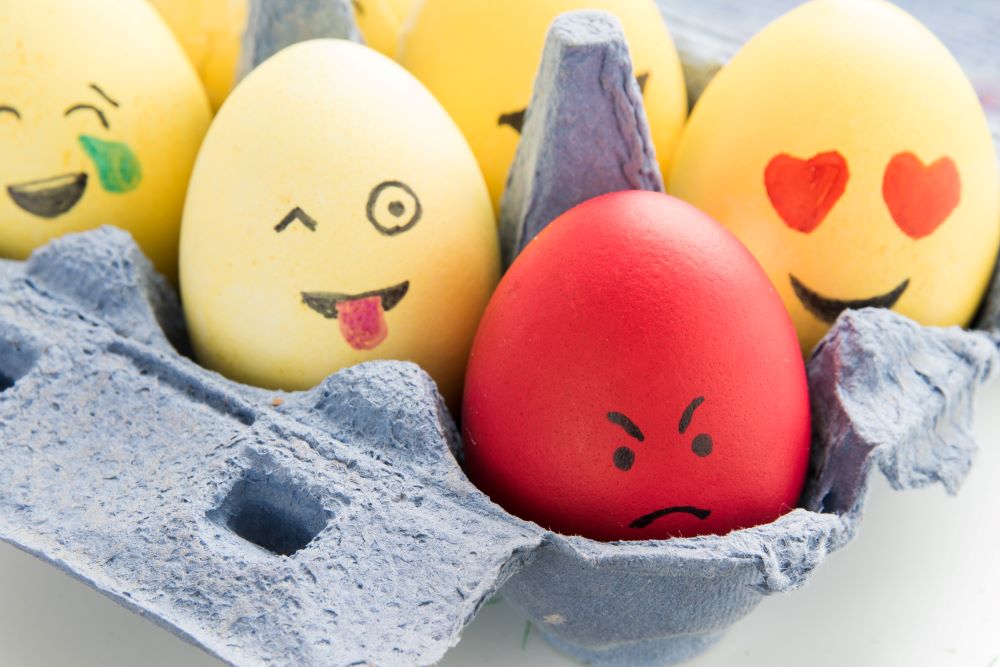 Emojis are all the rage these days with kids and teens, so there's no doubt that they will love this Easter egg decorating idea! They can choose their favorite Emoji or make a whole collection of the most commonly used Emojis.
Supplies Needed
Yellow paint (and other colors if needed)
Paintbrush
Emoji print-outs for reference
Permanent markers
How To Make Them
The first step is to choose which Emoji to create! It'll help to print out a picture of the Emoji, or even a stencil to trace if you choose a more detailed one.
Paint your egg yellow if you're doing one of the main traditional Emojis, or the color that matches the one you're doing.
Draw the Emoji face using permanent markers and you're done!
---
Galaxy Easter Eggs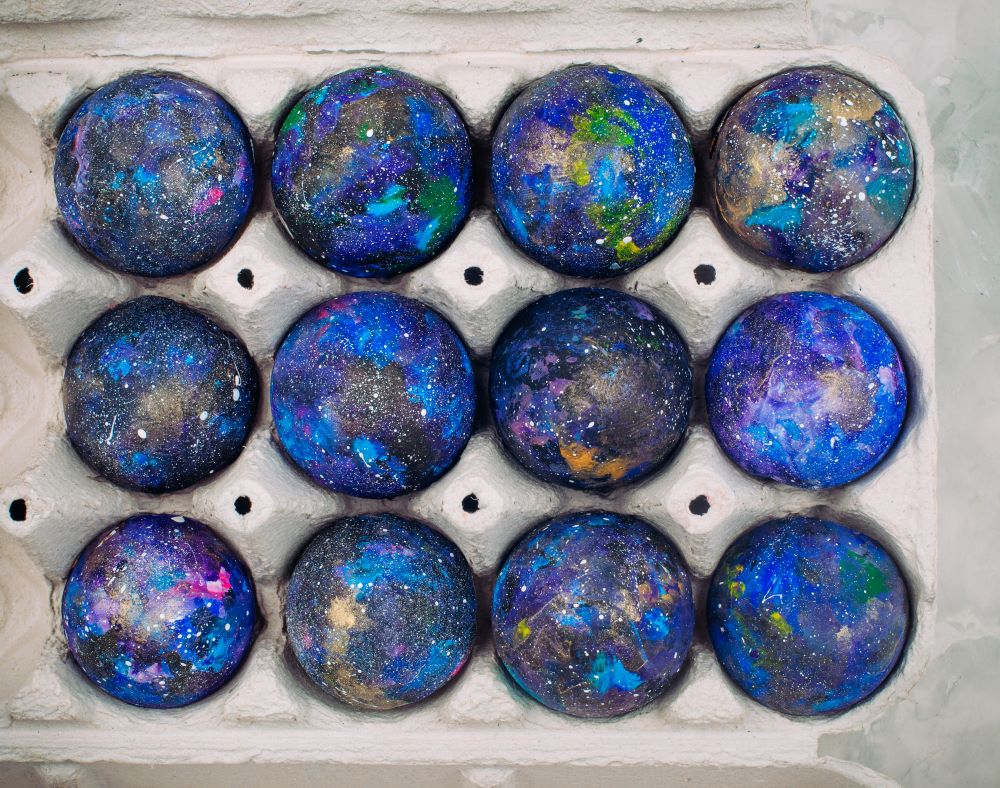 These mesmerizing galaxy Easter eggs appear more complex than they actually are! Making these eggs requires more creativity rather than technical skill; anyone can make this stunning creation.
Supplies Needed
Black paint
Colored paints: purples, pinks, blues, gold, and white
Sponge brushes
Soft paintbrush
Stiff paintbrush
How To Make Them
First, you will need to paint your egg completely black. Make sure to cover the entire surface area – you may need to do 2 layers. Let this dry before going to step 2.
Next you're going to paint a swirly galaxy background on the egg. Swirl around your blue colors – this step should not be precise or neat. Then, dip your paintbrush into the black and swirl around the blues even more. Let it dry before step 3.
Now it's time to use a sponge brush. Dab your darkest blue color on top first, followed by your purples and pinks. Note: make sure you allow the paint to dry thoroughly before adding each sponge layer.
Next, use a sponge brush in the gold paint and lightly add small patches of gold around the egg. You want to only have small areas of gold so you can see your other colors.
Finally, it's time to add the stars. Water down your white paint until you reach a thin consistency. Take the stiff paintbrush and dip it into the white paint. Splatter the white stars on the egg by pressing down and releasing the bristles with your thumb. Make sure to add the white stars all around the egg. Now you're finished!
---
Bunny Silhouette Easter Eggs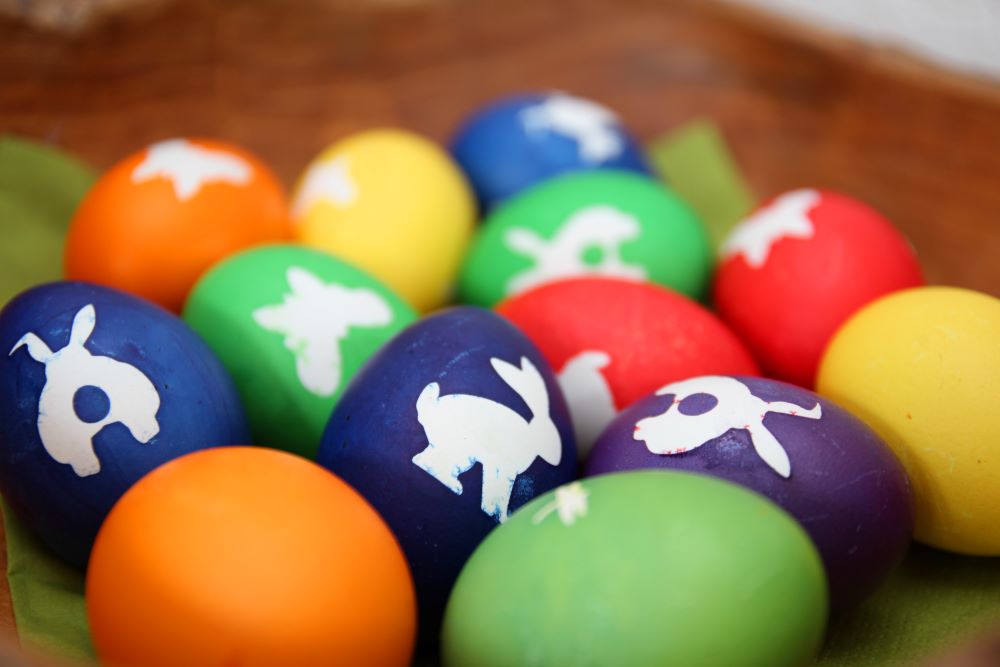 These bunny silhouette Easter eggs are simple to make but result in brightly colored festive eggs that you'll want to use as a decoration! If you are making a variety of these eggs, you can opt to use other silhouettes as well, such as chicks and flowers.
Supplies Needed
Small white bunny silhouette print-outs
Variety of colored paint
Paintbrush
Glue
How To Make Them
Start by cutting and prepping any silhouette print-outs you have. Make sure they are small enough to fit on the egg.
Paint your egg a solid color, preferably a bright spring color. Let it dry completely before moving on to the next step.
Glue a white bunny silhouette on the egg. Make sure to glue down every edge of the paper so it will stick. Enjoy your creation!
---
Easter Sentiment Eggs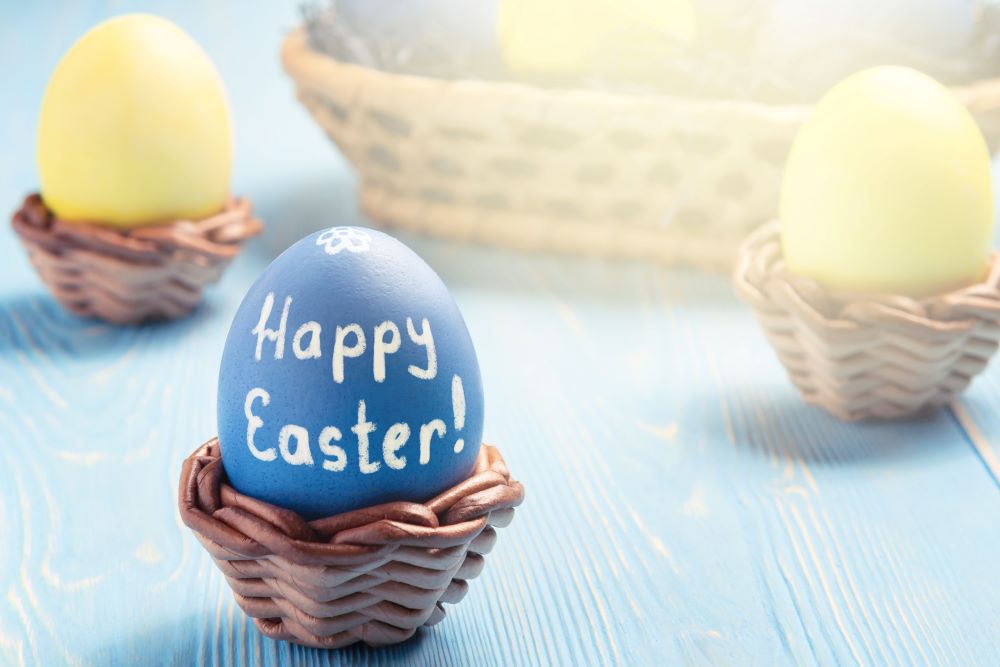 Get into the Easter spirit by making these Easter sentiment eggs! These are perfect to make for a quick decoration that your guests can admire when they come over for your Easter festivities.
Supplies Needed
Variety of colored paint
Paintbrush
White permanent marker or white paint (with fine tip paintbrush)
How To Make Them
Start by painting your egg a solid color. Use a bright spring color to make it extra festive! Let it dry.
Choose an Easter or spring sentiment. It can be as simple as "Happy Easter" or something more unique.
Use a white permanent marker or white paint with a fine tip paintbrush to write your sentiment. (The marker may be easier for creating precise and elegant writing.)
Feel free to let your inner artist shine and draw small flowers, bunnies, or anything else Easter related. Display your artwork!
---
Floral Wreath Easter Eggs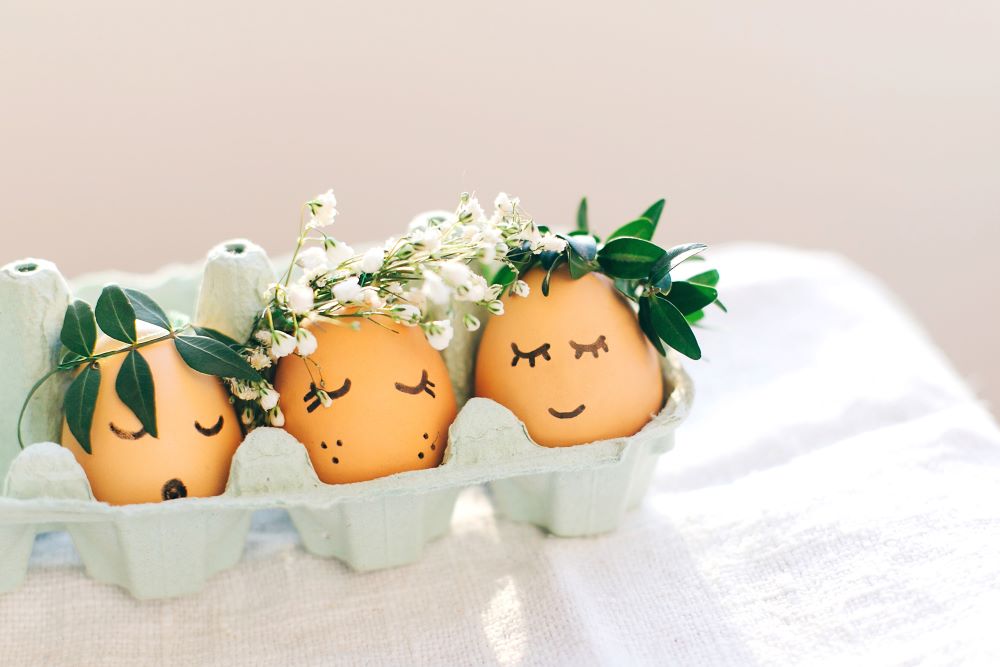 Create some cute hippie vibes with these floral wreath Easter eggs! Each egg can have a different personality with a simple face drawing and a flower crown. You'll definitely want to display these adorable Easter eggs!
Supplies Needed
Small pieces of fake greenery or fake flowers on stems
Glue
Black permanent marker
How To Make Them
Form your fake greenery or fake stemmed flowers into the shape of a mini crown.
Glue the crown on top of the egg so it fully wraps around it.
Draw a face with the permanent marker. Faces can vary but you can include things like freckles and defined eyelashes. You're done with your cute creation!
---
Black & Gold Easter Eggs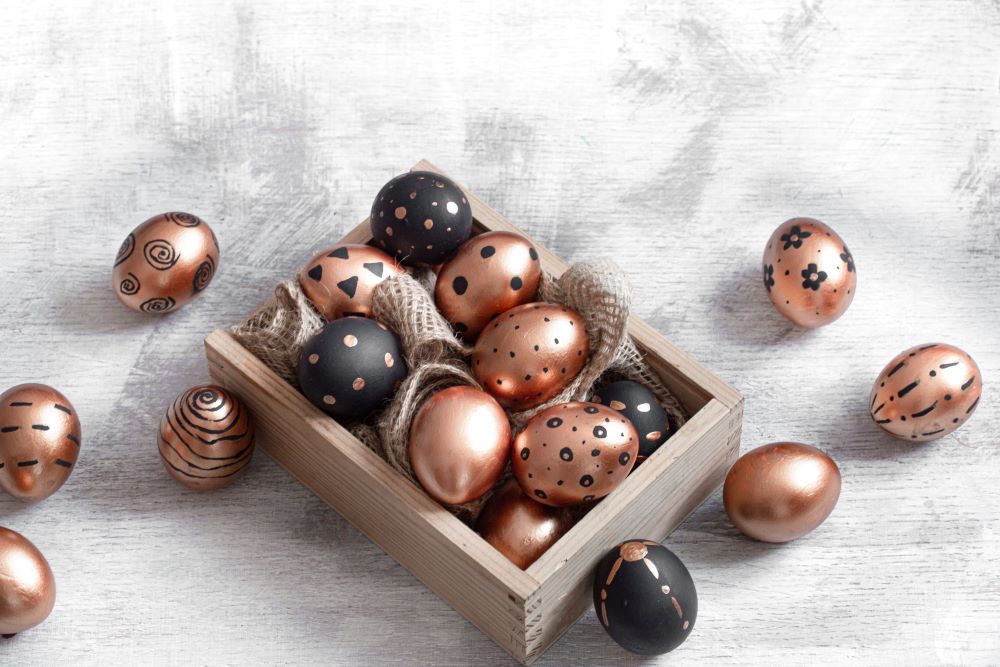 If you want some classy and aesthetically pleasing Easter eggs, a black and gold design is for you! You can customize your eggs to fit your own personality and style – choose what pattern you want and make a bunch of different ones to decorate with.
Supplies Needed
Metallic gold paint
Black paint
Paintbrushes
How To Make Them
The possibilities are endless, so there isn't necessarily a set of strict instructions!
Paint your egg either black or gold, and paint on a pattern with the opposite color. Patterns can be anything from dots to swirls to zig-zags to flowers and more!
Your eggs will look classy and decorative as a centerpiece in a nice big bowl or shallow box!
---
Get ready for Easter with decorative home accents, Easter basket fillers, and much more! Shop Easter Decor & More for festive fun.
---