7 Outdoor Furniture Products For Your Summer Patio
Since you spend so much time on your patio in the summertime, you'll want to add decorative and functional elements to make the most of your time! Here are 7 outdoor furniture products for your summer patio.
---
1. Metal Lattice Barrel Stools
Adding stools to your patio is a great way to bring smaller elements to your outdoor space. It also works especially well for a small patio with limited space!
These Metal Lattice Barrel Stools can add some color and functionality to your patio this summer!
The stools can be used as extra seating around a fire pit or they can be used as side tables to go next to an outdoor bench. They're lightweight, so they can be easily moved when needed.
Choose from Avocado Green, Marigold Yellow, Sapphire Blue, or Sunset Orange. You can also get one of each color to add more variety to your patio!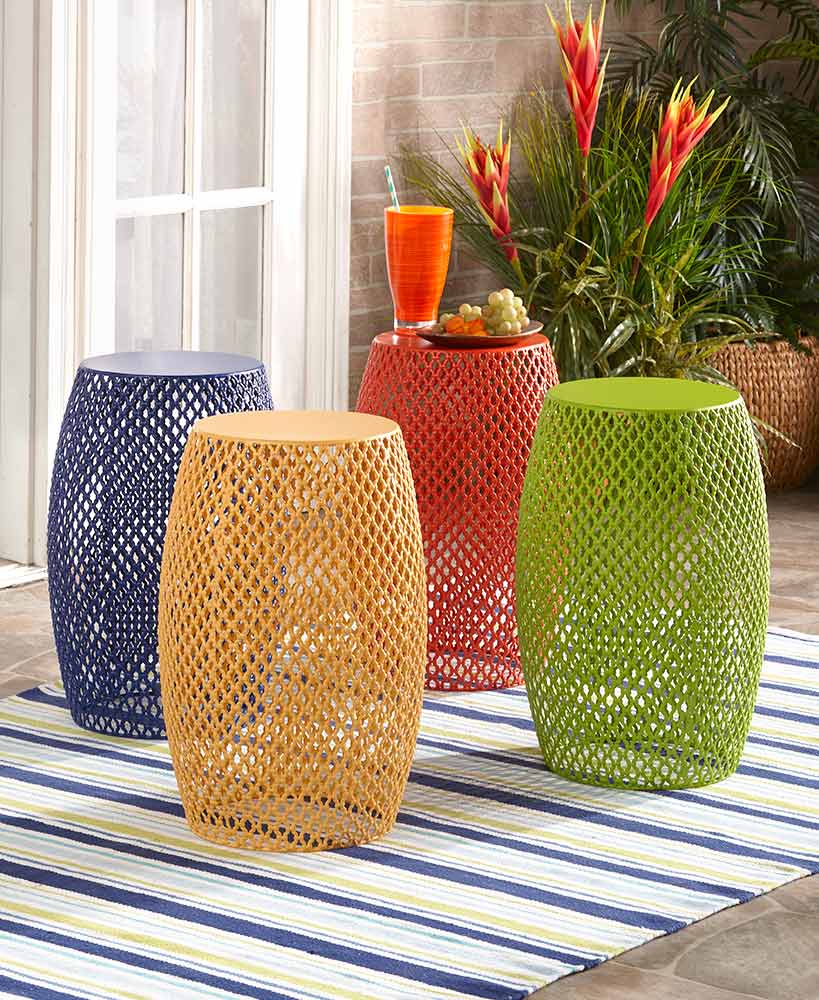 ---
2. Folding Picnic Table with Shelf
If you have a small patio or just don't want to commit to a lot of furniture, folding furniture can be a great option for you to use in the summertime!
This Folding Picnic Table with Shelf is the perfect compact furniture piece for your outdoor meals.
Use this table on your patio with some folding chairs when you want to enjoy a nice meal in your backyard, and then easily fold it and store it away afterwards.
This is also a convenient multi-use table that you can take with you to a park, camping trips, sporting events, and much more!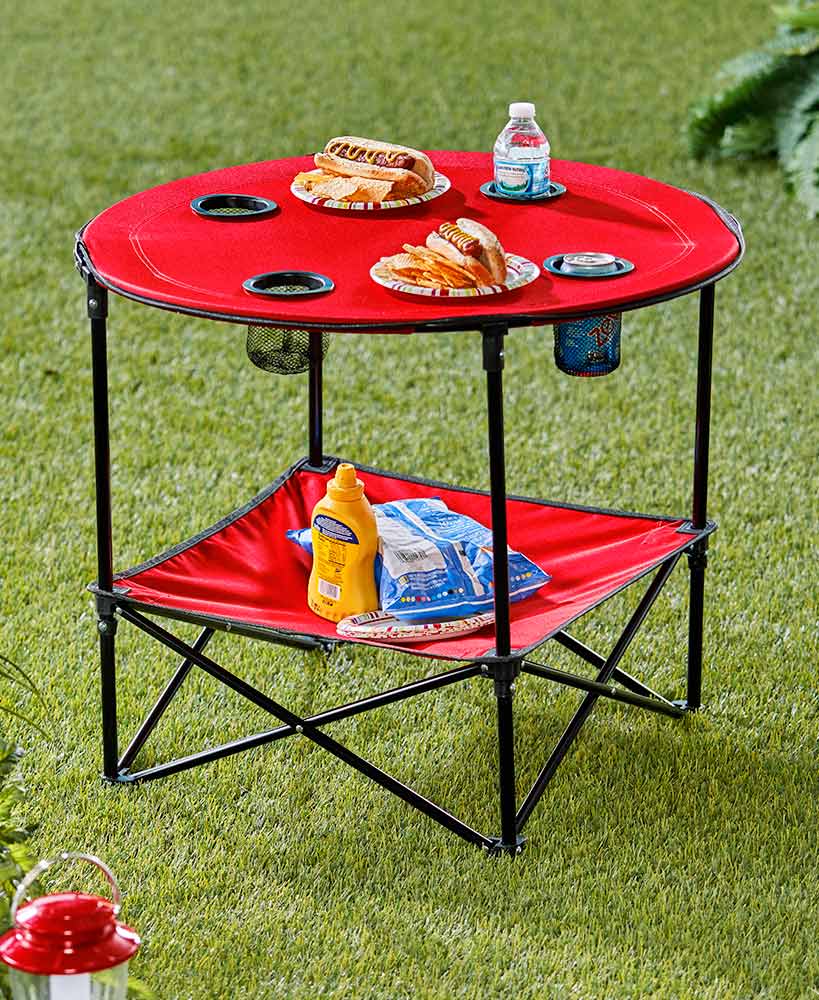 ---
3. Flip-Flop Themed Outdoor Furniture
Flip-flop decorations can make a cute summer theme for your patio because of the bright and whimsical colors and patterns that can be seen.
There's no better way to start this theme on your patio than with the Flip-Flop Themed Side Table and Garden Bench!
This bench and table combination will add a cheerful element to your patio. Place the bench against the wall of your house and put the table nearby for your summer drinks and snacks.
You can even choose to put the bench and table in your garden among your summer flowers and plants!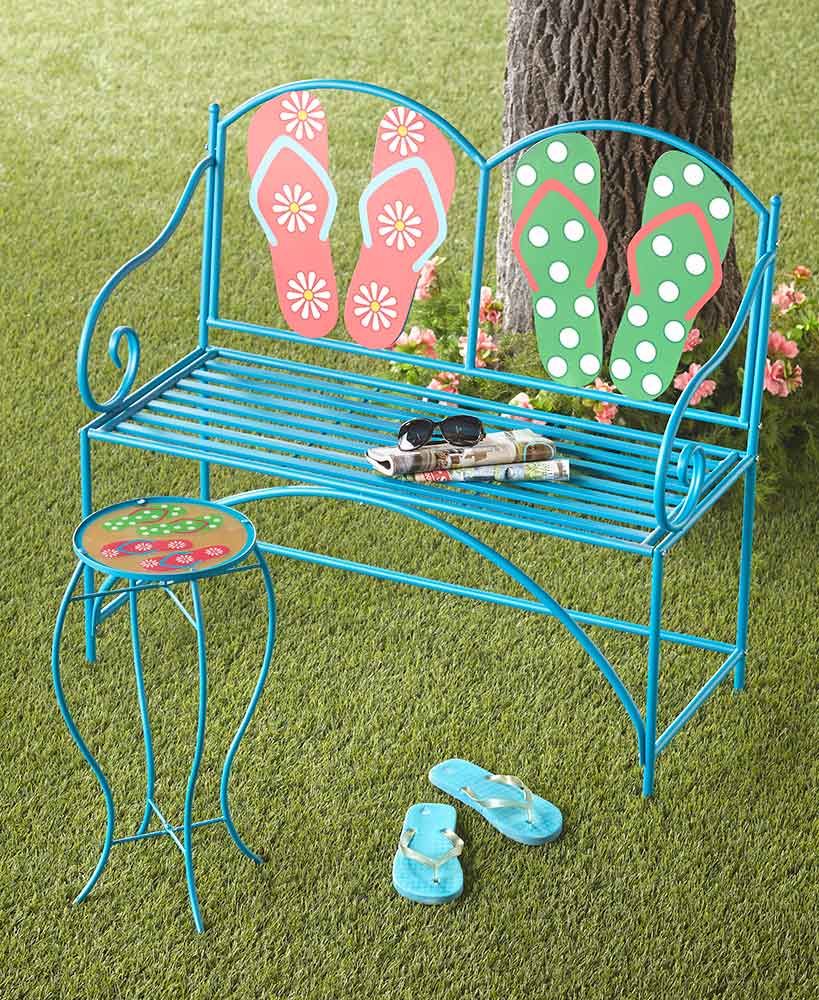 ---
4. Portable Camping Kitchen Table
When you're grilling outside this summer, it can be useful to have a separate table for preparing and serving.
This Portable Camping Kitchen Table is the perfect size to be used as a prep and serve table on your patio!
The table features a sturdy top with zippered storage sections underneath. Set this table up next to your grill with supplies such as plates, cups, side dishes, and your main grilled entrees.
You can even fold this up to store it away when not in use, or bring it with you on a camping trip for an easy setup wherever you go!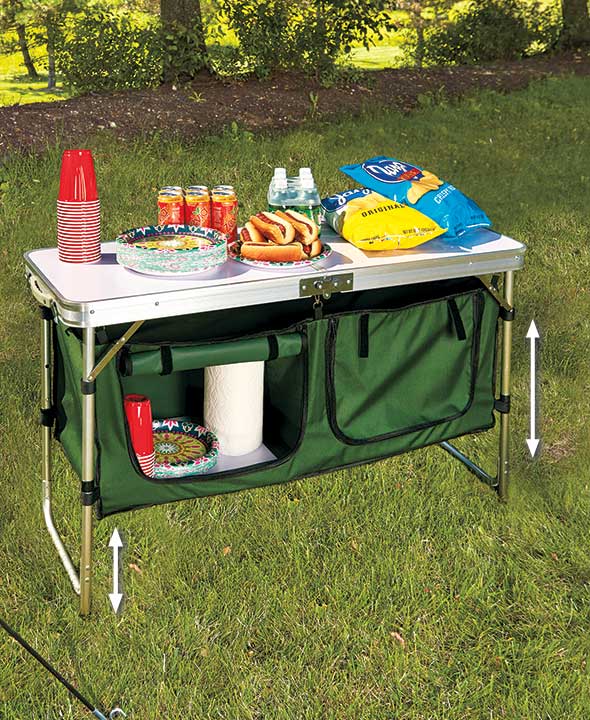 ---
5. Welcome to My Campfire Collection
If you want lightweight furniture on your patio that you can easily move around, a simple folding chair is the perfect choice for you.
The Welcome to our Fire Pit folding chair is a great addition to your camping themed backyard!
Buy multiple of these folding chairs to set up around your patio fire pit for a themed outdoor space. You can also bring out one of these folding chairs and easily move it around to sit in the sun or the shade.
It easily folds up to store away when not in use or to bring with you on a camping trip for some quick seating wherever you go!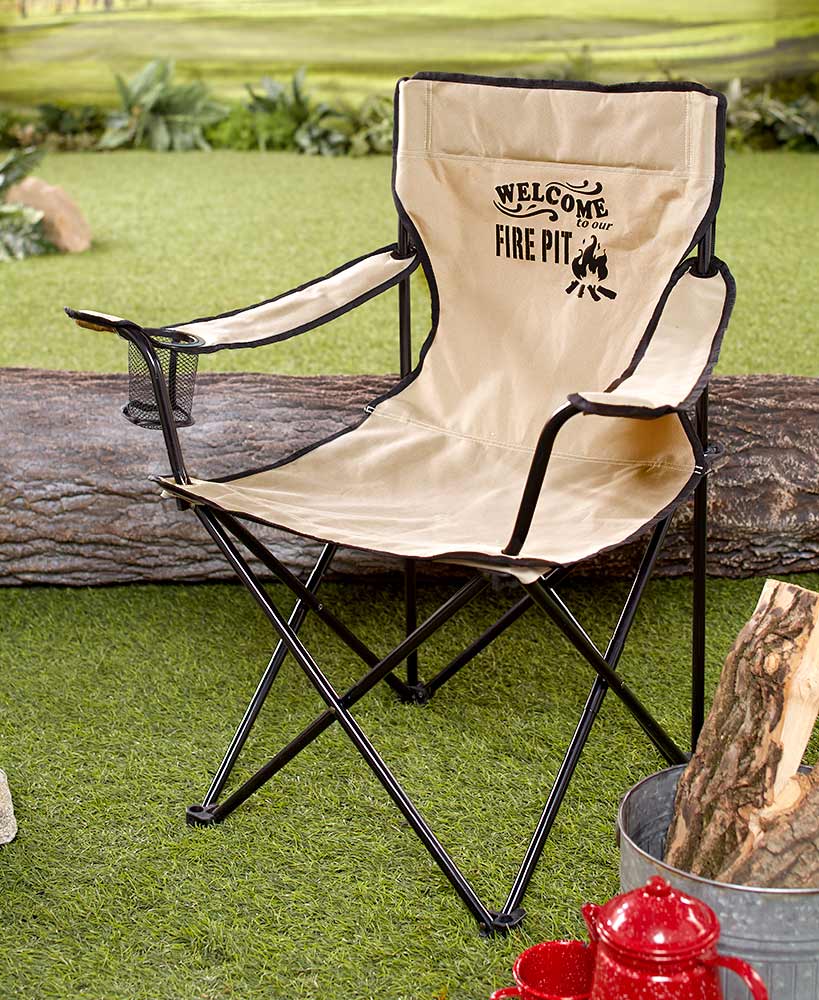 ---
6. Inflatable Buffet Cooler
Regular coolers are useful for eating outside on your patio, but they are limited to mostly just beverages.
If you want to keep your food chilled with easy access, this Inflatable Buffet Cooler is a practical solution for all your outdoor meals!
Simply inflate the cooler, fill it with ice, put it on top of your patio table and place all your bowls of food inside. It's beneficial to use on a hot summer day for all your fruits and vegetables.
When you're done using it, you can deflate it and fold it up. You can even bring it to a campsite or take it with you to use for a picnic!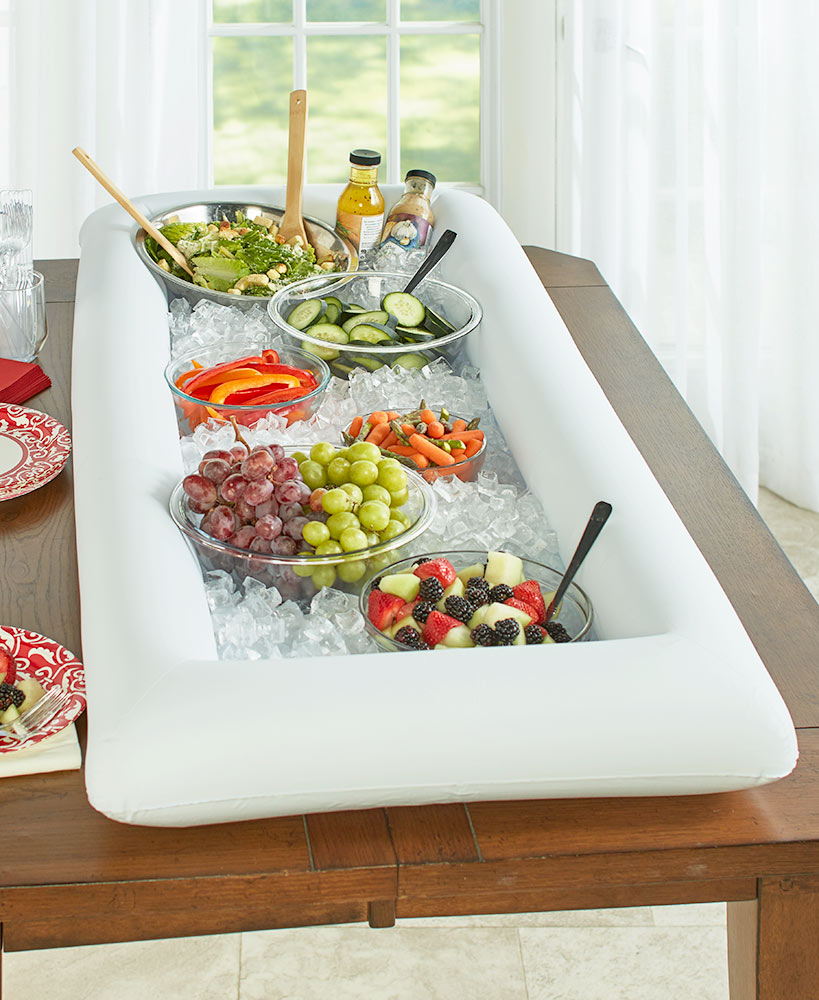 ---
7. Foldable Metal Icon Tables
Whether you have a small patio or if you want some minimal furniture in your outdoor space, simple side tables are the route to go.
These Foldable Metal Icon Tables will add some coastal flair to your patio and can be used all summer long!
Place an icon table next to a lounge chair to hold drinks, snacks, books, and any other items you need for relaxing on your patio. Optionally, you can also use it as a plant stand or just use it as a decorative element.
Choose from a multitude of decorative icon table – Seahorse, Starfish, Flamingo, or Pineapple!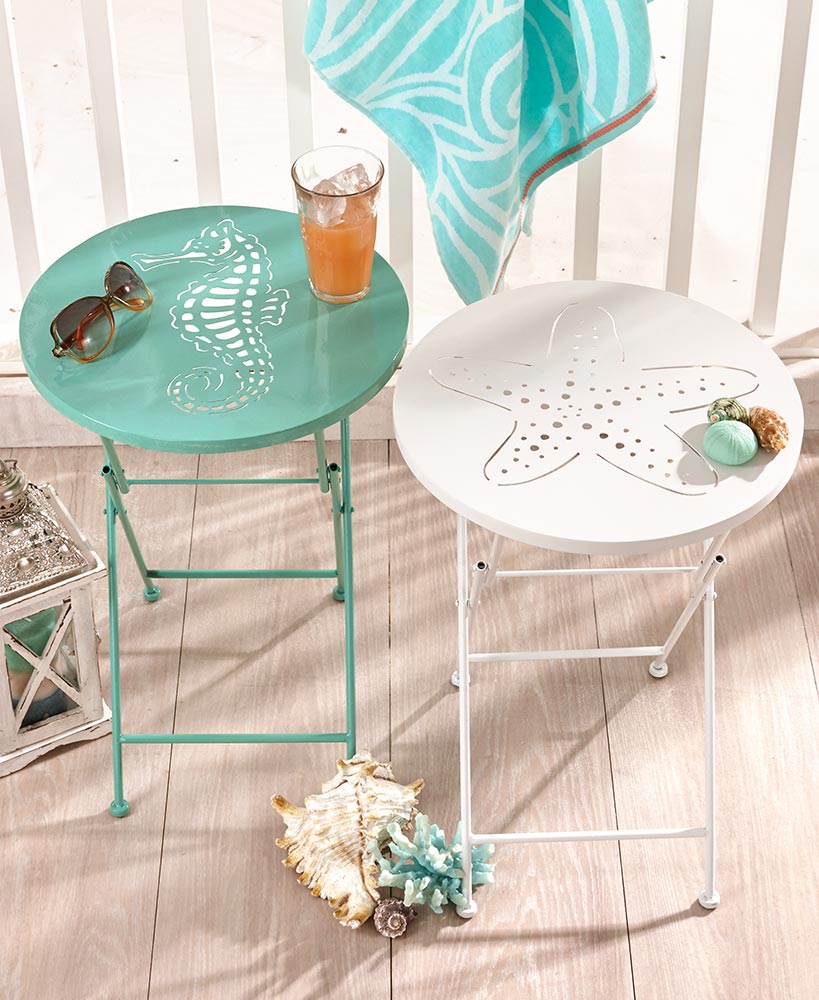 ---
Looking for more ideas on adding decorative and functional pieces to your patio? Shop Garden & Outdoors to find outdoor furniture, planters, solar lighting, outdoor accents, and more!
---