9 Outdoor Americana Decorations For A Patriotic Yard
Whether you want to decorate for the 4th of July or if you just want to add more red, white, and blue to your outdoor space, here are 9 outdoor Americana decorations for a patriotic yard.
---
Americana Garden Decorations To Display All Summer
Your garden is the perfect arena for a patriotic spread! Add some red, white, and blue colors into your mix of beautiful plants and flowers for a festive 4th of July, or for a patriotic look all summer long! These decorations will nicely complement any colored flowers, but especially a spread of luscious red flowers.
Solar Lighted Cross Garden Stakes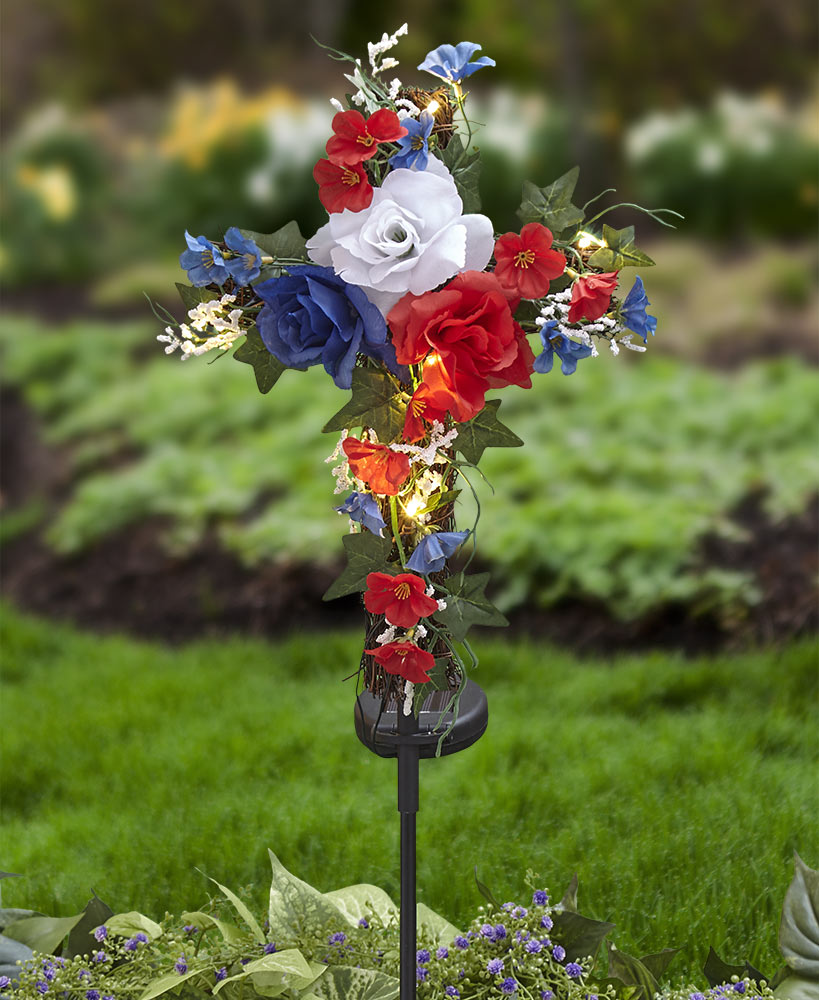 These Solar Lighted Cross Garden Stakes are a visual way to remember a loved one or a decorative way to showcase your devotion.
The patriotic cross is beautiful for a summer memorial area in your backyard or for a display of religious representation within a bed of flowers. These can also be used directly at a grave site to remember fallen soldiers.
Double-Spiral Solar Spinners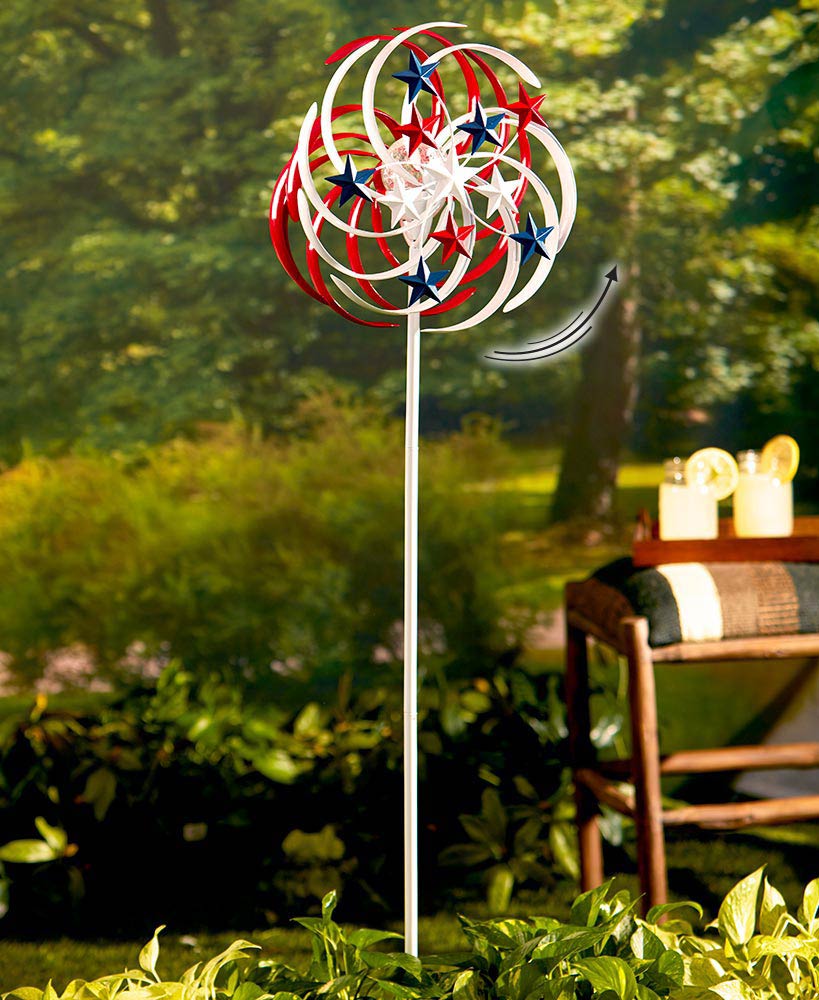 The Double-Spiral Solar Spinner is a fun and decorative accent to add to your garden this summer to show your patriotic pride!
Watch the red, white, and blue colors mix together in the wind during the day and light up in the nighttime. The spinner is a great addition to put next to other garden stakes and decorations of similar colors!
Americana Heart Welcome Stake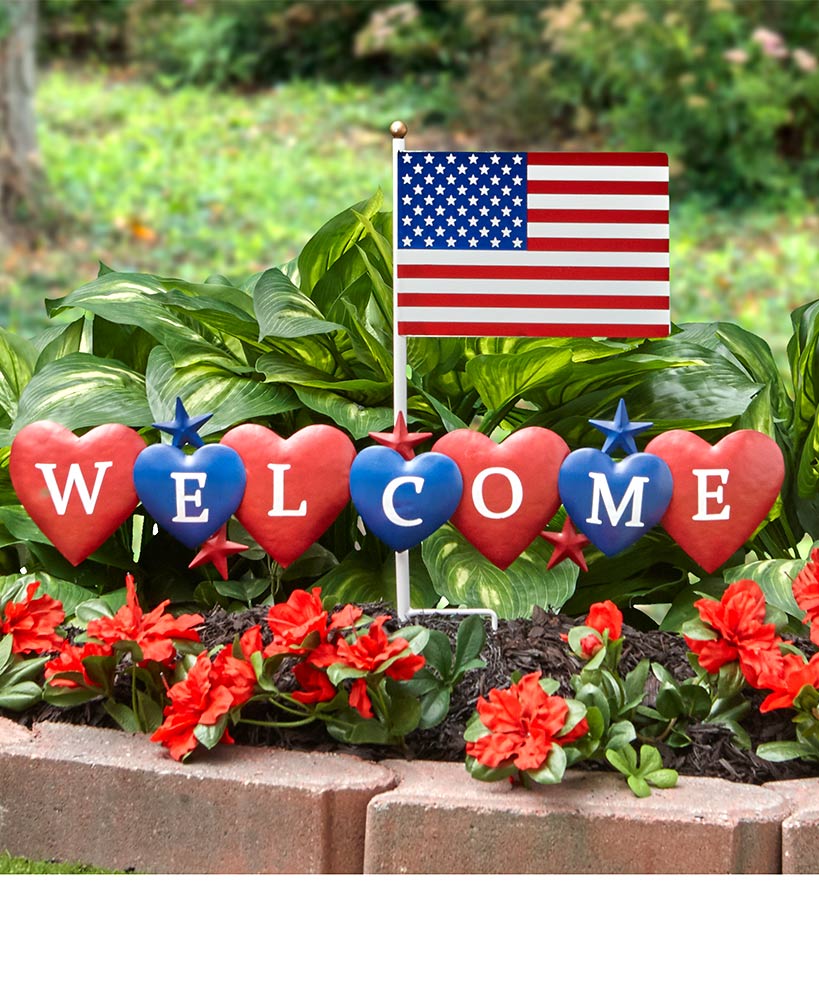 The Americana Heart Welcome Stake is a small yet vibrant decoration to add to your garden this summer!
Featuring the word "Welcome" in red and blue hearts with a small American flag, this stake looks festive in a small planter or in the middle of a flower patch. Complete the collection with the Solar Bike Spinner Stake and the Camper Birdhouse!
---
Americana Decorations For A Themed Front Porch
Not only is your front porch a great place to relax, it's also the first part of your house that people see! These decorations are subtle, yet they can help you create a great Americana theme on your front porch that will look great combined with various decorating styles.
Bless this Home Doormat or Accent Pillows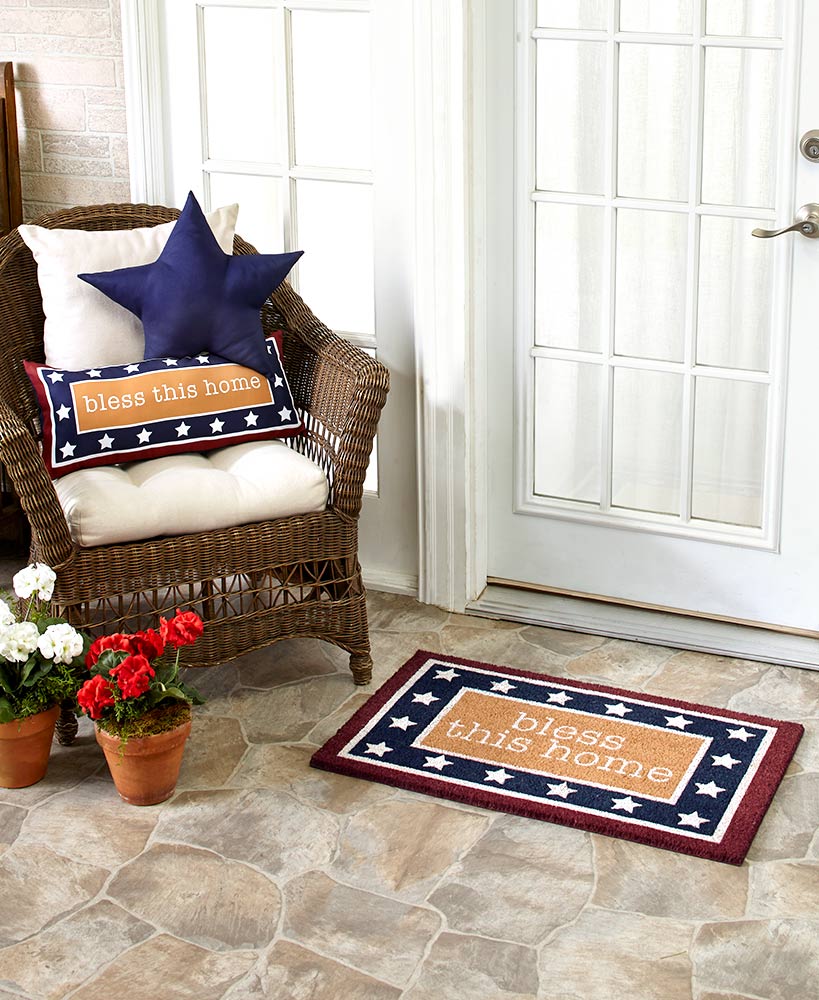 Fill your porch with a beautiful sentiment and patriotic colors with the help of the Bless This Home Doormat or Accent Pillows!
The 18″ x 30″ coir doormat features the "bless this home" sentiment surrounded by patriotic stars. Get the matching pillow to coordinate and top it off with the navy blue star pillow for a complete look.
5-Pc. Interchangeable Seasonal Pillow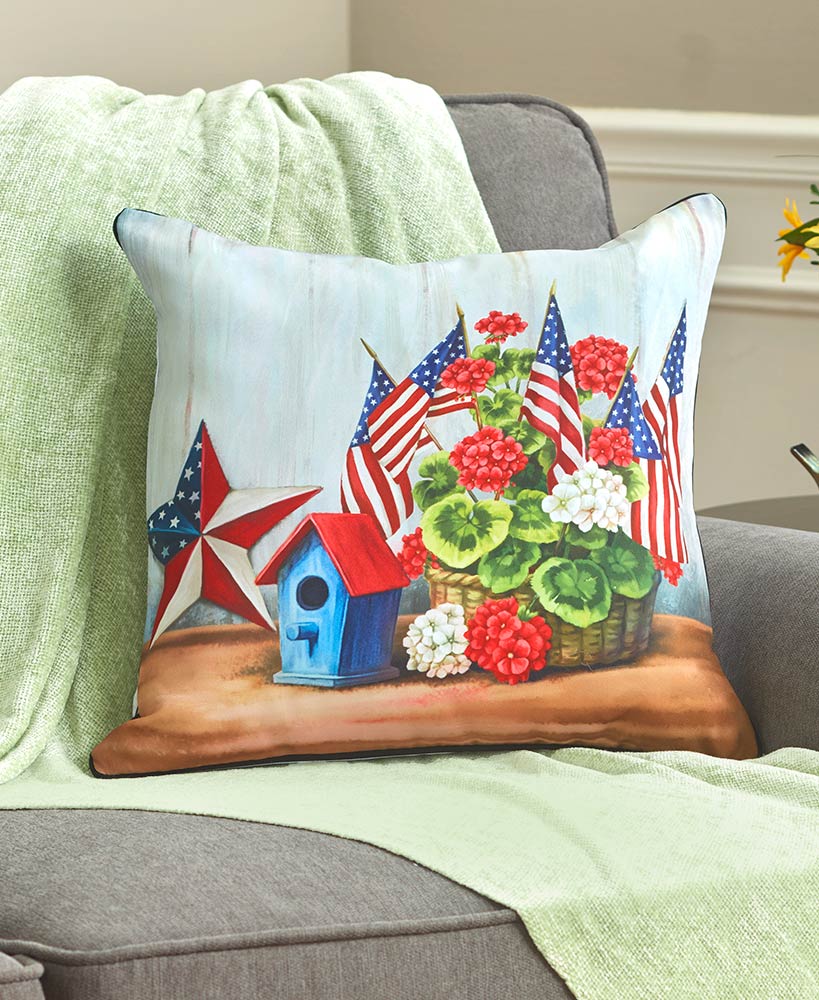 If you're looking for a simple porch accent that you can keep around all year long, this 5-Pc. Interchangeable Seasonal pillow is perfect for you!
Featuring four different changeable covers, this pillow has an American flag cover for your patriotic porch and it also comes with a Halloween cover, Thanksgiving cover, and Christmas cover for the rest of the year!
Americana Star and Flag Wall Hanging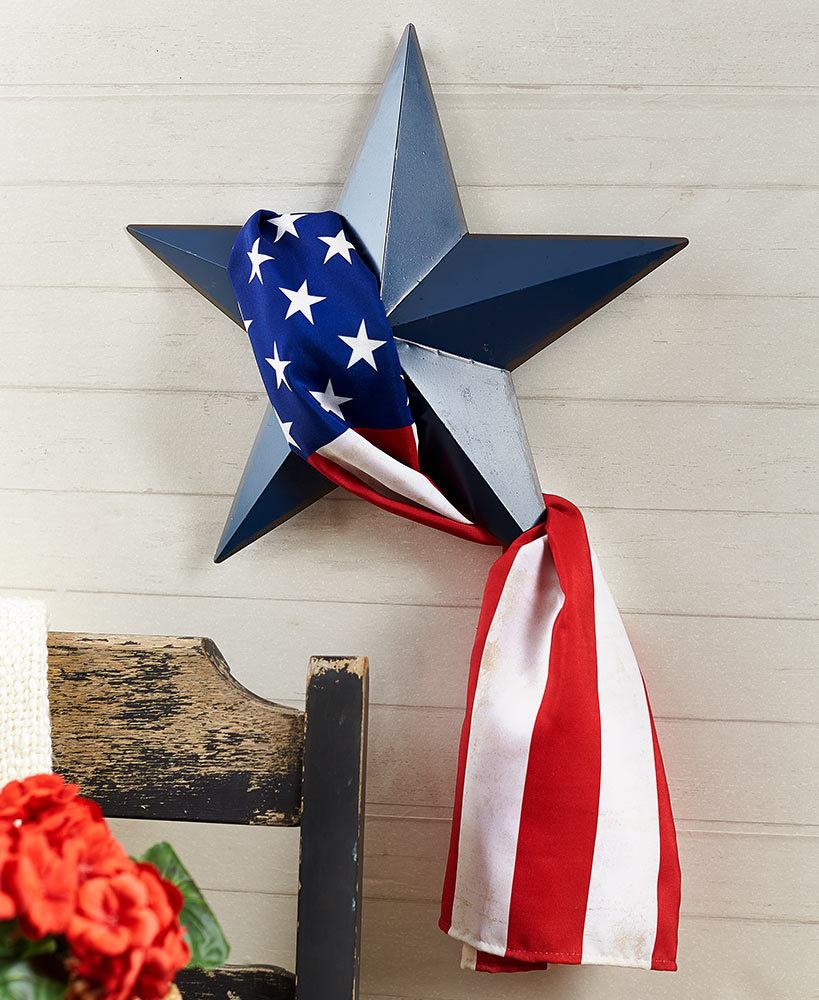 If you want to add a bold Americana decoration to your front porch, then hang up this Americana Star and Flag Wall Hanging!
A decorative American flag sweeps across the metal navy star for an eye-catch piece to hang up on the wall of your house or even on your front door.
---
Outdoor Americana Decorations To Display In Your Front Yard
Add some patriotic cheer to the outside of your house with these Americana decorations for your front yard! Whether you want to showcase some American pride for the 4th of July or just want some red, white, and blue in your yard this summer, we've got you covered!
8-Pc. Interchangeable Truck Stake Set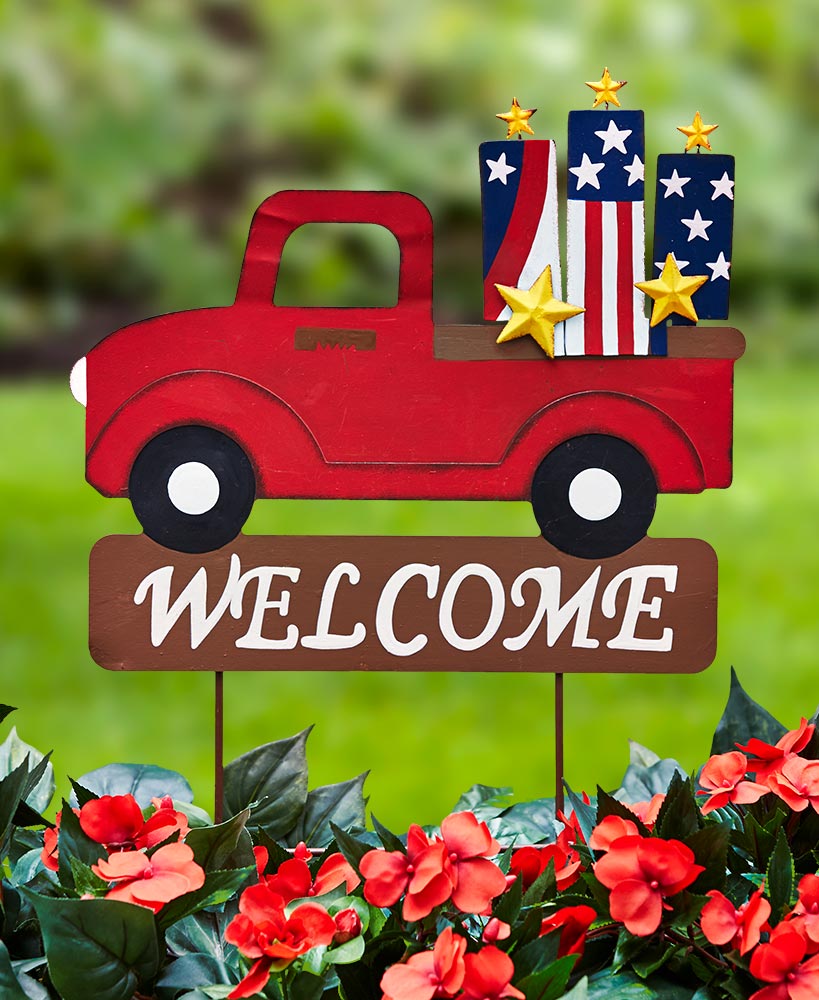 This 8-Pc. Interchangeable Truck Stake Set is the perfect seasonal decoration to keep in your front yard all year round!
The stake features an American flag themed load in the truck that can be changed out with the other seasonal and holiday icons including Easter, fall, Christmas, St. Patrick's Day, spring, and Valentine's Day!
Patriotic Solar Mailbox Swag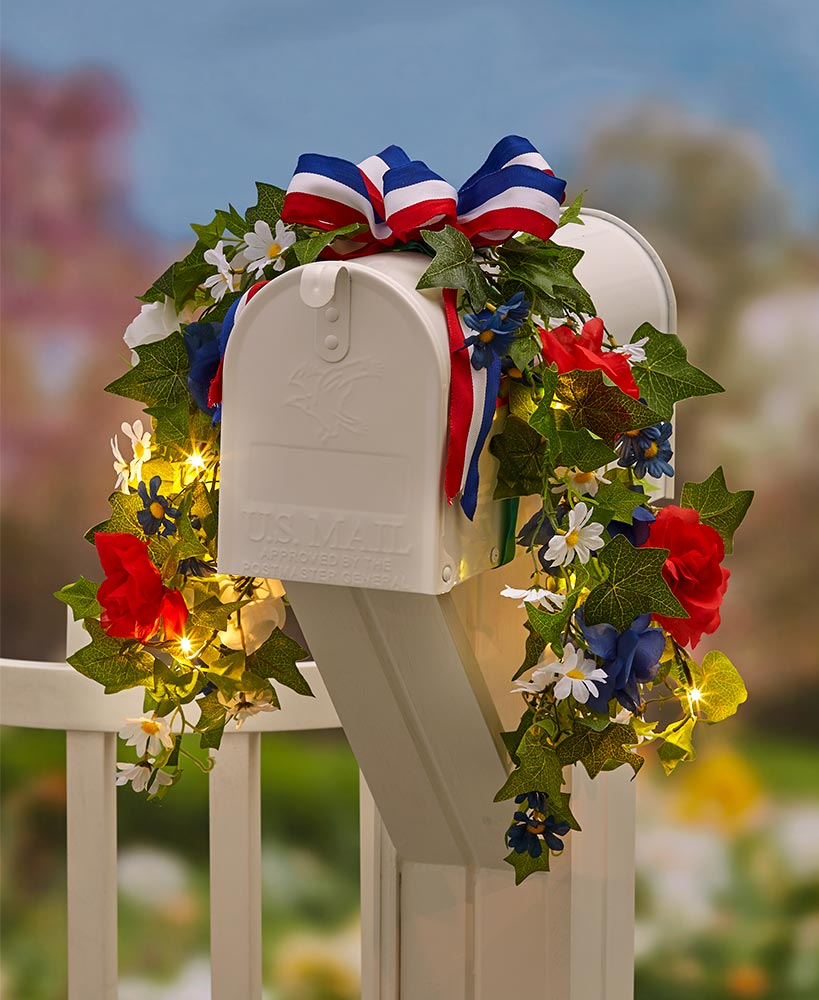 Dress up your mailbox in patriotic cheer with this unique Patriotic Themed Solar Mailbox Swag!
The swag fits over the top of your mailbox and features a red, white, and blue bow with cascading flowers to match. The LED lights can be switched on and off. Keep this up all season long for a vibrant summer look.
Seasonal Memorial Flower Vases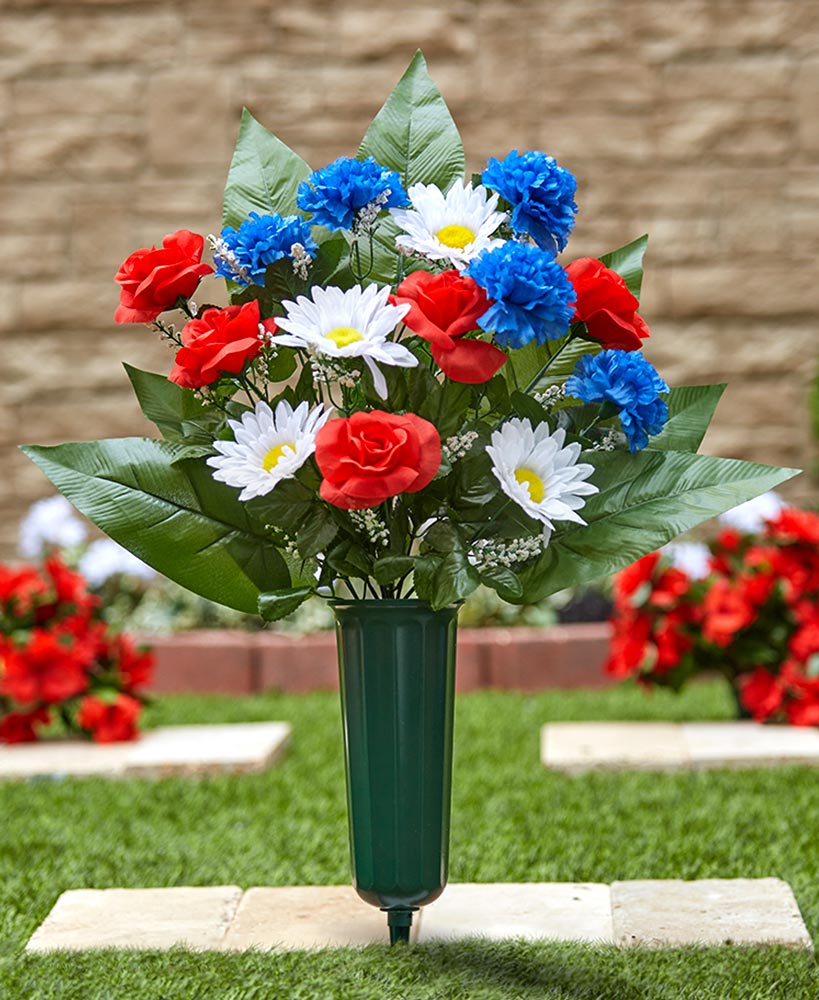 Honor a loved one by decorating with this Seasonal Memorial Flower Vase in your front yard.
Set up a special memorial area in your yard accompanied by these flowers. You can also simply use these to add more floral decorations to your yard in the red, white, and blue theme.
---
Looking for more ways to get into the patriotic spirit? Shop our entire selection of patriotic decor to find Americana themed accents, wall art, rugs, and more for your home!
---