7 Solar Garden Light Ideas To Brighten Up Your Space
Springtime means warm weather and brighter days with a lot of sunlight. Adding solar decor to your backyard garden can make it a magical space for relaxation and entertaining. During the day, you can enjoy the vibrant colors and patterns of your decorations, and at night these twinkling lights add a warm and inviting atmosphere to your yard. Solar-powered decorations come in a variety of shapes, sizes, and colors so you can create a custom look that perfectly suits your tastes. You'll also appreciate how easy it is to install solar decor without having to worry about wiring or tangled cords.
Bring Personality To Your Backyard With New Lighting
Solar decorations are perfect for adding personality to your backyard sanctuary while also providing subtle lighting during evening hours. From whimsical wind chimes that dance in the breeze to elegant string lights that hang from trees or porch posts, there's no limit to what you can do with solar decor! You might even consider installing a small fountain powered by the sun for soothing water sounds and a focal point for guests. Solar power eliminates the need for batteries or any other complicated energy source. That makes it easy to set up these lighted accents without taking away from their beauty or function.
Whether you're looking to relax in your outdoor space at night or just want to add some unique decorations to your yard, LTD has you covered with our selection of solar decorations. Check out these 7 solar garden decor ideas to light up your space.
---
1. Light Up Your Garden With Solar Flower Hanging Lanterns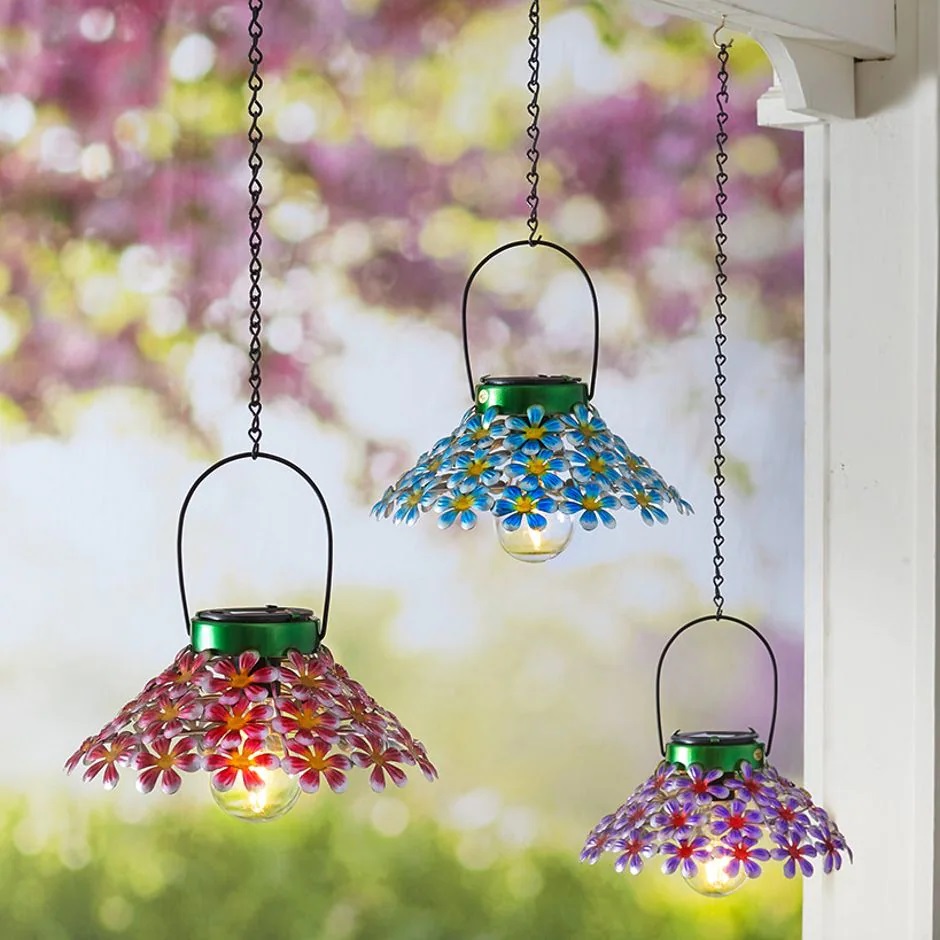 Brighten your outdoor space with the beautiful Solar Flower Hanging Lantern! This eye-catching lantern provides plenty of light with its integrated solar panel, allowing it to work even in spaces with little natural sunlight.
Once fully charged, this hanging lantern will shine throughout the night, providing a gentle and romantic atmosphere that's perfect for your garden. Plus, the intricate flower pattern creates interesting shadows and shapes when placed near walls or trees!
Installing it is super easy too — all you have to do is hook it up to a tree or wall and enjoy its ambient glow.
Get ready to transform your outdoor space into a relaxing haven — the Solar Flower Hanging Lantern promises an enchanting radiance like no other!
Solar Flower Hanging Lanterns
---
2. Create A Lighted Garden Pathway With Solar Stakes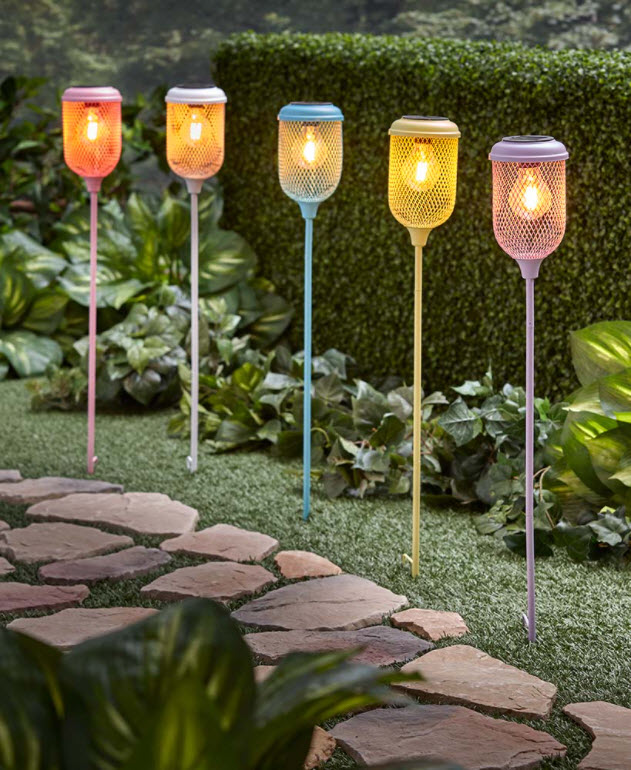 If you have a pathway leading out to your garden, you can light it up at night to help you find your way and to make it look mystical in the evening time.
The easiest way to light up your garden pathway at night is to display solar garden stakes along the path. These can provide a lot of light to your yard without ruining the calm setting of your space.
Whether you choose decorative solar stakes or more simple and practical ones, you can easily create a look that matches the aesthetic of the rest of your garden and yard.
Create a beautiful springtime pathway with these Pastel Solar Lantern Garden Stakes! Choose from a variety of colors including blue, lavender, pink, white, and yellow.
Pastel Solar Lantern Garden Stakes
---
3. Hang Up String Lights For A Magical Backyard Glow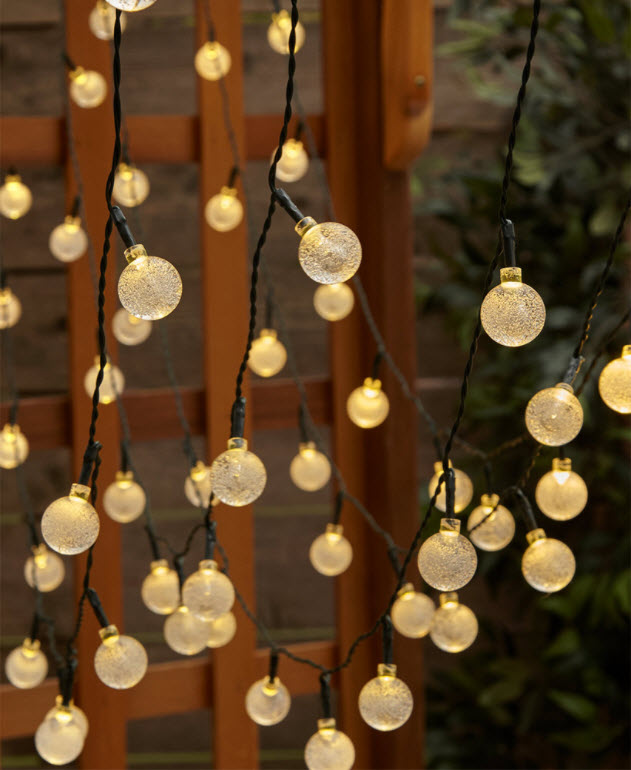 Another solar garden decor idea is a more classic one, but it's always a good go-to for the spring and summer seasons: string lights.
Hanging up string lights in your backyard will add that perfect glow throughout your garden that you'll enjoy every night. You'll want to sit outside each evening just to take in the view!
Use outdoor string lights on almost any area of your yard including on your fence, wrapped around your trees, displayed on your patio umbrella, or wrapped around your deck railings. No matter where you display them, they'll look magical.
These featured Solar String Lights are a great addition to your garden this spring! The unique bulbs come in several color choices including multi-colored, white, and a red, white, and blue display for the 4th of July!
50-Bulb Solar String Lights
---
4. Display Solar Garden Decor With Moving Parts For A Nighttime Spectacle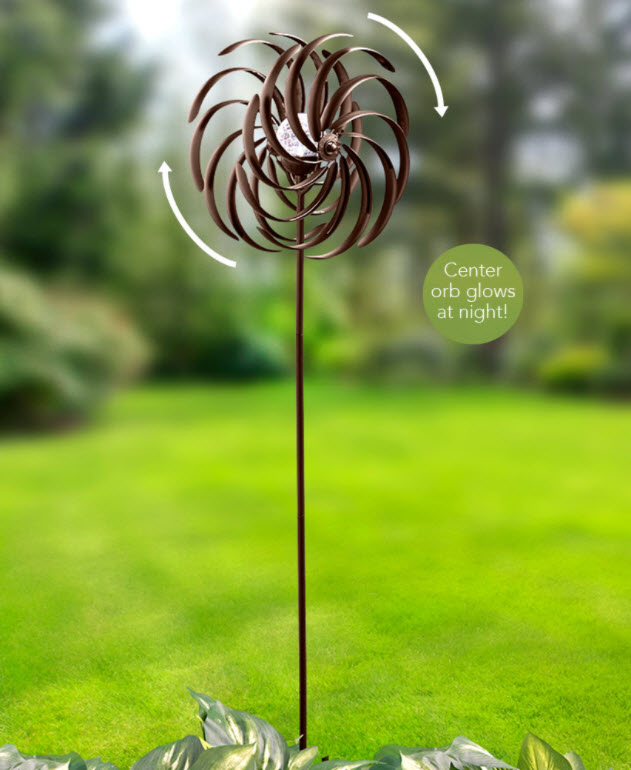 Solar garden decor is already magical to begin with, but when you add movement into the mix, they can be even more interesting!
The most common solar garden decorations with moving parts are garden spinners or windmills. These will make for a wonderful show on a windy evening and will also look nice displayed during the daytime.
Another solar garden decor idea with movement is solar lighted fountains. This is a nice combination of a calming sound with a beautiful display that you'll enjoy viewing during your nighttime relaxation outdoors.
These Double-Spiral Solar Spinners are the perfect backyard decoration for a unique spectacle every night! Choose the bronze color for a neutral decoration or choose the patriotic spinner for the summer holiday.
Double-Spiral Solar Spinners
---
5. Decorate With Solar Garden Statues For A Unique Look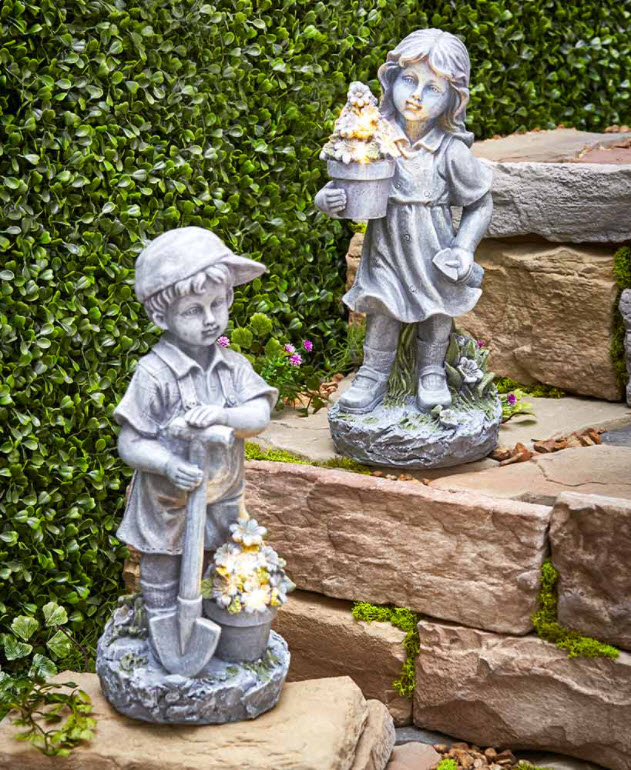 If you want to add some personality and charm to your outdoor space, solar garden statues are a great way to do so! These make wonderful garden decorations because they look nice at all times of the day.
Add solar garden statues throughout your garden or even on your patio or deck. Choose statues that represent springtime characters such as bunnies, butterflies, and bees. You can also find statues of people or other unique characters.
A fun way to display solar statues is to line them along your garden pathway. If you want to use a lot of statues, this is the best way to do it because it's both functional and fun.
Bring some adorable charm into your garden with these Solar-Lighted Gardening Kids statues! Both the boy and girl statue feature a potted plant wrapped with fairy lights that look cute display on rocks in your garden or on your patio.
Solar-Lighted Gardening Kids
---
6. Use Multi-Functional Solar Decor For The Ultimate Outdoor Space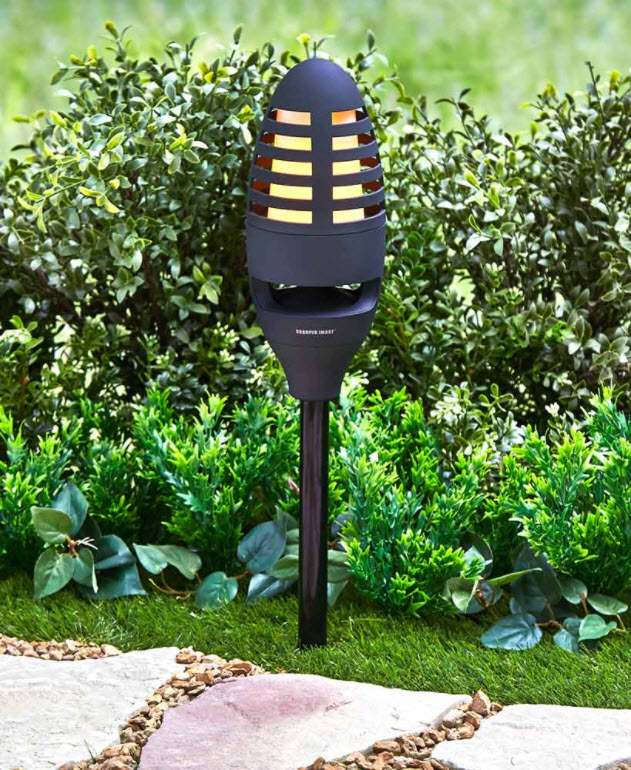 While solar decorations are already functional in terms of lighting up your space in the dark, you can also find multi-functional solar decor for your yard. This idea is great for people who enjoy entertaining or those who spend a lot of time outdoors.
Multi-functional solar decor can come in many shapes and forms. You might find solar decor that doubles as outdoor speakers, or maybe even some solar porch lights that can help guests find their way to your door.
In the summertime, you might also find it useful to find solar decorations that double as bug and pest repellents. Solar decor with pest control is incredibly helpful for keeping your garden healthy and they can keep those pesky bugs away from you while you're sitting outside.
Take outdoor entertainment to the next level with these Sharper Image™ Wireless Lantern Speakers! These solar speaker stakes light up at night and connect with Bluetooth to play music. You can even connect multiple speaker stakes together for a full experience.
Sharper Image™ Wireless Lantern Speakers
---
7. Set Up Solar Plants To Mix Into Your Garden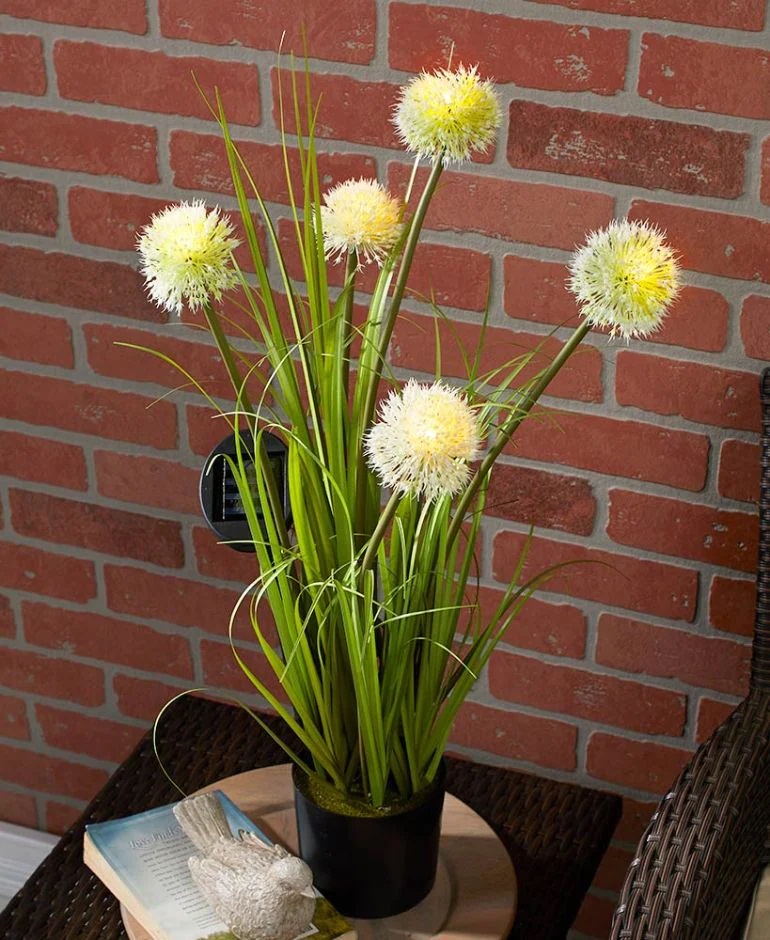 Solar plants are another garden decoration that can make your space feel more complete and unique. Using faux solar plants mixed into your real plants can bring some variety to your space.
Decorate with small potted solar plants on your patio and in your garden to add a simple touch of light around your yard. This will also blend in nicely during the daytime and give you some extra greenery.
You can also display larger solar plants such as lighted faux trees. These can look nice in your backyard or even on a covered porch. This is a great way to have an eye-catching decoration without any maintenance.
Add these Solar Half-Ball Ground Plants to your garden for a finishing touch! These faux plants come as a set of 3 different sizes and feature small, soft white lights throughout their foliage.
Solar Potted Plants
---
It's easy to add solar lighting to your outdoor space to create a stylish and inviting yard. If you're looking to get creative with your garden lighting, why not consider adding some unique decor pieces to really make it stand out? We've collected 10 great ideas for decorating your garden.
You can find solar lights in a variety of styles to fit any aesthetic, and Garden Decor that will show off your personality. Shop our selection of Solar Lights & Outdoor Lighting to amplify your space! Find string lights, solar statues, outdoor lanterns, lighted garden stakes, and much more.
---

---
Read Next: 5 Container Gardening Tips For Pots & Planters