7 Storage Items To Keep Your Bedroom Organized
You spend a lot of time relaxing in your bedroom, so you want it to be an organized and peaceful place. Clutter, clothing, and other items can pile up quickly in a bedroom if you don't have a designated place to put everything. These 7 storage items can help you keep your bedroom organized and will help you make the best use of your space.
---
6-Drawer Wood Storage on Wheels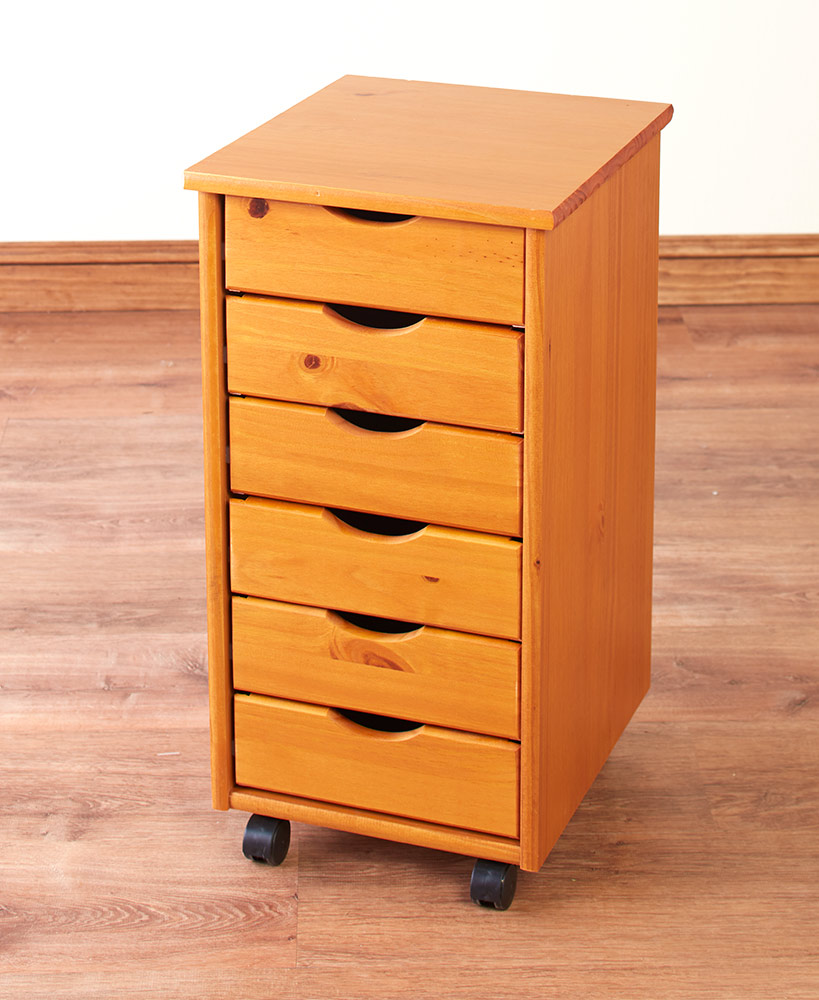 Why You'll Love It
This wood storage unit has 6 drawers for you to store all your bedroom essentials.
It comes on wheels, making it easy to move around and re-position in your room as needed. You can also opt to remove the wheels and keep it as a stationary furniture piece instead.
Choose from a beautiful maple or black color to coordinate with the rest of your bedroom furniture and decor!
How To Use It
Use it next to your bed as a makeshift bedside table. Store all your nighttime essentials in it such as books, reading glasses, headphones, your phone charger, and more.
Store all your jewelry, perfumes, makeup, and other beauty items in the drawers.
Put it in your closet to keep scarves and fashion accessories organized.
Review Spotlight
I bought this to put beside the bed and I love it. With 6 drawers, there is a drawer for everything – remotes, glasses, electronics, books, lotions, etc. No more cluttered table tops!
---
Sets of 3 Stackable Storage Bins with Lids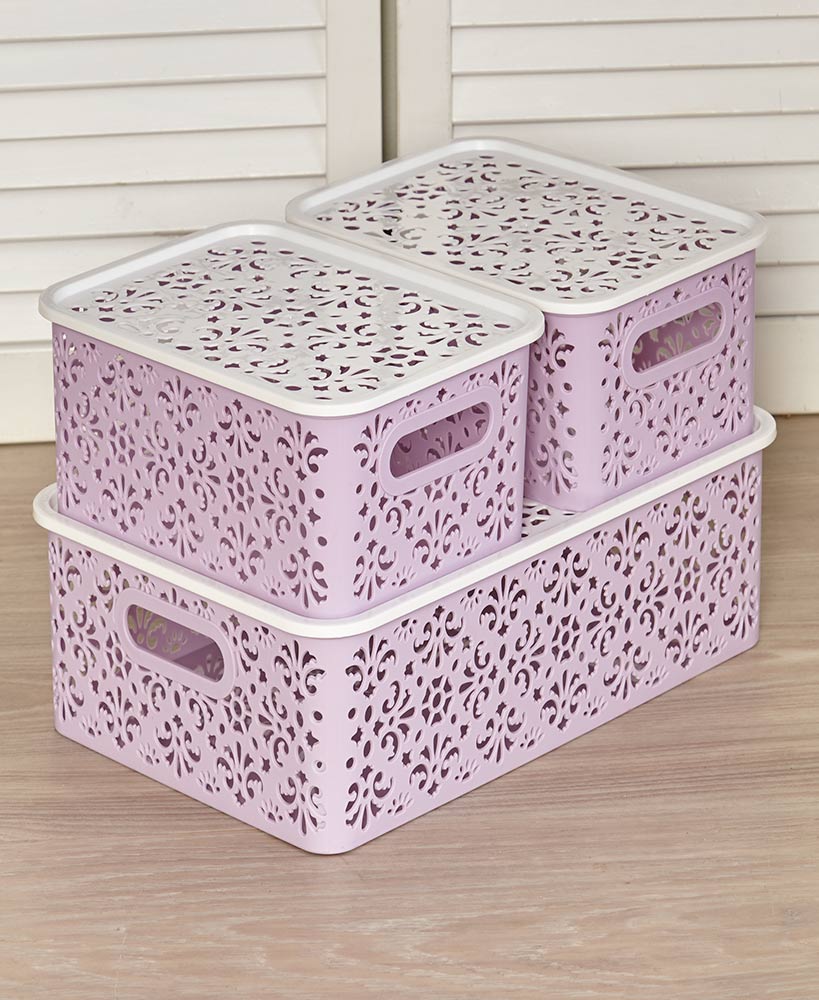 Why You'll Love It
This set of stackable bins come in 3 different sizes to hold small items and clear up clutter.
You'll love the cut-out pattern around the whole bin that will complement the rest of your room decor. These storage bins are a healthy combination of useful and decorative.
These elegantly designed bins come in mineral blue, blush pink, and lilac.
How To Use It
Place one of the bins on your dresser without the lid on to hold perfumes and lotions.
Stack the bins on top of a sturdy shelf and fill them with books, accessories, vitamins/medications, or any miscellaneous items you have in your room.
Use the large bin in your closet to hold shoes, sweaters, or small purses and wallets.
Review Spotlight
I bought these storage containers in Blush Pink, so pretty. I used one for my makeup, one for my medications, and one for all my Vitamins on my dresser in the bedroom. They are deep and hold a lot.
---
Sets of 2 Underbed Storage Bags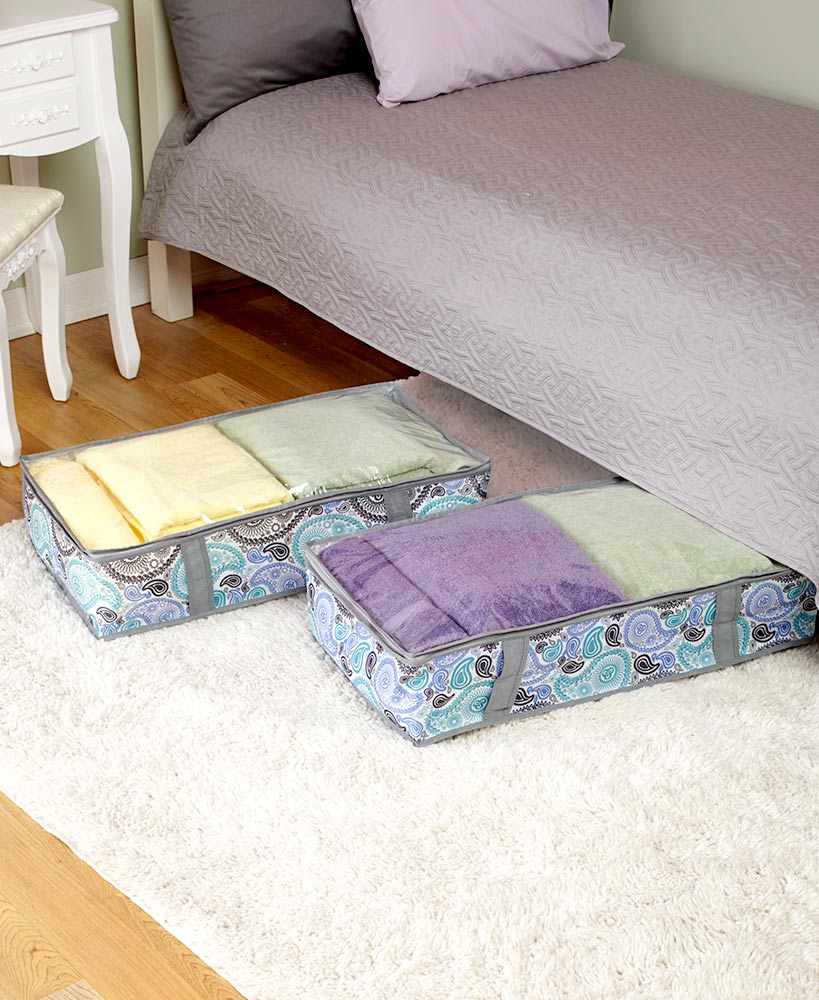 Why You'll Love It
This set of 2 underbed storage bags will take your bedroom storage to the next level thanks to their compact quality.
The clear cover on these bags allows you to easily see everything that's inside, keeping you even more organized.
Choose from a colorful paisley pattern or a black and white damask pattern.
How To Use It
Neatly fold your sweaters or other seasonal clothing and keep them in these bags until it's time to put them back in your closet.
Keep extra blankets, comforters, sheets, and more in the bags to hide them away until needed.
These are also great for storing away crafting and hobby supplies if you don't have extra room in your house!
Review Spotlight
I have many (way too many) quilts, comforters and blankets…too many to fit in the storage of all my closets. Was very pleased to find out how roomy these storage units are, I can put a long size quilt and a blanket in each of them.
---
Galvanized Monogram Buckets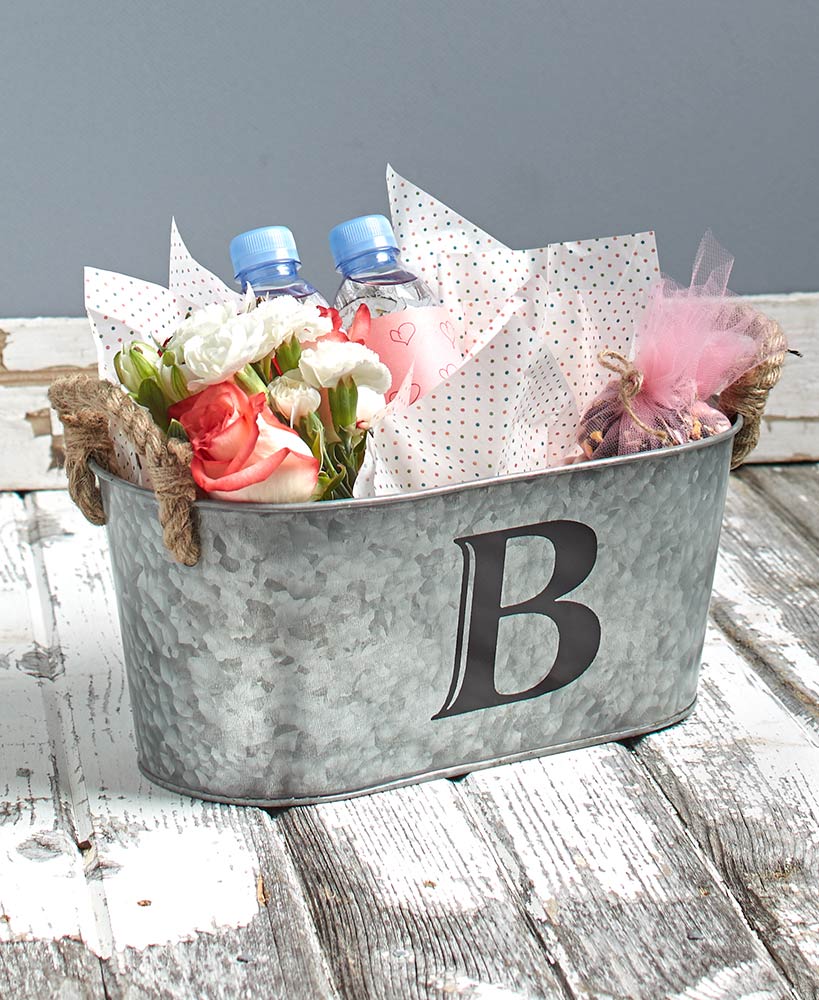 Why You'll Love It
These galvanized monogram buckets will add a touch of uniqueness to your bedroom.
Big enough to hold your essentials but small enough to store anywhere, these buckets will fit in your room perfectly.
The rustic metal design and rope handles will nicely complement your other country decor.
How To Use It
Display this bucket on your dresser to hold perfumes, hair accessories, and makeup.
Put it on your side table to store books, electronics, and other necessities.
You can even keep the bucket on your floor to hold extra blankets, slippers, and other relaxing items.
Review Spotlight
These buckets are impressive looking for the price and very versatile. You can put virtually anything in them, and they are a perfect size for the floor, a counter top, or even a slimmer shelf.
---
Pull-Up Shirt Hanger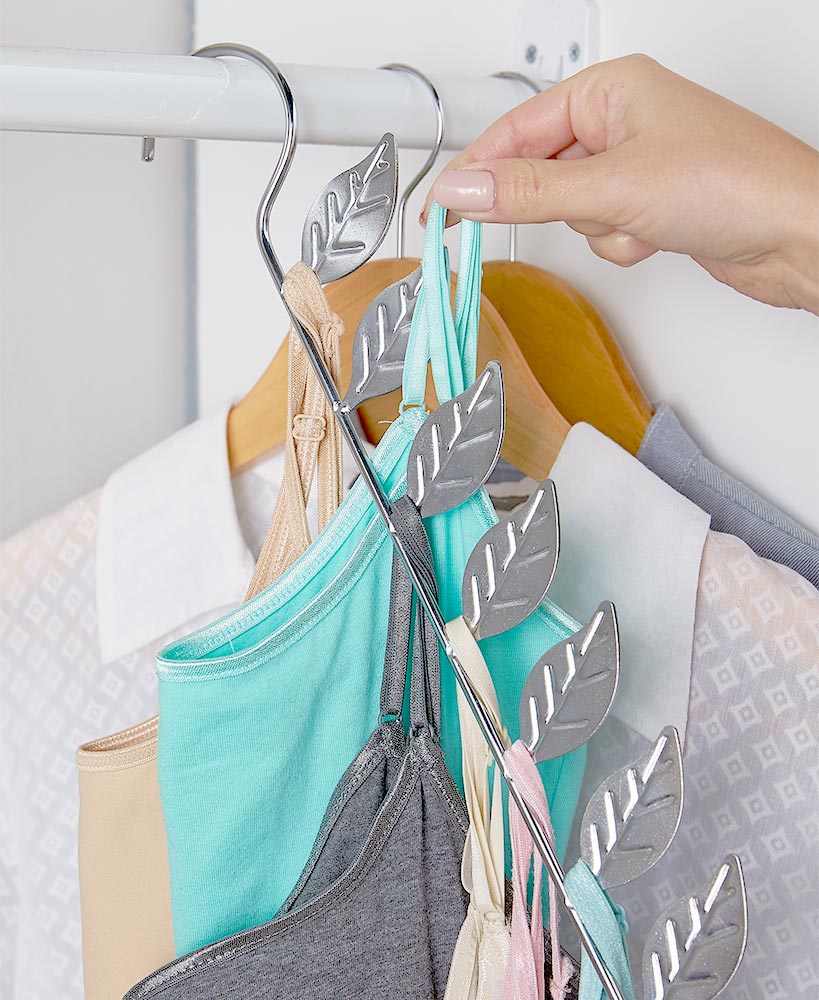 Why You'll Love It
This pull-up shirt hanger will save you a lot of space in your closet!
You can hang a lot on this one hanger without taking up any room – the hanger takes up vertical space and lifts up when you need to use it.
You'll love the delicate leaf design that'll stand out nicely in your closet.
How To Use It
Keep your tank tops and camisoles organized on this hanger – it can hold up to 14 tank tops!

You can also use this hanger to keep all your scarves

together and easy to grab.
Jewelry can also be hung from it, mainly necklaces.
Review Spotlight
These hangers are so well made and sturdy. They are absolutely beautiful and substantial. I am impressed with the quality of them and the beautiful and intricate design on the leaves. They look hand carved. These have cleaned up my closet tank top mess and I can find what I need easily. That's a time saver and a big bonus. I love them.
---
Set of 3 Glass Canisters in Galvanized Tray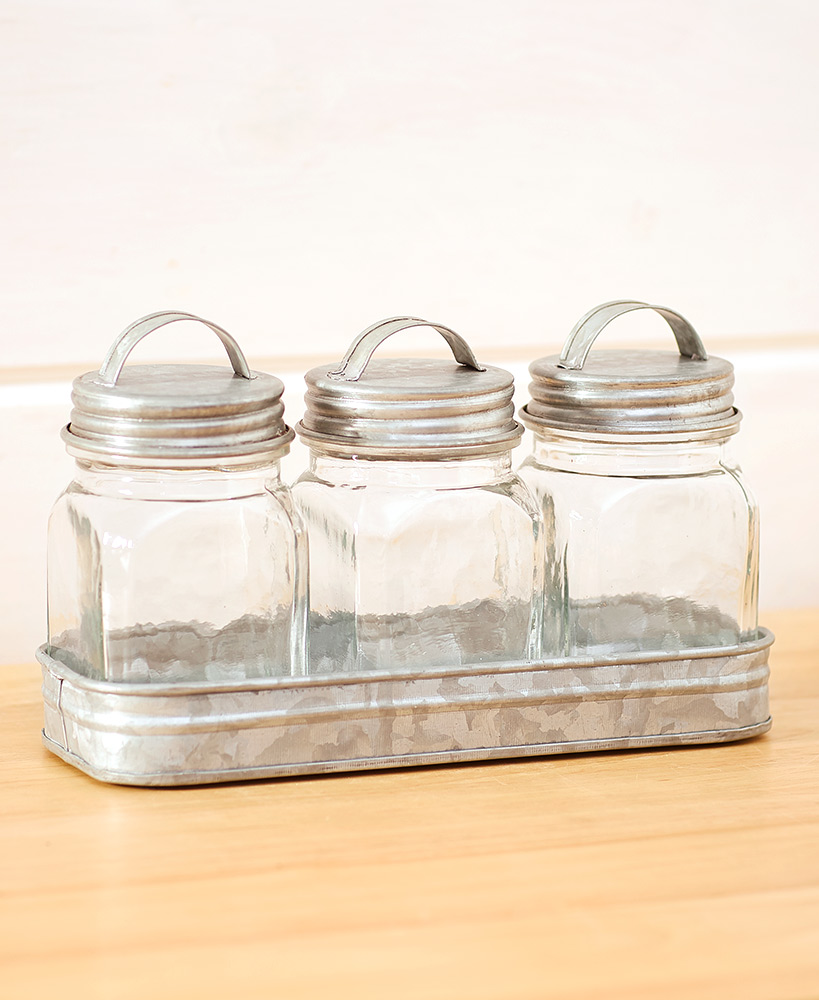 Why You'll Love It
These glass canisters are perfect for organizing small items in your bedroom.
The tray helps the jars stay neat and in one place at all times, not taking up too much space on your dresser or shelf.
The galvanized metal look will fit in with other country decor or stand out as a unique decorative and functional piece.
How To Use It
Keep makeup brushes and other small beauty tools in these jars and keep the lids off so everything will fit.
Hair ties and hair accessories will fit perfectly in these jars – no more losing all your bobby pins!
Take the lids off these jars and use them to hold remote controls and other small electronics that you might keep on your bedside table.
Review Spotlight
The jars are sized well. Also very well made. Glad to have purchased these. Really great storage containers for display!
---
Memento Storage Boxes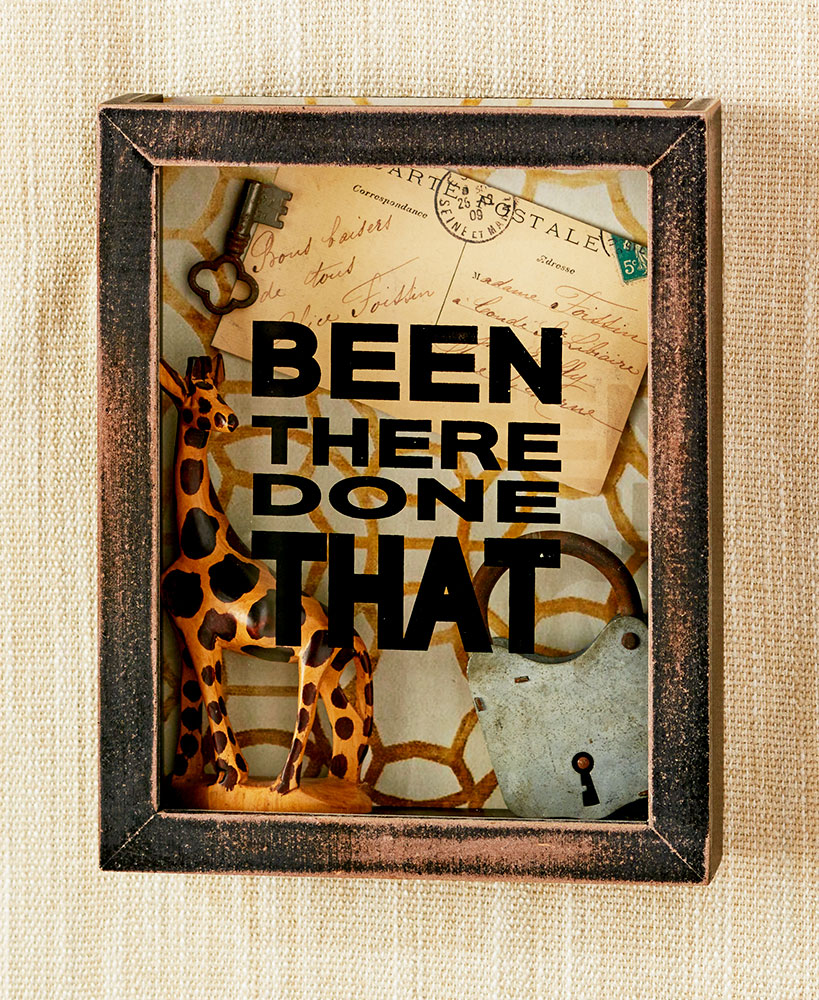 Why You'll Love It
These memento storage boxes will be a decorative and functional addition your bedroom wall!
You can display items and photos from special occasions, vacations, and memorable life events instead of leaving these items scattered in a drawer.
There are 3 different boxes to choose from: "Tickets", "Life's Memories", or "Been There Done That".
How To Use It
Keep your ticket stubs from movies, concerts, sports events, or other memorable outings as a way to look back on all the fun things you did with your loved ones.
Small souvenirs from vacations can also fit in these boxes – display little knickknacks here instead of taking up room on your dresser.
Put meaningful photographs in these boxes to display them in a unique way.
Review Spotlight
This is the perfect place for all our tickets from so many adventures. Great size, good look and the open top makes it super easy to just drop in your favorite memories!
---
Looking for even more storage ideas for your bedroom and the rest of your house? Check out our entire selection of Storage Solutions that will help you tidy up and stay organized!
---
Shop our January 2020 catalog for storage ideas for every room of your house, inspirational decorations, and over 120 new items that you will love!