7 Tips To Organize A Laundry Room
Your laundry room should be neat and tidy in order to get your laundry done in the most efficient way possible. There are so many simple ways to keep the room organized and decorated so doing laundry doesn't feel like such a chore. Here are 7 tips on how to organize a laundry room.
---
1. Use A Bookshelf Or Rolling Drawers For Laundry Supplies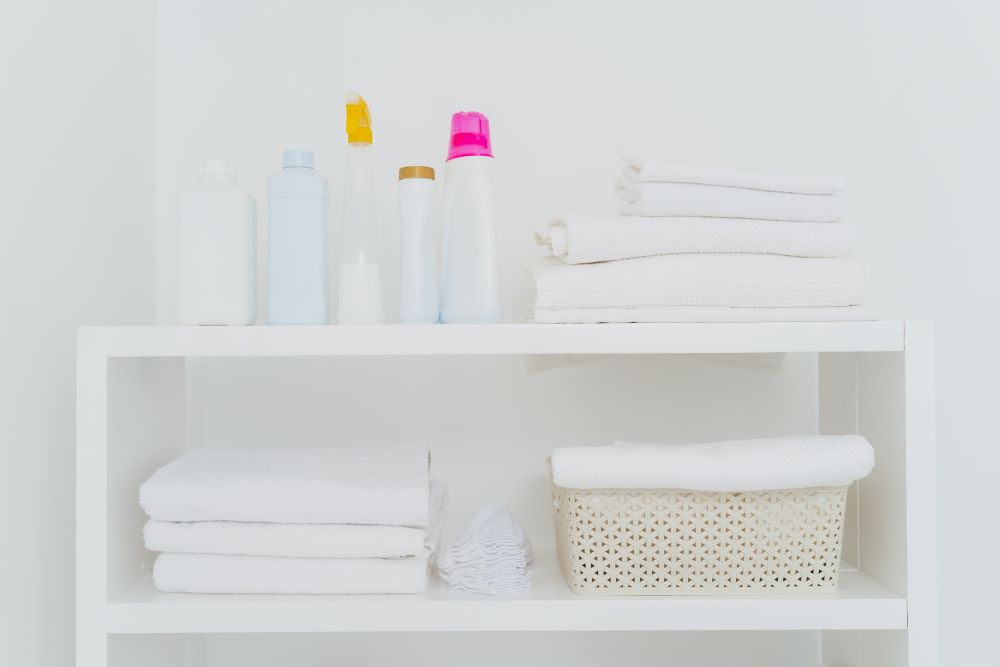 Your laundry supplies can sometimes get in the way if they don't have a specific storage space. If you're keeping your detergent, bleach, and other laundry essentials on top of your washer and dryer or on the floor, it can make the room feel disorganized.
Keep your laundry room organized by using a bookshelf or rolling drawers for all of your laundry supplies. Put a short, wide bookshelf in the corner of the room to keep the cleaning items out of the way but still within reach. You can even be creative and choose a decorative bookshelf that matches with the rest of the room.
If you have a smaller laundry room, use rolling drawers instead. These can come in all different shapes and sizes to fit in with your space. Find slim drawers that fit in between your washer and dryer or drawers that fit underneath a free-standing sink. There are plenty of drawer options that fit in with the size and style of your room!
---
2. Keep Separate Bins In Your Laundry Room To Sort Your Laundry By Color & Care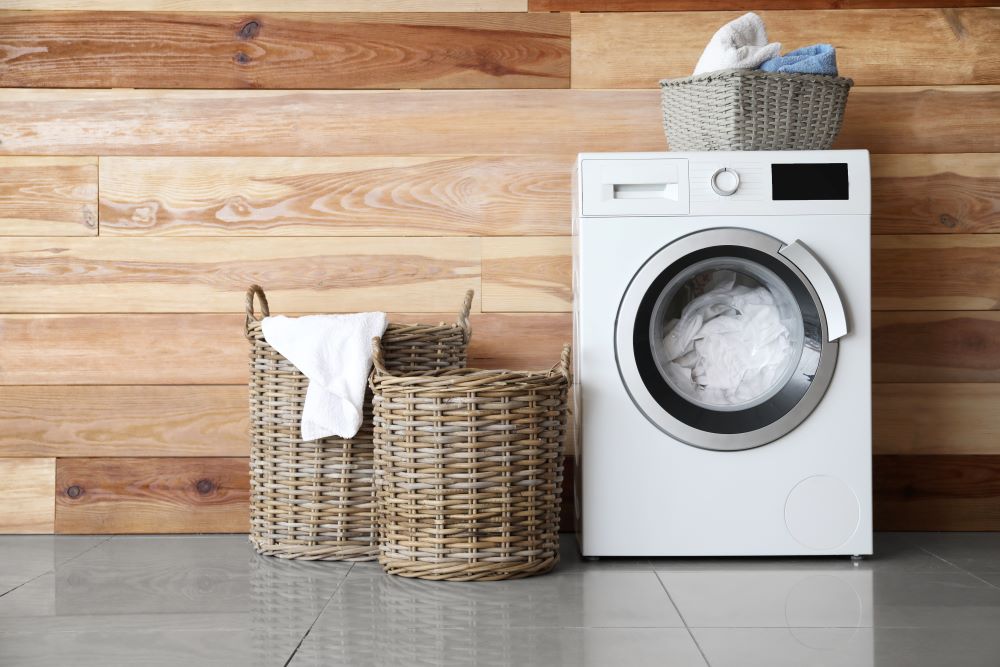 When you think of organization in a laundry room, your mind probably goes to sorting clothes by color. Separating your clothing before washing it can be time consuming, especially if you have a large family.
But you can easily make this process way simpler by keeping designated laundry bins in your laundry room that are labeled for colors, whites, delicates, and any other specific laundry care options you use. When you bring your laundry in, simply toss the clothes in the appropriate bins to speed up your process.
To speed up the laundry organization process even more, you and your family can place your clothes in the appropriate bins throughout the week so everything is already sorted out by the time laundry day comes around.
---
3. Hang A Rack Or Rod On The Laundry Room Wall For Air-Drying Clothes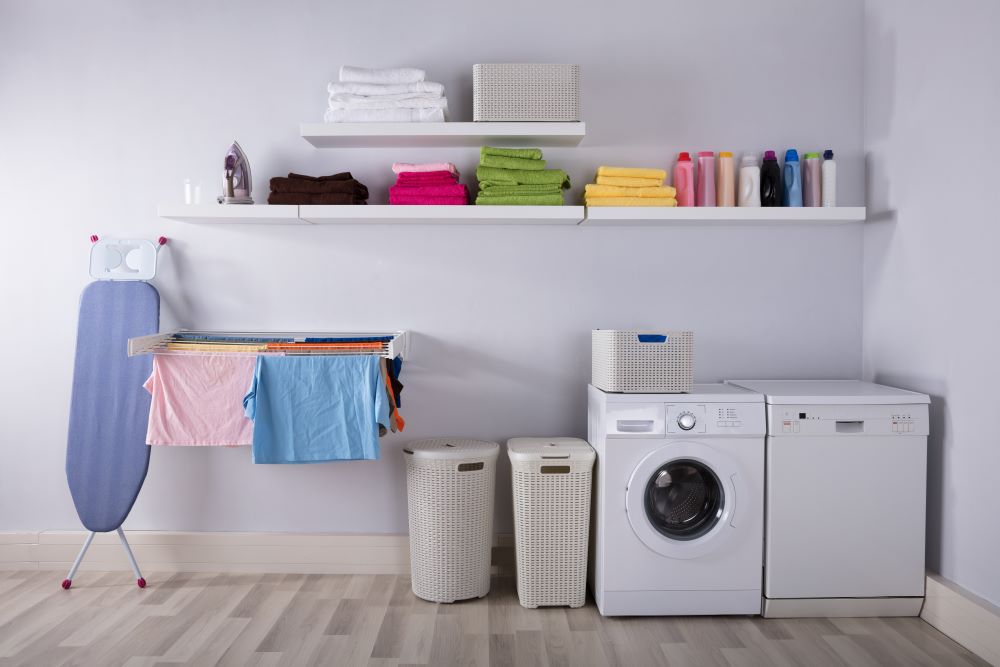 You may have limited space to air-dry your clothes, especially if you have a small laundry room. If it's not ideal for you to keep a large drying rack inside of the room, there are other options to save space.
Use a wall mounted drying rack to hang your clothes on. These types of wall racks expand to give you more space for your clothes and close up into something more compact when not in use. This is a great tool that keeps a drying rack hidden.
Another solid option is to hang an adjustable curtain rod or shower rod high up in between cabinets. Keep some hangers on the rod so they are ready to use on laundry day.
---
4. Store Laundry Room Cleaning Supplies In An Over-The-Door Rack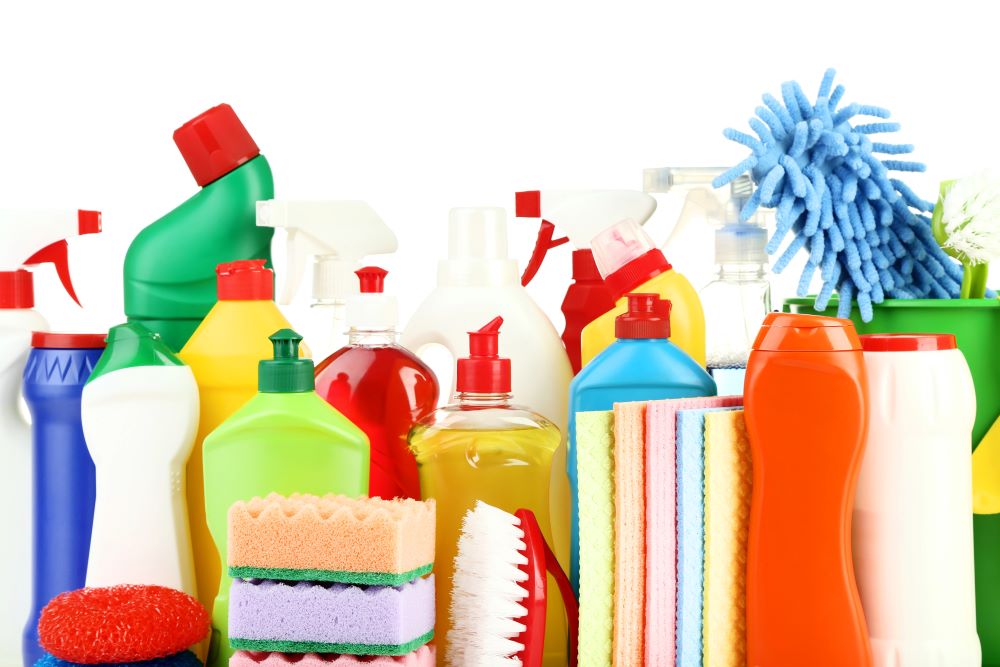 If you have a really compact laundry room, trying to organize everything can sometimes be a challenge. This especially rings true if you don't have a lot of room for shelves and cabinets.
That's where over-the-door organizers come in handy. Store your detergent, dryer sheets, bleach, and other cleaning supplies in an over-the-door rack to save space. This will help you keep everything in one place for easy access.
You can also install a sturdy hook on your door and hang a large wire storage basket from it. Keep all your things in the basket to quickly grab whenever you need to.
---
5. Condense Detergent & Bleach Into Smaller Containers In Your Laundry Room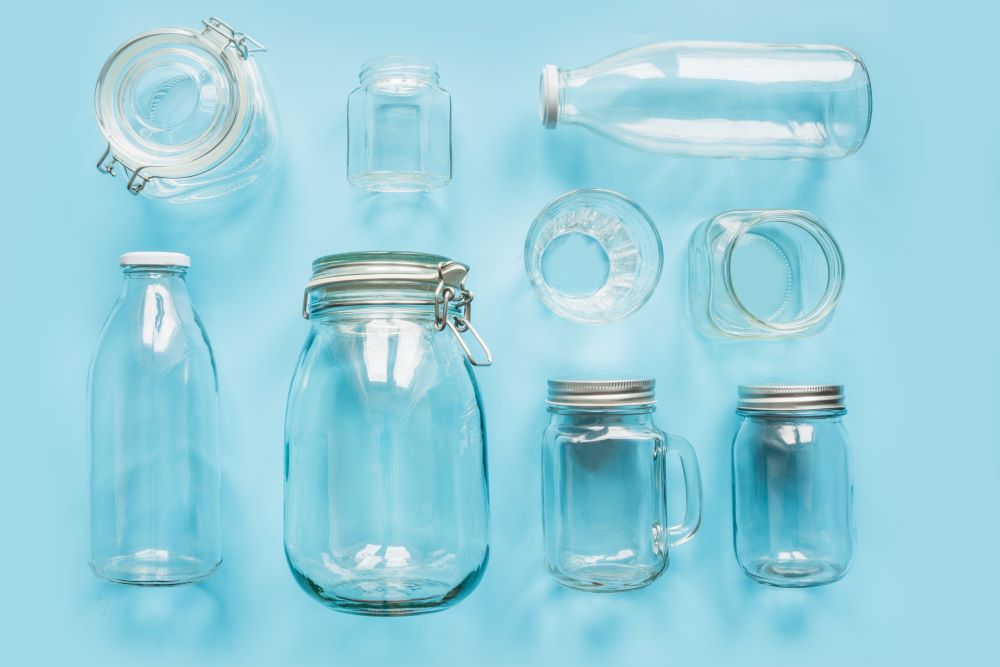 Large bottles of detergent not only take up a lot of space, but they also aren't that pretty to look at. If you decorated the room a certain way, they tend to clash with your laundry room style and design.
Transferring your cleaning supplies into smaller, decorative containers can give your laundry space more breathing room and can even make powdered laundry soap look aesthetically pleasing.
Pour your laundry supplies into individual glass jars with labels on each of them. Choosing jars that have dispensers on them can make it easier to use your liquid detergent and bleach. These glass jars can look beautiful displayed on a shelf above your washer and dryer.
---
6. Hang Up Floating Shelves Or Wall Baskets To Save Space In Your Laundry Room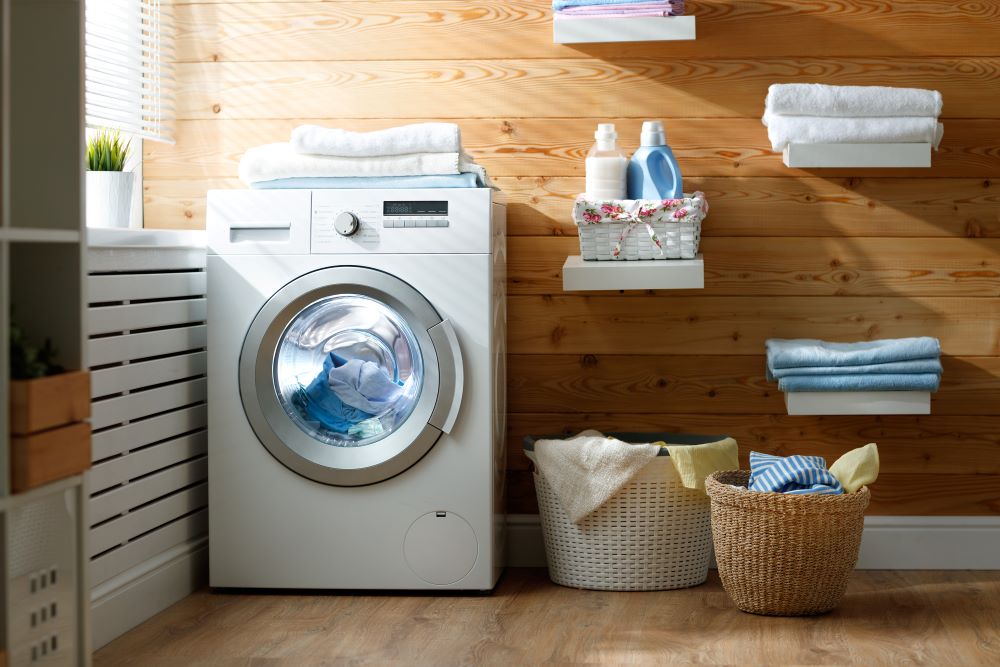 Using vertical space is crucial when it comes to organizing a laundry room, especially if you have a small area to work in. Take advantage of your wall space to leave room on the floor for laundry baskets.
Hang up wall baskets or sturdy floating shelves to keep all your laundry supplies on. Place them in convenient areas, such as right above your washer and dryer, to easily grab while doing laundry.
You can even install a small cabinet on the wall to keep everything neatly hidden behind doors. Use baskets within the cabinet to stay even more organized. Shelves and storage cabinets will help you organize like a pro.
---
7. Decorate Your Laundry Room To Keep It Looking Fresh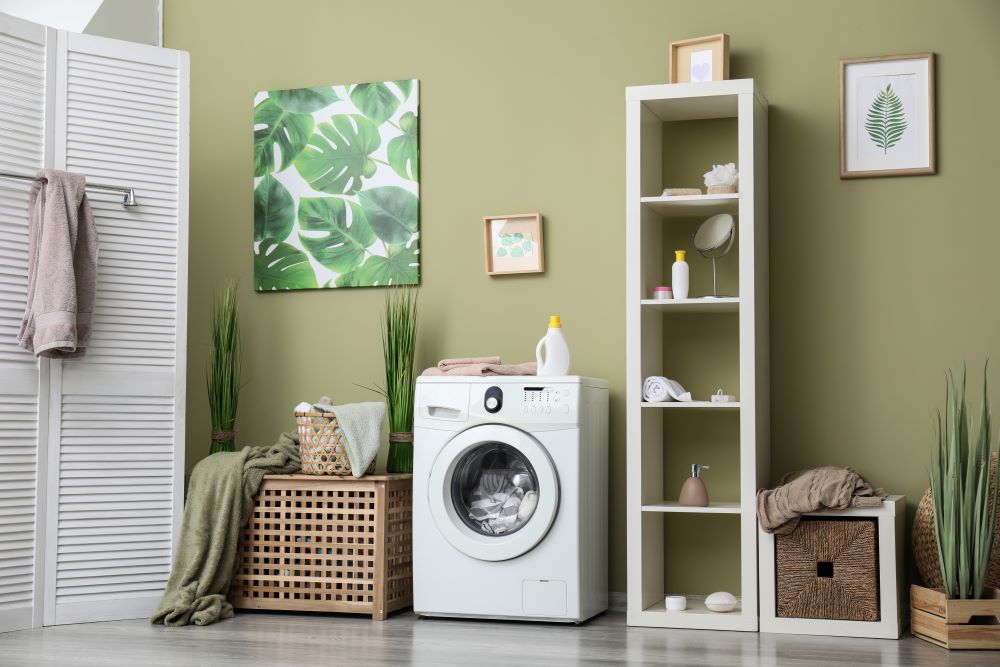 Doing laundry doesn't have to feel like a mundane chore. Setting up the environment in a decorative way can help you feel more productive and motivate you to get things done quicker.
Laundry themed decorations or other wall art can be a fun way to spruce up your space. Find colorful signs with clever sayings, or hang up more simple ones if that matches your style better. Use decorative dryer sheet covers, uniquely patterned laundry bins, and other small accents to transform the room.
Another idea is to combine style and function by hanging up special laundry directions and tips in an elegant frame. This is a useful way to stay organized without sacrificing the style of your laundry room.
---
LTD Commodities Laundry Room Storage
Now that you're ready to organize your laundry room, it's time to get the essentials you need to get started. Our selection of laundry room storage and decorations will help you stay tidy, organized, and efficient. Shop all laundry room storage here!
---
Shop our full selection of Laundry Room Storage to get the whole room organized!
---
Find even more storage ideas for every room of your house, along with inspiring decor, in our January 2020 catalog! Start shopping here.