Wicker Basket Storage Ideas For Each Room Of Your House
Storage bins and containers can keep your home organized, but they don't always blend in with your decor style. However, there's a solution. It's possible to combine function & beauty in your home simply by using decorative baskets to store a huge variety of items. Here are wicker basket storage ideas for each room of your house.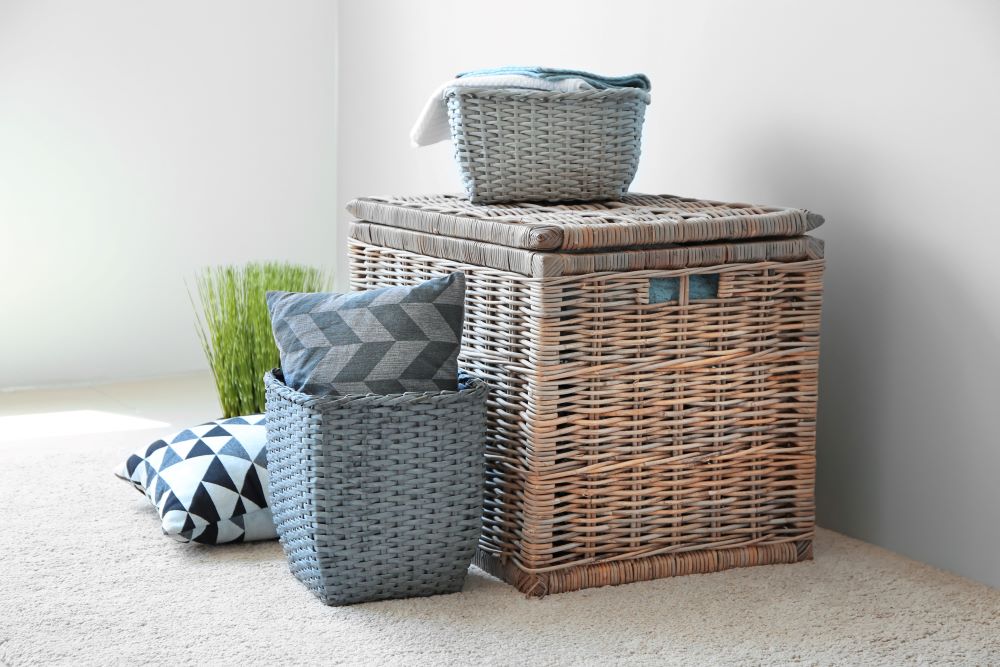 ---
Laundry Room Storage Ideas
The laundry room is often a place in your house that is the least decorated. While this isn't supposed to be the most exciting room in your house, adding a small decorative element to it can make it feel more welcoming.
A decorative basket can be a charming addition that brings a unique touch to the room, but is also useful for keeping things organized in the laundry room.
Store Laundry Supplies Efficiently
Putting a wicker basket in your laundry room is a great way to store all of your laundry supplies. This also adds a decorative element to your laundry room instead of leaving all your supplies out in the open.
Fill a basket with your laundry detergent, dryer sheets, bleach, and extra hangers for clothes that need to air dry.
Keep Your Lost Socks In One Place
Lost socks pop up in almost every load of laundry. Instead of immediately throwing them out, keep them all in a basket instead.
Keeping lost socks all in one place will help you and your family stay more organized. Tip: Create a two week rule to make sure it doesn't pile up: if a sock's match is not found within two weeks, it's time to throw it out.
Use A Wicker Basket As A Hamper
Laundry baskets and hampers don't always look aesthetically pleasing, which can sometimes be a challenge if you have to leave them out in the open. Using a wicker basket as a hamper can be a great solution to this problem.
While there are specifically designed basket hampers, you can also use any wicker basket of your choosing to keep your laundry. You can even designate a separate basket to sort out all your whites.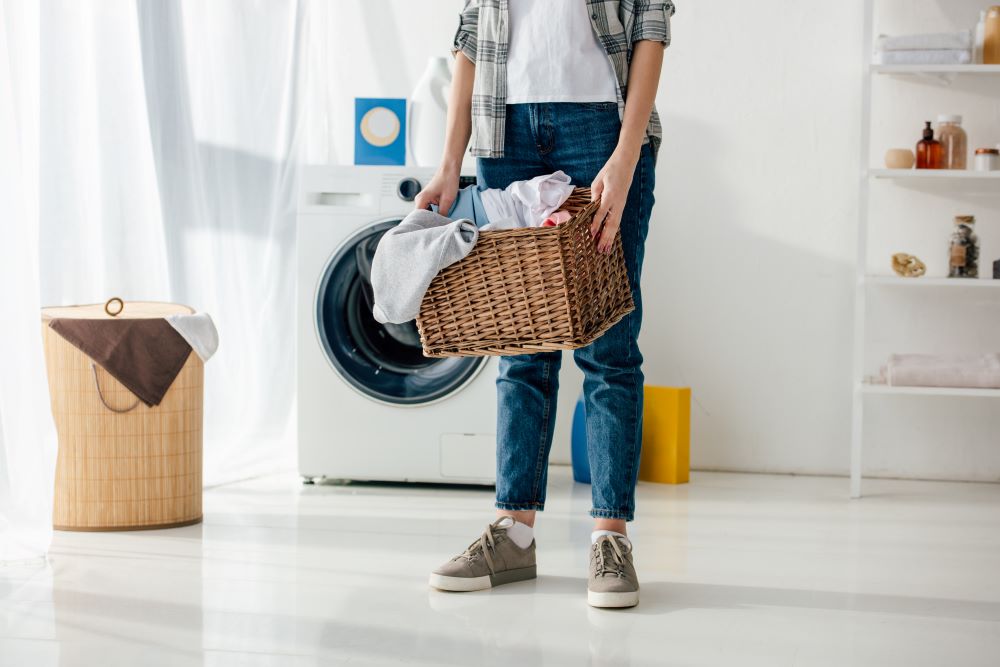 ---
Ready to organize your entire laundry room? Shop our Laundry Room Storage to find storage bins, laundry totes, drying racks, and much more!
---
Kitchen Storage Ideas
You may not have thought of using wicker baskets in your kitchen, but there are several interesting ways to incorporate them into the room.
If you have limited kitchen counter space, you can always opt for smaller baskets for the first two ideas or display the basket on your kitchen table instead.
Stack Cookbooks In A Basket
If you're fond of cooking, you probably have a hearty collection of cookbooks somewhere in your kitchen. You might just have them stacked in the corner or hidden in your cabinets and drawers, but a basket can keep them both organized and out in the open.
Stacking all your cookbooks in a wicker basket can help you cleverly disguise them on your kitchen counter so that you can always have easy access to grab one when making a meal.
Display Fruits & Vegetables In Decorative Fashion
If you keep some of your fruits and vegetables out on your counter or kitchen island, you can mix style with purpose by putting them in a basket. Simply line a wicker basket with a nice cloth napkin and fill it up with apples, bananas, and any other produce that you keep out.
Bonus: You can also use the same concept for fresh loaves of bread, muffins, and any other baked goods that you make for your family.
Use Baskets As Cutlery Drawer Organizers
Small and shallow wicker baskets are the perfect size to fit inside of drawers. They can be creatively used as drawer organizers in your kitchen.
Place several long and shallow baskets inside of your cutlery drawer to organize and separate your forks, knives, spoons, and other silverware. This is a refreshing alternative to a regular cutlery drawer organizer if you wanted to do something different.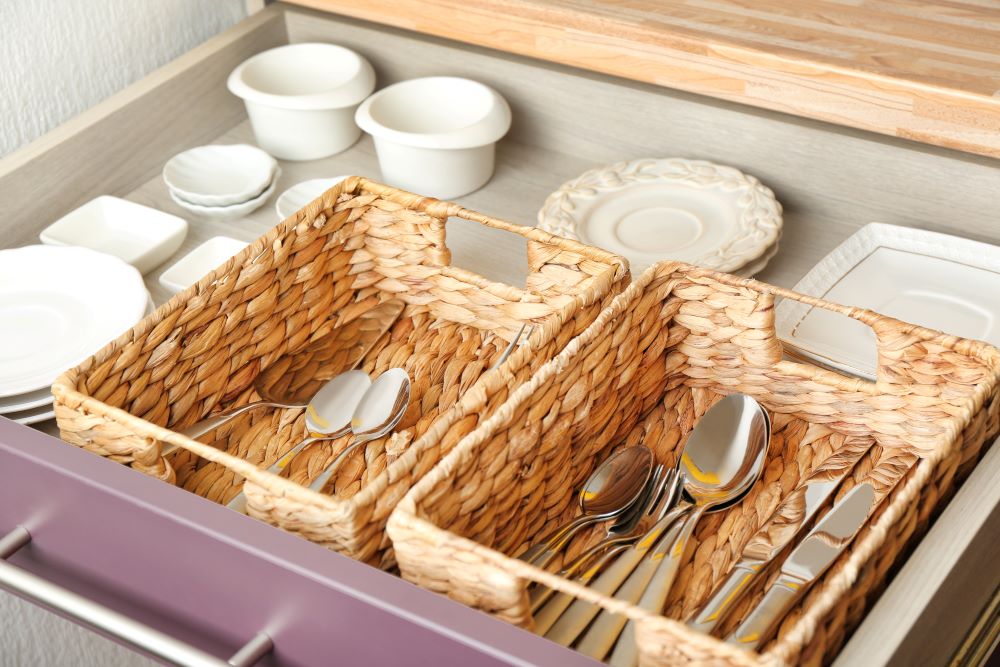 ---
Looking to get even more organized in the kitchen? Our selection of Kitchen & Pantry Storage will help you organize your cabinets, countertops, dishes, and more!
---
Looking for even more kitchen storage ideas? Check out How To Declutter Your Kitchen Counters to learn more!
---
Living Room Storage Ideas
There are so many great possibilities of using wicker baskets in your living room, especially if they are able to nicely complement your current decor style.
You can even use multiple baskets within the room to set the stage for a new decor style if you want to freshen up and change the room.
Store Video Games, DVDs, & Other Electronics
If your family enjoys playing video games or has a large collection of movies, it can be a challenge to keep the collection hidden in a nicely decorated living room. Storing them in a basket can help you maintain the style of the room.
Wicker baskets with closed tops work especially well for storing games and DVDs because you can place the basket anywhere in the room to blend in with the rest of your decor.
Organize Magazines & Books On A Coffee Table
Books and magazines are usually within reach in a lot of living rooms as a way to unwind and relax on the couch. Keep them organized by putting them in a basket and displaying it as a centerpiece.
Placing the basket of reading materials in the center of your coffee table can give the room a more personalized and charming appeal.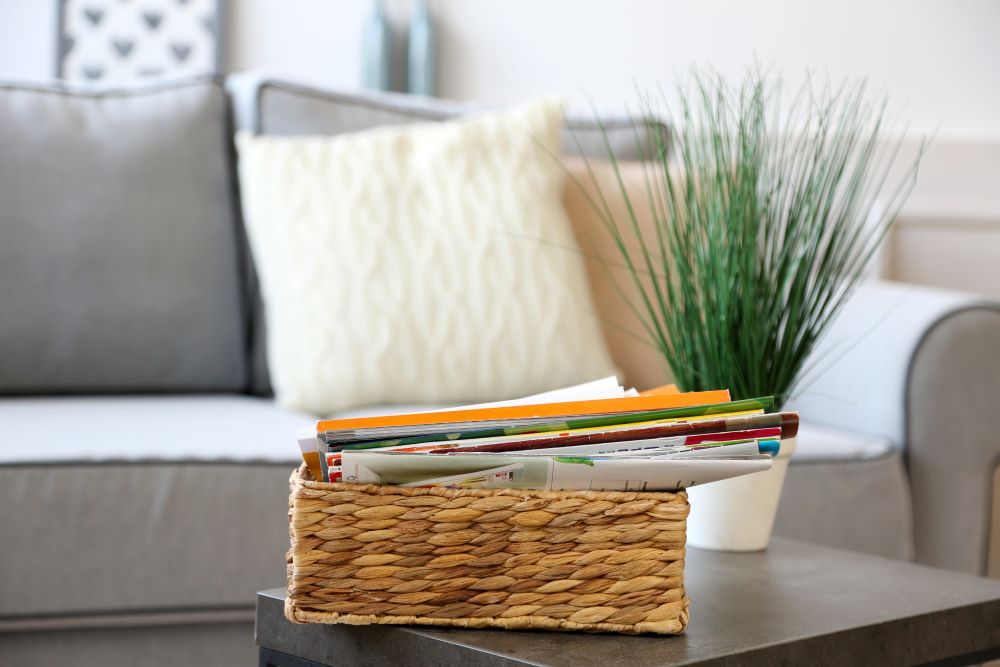 Keep Extra Blankets Hidden & Handy
Winter nights can get chilly but you don't want your couch to be messy and overloaded with blankets. Keep your main decorative throw blanket on your couch but store away extras in a wicker basket.
Keep extra blankets nicely folded inside of a tall square basket. Put the basket in the corner of the room or discreetly use it as a side table next to your couch.
---
Check out our Household Storage Solutions to help you get started on organizing your living room and other rooms of your house!
---
Bedroom Storage Ideas
You sometimes need to get extra creative with bedroom storage because it's the one room of your house that you want to feel the most comfortable in.
Using wicker baskets throughout your bedroom can help you stay organized without ruining the comfortable and relaxing environment that you'd love to maintain.
Use Baskets As Desk Or Dresser Drawers
Turning baskets into drawers for your desk or dresser can give your room a touch of style while still being practical and useful.
This idea works especially well if you have open cubbies in your room that you can easily slide baskets into. These makeshift basket drawers can hold random essentials, clothes, desk supplies, and anything else that you need to store.
Store Folded Sweaters In A Basket In Your Closet
It can be a smart idea to fold thicker items of clothing instead of hanging them in your closet. This can help you save room and leave some breathing space in between the rest of your clothing.
Keep folded sweaters and thicker clothing organized by keeping them in a basket in your closet. You can put the basket on your closet shelf for easy access or keep it on the floor if necessary.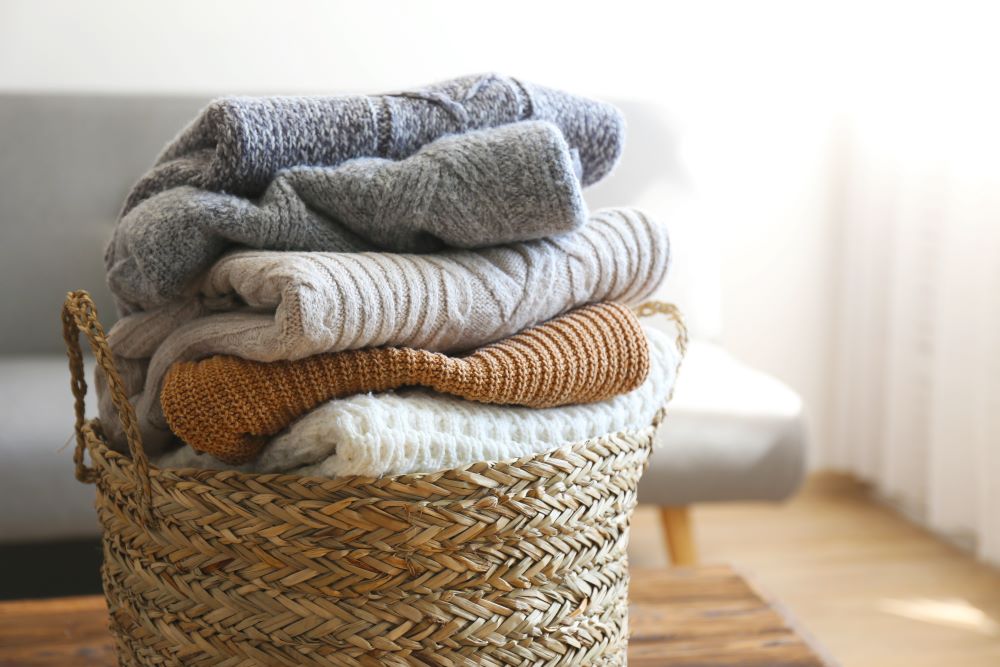 Keep Perfumes & Accessories On Your Dresser
If you have a lot of perfumes and accessories, they can become scattered and cluttered on your dresser. Stay neat and tidy by placing these items inside of a basket.
Easily store your bottles of perfume, small fashion scarves, bracelets, and other accessories in the basket. To take the organization to the next level, you can use dividers in the basket to keep everything separated.
---
If you're looking for more ways to keep your bedroom and closet organized, check out our collection of Closet Storage items including closet organizers, shoe storage racks, hangers, and more!
---
Bathroom Storage Ideas
Baskets and containers are very useful when it comes to bathroom storage and organization. With so many bath essentials and beauty items in the bathroom, it's crucial that you keep everything neatly organized.
Wicker baskets can make your bathroom feel like a relaxing spa and can truly transform the environment while helping you stay organized.
Roll Up Extra Towels & Place Them In A Basket
Rolling up towels is not only a great storage idea for a small bathroom but it's also one of the best ways to make extra towels look decorative.
Neatly pack your rolled up towels inside of a basket and either put it on a shelf or keep in on the floor in the corner. This decorative style can bring out a spa-like feel or even a hotel room aesthetic for a guest bathroom.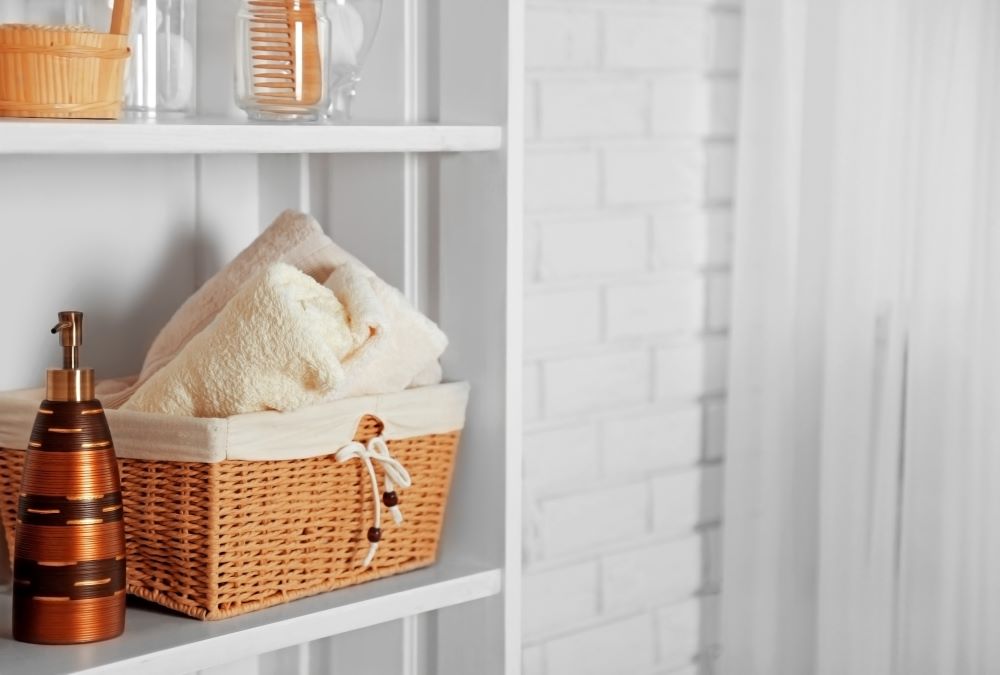 Store Your Hair Tools In One Place
Don't let your curling iron, hair straightener, and hair dryer become unruly with tangled cords. Having a designated basket for your hair tools can help you stay more orderly.
Instead of sprawling your hair tools across your bathroom counter, keep them all in a simple wicker basket. Make sure to neatly wrap up the cords before placing the tools inside the basket.
Keep Spa & Bath Items Near The Tub
If you have a nice and large bathtub, create a spa-like environment by keeping all your bath essentials in an elegant basket right next to the tub.
On the corner of your bathtub counter, fill a basket with body wash, essential oils, fancy soaps, bottles of bubble bath, and any other relaxing items you enjoy. Let yourself feel fancy and spoiled with this simple addition to your bathroom.
---
Stay even more organized in your bathroom with our full selection of Bathroom Storage items! Find cabinet and countertop storage, bins, and much more.