5 Healthy Breakfast Recipes To Take On The Go
Breakfast is the most important meal of the day but sometimes mornings can be hectic. That's why breakfast on the go is the perfect solution for people with busy mornings. But instead of picking up something from a fast food restaurant on your way to work, prepping a handheld breakfast at home can save you both money and calories.
Here are 5 healthy breakfast recipes to take on the go that you can prepare in advance.
---
Make-Ahead Egg Muffins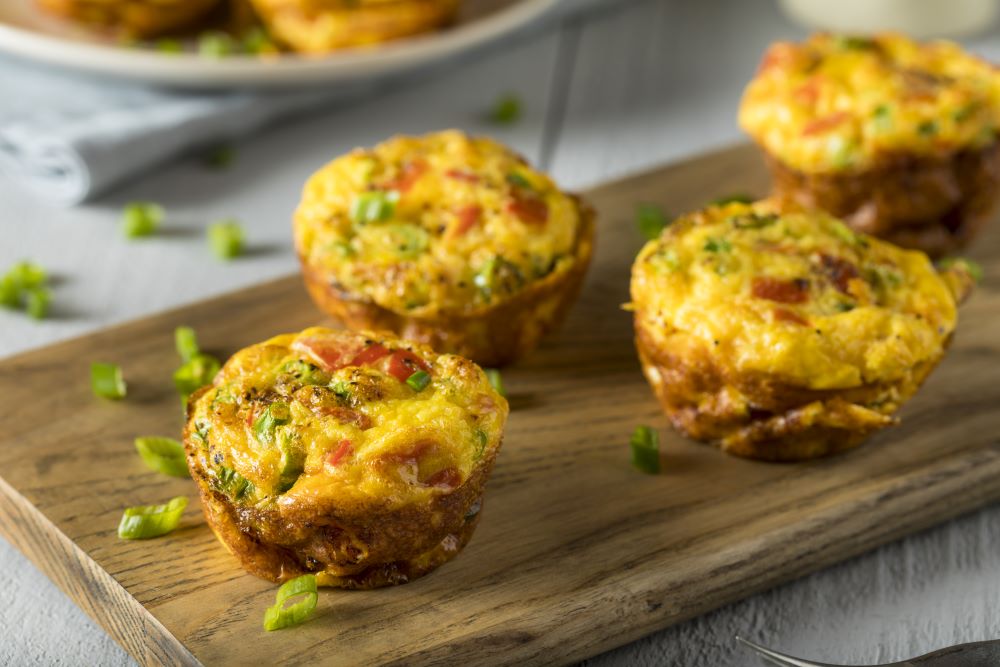 These egg muffins are like a condensed, handheld version of a omelette. Packed with protein, these are perfect for a daily on the go breakfast that will keep you energized and full until lunchtime.
Feel free to throw in other vegetables or any other ingredients to customize these egg muffins to your liking.
Makes 12 Servings
Ingredients
3 Slices Bacon
1 Yellow Onion (Chopped)
1 Red Bell Pepper (Chopped)
2 Cups Spinach (Chopped)
6 Large Eggs
3 Tablespoons Milk
1/4 Teaspoon Paprika
1/2 Teaspoon Garlic Powder
1/2 Cup Shredded Mozzarella Cheese
Salt & Pepper
Directions
Step 1: Start by preheating the oven to 350 degrees. Prep a muffin tin by greasing it with cooking spray.
Step 2: Cook the bacon in a large skillet on medium heat. Cook for about 6-8 minutes. Take them off the heat and crumble them up.
Step 3: Cook the onion and bell pepper in the skillet for 5 minutes.
Step 4: Add the spinach to the skillet and cook for an additional 2 minutes. The spinach should be wilted. Take off skillet and set aside.
Step 5: Mix together the eggs, milk, paprika, garlic powder, salt, and pepper in a small bowl.
Step 6: Mix the vegetables, bacon, and cheese in the same bowl.
Step 7: Evenly distribute the mixture into the muffin tin.
Step 8: Bake for 30 to 35 minutes. Let them cool off, then keep in the fridge to grab in the morning.
---
Chocolate Cherry Overnight Oatmeal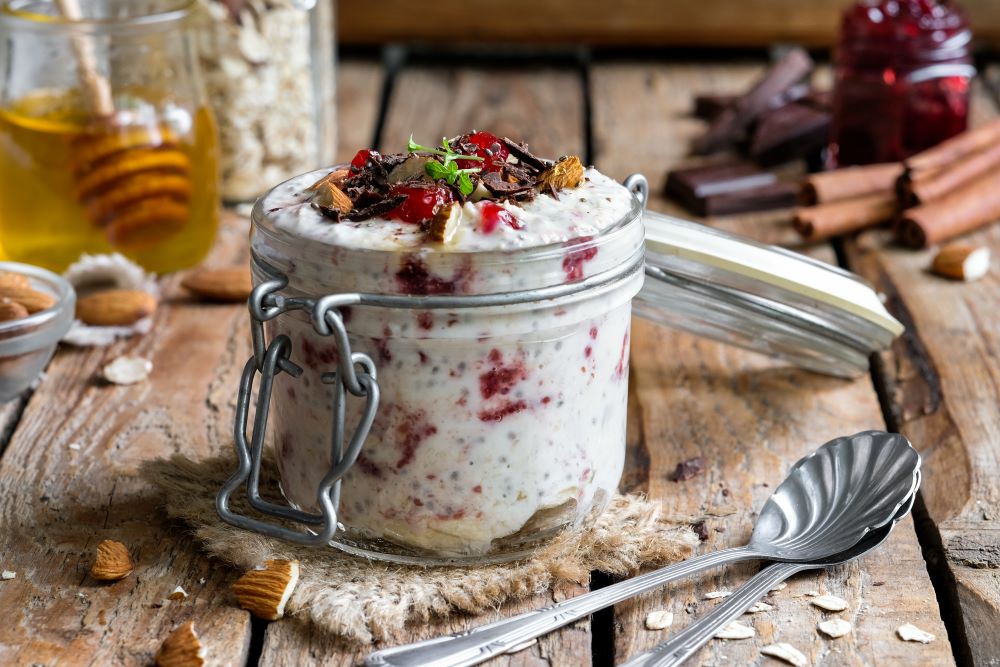 Meal prep is made easy with this cherry chocolate overnight oatmeal. With simple ingredients and a quick prepping process, you can make a delicious on the go breakfast with minimal effort.
While this recipe combines tart and sweet with cherry and chocolate, you can choose to switch it up by using a different flavored yogurt, different fruit, and leaving out the cocoa powder.
Makes 1 Serving
Ingredients
1/3 Cup Old-Fashioned Oats
3 Tablespoons Fat-Free Milk
3 Tablespoons Cherry Yogurt
1 Table Spoon Honey
1/2 Cup Cherries
1 Tablespoon Cocoa Powder
Directions
Step 1: Get a small container or a mason jar that will be easy for you to take on the go.
Step 2: Mix together the oats, milk, cherry yogurt, honey, and cocoa powder in the jar.
Step 3: Add fresh or frozen cherries on top, or mix them in.
Step 4: Refrigerate overnight to eat the next morning. Note: this can also be made several days in advance.
---
Peanut Butter Banana Smoothie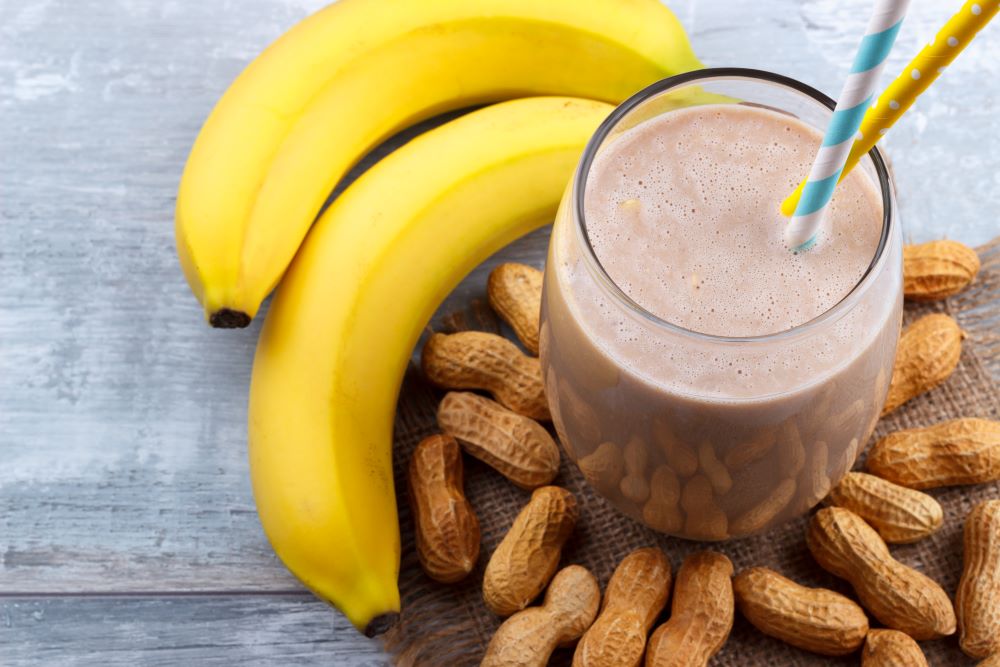 Smoothies are the perfect on the go breakfast because they are easy to make and transport. This peanut butter banana smoothie contains tons of protein to keep you full and energized – a great way to start your morning!
If you have dietary restrictions, this smoothie can also be made with dairy alternatives such as soy milk and soy yogurt.
Makes 1 Serving
Ingredients
3 Frozen Bananas
1/4 Cup Peanut Butter
1 1/2 Cups Milk
1/2 Cup Greek Yogurt
1 Teaspoon Honey
1/4 Teaspoon Salt
Directions
Step 1: Combine bananas, peanut butter, milk, yogurt, honey, and salt into a blender.
Step 2: Pour the mixture into a travel cup and you're ready to go – it's that easy!
---
Apple Crisp Oatmeal Squares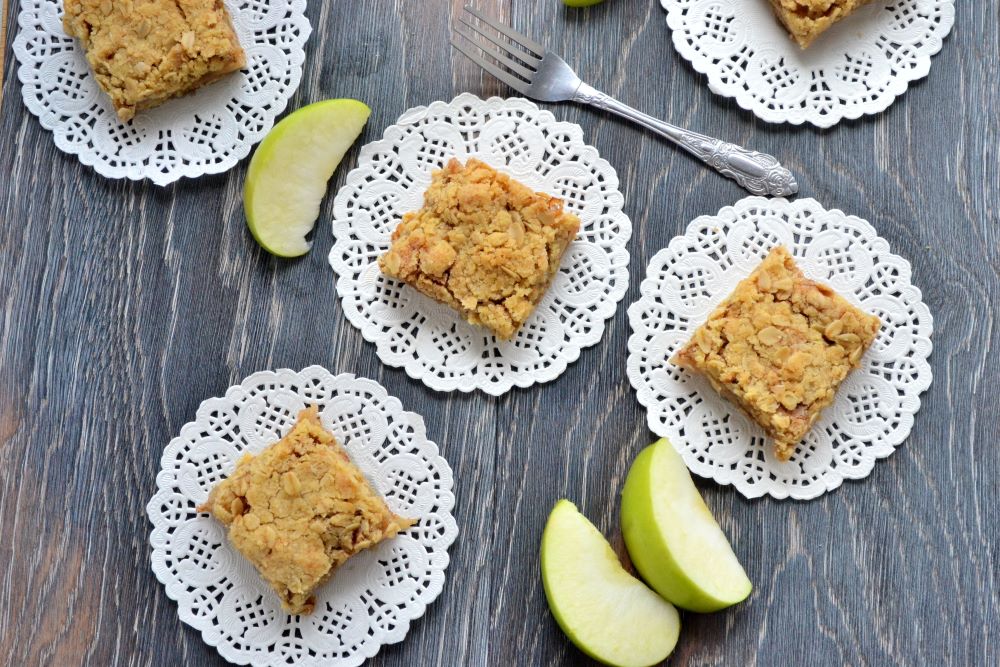 Oatmeal is a classic breakfast item but it can be difficult to take a bowl of hot oatmeal to go. That's where these oatmeal squares come in handy!
These apple crisp oatmeal squares give you that sweet apple oatmeal taste with a satisfying crunch. Feel free to add cinnamon to the mix if you enjoy that warm flavor!
Makes 8 Servings
Ingredients
Topping Ingredients:
3/4 Cup Oat Flour
1/4 Cup Old Fashioned Rolled Oats
1/4 Cup Raw Cane Sugar
2 Tablespoons Coconut Sugar
4 Tablespoons Liquid Coconut Oil
Apple Middle Ingredients:
3 Small Apples (Any Kind You Want)
Oatmeal Base Ingredients:
2 Cups Rolled Oats
1 Cup Milk
2 Large Ripe Bananas (Mashed)
4 Tablespoons Honey
Directions
Step 1: Preheat the oven to 350 degrees. Mix together the rolled oats and milk in a large mixing bowl.
Step 2: Stir in the honey and mashed bananas until mixture is thoroughly combined.
Step 3: Mix up the topping in a separate mixing bowl. Combine the oat flour, rolled oats, cane sugar, coconut sugar, and coconut oil.
Step 4: Pour the oatmeal base (the banana mixture) into a large greased baking dish. Smooth it out evenly with a spoon or spatula.
Step 5: Slice up your apples and then evenly distribute them on top of the oatmeal. Lightly press down each apple slice.
Step 6: Lastly, pour the topping over the apples, making sure to cover them all and smoothing it out until even.
Step 7: Bake in the oven for 40-45 minutes, until golden brown.
Step 8: Keep these in the fridge for a week or freeze them to make them last longer!
---
On The Go Breakfast Wrap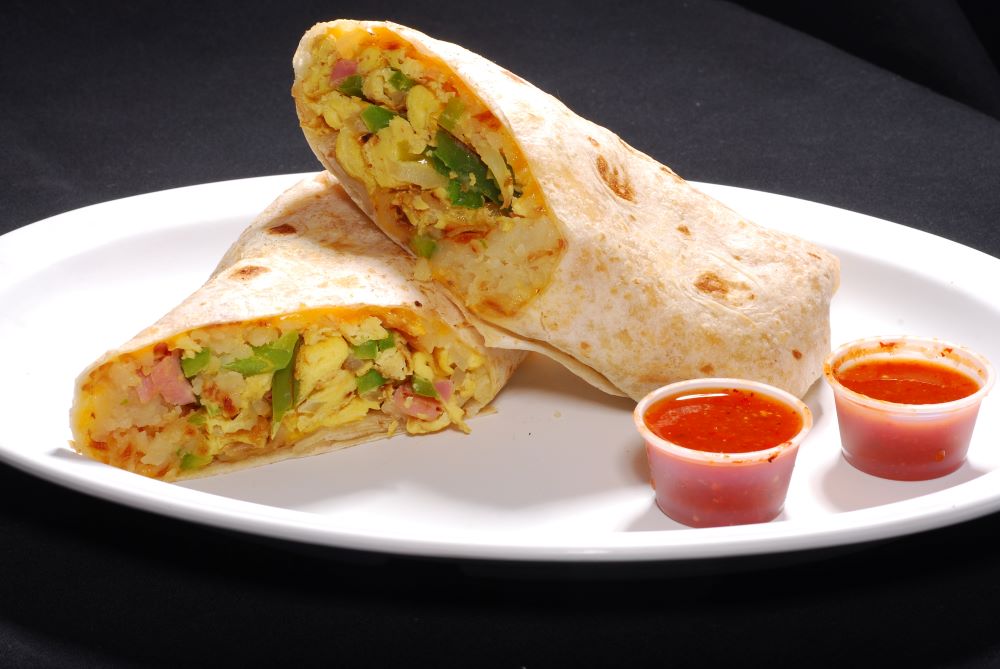 Breakfast burritos and wraps are are filling handheld food that can easily be taken on the go. These breakfast wraps are essentially an omelette in a tortilla, which is a classic dish enjoyed by many.
These are easy to make at the beginning of the week and eat throughout the week – just quickly reheat them in the microwave and take it to go!
Makes 4 Servings
Ingredients
6 Large Eggs
2 Tablespoons Milk
1/4 Teaspoon Pepper
1 Tablespoon Canola Oil
1 Cup Shredded Cheddar Cheese
3/4 Cup Diced Ham (Fully Cooked)
4 Flour Tortillas (8-inch)
Directions
Step 1: Mix together eggs, milk, and pepper in a small bowl until fully combined.
Step 2: Heat up the canola oil in a large skillet on medium heat.
Step 3: Pour the egg mixture into the skillet. Cook and mix until eggs are completely cooked.
Step 4: Add in the cheese and ham, along with any extra ingredients you wish to add.
Step 5: Distribute the egg mixture onto each tortilla and roll them up.
Step 6: Keep these wraps in the fridge for the week or freeze them to last longer.
---
Our new catalog is here! Our January 2020 catalog features 120 new items, storage solutions, unique decorations for your home, and much more!