10 Storage Ideas For A Small Bathroom
Your bathroom should be a clean and tidy space where you can store all your essentials efficiently without worrying about cluttered counters and overflowing cabinets. Here are 10 small bathroom storage ideas to preserve space, stay organized, and make the room feel more open.
---
1. Take Up Vertical Space In Your Bathroom With Hanging Shelves And Baskets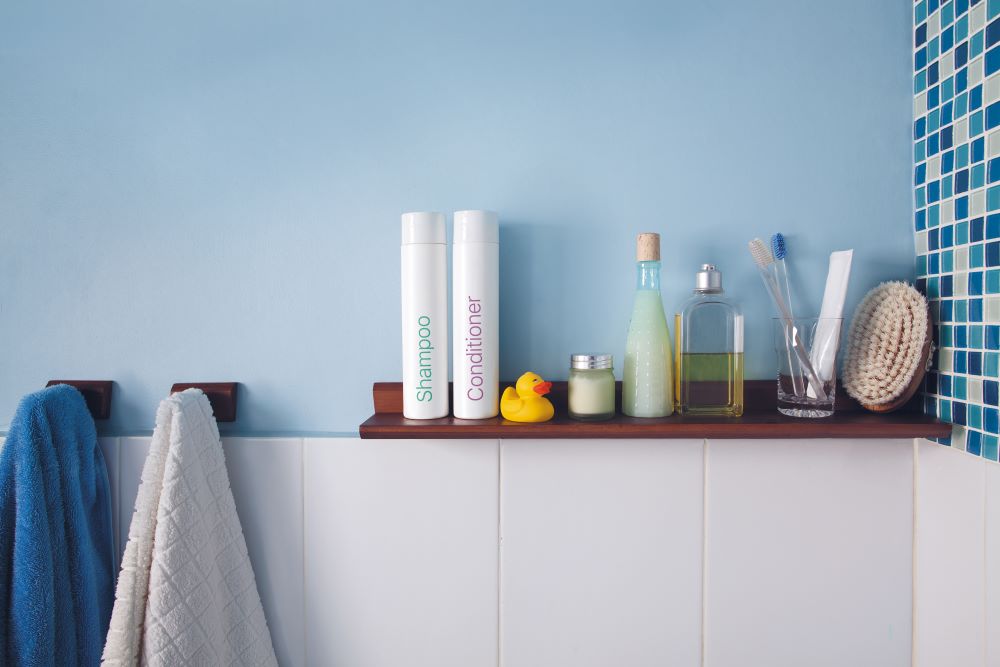 Small bathrooms may not have wide and spacious surface area, but they still have the advantage of vertical wall space. Take advantage of that vertical space by installing shelves and hanging baskets to store and display all your must-have items.
Using up your bathroom's vertical space wisely can help the room appear taller and more spacious. If you use up too much floor space, your bathroom will appear overly cluttered and even smaller than it actually is.
Tips & Tricks
The empty wall space above your bathroom door is the perfect area to hang a large wall basket, where you can store items for later, such as extra bathroom products, additional towels, and more.
Slim shelves can help maintain a less cluttered appearance while hanging baskets can help you store more items efficiently.
Store your bathroom essentials in elegant bottles and containers on top of the shelves to achieve a more decorative look.
---
2. Place Shelves Above The Toilet To Conserve Space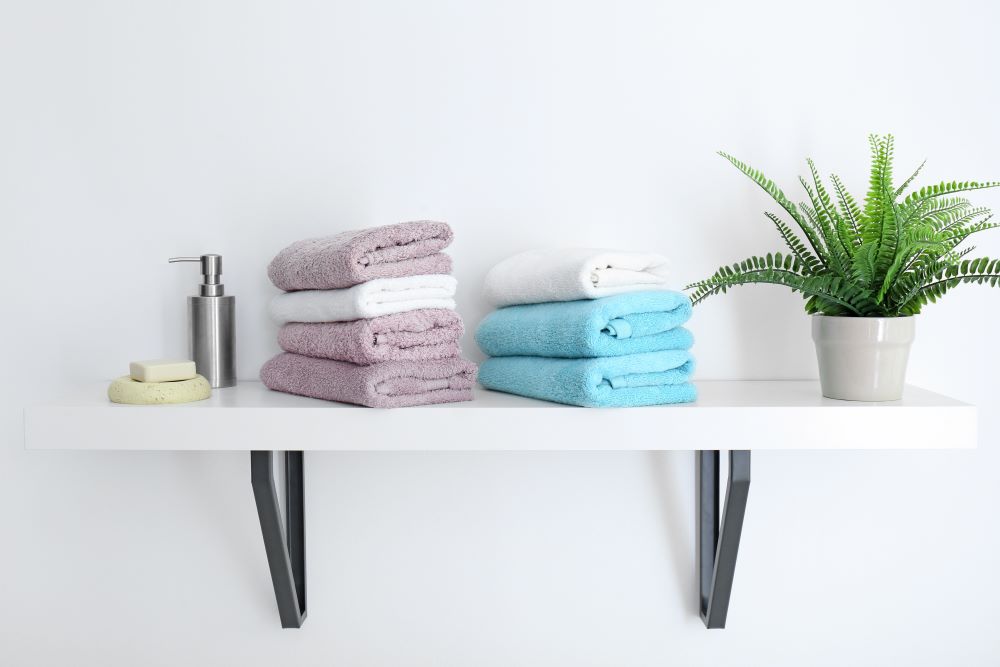 Instead of disregarding the idea of a larger storage unit in your small bathroom, consider using an over-the-toilet shelving unit. This is a great way to have a lot of extra storage space without making your bathroom look even smaller.
Don't let the wall space above your toilet go to waste – turn it into something useful so you can use the rest of your bathroom walls for other storage and decor.
Tips & Tricks
Look for an over the toilet space saver that has multiple shelves so you can keep a majority of your essentials on it.
Place large baskets within the shelving unit to store even more items efficiently and to give off a more decorative feel.
You can also hang individual shelves above the toilet instead of using a full unit. This will still help you save some much needed space.
---
3. Put Drawers, Caddies, Or Containers Underneath The Bathroom Sink For Organized Storage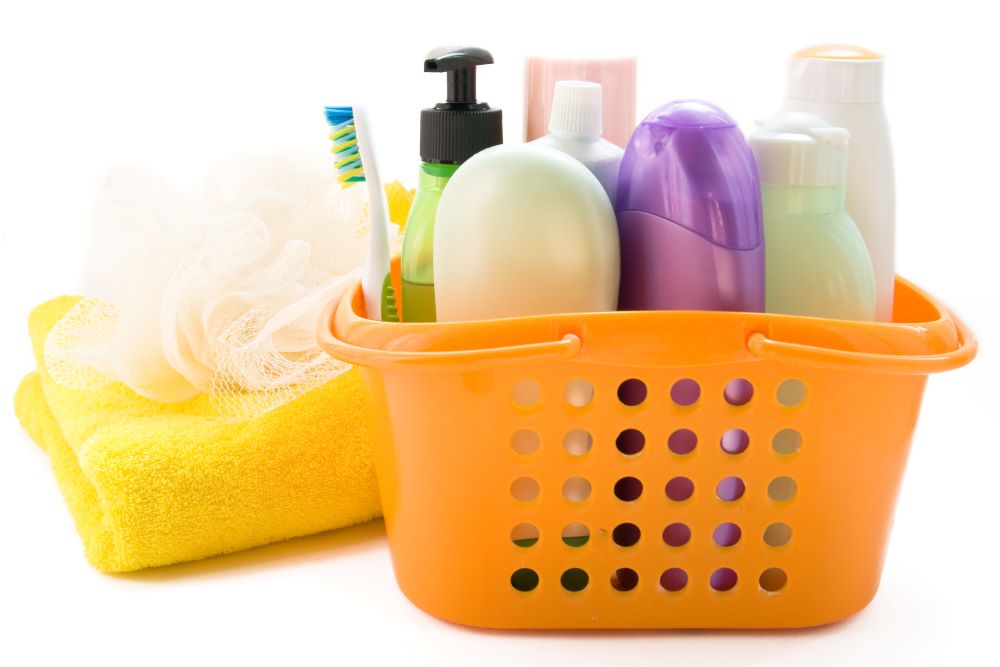 If you have a cabinet or empty space underneath your bathroom sink, it's best to take advantage of that in an organized way. You don't want to overload your cabinet by stuffing it with your items.
If you use drawers, shelving, and other containers, you can maintain an organized space.
Tips & Tricks
Place tiered drawers and shelves inside the cabinet to store multiple items and to save room. (This also takes advantage of vertical space).
Use a Lazy Susan to place all your cleaning supplies on inside the cabinet. This assures that you only take up limited space and it allows you to easily access any cleaning items that you need.
Using a long and skinny basket in the cabinet is a great way to store bottles, toothpaste, and other small items that might otherwise get cluttered around.
---
4. Use A Slim Storage Cart To Fill In Narrow Spaces In Your Bathroom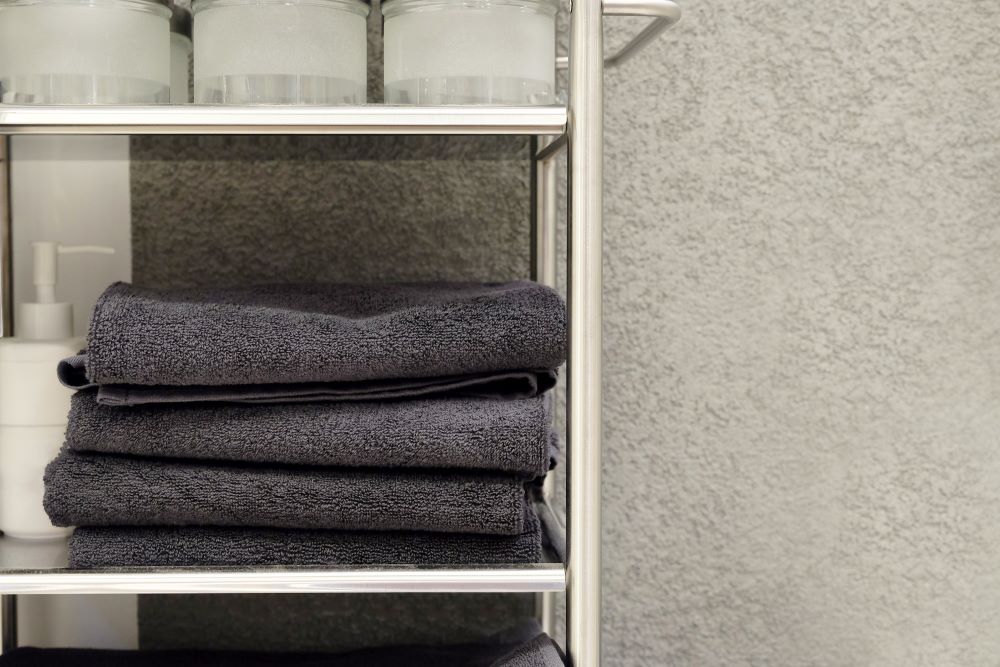 Many bathrooms have a skinny empty space next to the toilet that you should take advantage of in a small bathroom. Placing a slim storage cart or slim cabinet within that space gives you extra storage space without really taking up room.
You can also fit slim cabinets and storage carts in other narrow spaces or against any wall of your bathroom.
Tips & Tricks
Opt for a slim storage unit with wheels for an easy way to move it around if needed.
Slim cabinets are especially useful if your small bathroom doesn't have built in cabinets or drawers. The addition of the cabinet will allow you to hide away most of your bathroom essentials instead of trying to keep them out on your counter.
You can also store toilet paper rolls in the cart for convenience.
---
5. Store Extra Bathroom Towels By Keeping Them Rolled Up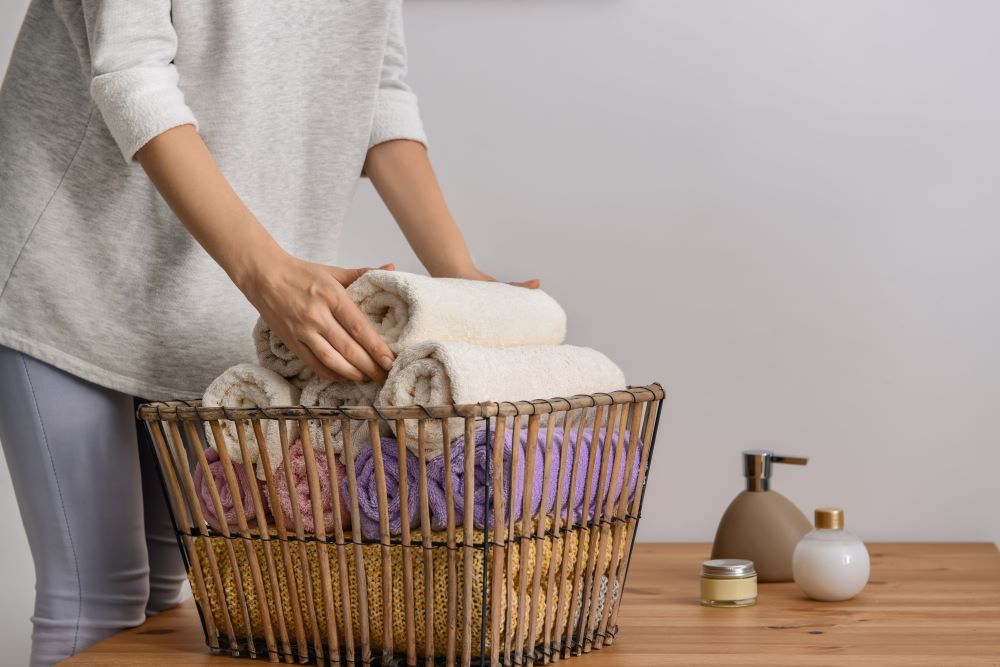 If you don't have enough cabinet space or a separate closet nearby, it can be difficult to figure out where to put all your extra towels. Rolling up your towels will take up much less space instead of folding them and stacking them.
Rolling up towels is also especially helpful if you don't have extra towel racks hanging in your bathroom. This is a great idea for a guest bathroom to give your guests a fancy hotel experience.
Tips & Tricks
Place your rolled up towels in a wicker storage basket on top of a shelf to keep them hidden but still within reach.
If you happen to have extra shelf space, you can also stack your rolled towels up pyramid style for a unique decorative appearance.
You can also keep a basket of rolled up towels under your sink or on the floor in the corner if room permits.
---
6. Keep Toilet Paper Rolls In A Decorative Basket On Top Of The Toilet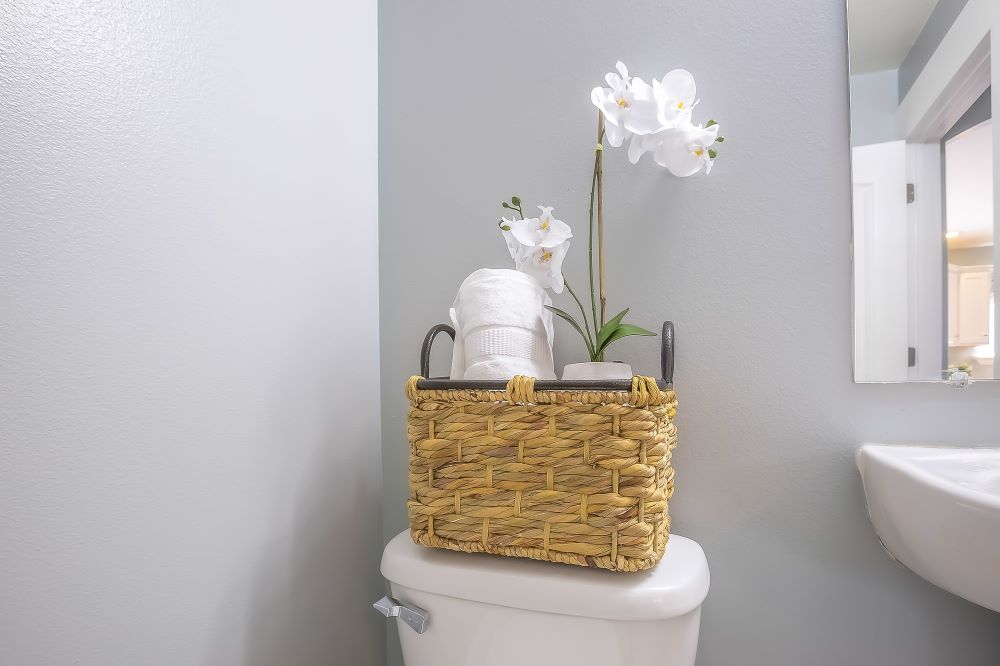 You don't have to sacrifice your decor aesthetic to store things in your bathroom. Even something as simple as toilet paper can be stored in a decorative way to maintain a clean and elegant appearance.
You can even choose to have a decorative toilet paper holder if you have the room for it.
Tips & Tricks
Filling a decorative basket with toilet paper on top of your toilet can help you use a small space efficiently.
Hanging wall baskets can also be used for discreet toilet paper storage.
If you aren't too picky about hiding your toilet paper rolls, you can also neatly stack them on top of a shelf above your toilet.
---
7. Keep Your Bathroom Essentials In Clear Glass Jars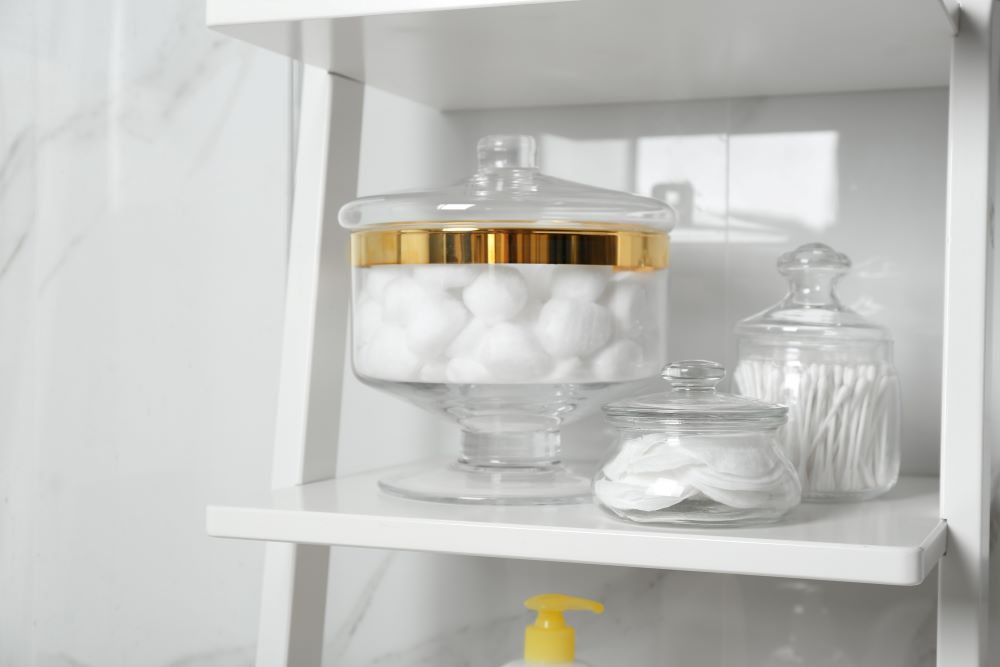 If you need to keep a lot of bathroom items out on counters and shelves, keeping them in containers can condense the clutter. Store your essentials in clear glass jars to make your bathroom more decorative and elegant.
The clear glass will also help you easily see everything that you have, so you will never have to worry about sorting through your clutter each day to find what you're looking for.
Tips & Tricks
Use a collection of different sized and shaped glass jars to add variety to your bathroom.
Store multiple types of items within one jar to save even more space. (For example, fill one jar with all of your nighttime essentials such as makeup remover, night cream, etc.).
Keep these glass jars on hanging shelves if you have limited counter space.
---
8. Lean A Decorative Ladder Shelf Against The Wall For Alternative Shelving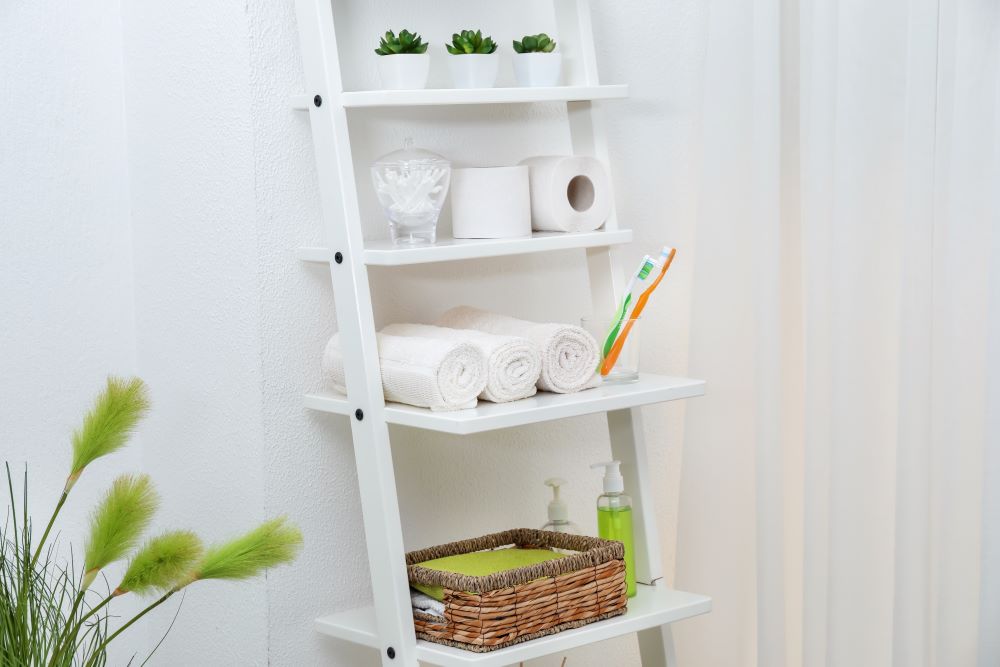 If you prefer to not hang shelves on the walls, a ladder shelf can be a great alternative for a small bathroom. Ladder shelves are slim enough to lean against the wall without taking up much room, and they have plenty of shelving space to store all your items.
There are different types of decorative ladders. Some have bigger shelves that allow for more storage while others have smaller rungs that are better suited to hang towels.
Tips & Tricks
Place baskets on each ladder "step" as makeshift drawers to hold a larger variety of bathroom essentials.
Intersperse plants and small accents to add some color and style to your ladder shelf.
You can even use a ladder with thin rungs to hang your towels on instead of using a traditional towel rack.
---
9. Use Over-The-Door Storage To Save Even More Space In Your Bathroom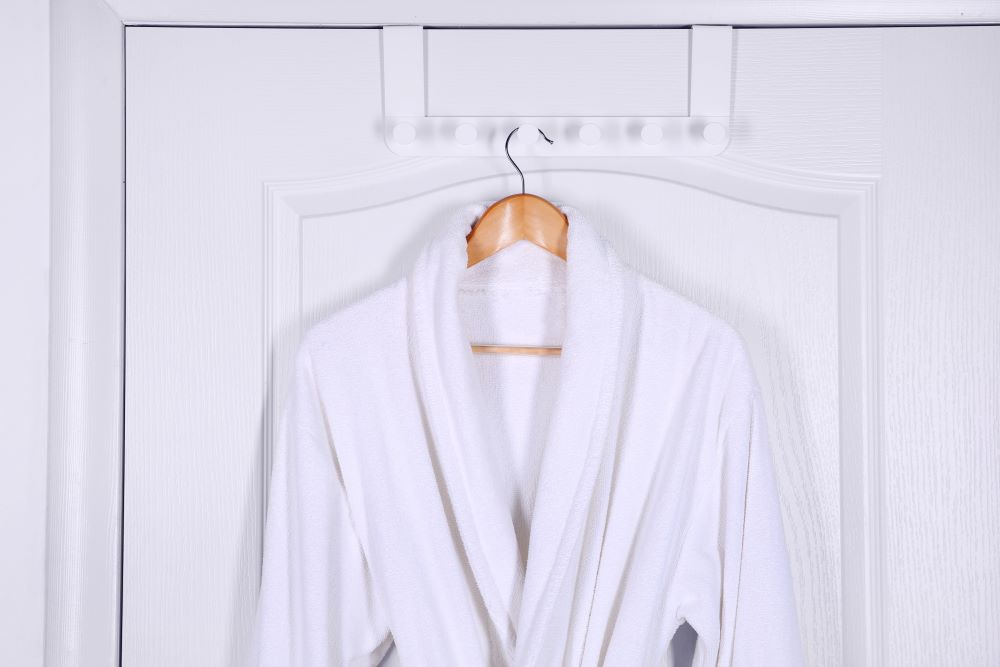 The bathroom door is often overlooked as a storage area but it can be incredibly useful if you have limited wall space in your small bathroom. Using specific over-the-door storage hooks can come in handy for more than just towels.
You can also opt to drill hooks into the door for a more permanent way to hang items in your bathroom.
Tips & Tricks
Hang your towels on an over-the-door rack or on hooks to free up more wall space in your bathroom.
An over-the-door storage mirror can discreetly hold a lot of items such as jewelry, cosmetics, and other small bathroom essentials. Plus, adding in an additional mirror can even help your bathroom look bigger!
Hook a small basket onto your door with shower and bath items – you can carry this basket to the shower and back.
---
10. Stick Suction Cup Shelves In Your Shower For Even More Storage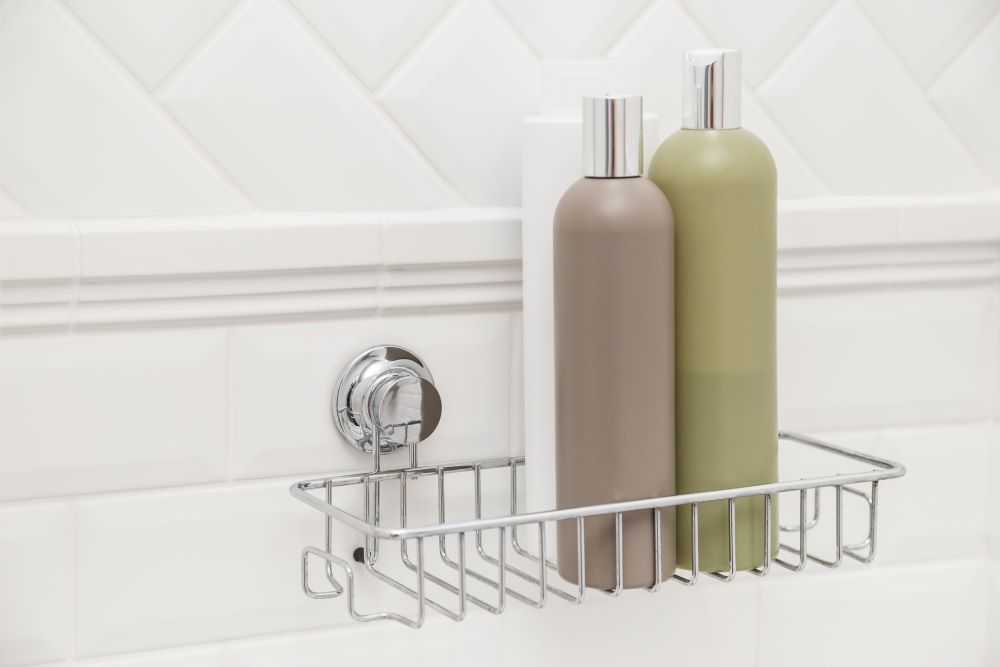 If your shower doesn't have a built in shelf, it can be difficult to find the room for all your shampoo, soap, and other bathing essentials. Instead of carrying a caddy to and from your shower, keep your things in one place by using suction cup shelves on your shower walls.
You can find many types of suction cup shelves for your shower including colorful plastic baskets, stainless steel and metal shelves, and more.
Tips & Tricks
Place several suction cup shelves on the shower wall diagonally to create a uniquely designed space.
You can also opt for a storage rack that hangs over your shower head if you don't like the look of shelves on the wall.
If you're looking for something more permanent, drill several sturdy shelves onto your shower wall.
---
Shop our full selection of Bathroom Storage to find everything you need to organize your bathroom in style!
---
Looking for more small bathroom ideas? Check out these Small Bathroom Storage Hacks for maximizing space under the sink.