A Toast To The New Year: 5 Cocktails To Make On New Year's Eve
There's no better way to ring in the new year than a celebratory party or gathering with your friends and family. Festive and unique cocktails can make the night even more special and fun for your guests. Give a toast to the upcoming year with these 5 New Year's Eve cocktails.
---
Champagne Cocktail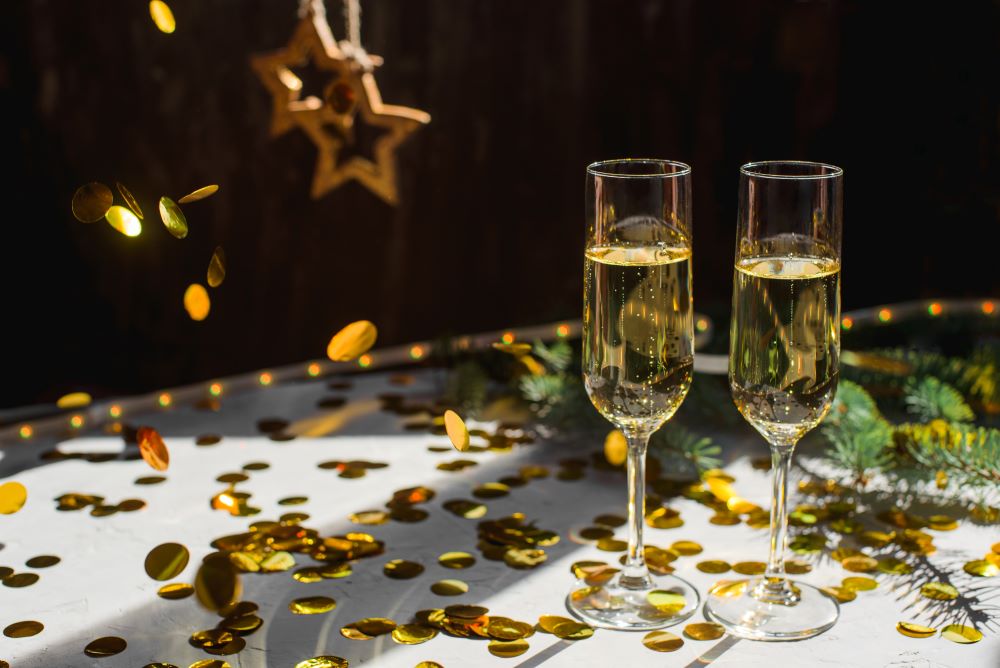 This cocktail gives a fun twist to the most classic New Year's Eve drink: champagne. Impress your guests while hosting a fancy dinner party with this classy drink.
This drink is so easy to make – simply pour a glass of champagne and just add a few ingredients to make the drink more unique and special, and even more delightful.
Ingredients
1 Teaspoon Granulated Sugar or 1 Sugar Cube
3-5 Dashes Bitters
4 Ounces Champagne
Long Spiral Lemon Zest
How To Make It
First, mix together the sugar and bitters in a champagne flute
Stir in a small amount of champagne until fully combined
Pour in the rest of the champagne and garnish with a lemon zest for presentation
---
Apple Cider And Rum Punch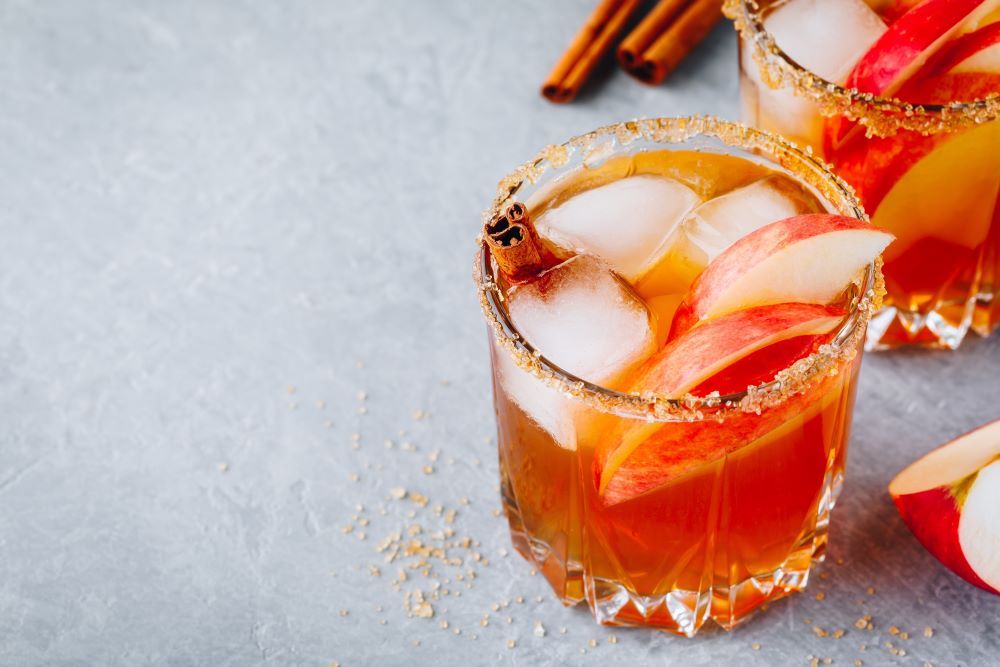 This drink is a great mix of familiar seasonal flavors and a touch of sweetness. This punch is perfect to serve at a large party because there is enough to go around for everyone.
Depending on how sweet you want this punch to be, you can add more or less of the simple syrup.
Ingredients
1 Cup Aged Rum
1 Cup Sweet Vermouth
1/2 Cup Fresh Lemon Juice
1/4 Cup Simple Syrup
4 Dashes Bitters
1 12-Ounce Bottle Dry Hard Apple Cider
1/2 Red Apple (Sliced)
Cinnamon Sticks (Optional)
How To Make It
In large pitcher, mix together rum, vermouth, lemon juice, simple syrup, and bitters
Throw in some apple slices and stir some more
Add some ice until the drink is cold
Serve in old-fashioned glasses with additional apple slices and cinnamon sticks (optional)
---
Holiday Sparkler Wine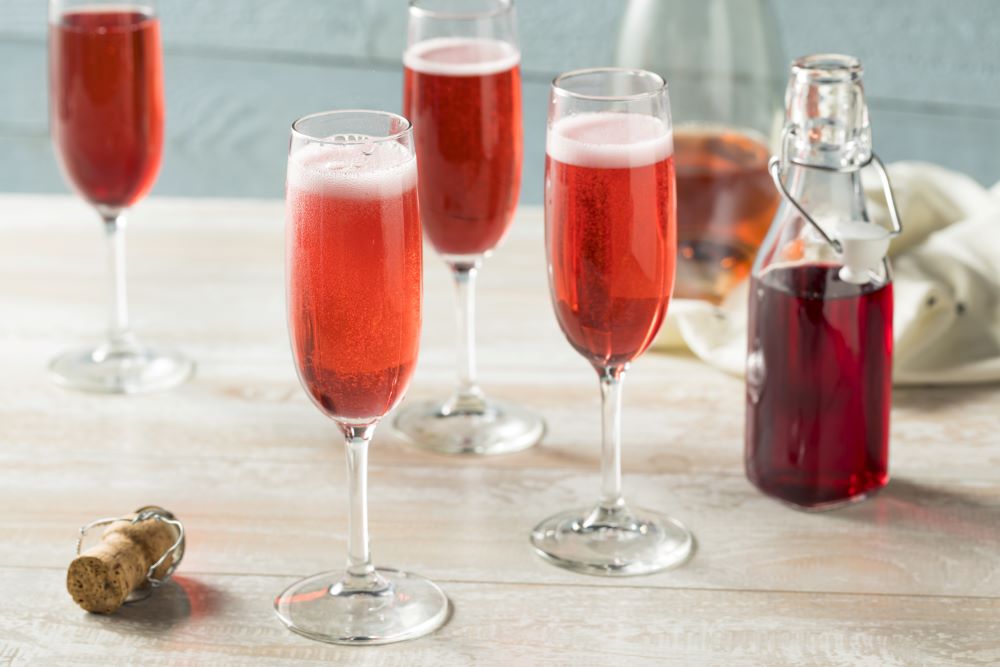 This wine cocktail is filled with fruity, sour, and sweet flavors that is sure to be a hit at your New Year's Eve party.
This beautiful red drink is a festive and cheery way to celebrate a wonderful new year.
Ingredients
2 Ounces Sparkling Rosé
1/2 Ounce Elderflower Liqueur
1 Ounce Cranberry Juice
Orange Bitters
Sugar Cubes
How To Make It
Start by soaking 1 sugar cube in orange bitters. Pour it into a champagne flute
Mix in the elderflower liqueur and cranberry juice
Finally, pour in the rosé to top it all off
---
Midnight Martini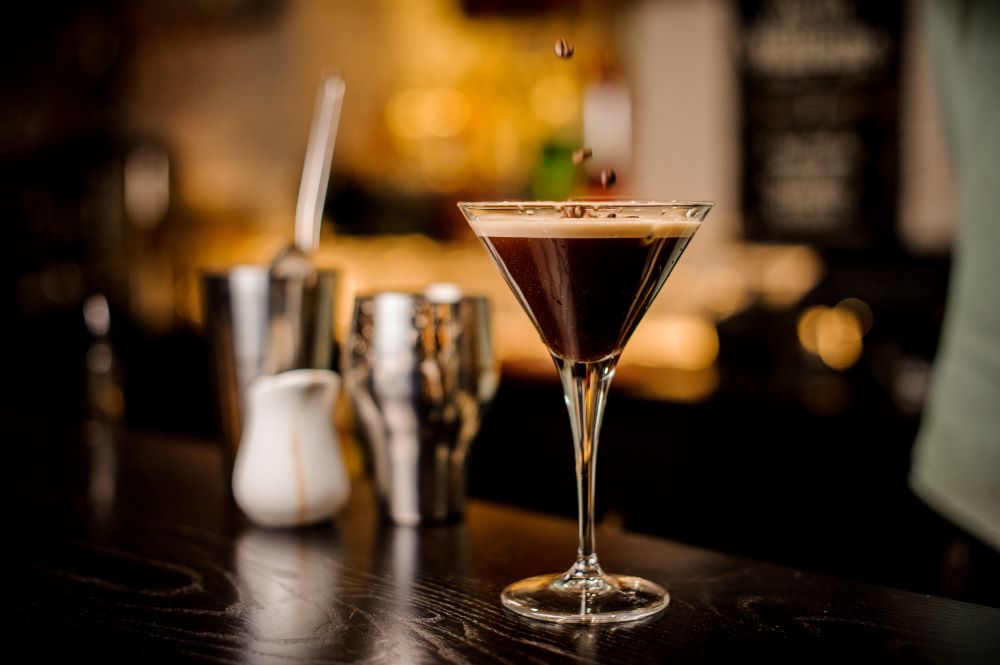 Staying up until midnight can be exhausting, so it only makes sense to have some coffee in a cocktail. The Midnight Martini is the perfect cocktail to make a little bit later in the night at your New Year's Eve party.
If you prefer less caffeine, you can use regular vodka instead of espresso vodka and still use the coffee liqueur to just get the flavor of coffee.
Ingredients
1.5 Ounces Espresso Vodka
1/2 Ounce Coffee Liqueur
1/4 Ounce Cinnamon Syrup
Lemon Twist (For Garnish)
How To Make It
Fill a cocktail shaker with ice
Pour the vodka, liqueur, and syrup into the cocktail shaker
Use a bar spoon to stir up the entire mixture
Once fully mixed, strain the drink into a cocktail glass
Garnish with a lemon twist before serving
---
Cranberry Moscow Mule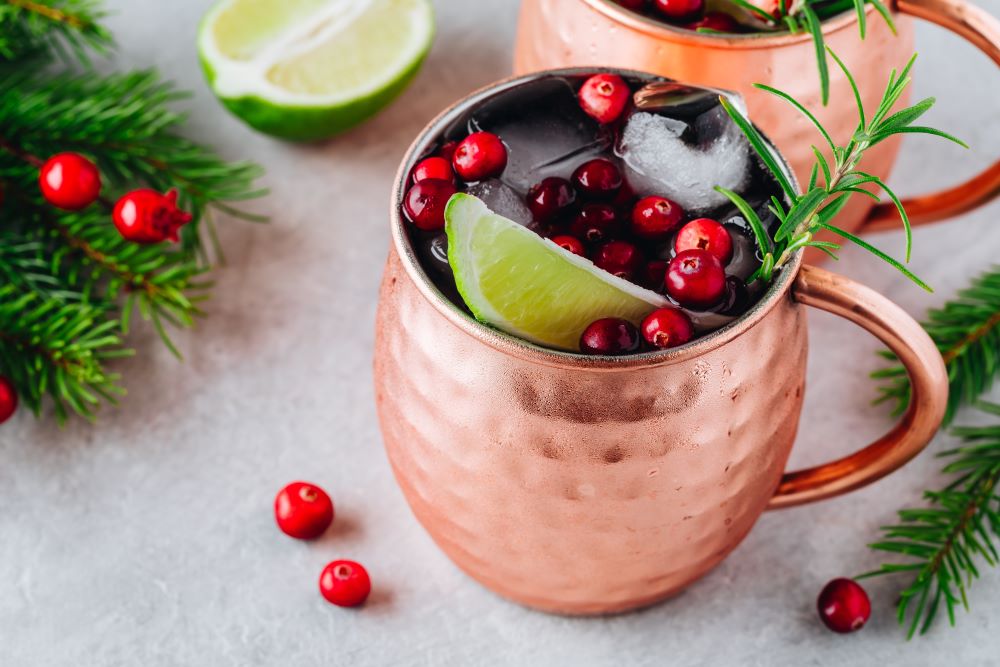 This fruity take on the moscow mule is a refreshing and festive way to ring in the new year at your celebratory party.
Feel free to use as many or as little cranberries on top of the drink as you want; they simply act as a colorful garnish.
Ingredients
2 Ounces Cranberry Juice
2 Ounces Vodka
Lime Juice (Squeeze 1/4 Of A Lime)
3 Ounces Ginger Beer
Fresh or Frozen Cranberries
Lime Wedge (For Garnish)
How To Make It
Fill a copper moscow mule mug with ice
Pour in the cranberry juice, vodka, and lime juice
Top off the cocktail with ginger beer
Garnish it with the cranberries on top and a lime wedge
---
Check out LTD's Online Exclusives for unique items that can't be found in our catalogs!