Decorating Tips: How To Make A Modern Kitchen Look Rustic
The rustic decor style can make any room feel charming, welcoming, and warm. If you have a modern kitchen but want a rustic look, you can easily combine decor styles to achieve the look of your dreams. From color schemes to decorative accents to furniture and more, here are some simple decorating tips on how to make a modern kitchen look rustic.
---
Use A Warm Color Scheme To Make Your Kitchen Feel More Rustic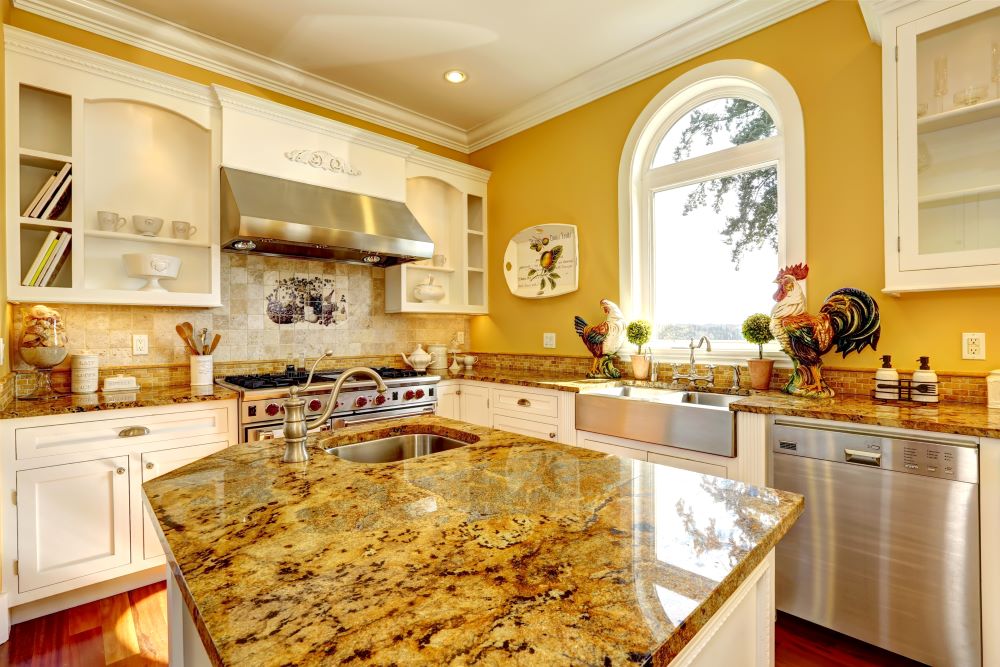 A big part of the rustic decor style is the welcoming vibe that gives any room a comfortable and homey feeling. In order to achieve that type of environment in your modern kitchen, start by transforming the color scheme. Modern kitchens tend to have a bright or neutral color scheme, which gives off that fresh, current day look. That, of course, is the complete opposite of the rustic style.
Using a warm color scheme will make a modern kitchen feel more rustic because it'll tone down the bright "new" feeling of the room. Start with the wall color – go for a deep red, muted yellow, or tones of orange. You can even use a country patterned peel and stick wallpaper for the backsplash. Changing up the walls will set the overall tone for the rest of the kitchen.
Once you change the walls, you can then go on to make other adjustments in the kitchen to fit the warm color scheme. If you want to fully invest, consider switching up the countertops to a warm toned granite or stone. For even easier changes, swap out your decorations to match your new walls. The simple addition of warm colored accents can make the environment feel even more rustic and welcoming.
---
Bring In Elements Of Reclaimed Or Distressed Wood For A Rustic Touch In Your Kitchen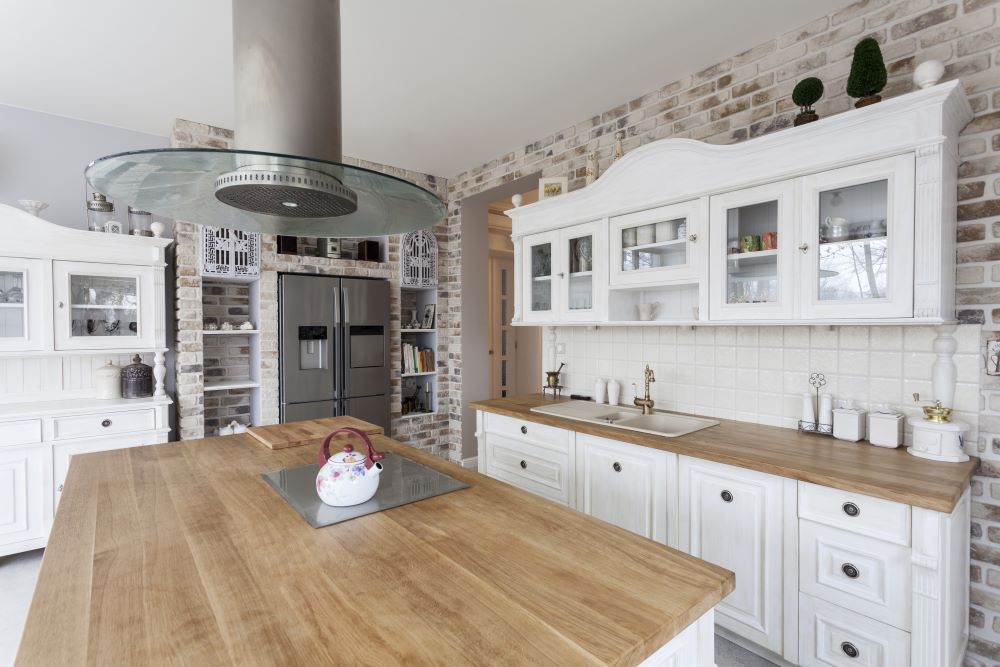 Incorporating rustic materials into your kitchen can help tone it down and give it that touch of charm. Reclaimed or distressed wood is the most effective material to use for a rustic decor style, along with galvanized metal or even bricks.
You can easily bring some wood, metal, or bricks into your kitchen in both substantial and subtle ways. Whether you want a full fledged transformation or just a hint of rustic elements in the room, here are some ideas on how to incorporate these materials.
How To Add Rustic Materials Into Your Kitchen
Change up your cabinets by replacing them with wood ones – or you can even paint them to give them that wooden appearance.
Use a galvanized metal hanging pendant for the lights above the kitchen island, or other rustic lighted home decor.
Add a peel and stick backsplash for a faux brick look or a faux wood appearance.
Bring more rustic wood into your kitchen with new countertops, along with small pieces of furniture.
---
Add Rustic Details To Your Kitchen With Decorative Accents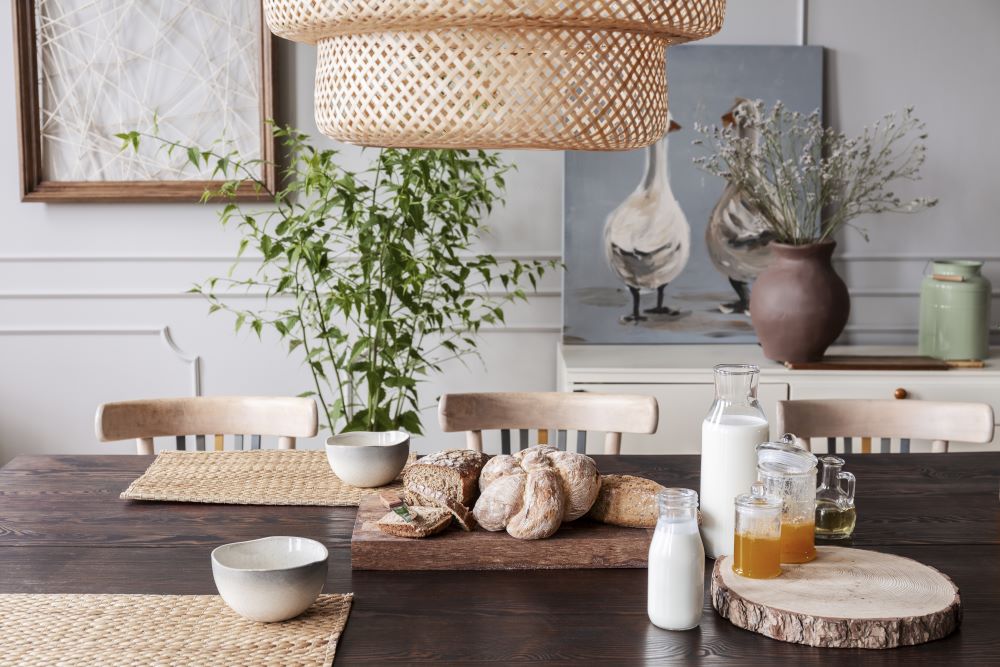 Sometimes it's the smallest touches that make the biggest differences in the kitchen. Bring in some simple rustic decorative accents to change the environment of your modern kitchen. If you want a more subtle rustic look, decorative accents can add a small element of that. This idea can also be combined with these other ideas on how to make a modern kitchen look rustic.
Rustic Decorative Accent Ideas For Your Kitchen
Woven placemats or a table runner
Galvanized metal tiered tray for decorations or coffee supplies
Distressed ceramic planter or vase with flowers
Wooden bowl centerpiece for the kitchen table or island
Wall art with charming country sentiments
Distressed wood floating shelves to hold decorations or coffee mugs
Metal lanterns on the kitchen counters
Any small decorations that feature farm animals and barn themes
---
Make Your Modern Kitchen Look Rustic With Some Thrifted Furniture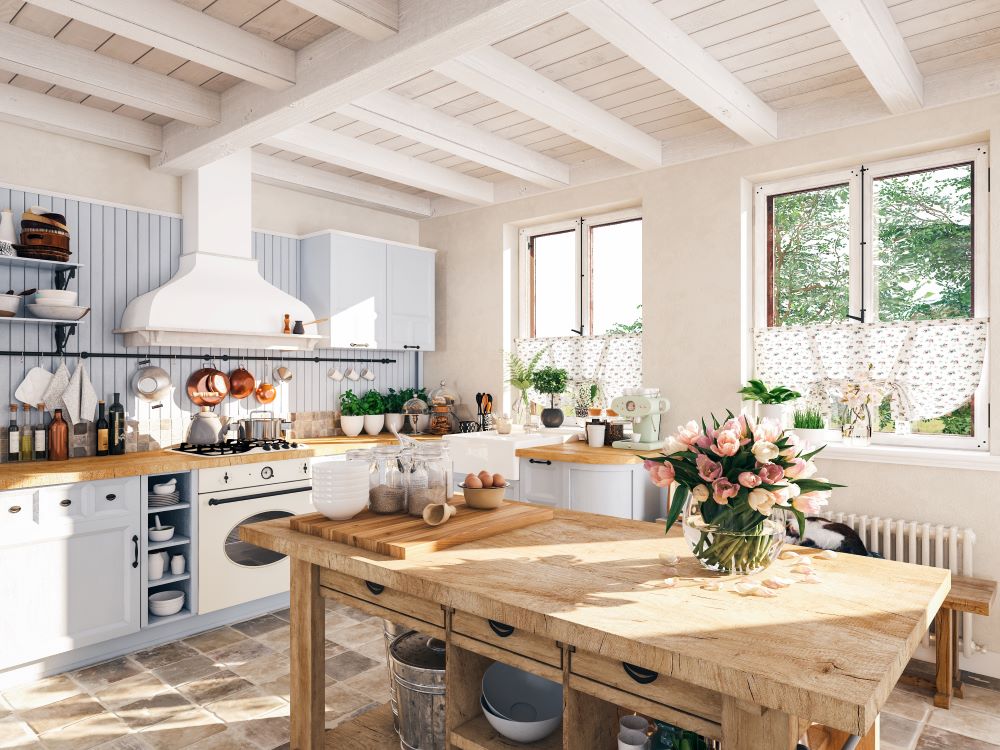 In order to bring the rustic look into any modern kitchen, it's important to have some old fashioned or antique elements to tone down the contemporary look. Mixing old and new will give you the ideal balance of rustic charm and refreshing charm. The easiest way to bring in those old fashioned vibes is through furniture.
Thrift stores are great places to find some rustic furniture to add to your kitchen. Consider looking for an old kitchen table, butchers block, or even some old fashioned bar stools. You can add these pieces to your kitchen as they are, or you can fix them up with some paint. Just make sure to balance the kitchen with a few antique decorations throughout the room. This will make the piece of furniture fit in and make sense.
You can also find old furniture at garage sales, or pieces can even be passed down from family members. Old pieces of furniture tend to come with a lot of character and charm, which is a huge element of the rustic decor style. Play around with ideas for your furniture; if you take some time to plan it out, you'll achieve the desired look.
---
Add A Finishing Rustic Touch To Your Kitchen With Charming Fabrics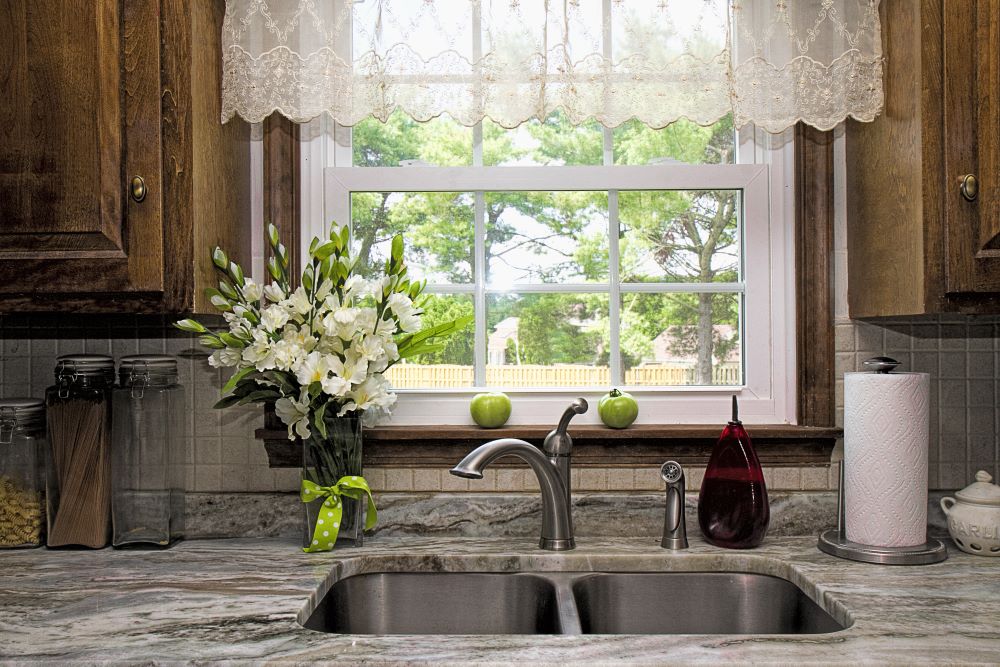 Fabrics can add warmth to any room of your house, especially your kitchen. Kitchens tend to feel cold because of the bright lighting and tiled floors. Adding in some fabrics when possible can tie together the rustic charm. Whether it's hanging up some new curtains on the window above the sink, hanging some new kitchen towels on the stove handle, or adding in some fabrics in unexpected ways, you can quickly and simply transform your kitchen.
Charming Fabrics To Add To Your Kitchen
Lace window curtains or a window valance (or curtains with a country pattern).
Kitchen towels – match your warm color scheme or use towels with country patterns and charming sentiments.
Use a table runner on your kitchen island and combine with rustic accents.
Add a fabric wall hanging such as a macrame decoration – just make sure to keep these away from the stove area and appliances to avoid a fire hazard.
---
Now that you know how to make a modern kitchen look rustic, check out our selection of Rustic Country Decor to find decorative accents, linens, wall art, and more to help transition your space.