Organizing Your Linen Closet: 7 Easy Tips & Tricks
Extra towels, sheets, and other necessities can easily build up in your linen closet. This closet can quickly become disorganized if you have a lot of items to store away. Luckily, it can be very simple to organize this closet and keep it looking tidy. From using baskets and bins to sorting techniques and more, here are 7 easy tips and tricks for organizing your linen closet.
---
1. Use Bins To Keep Similar Items Together In The Linen Closet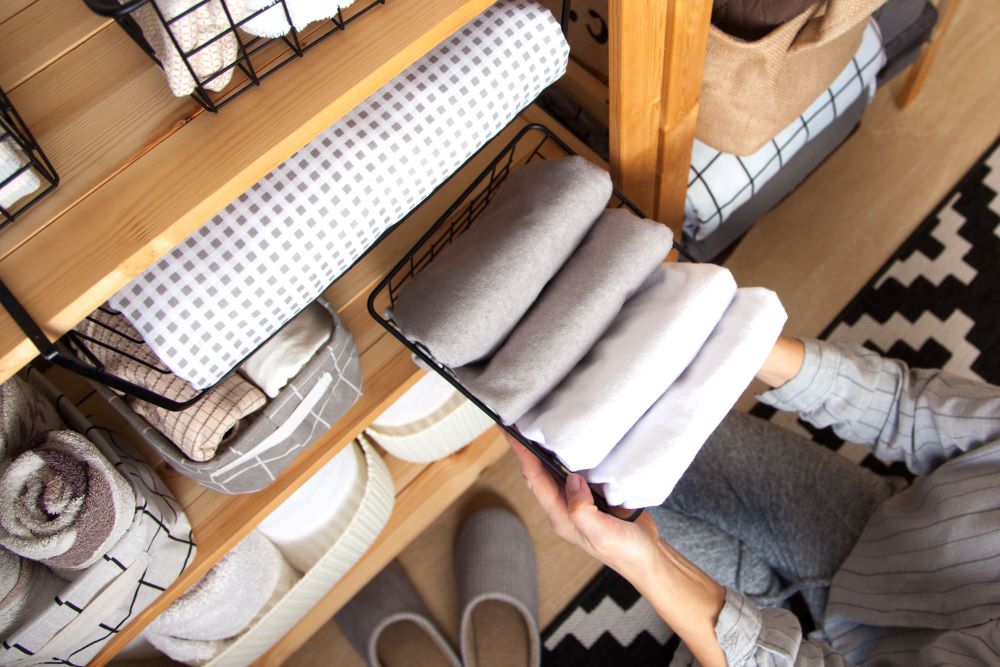 If you have a variety of towels and sheets piled up in a disarray on the shelves, the linen closet can quickly become disorganized and look out of place. Instead of freely storing these on the shelves, use bins and baskets to keep items organized by category.
Start by using different bins for all your various types of towels. You can organize this by color/towel set, or you can use a separate bin for different sizes of towels. For instance, use one bin for extra hand towels, another for extra bath towels, and a third one for washcloths. You can even take it a step further and label each bin if you have a lot of different towel sets.
Next, use the same technique with your extra sheets. Sort your sheet sets into individual baskets so you can easily and quickly grab what you need. This will also make it easier to keep sheet sets together, so you don't lose track of anything, such as a pillowcase. Additionally, you can also use this basket method to hold any small items in the closet such as toiletries or extra rolls of toilet paper.
---
2. Maximize Your Storage Space By Using Shelf Dividers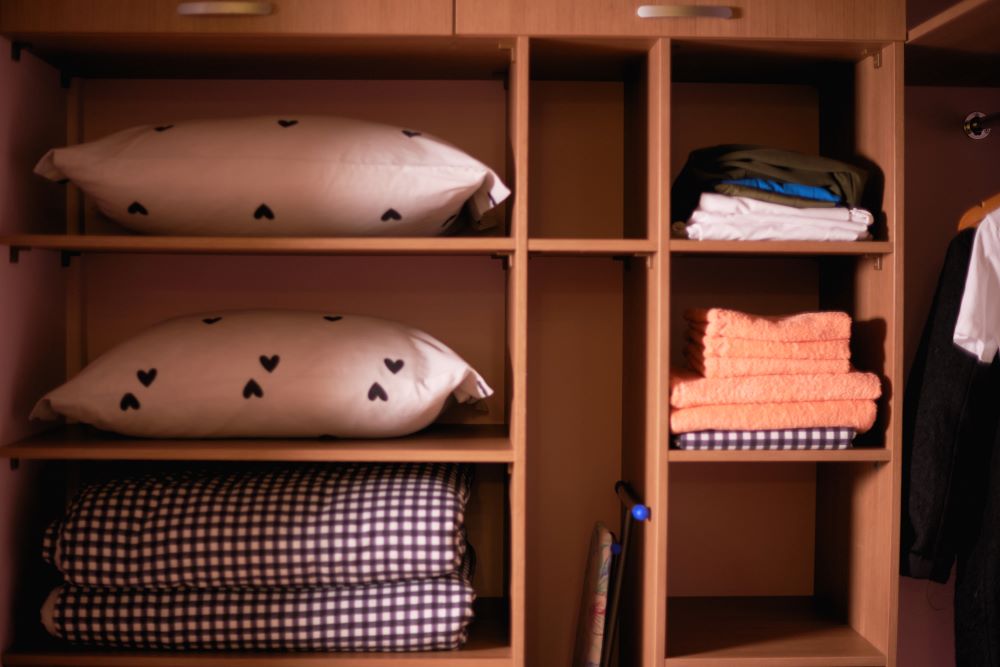 Linen closet shelves tend to offer limited space, especially if you have a smaller sized closet. This small closet space requires very practical and smart organizing, so you have to think a little outside of the box if you want a tidy area.
Use shelf dividers to take advantage of the space you have in a smart way. This is a great alternative to using baskets because you can separate items into categories with the dividers, allowing you to clearly see everything you have.
Be creative and find different ways to divide up your shelves. You don't necessarily need to divide them all up evenly; some items simple require a smaller storage space on the shelf while others may need to take up more room. Create your own shelving system with dividers and don't worry about making it look symmetrical. When it comes to smart storage, it's important to make your items fit in as strategically as possible.
---
3. Keep All Your Toiletries & Products In Caddies & Totes For Easy Carrying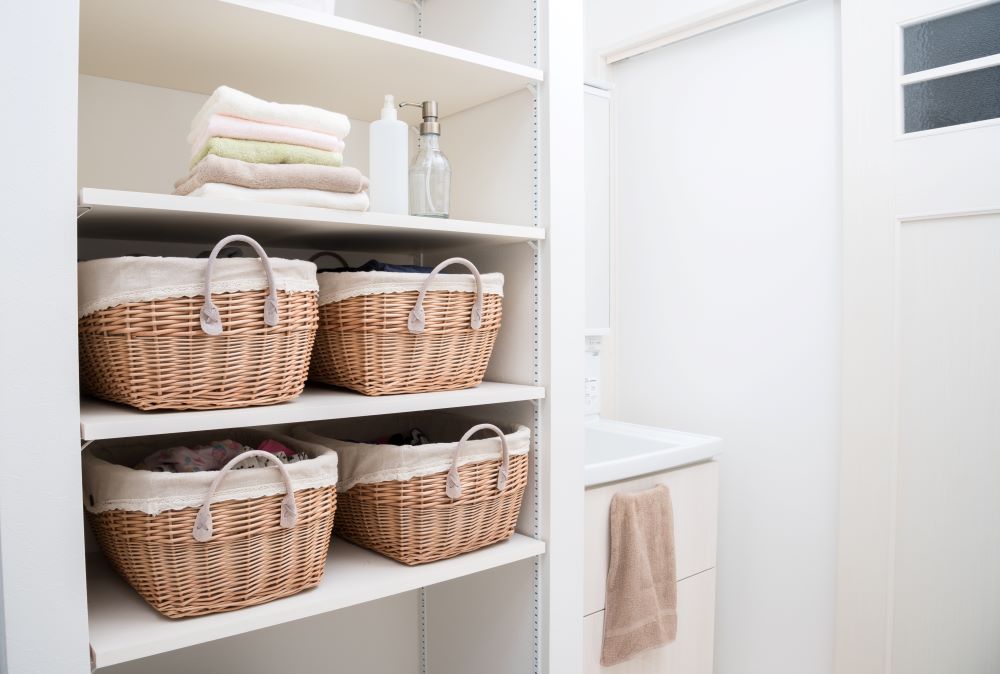 While it's best to keep extra toiletries under the bathroom sink, you may find yourself storing these items in your linen closet instead. However, these toiletries can quickly become cluttered within the closet and take over the space you need for towels and sheets.
Instead of freely storing the toiletries on the shelves, store them in portable baskets and caddies. This will allow you to take what you need to and from the bathroom in a convenient and simple way.
Use the caddy idea for your everyday bathroom items but place extra toiletries in a separate basket in the closet. You can put this basket on the high shelf or on the floor of the closet – this will save you space on the shelves for more necessary items like your towel and sheet sets.
---
4. Move Extra Pillows & Blankets To A Different Storage Space To Free Up Room In The Linen Closet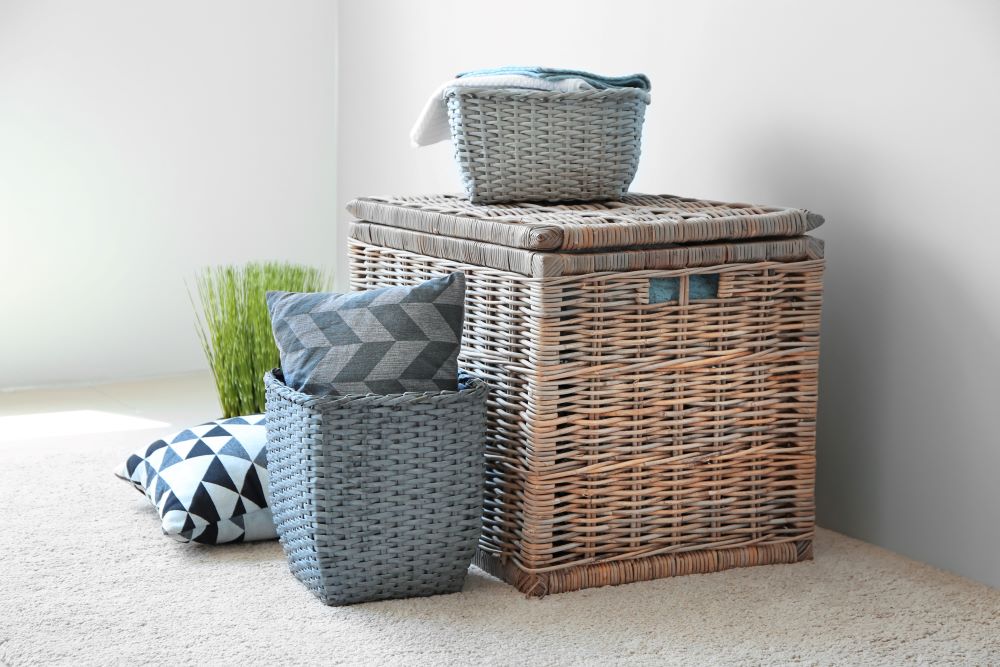 When you're organizing your linen closet, it's important to consider which items can be moved to a different storage space. Prioritize your closet with sheets and towels first, followed by toiletries. If you have room for extra pillows and blankets, store those next. However, if there's not any space left, move them to a different area.
Pillows and blankets are bulky items that can take up precious space inside of your linen closet. Instead of allowing them to take over your closet, store them elsewhere to maximize your storage space. Here are some pillow and blanket storage ideas to consider:
Store them in decorative baskets in the corner of the bedroom or at the end of the bed.
Keep them neatly stored underneath the bed in storage bins.
Place them on the top shelf of your clothing closet or in bins on your closet floor.
Organize them inside of dresser drawers if you have extra space to spare.
---
5. Take Advantage Of Space-Saving Bags For Less Used Linens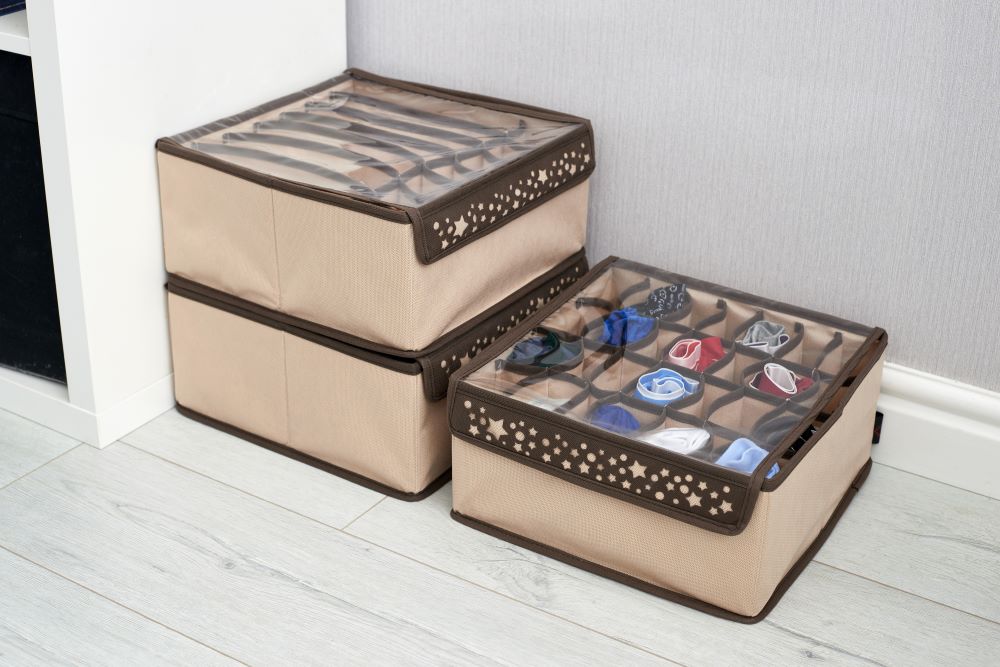 If your linen closet is overflowing with towels and sheets to the point where reorganizing them won't fix the mess, you need to take a different route. You may have too many sets of towels and sheets in your closet; storing them somewhere else can free up space.
Space-saving bags can help you store your surplus sheets and towels in an efficient way. These types of bags can fit neatly under your bed to keep them out of sight and out of mind. Decide which sheets and towels to store in bags versus the linen closet based on how often you use them.
Ultimately, if you have a lot of excess sheets and towels, you might just want to get rid of what you don't use. It's easy for many towel and sheet sets to build up over the years, and you may even forget what you have. If you haven't used it in a long time, chances are you can live without it.
---
6. Use Different Folding Techniques To Free Up Room In The Linen Closet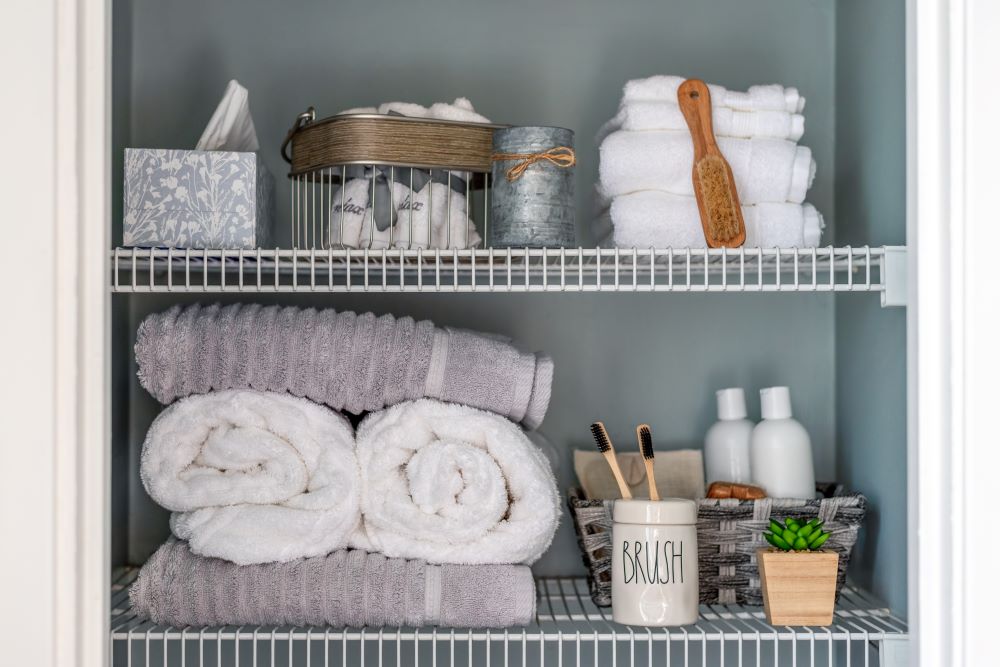 In order to smartly store your linens in the closet, it's important to fold them in ways that conserve space. While it's easy to quickly stack towels and sheets on top of each other on your shelves without thinking about it, it's better to take them time to get organized with your folding to keep the closet looking tidy.
How To Fold Towels & Sheets In The Linen Closet
Towels
Roll up towels and stack them on top of each other on the shelf, or stand them up vertically inside of a basket.
Fold up a towel set normally and stack them on top of each other based on size, starting with the biggest on the bottom and the smallest on top.
Fold and stack towels separately by categories such as size and color.
Sheets
Fold sheet sets together by laying out your largest sheet and folding the smaller parts of the set inside of the large one.
Fold and stack sheets by category – pillowcases, large sheets, and fitted sheets.
Keep sheet sets folded inside of individual baskets or bins.
---
7. Install A Wall Cabinet In Your Bathroom For Extra Towels That Don't Fit In The Linen Closet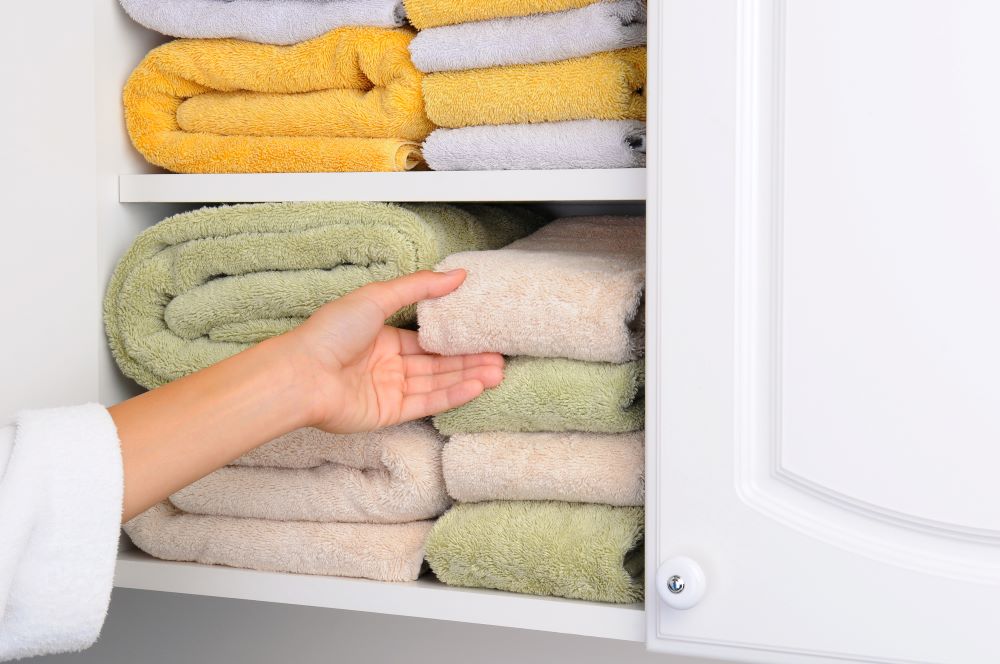 As previously mentioned in the other ideas for organizing your linen closet, you might need to move some of your closet items into another storage space. Storing some of your towels directly in your bathroom can free up the closet and make it even more convenient to grab when you need them.
Install a wall cabinet inside your bathroom to store your extra towels, folded neatly and organized by set. You can also store extra toiletries in this cabinet. This can work especially nicely in a guest bathroom so guests can have easy access to any necessities.
Alternatively, you can keep extra towels folded on a floating shelf on the bathroom wall, or under the sink if you have some room. Floating shelves are a great choice for small bathrooms because they don't take up much space and they can be installed in discreet areas such as the space over the bathroom door. Make the best use of your space to store your extra towels and keep your linen closet free of clutter.
---
Ready to start organizing your linen closet? Make it even easier by getting some organization tools to help you get started. Our selection of Storage Solutions has everything you need to stay tidy, including baskets and bins, space-saving bags, and much more!