7 Ways To Transform Your Living Room With Vintage Decor
The vintage decorating style can make any room feel old fashioned, charming, and nostalgic. With the help of patterns, materials, decorative accents and more, you can easily make your living room look vintage. Whether you just want to add some simple decorations, or you want to completely change up the entire room, here are 7 simple and affordable ways to transform your living room with vintage decor.
---
1. Use Vintage Fabrics To Transform Your Living Room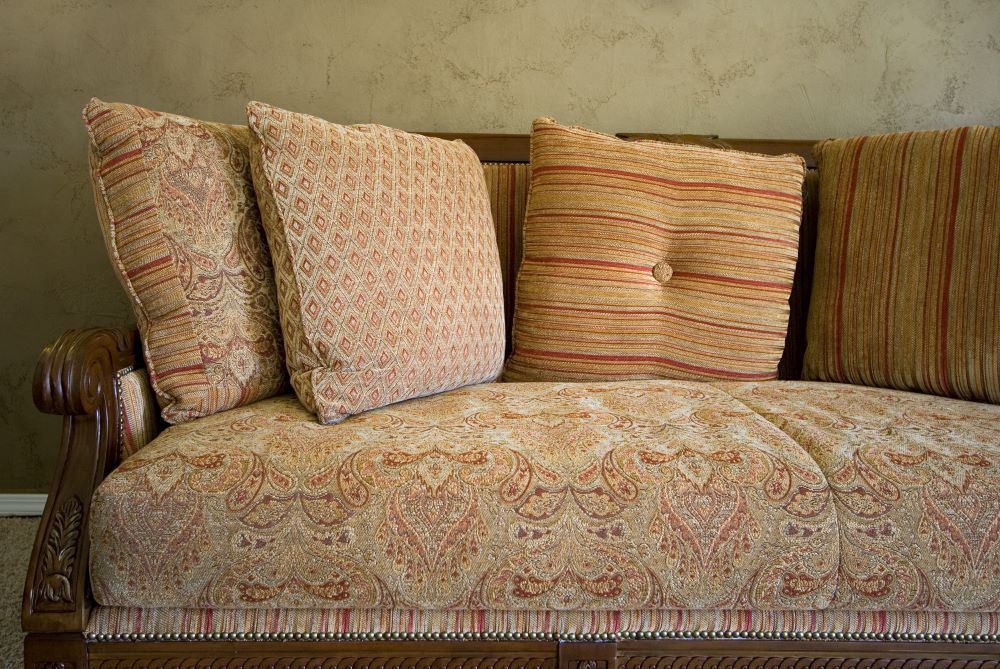 One of the first steps in making your living room look more vintage is to swap all the fabrics in the room for ones with vintage style patterns and colors. Fabrics can really set the stage for the theme of the room because they stand out as the main elements in your space.
There are so many opportunities for fabrics in your living room. For instance, you can change out your pillow covers, put slipcovers over your furniture, hang up new curtains, and even decorate with vintage patterned throw blankets. A large vintage area rug can also set the stage for your new theme and tie the room together.
When it comes to vintage patterns on these fabrics, aim for anything from scroll patterns to stripes to diamond patterns. Simply combine these patterns with either a warm color scheme of red and beige, or a more bright retro color scheme like teal and white. Decide on the type of vintage feeling you want in your room and go from there.
---
2. Swap Out Lamps & Lighting For A True Vintage Living Room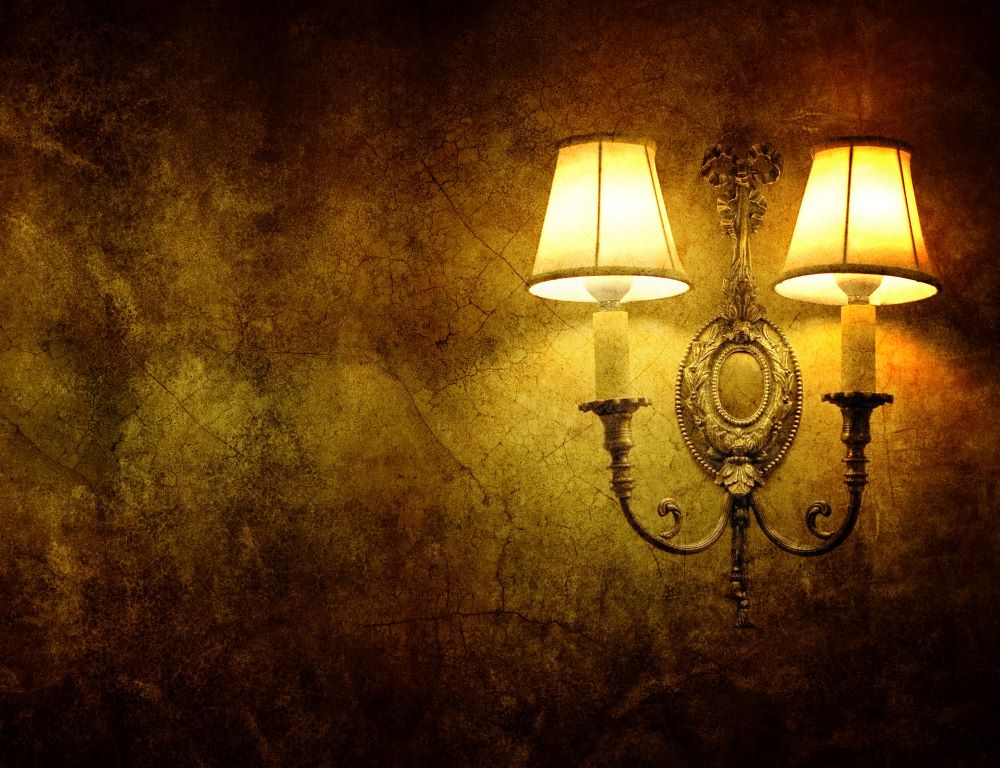 In addition to fabrics, lighting also plays a big part in setting the scene for any vintage living room. The main lighting and the accent lights can make any space feel warm or bright, depending on the type of lights you use.
For a vintage space, you'll typically want to use warm colored lights to get that comfortable nostalgic feeling in the room. Opt for soft white light bulbs to get that warm glow in the room. You can even use Edison bulbs or other old fashioned looking bulbs to amplify the vintage appearance.
Not only do you want to consider the light bulbs in the room, you also want to think about the types of lamps you use and the physical appearance of all the lights in the room. This can be anything from installing vintage-look wall sconces to swapping out the shades on your table lamps to even installing a chandelier in the room. Decide on how much time and money you're willing to put into the lighting and work with your budget to get the look that you want.
---
3. Add Old-Fashioned Accents To Your Living Room For A Vintage Feeling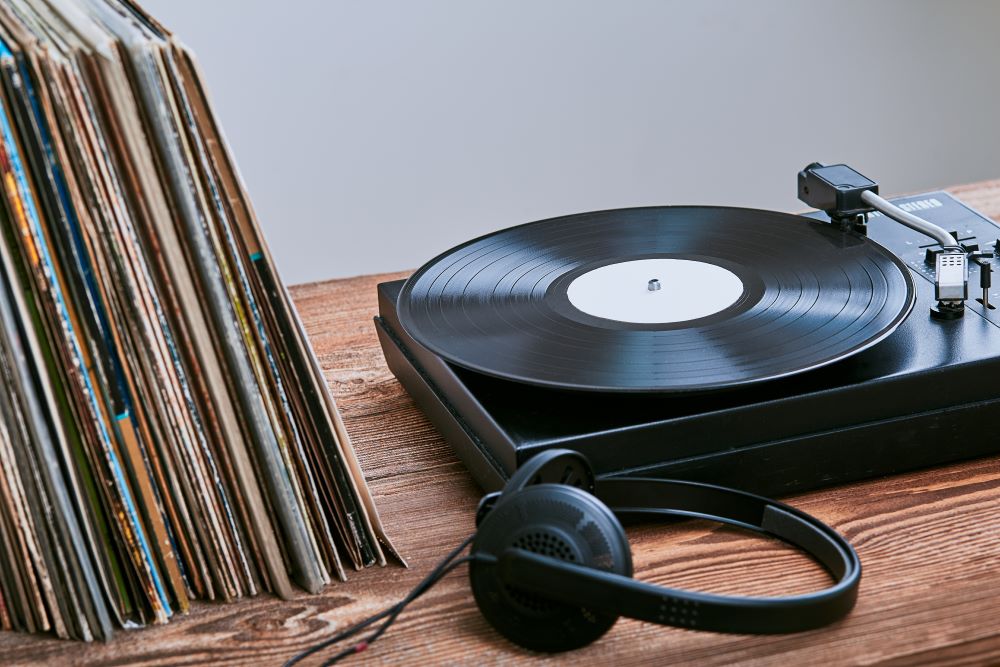 The smallest details in a room can make the biggest difference. If you're looking to transform your living room with vintage decor, put careful focus into the decorative accents you use in the room. For a truly authentic vintage style room, you can find decorations at thrift stores or even in your parents' storage unit. You can also simply find accents that have rustic finishes such as galvanized metal or distressed wood. These finishes give off an old fashioned look that can work well with your theme.
Vintage Decor Ideas To Accent Your Living Room
Record player
Retro marquee signs
Pendulum wall clock
Vintage music boxes
Vintage vase with fresh flowers
Distressed wood ladder
Lace mantel scarf
---
4. Use Alternative Items For Furniture For A Unique Vintage Living Room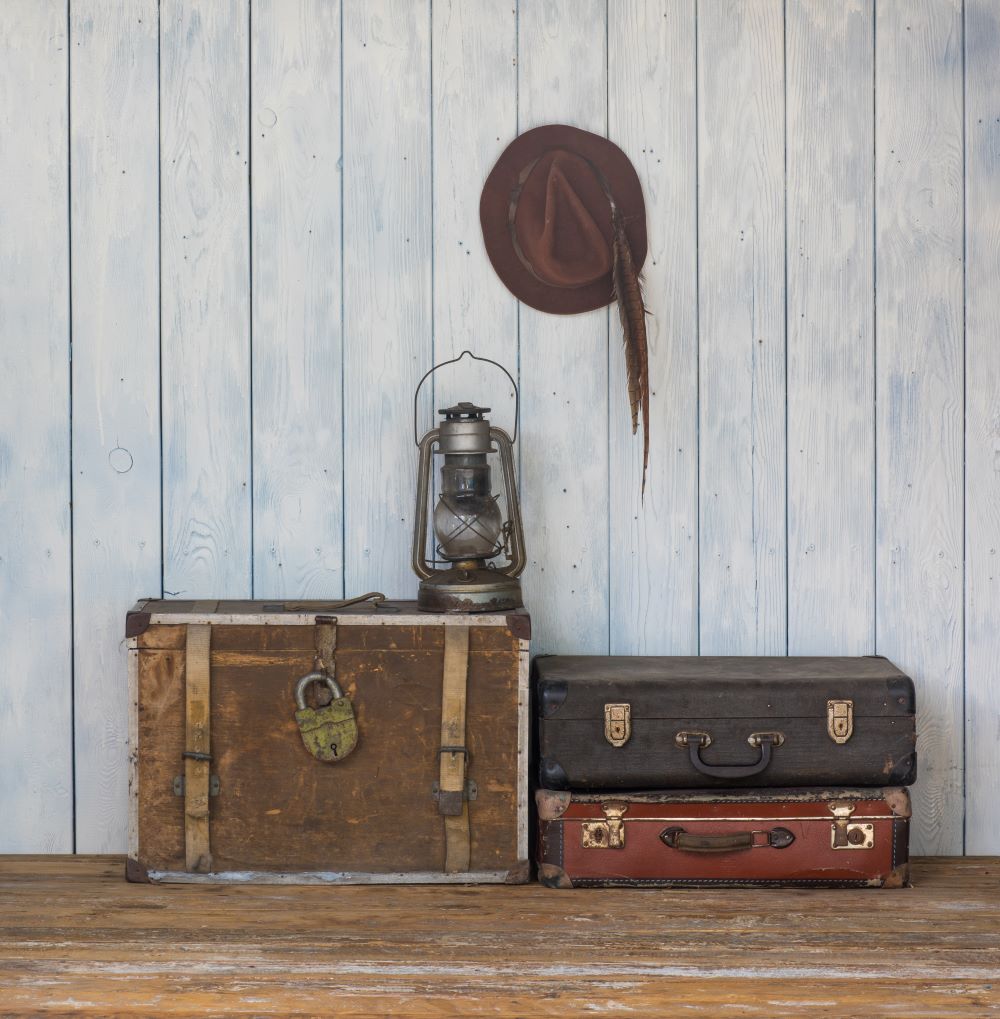 If you really want to stray away from the modern look as far as possible, you can get creative with the type of furniture you put in your living room. While you can simply incorporate a vintage couch and rustic coffee table, adding some alternative pieces can really give the room some character.
Think about ways you can transform and put together vintage items to make unique pieces of furniture in the room. You don't even necessarily need to be a natural at DIY projects; many times you can just use an unlikely item as a table or change up the use of a piece of vintage furniture. Here are some creative ideas to get you started:
Convert a stack of vintage suitcases into a side table
Use a large rustic treasure chest as a coffee table
Set up a vintage dresser as your TV stand
Use a vintage chair as a decorative table to display accents
---
5. Combine Different Colors & Patterns For A Charming Vintage Living Room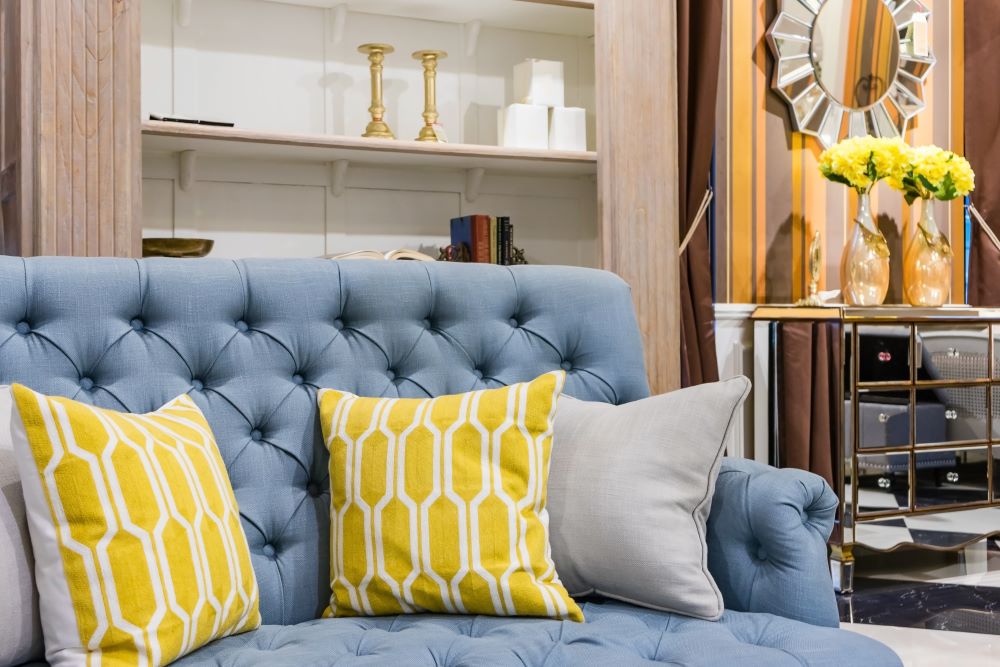 Another way to transform your living room with vintage decor is to play around with colors and patterns. Mismatched decorations can help achieve a charming nostalgic look and it can give the room a lot of funk and character. Don't be afraid to mix it up in ways that you aren't used to.
For instance, you can start with an orange and gray striped accent wall, paired with a blue couch, yellow throw pillows, and a defining area rug. Mix in some colorful accents, and window curtains in another color. Make sure to mix up some of the patterns you use around the room to give it that funky style.
It may seem difficult to let go of rhyme and reason with your color scheme and patterns, but you can take a look online for some inspiration if you need help. Many times, it just takes a simple inspirational image to understand the type of mismatched living room you want to achieve.
---
6. Set Up A Vintage Style Library In Your Living Room For A Sophisticated Space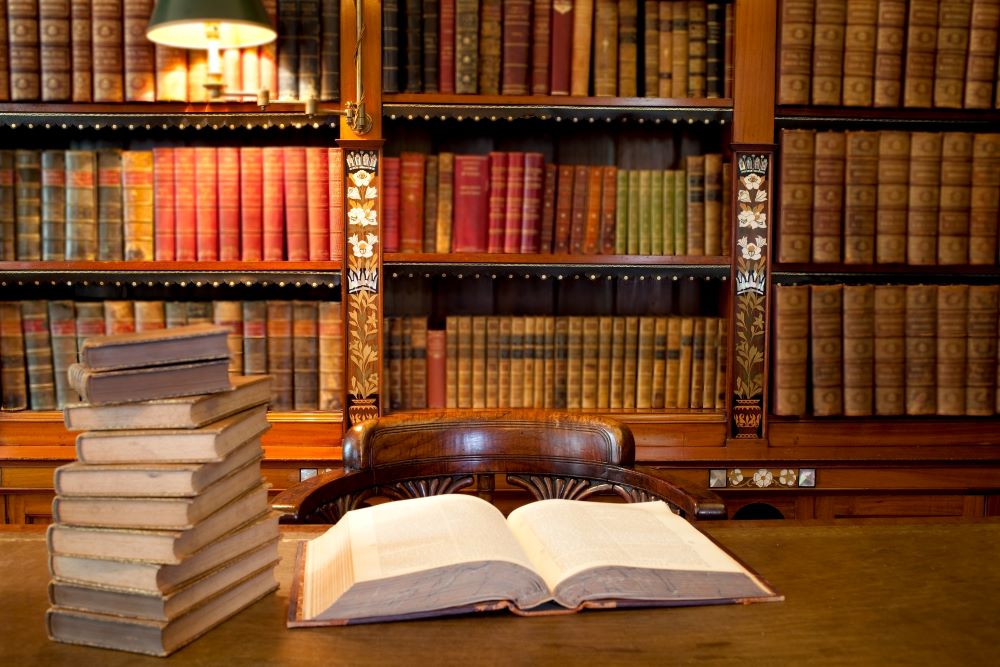 An even more unique way to develop a vintage themed living room is to turn it into a full on old fashioned library space. This typically works best in a larger living room, or if you have some extra space to spare. You can also create a mini version of a vintage library if you still want the look but in a smaller capacity.
How To Set Up A Vintage Library In Your Living Room
Start with the base. You're going to need some nice wood bookshelves for your home library. You can even alternatively install floating wall shelves for a different type of look.
Next, bring in the books. Most obviously, you can stock your shelves with thrifted books and old fashioned collections. But you can also use newer books with vintage covers on them. Either way, you'll get the general look and and appeal of a vintage library.
Finally, tie it all together with a seating area. This can include an elegant wood desk and chair, or a simple vintage accent chair in the corner.
---
7. Finish Off Your Vintage Living Room With An Old-Fashioned Mirror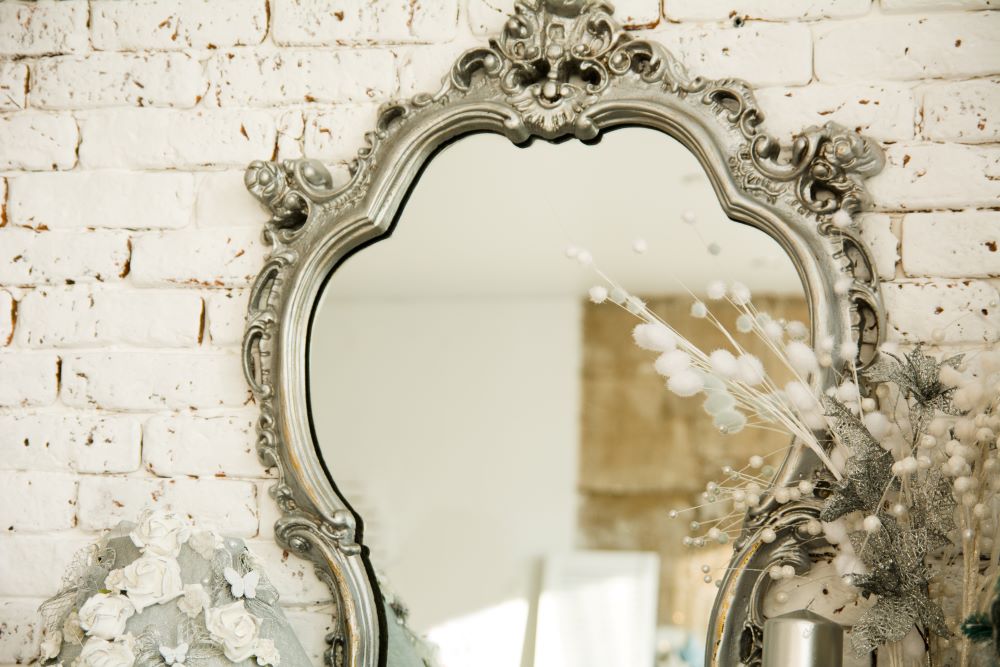 Lastly, every vintage living room needs at least one vintage mirror. This is a classy and elegant decoration that you can find in an antique shop or you can even DIY your own vintage look from a new mirror.
Mirrors in general are a great idea for the living room because they can open up the space and make it feel bigger than it is. Try to use multiple mirrors if possible, to bounce light around and to make your space look unique.
Place a vintage mirror on the wall above your mantel, behind your couch, and even place one on the floor and lean it against the wall. You can also create a decorative display by setting up a wooden table with a vintage mirror behind it and some old fashioned accents to match. A beautiful vintage mirror can make any space feel complete.
---
Now that you have some fresh ideas on how to transform your living room into the vintage style, it's time to check out our selection of Vintage Decor. Find everything you need for your living room including decorative accents, curtains, wall art, and more!
---
Read Next: 10 Vintage Decor Ideas For Every Room In Your House