Fall Warm-Up: Fall Casseroles to Try This Week
Now that it's fall, we're trading in our summer salads for meals to warm us up! One of our favorite things to make when it's cold is a good casserole. Not only do they warm us up, but they also carry the convenience of a one-dish meal! That translates to easy to make and easy to clean up! Here are 5 fall casseroles to try this week.
What Would John Wayne Eat? According to Cook'sInfo.com, actor John Wayne submitted (at least part) of a recipe for a casserole to Cooking with Love from Cara and Her Friends in the late 1970s. The recipe has since been passed on and modified by cooks across the country, but we liked the one Amanda's Cookin put together. It's ground beef mixed up with all the right ingredients for a delicious meal. With jalapeños and taco seasoning, it's got a kick, but the cheese and sour cream cool it down enough to savor it.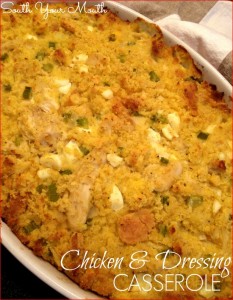 Comfort Chicken Chicken is probably the best base for a good casserole — add dressing to it and you have your one-dish meal! This chicken and dressing casserole comes from South Your Mouth. It's pretty easy to make — boil the chicken, saute the onions, toss in some cornbread dressing and bake! It's more complicated than that and there are a few more ingredients, but the process is pretty simple. It's the perfect weeknight meal the whole family can look forward to and you won't wear yourself out putting it together.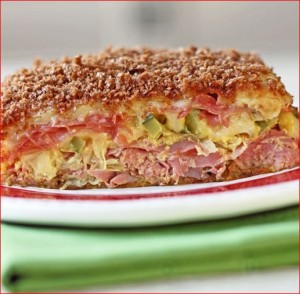 Sandwich Casserole Bet you've never thought to make a casserole out of your favorite sandwich! Well, Winner Dinners did the thinking for you with this recipe for baked reuben casserole. It's all of the ingredients of the classic sandwich chopped up, layered and baked for a very heavy one-dish meal. Winner, indeed.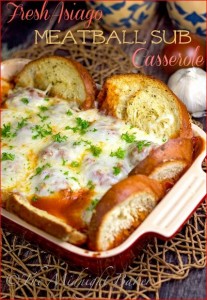 Since We Already Crossed That Line… Here's a meatball sub in the form of a casserole! Bake at Midnite came up with this one. It's pretty easy to put together if you like making meatballs. You just put them in a baking dish, line the edges with garlic bread and top with sauce and cheese. It's all the magic of a meatball sub without getting too sloppy to eat in front of other people.  That means you can lose all the extra napkins and eat your sandwich with a fork and knife like a civilized human being.

Something Borrowed, Something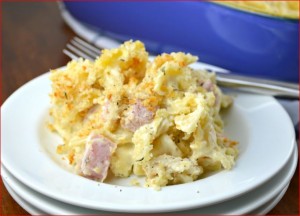 Bleu Chicken cordon bleu is Swiss in origin, but it's been a favorite in the United States for at least a half-century. It's ham and cheese wrapped in chicken to create a delightful surprise with each bite. Gonna Want Seconds took this idea and ran with it — she chopped the ham, cheese and chicken into bits and tossed in noodles to round it out as a one-dish meal. If you don't want to go to the trouble of making the Swiss classic, the Americanized version is just as good and easier to make.
As much as we hate to say goodbye to warm weather, LTD is excited to get to all the things that make fall and winter fun! From casseroles to warm up our meals on cold nights to holiday gifts to make the snowy days brighter, look to LTD to make any season your favorite season.