Halloween: Curious Facts About Candy Corn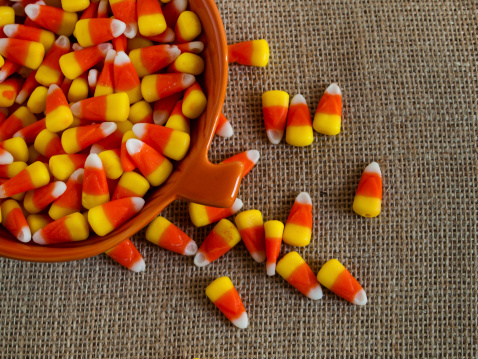 Our first big holiday of the season is here! Halloween brings with it so many traditions — carving pumpkins, dressing up as ghosts and goblins, and — every kid's favorite part — candy! While most of the candy we enjoy is made up of chocolate, candy corn is the one candy that's solely associated with Halloween. It's an interesting way for sugar to take shape with a unique texture you don't find in other candy. So we did a little research on these little nuggets of sugar to give you these curious facts about candy corn.
Farm Fowl Food Candy corn was first produced in the late 1800s, but it wasn't always known as "candy corn." The original name it was marketed with was "Chicken Feed." On the farm, chicken feed sometimes contains corn kernels, so it wasn't far off the mark where naming is concerned, but it might not be the most appetizing of titles for the general population. But farmers were into it and the original packaging included a rooster in the logo to help it sell. 
Pastry Particulars Aside from the shape and sugar, what draws people to candy corn is the texture. It's not quite hard but it's not quite soft and it has a creamy quality to it. We owe all that to fondant — it's sugar and water heated together until the mixture is moldable. Fondant is used by pastry chefs to make elaborate cakes that look like sculptures — things you can't do with regular buttercream frosting.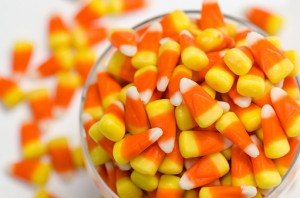 Secret Ingredient Like the name suggests, candy corn is typically made from corn syrup. However, Brach's Candy is the biggest producer of candy corn and it's not corn syrup that makes it sweet and chewy, rather, it's honey.
Meat Eaters Only Vegans steer clear of our favorite corn confection from Brach's because of the honey which is not a vegan food. But vegans and vegetarians won't find another candy corn brand to bend to their dietary restrictions because it contains marshmallow. Marshmallow is made with gelatin which is, basically, boiled down animal cartilage. Don't get too grossed out — it's in a lot of processed foods we eat every day, but it's on the list of things vegans and vegetarians consider off-limits.
Bug Luster Most candy corn has a sheen to it — and that sheen allegedly comes from shellac. Shellac is what you think it is, it's a resin mixed with alcohol to make wood finish and finger polish shimmer. What you might not know is that it's secreted from a bug found in India and Thailand. It's actually used in a lot of glazes we eat and things use every day. But if you're vegan, this is another reason you can't eat Halloween's most popular candy.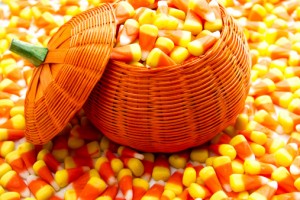 Mixing It Up If you're a candy corn enthusiast, you've had it in just about every shape and color like pumpkins and hay for Halloween or bunnies and chicks for Easter. But it Canada, you might find candy corn in colors and flavors you wouldn't expect! Imagine candy corn in purple with the flavor of a blackberry cobbler. Yep, that's how they do candy corn in Canada.
At LTD Commodities, we're excited about all the treats ahead of us! From bags of candy corn for Halloween to holiday cookies between Thanksgiving and New Year's Day, we can't wait for all the holiday excitement!