Game-Watching Gear for Supportive Parents
Summer is the busiest season of the year for parents of little athletes. Baseball, soccer and football are just a few of the major sports that require a big time commitment for families. Managing schedules and driving kids to their games is difficult enough. When you finally get to the field, it's important to be comfortable. Gather up some of our game-watching gear to relax on the sideline or the bleachers and protect yourself from the sun.
Best Seat in the House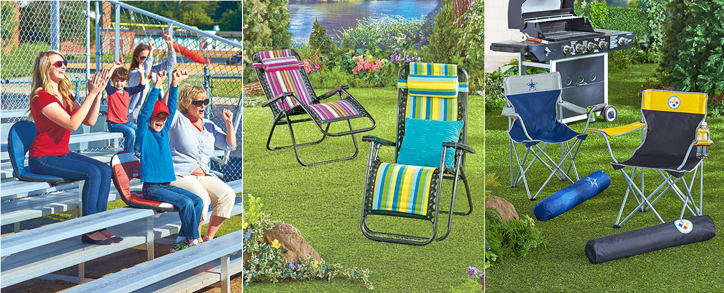 If you're sitting in the bleachers, support your back the entire game with the 5-Position Reclining Seat. It has a sturdy steel frame that's cushioned with high-density foam. Portable and lightweight, it has five adjustable positions for reclining. It folds flat for storage and has a shoulder strap for carrying. If you're taking a seat on the sidelines, you can't go wrong with the Zero Gravity Chair. Designed to cradle your body for a weightless feeling, it has a full range of motion that easily adjusts from an upright chair to a full reclining lounge. It boasts a heavy-duty steel pipe frame, has a removable headrest and folds flat when not in use. Another option for the sidelines is the easy-folding NFL Kickoff Chair. Lightweight and great for the constantly-traveling parent, it has a cup holder on the armrest and folds up into a carrying bag.
Surviving in the Sun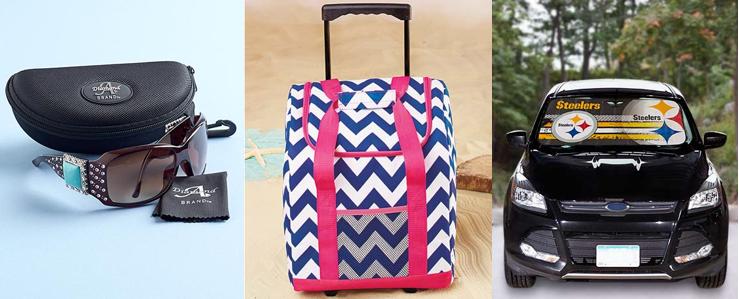 Shield yourself from the sun and watch in comfort with Women's Embellished Sunglasses with Case. The glamorous sunglasses feature a sturdy frame with rhinestones that'll keep you stylish the entire day. They come with a hard, zippered case and includes a cleaning cloth. Keep refrigeration at your fingertips on the sidelines or in the bleachers with the Collapsible Rolling Cooler. Fully lined and insulated to keep food and beverages nice and cold, it has a full zip cover for easy access to all your goodies. The sliding handle and wheels allow you to easily transport it from the parking lot. You may be cool watching the game, but your car has been sitting in the sun just as long. The NFL Universal Auto Sunshade protects your interior, blocking 99% of all UVA and UVB rays to maintain a cooler temperature in your car all day. The accordion design folds for storage. Fits most cars, SUVs and trucks.