Road Trip Checklist for a Smooth Ride
Summer is the perfect time to jump in the car, get on the open road and set out for a brand new destination. A road trip allows you to see some of the sights, listen to music and enjoy time with your family, friends and anyone else you might meet along the way. Although it's pretty tempting to pile into the car and speed to the nearest exit, a little planning can prevent big headaches down the road. Check out our road trip checklist to help plan your trip, pack your bags, stay organized on the road and boost your energy on longer drives.
Plan your road trip. Pack with a purpose.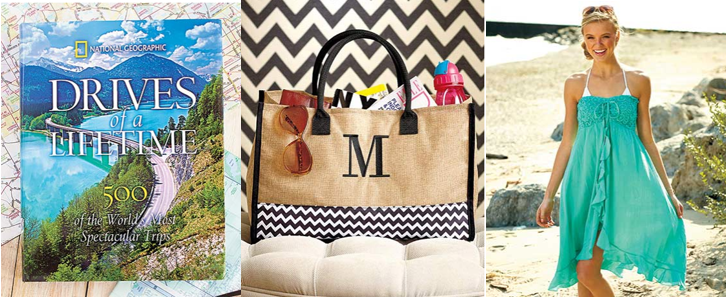 Hit the open road with Drives of a Lifetime Book. For over a century, National Geographic has been the best resource for savvy travelers. Inside you'll find incredible routes through amazing landscapes, whatever your taste and budget. The roomy Monogram Burlap Tote is the perfect blend of coy and confident. Marked with your initials, its unique, boxy shape is fashionable and functional. Feel comfy in the car and beautiful on the beach wearing a Women's and Women's Plus Crochet and Ruffle Cover-Up. The casual summer cover-up is accented with crochet detailing on the bodice. Its fashionable, ruffled hem extends up the center of the cotton cover-up. The stylish front design is 16″ shorter.
Organize the backseat. Entertain the kids.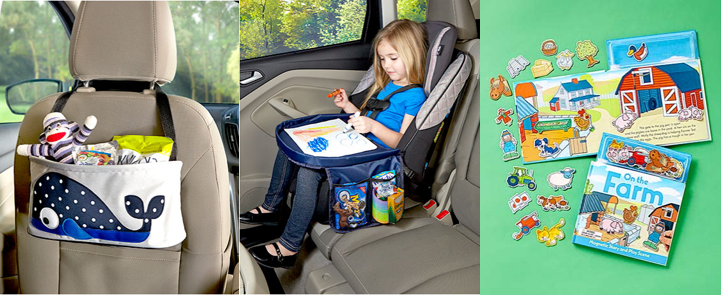 Keep everything your child needs close at hand during a road trip with this Whimsical Headrest Organizer Bag. Featuring a colorful animal image, it hangs from the headrest into the back seat and holds drinks, snacks, books or toys. On-the-Go Car Seat Tray makes long trips a lot more fun for small children and easier on you. The large tray has a wall bordering three edges to prevent dropped toys, bottles and snacks. It attaches to car seats using an adjustable strap. The Magnetic Play Scene Book gets kids involved in the story with movable pieces. It's easy to read and has magnets for many of the characters and objects that appear in the story. It has 20 magnets that will help bring the story to life.
Recharge your smartphone. Refuel for energy.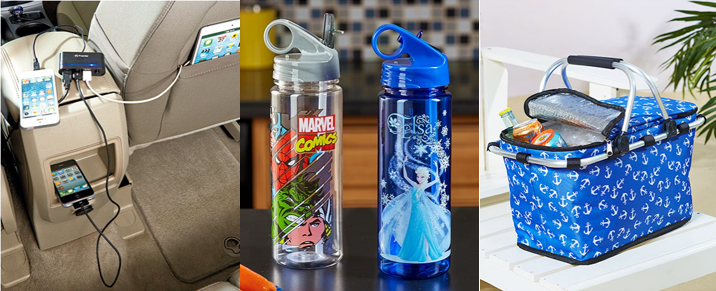 Charge your electronics on your road trip with this Triple USB Car Charger. Just plug it into your vehicle's 12V outlet and charge 3 devices at the same time. Two of the ports charge all types of cell phones. The third port can also charge a tablet. A 3-ft. cord makes it easy to charge from the backseat. Refrigerate in your car with the Collapsible Rolling Cooler. The cooler is fully lined and insulated to keep food and drinks cold. It has a full zip cover for easy access. Has a sliding handle and wheels for rolling between destinations. Keep hydrated while you're out and about with a Licensed Water Bottle. It features your favorite animated characters. Has a screw-on lid with a sip tip that folds in the top to stop spills. 20 oz.