How To Decorate A Christmas Dining Table
Your Christmas dining table should be a welcoming, festive, and comforting setting. You don't even need to limit your dining table decor to your Christmas dinner; you can keep your table decorated throughout the entire holiday season for some extra cheer. Whether you want to create a classic Christmas dining table, a winter wonderland setting, a rustic country Christmas style, or something else, you can easily transform your table with serveware and accents. If you need some inspiration, check out these festive tips on how to decorate a Christmas dining table.
---
Focus On Your Christmas Place Settings For A Welcoming Table
---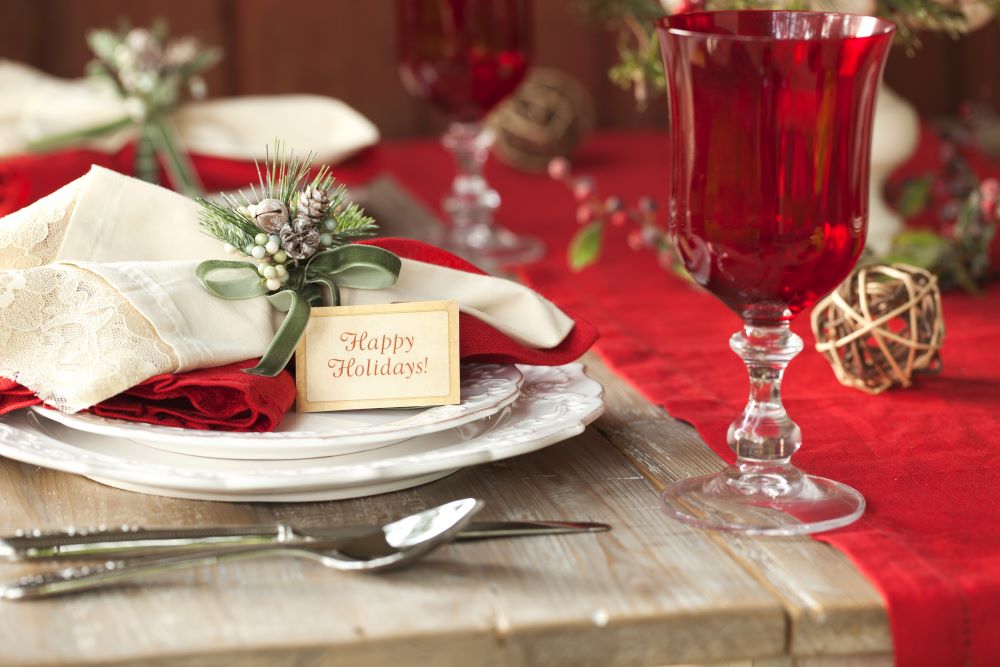 Every holiday dining table needs welcoming and charming place settings for the ultimate holiday dinner. Depending on your decor style, you can go in many different direction with your place settings. Whether you want a more elegant look, a casual and fun appearance, or a charming rustic table, you can easily transform your space with dishware and more.
Christmas Place Setting Ideas For Your Dining Table
Your place settings should be just as decorative and welcoming as the rest of your table decorations. Each Christmas place setting should be a combination of functional and festive. To achieve that balance, you can use special dishes, serveware, and utensils to give your table an extra Christmas charm. As mentioned, your setup will vary depending on your specific decor style. Check out some place setting ideas below for different types of Christmas decor styles.
Elegant Christmas Place Setting
An elegant Christmas dining table will give off feelings of classiness, fanciness, and formal holiday cheer. To create elegant Christmas place settings, start with a salad plate on top of a dinner plate. These dishes should be simple yet have a small element of elegance, such as a small pattern on the edges of the plates. From there, set up a folded napkin on top of the plates tied with Christmas ribbons. Then, display your silverware, along with a special wine glass.
Fun & Festive Christmas Place Setting
Setting up a fun and festive Christmas dining table is a great idea for big families and casual gatherings. This style gives off a bright and cheerful appearance filled with traditional holiday characters and colors. Start with festive placemats; these can be a solid color like red or green, or they can contain a holiday pattern. Then, set up your plates. The plates should be bright and festive as well. From there, you can set up napkins and silverware, along with fun name cards at each seat.
Rustic Christmas Place Setting
The rustic Christmas style will give your dining table a down to earth charm. For this style, focus on using rustic materials throughout the place settings. For example, you can start by setting up burlap placemats. Then, set up your plates. You can even think outside the box when it comes to your plates; for instance, use wood slice plates to emphasize a natural rustic style. Then, set up a small charming Christmas sentiment sign on each place setting. Finally, add your napkins and silverware.
Featured Product: LTD's Holiday Place Setting Collection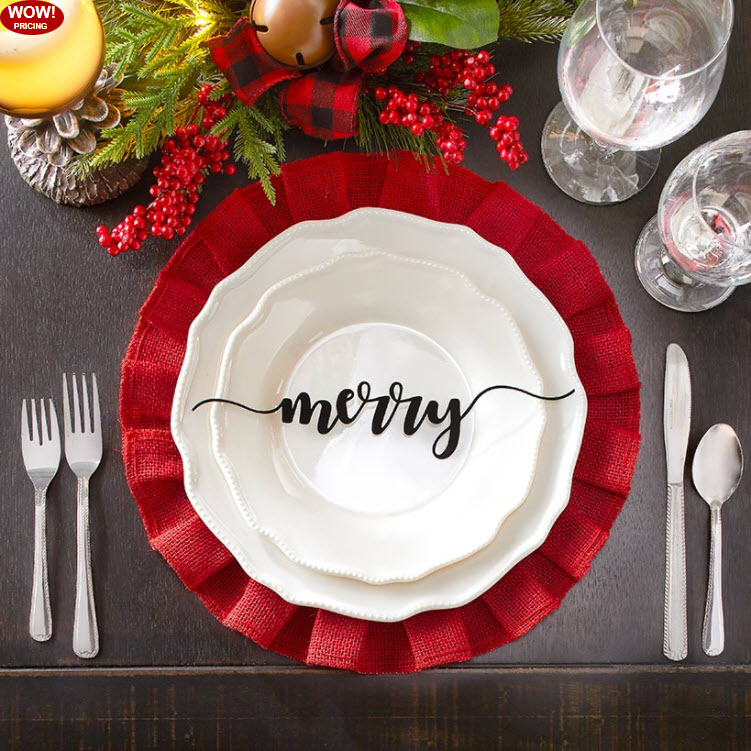 ---
Use Christmas Ornaments As Unique Dining Table Accents
---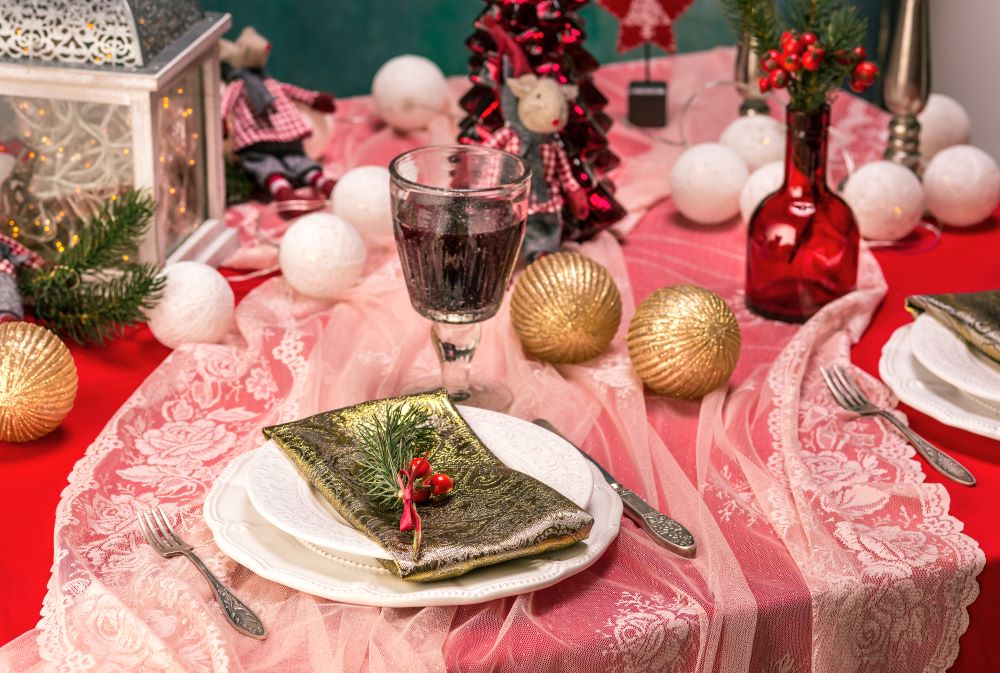 While a typical dining table features a tablecloth, a unique centerpiece, place settings, and nice dishware, it's important to add some extra elements to make the table special for Christmas. No matter what theme or decor style you have, adding touches of holiday charm and festive cheer to your table will make all the difference. Find unique ways to elevate your table for your Christmas dinner or for the whole holiday season.
A great way to add unique Christmas cheer to your dining table is to use ornaments as decorative accents. Since ornaments are typically only featured on the tree, this is a great way to think outside the box and make your table look more special and different for the holidays. Ball ornaments typically work best for decorative table accents; however, you can use a variety of ornaments depending on your table's decor style. Check out some festive ideas below for decorating with ornaments on the dining table.
How To Decorate With Ornaments On The Dining Table
Scatter ornaments around the table in a decorative way.

Fill up some clear lanterns with ornaments to display across the table.

Set up a bowl of ornaments in the middle of the dining table.

Use an ornament at each place setting.

Lay a garland across the table and place ornaments on it.

Display a mini Christmas tree as your centerpiece filled with ornaments.

Fill a vase with ornaments and then display faux Christmas flowers inside of it.
---
Incorporate Plaid Onto Your Christmas Dining Table
---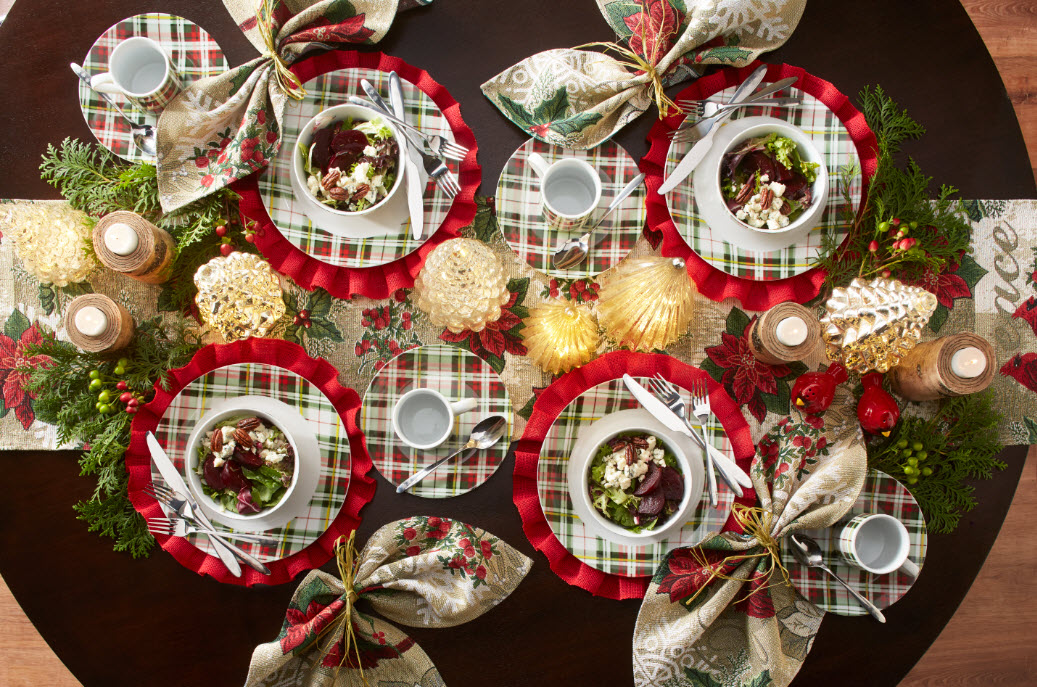 If you want your Christmas dining table to look especially festive, charming, and appealing, consider featuring plaid as your main pattern on the table. A plaid themed table can give off a warm, welcoming, and cozy feeling – perfect for any Christmas celebration. Feature plaid in a big way on the table to emphasize a charming and cheerful space, or use smaller elements of plaid to give off a more calm and subtle appearance.
Plaid Dining Table Decor Ideas For Christmas
You can easily incorporate plaid into almost any elements on your table, from the dishware to the decorative accents and more. Make sure to also consider the color scheme when adding your plaid elements; you'll want to assure that everything on the table flows smoothly. Check out some ideas below to include in your plaid Christmas dining table spread. Feel free to combine some of these ideas or use just one for a more simple holiday look.
Plaid name cards at each seat
Tablecloth or table runner
Plaid pillows at every chair
Placemats
Plaid patterned dishware or serveware
Cloth napkins
Plaid ribbon wrapped around Christmas garland
---
Set Up Your Christmas Dining Table With Lighted Decorations
---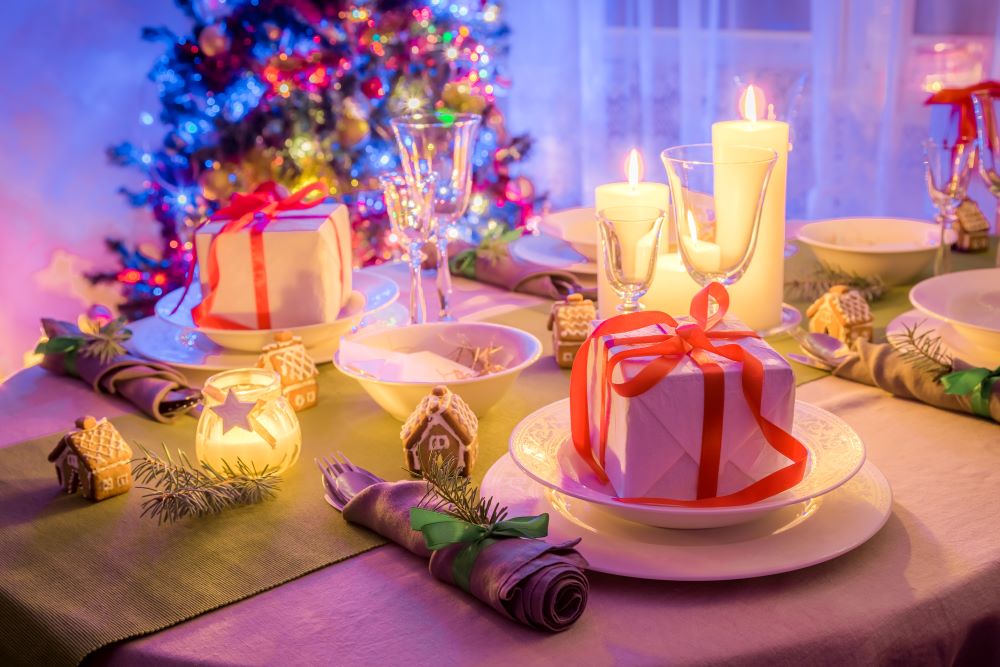 When decorating your Christmas dining table, it's nice to create a magical and bright environment to make the holiday even more special. This feeling can be created with almost any Christmas decor style; simple use lighted decorations throughout the table to elevate the wonderful aesthetic of the holiday season.
Lighted Decor Ideas For The Christmas Dining Table
There are so many different ways to light up your Christmas dining table with magical cheer. No matter how you decide to lay out your table, keep in mind that you may want to use warm lights instead of cool white lights. Warmer colored lights will help you maintain a calm and relaxing table setting, which is important for your holiday dinner. If you need some inspiration, here are some ideas below for lighted decor to add to your holiday dining table.
Use LED candles or real candles across the dining table with Christmas themed candleholders.
Display string lights across a table runner or wrapped around a garland.
Decorate with lighted Christmas houses and character figurines.
Set up a mini Christmas tree as your centerpiece filled with string lights.
Scatter lighted ornaments across the table.
Use LED placemats at each place setting.
Set up lanterns across the table.
---
Decorate Your Dining Table With An Unexpected Christmas Color Scheme
---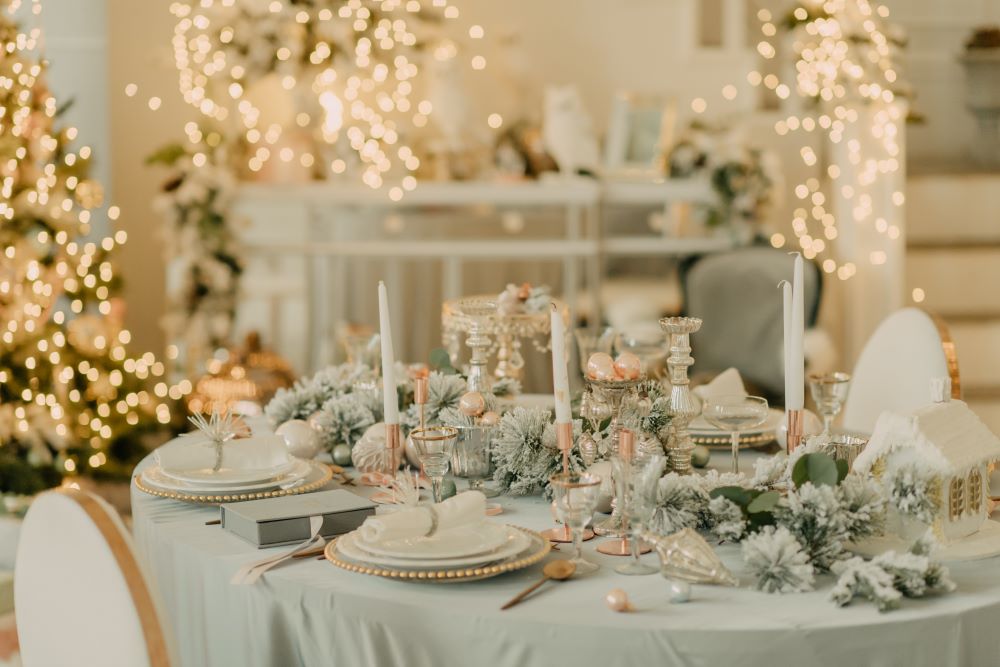 If you're looking to elevate your Christmas dining table even more, consider using an unexpected color scheme. While the traditional colors of Christmas are red and green, you can easily create a festive look using different types of colors on your table. Using a unique color scheme can give your dining table a unique look and can help make your holiday dinner experience even more interesting.
Something to keep in mind when choosing an alternative Christmas color scheme is that you'll typically want to use softer colors. Soft colors can help you maintain a relaxing and welcoming environment, which is always special during the holiday season. Choose colors that complement the rest of your decor in the dining room, or pick a brand new color scheme that will stand out in your space. If you're not sure what type of unexpected color scheme to use for your Christmas dining table, check out some ideas below for inspiration.
Unique Color Scheme Ideas For Your Christmas Dining Table
Rose gold and white
Gold and red
Teal and white
Pink, white, and green
Black and white
White and green
---
Now that you've check out some ideas on how to decorate a Christmas dining table, visit our Christmas Decor & More section to get started on decorating! Find festive table linens, holiday serveware, cheerful accents, lighted decorations, and much more to set up your space for the Christmas season.