How To Decorate Your Bedroom Farmhouse Style On A Budget
The farmhouse decor style incorporates warm rustic elements mixed with common farm themes such as barn stars, barn animals, and other country symbols. Whether you decorate with traditional farmhouse style or a more contemporary version of this style, you can achieve a welcoming and charming environment. From unique DIY projects to simple decorating hacks, here's how to decorate your bedroom farmhouse style on a budget.
---
Make A DIY Rustic Wood Headboard For Your Farmhouse Bedroom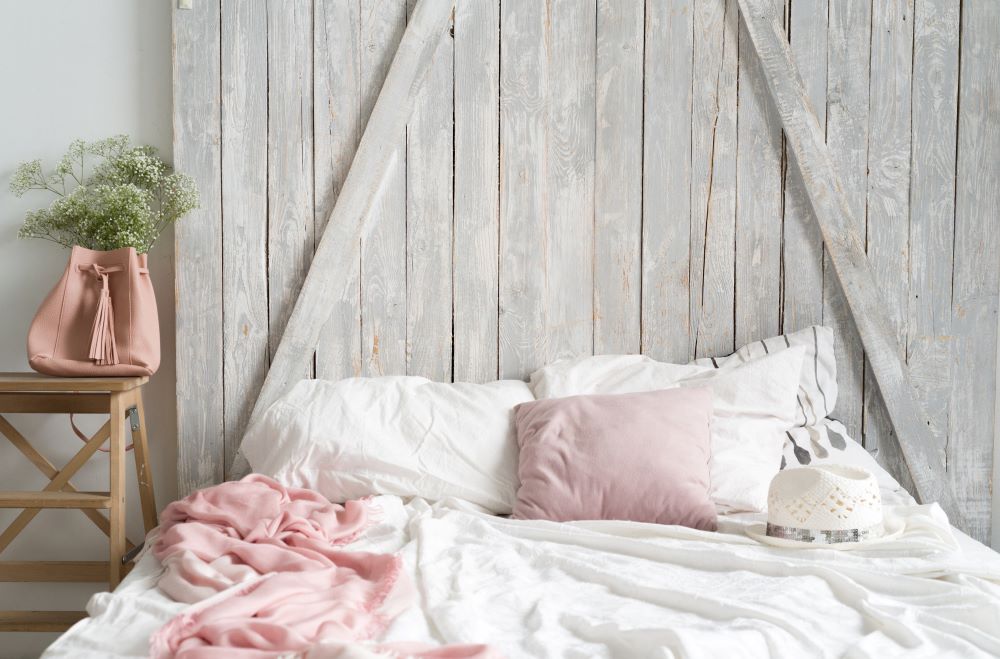 In order to create that rustic farmhouse look in your bedroom, your headboard is a great place to start. A distressed wood headboard will set up the area nicely and allow you to set an eye-catching centerpiece for the entire room. It'll also help you decide on bedding and other accents to add to the room afterwards.
Headboards can be pricey, and since you're looking to decorate your bedroom farmhouse style on a budget, we have an affordable alternative for you: craft your own! A DIY farmhouse headboard can look just as authentic and even more charming than a store bought one. The best part is, you don't have to be a master woodworker to make one (however, you may want to invite a friend to help you work on it).
You can easily find some wood planks to cut, sand down, paint, and nail together to create the look that you want. Alternatively, you can even use an old barn door or window shutters for makeshift headboard. The latter options may be easier if you aren't that handy – they may just require a little bit of sanding and painting!
---
Add A Sliding Barn Door To Your Bedroom For A True Farmhouse Style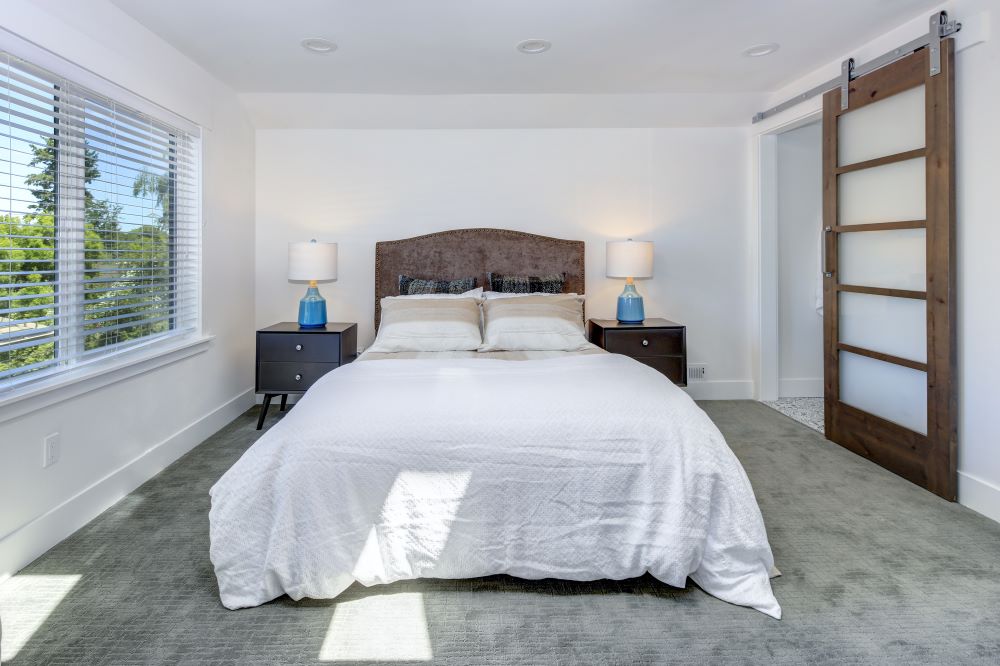 The farmhouse decorating style traditionally includes symbols and themes of a country life. Barn elements and barn animals are commonly seen in this decor style because they add to the charming and welcoming aesthetic.
Sliding barn doors inside your home have become increasingly popular, especially with the farmhouse style. Adding one to your bedroom can help you emphasize the theme and have a truly authentic looking home. Replace your current bedroom door with the sliding barn door or even use the sliding door for your master bathroom or closet.
While these types of doors can be a little pricey, they may save you money in other areas of your room. If you're willing to put your money into the door, you don't have to buy as many decorations for the room because the door is the main element of your decor style. Additionally, you can find more affordable ways to get a sliding door, such as finding an old barn door from a reclaimed wood shop and installing the door yourself.
---
Stick With A Simple Color Scheme To Create An Affordable Farmhouse Bedroom Space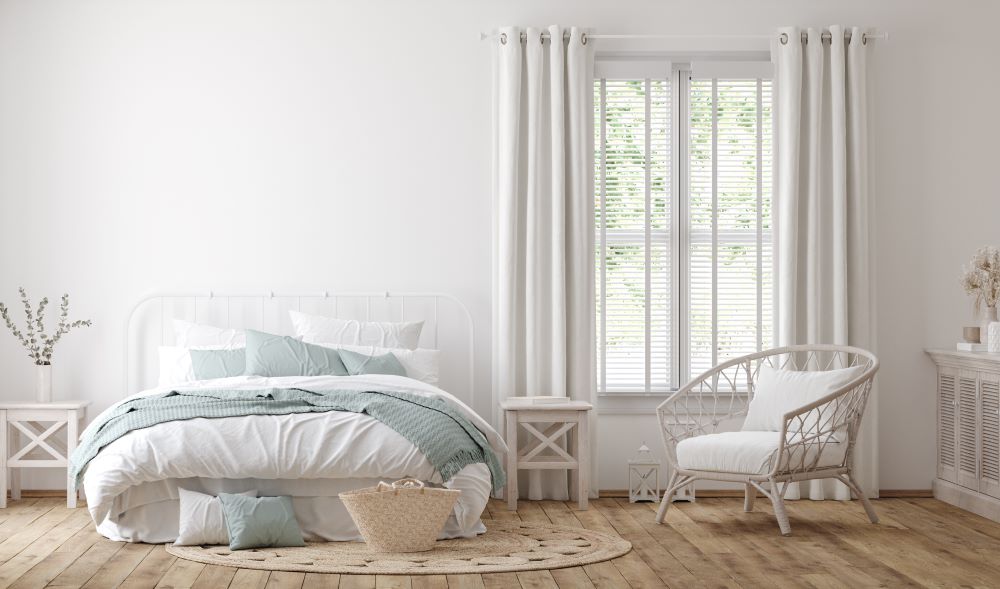 Color schemes can be fun to play around with in a bedroom because the possibilities are endless. However, if you want to save some money, it may be best to stick with two main colors. The more colors you have, the more you'll have to invest in decorations to spread your color scheme around the entire space. Using white as your main color will especially help you maintain an affordable space with a dash of another color.
There are many different color variations you can do when it comes to the farmhouse decor style, depending on if you want a more modern or a more traditional look. Luckily, this style is fairly flexible when it comes to colors; you can achieve the overall style with almost any colors that you want. Just be sure to keep in mind that farmhouse style is typically best achieved with light pastels and muted colors or the opposite – a warm color palette.
Farmhouse Style On A Budget: Color Scheme Ideas
White and muted teal
Red and beige
Light blue and white
Gray and white or black and white
Light green and beige
Muted yellow and beige
---
Decorate Your Dresser With Farmhouse Accents To Bring Out The Theme In Your Bedroom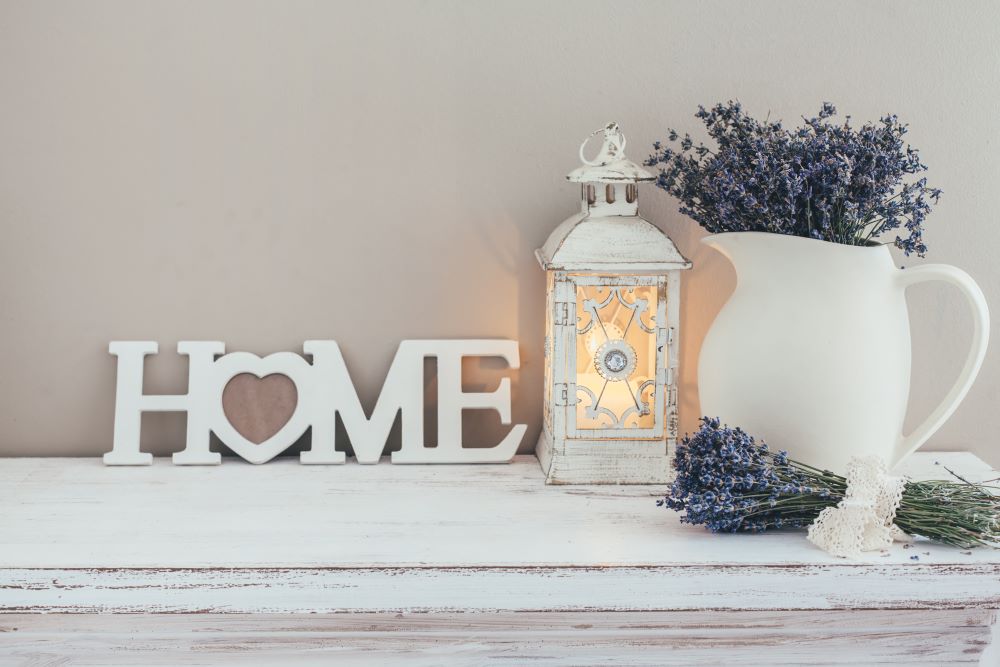 To stay on budget while decorating your bedroom farmhouse style, it's ideal to only invest your money in certain elements on the room. Decorative accents can really bring out the theme in a noticeable way. Consider spending most of your budget on small decorative accents while opting for more simple bedding and furniture.
Bedroom Decorative Accent Ideas: Farmhouse Style On A Budget
Galvanized metal planters with a dried lavender bunch
Distressed lanterns or lamps
Country sentiment signs
Barn animal wall art
Tiered tray with small rustic decor on each level
Rustic metal wall clock or tabletop clock
Distressed wooden floating shelves with small accents displayed
---
Get An Affordable Farmhouse Accent Wall In Your Bedroom With Peel And Stick Wallpaper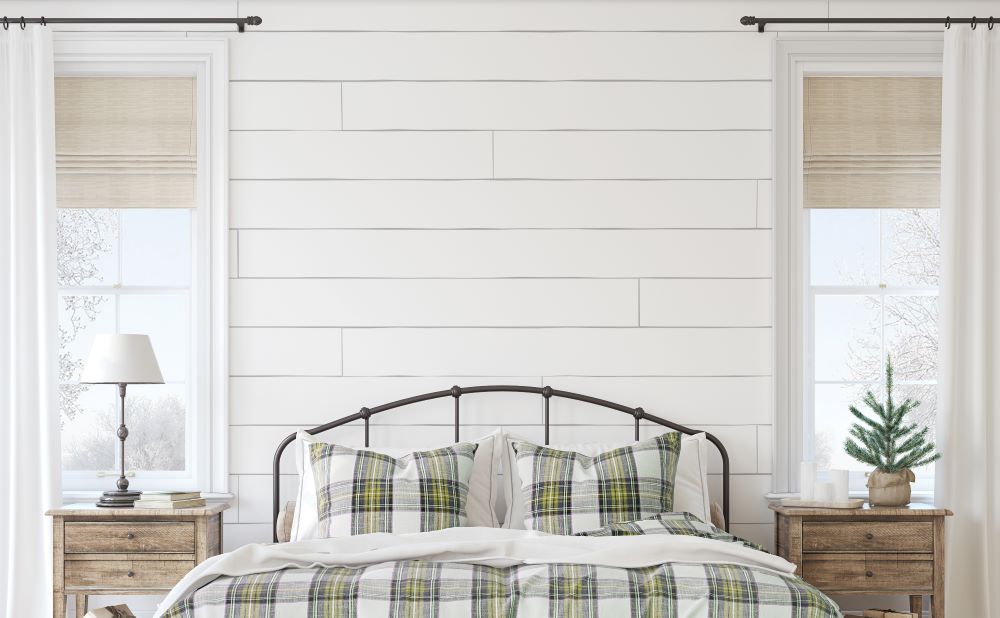 Your walls are a huge part of your farmhouse style bedroom; they can make or break the entire look that you're going for. A shiplap or wood plank accent wall is a popular idea with farmhouse style decorating, but it can be expensive depending on how you achieve it.
The easiest and most budget-friendly way to get this look is through peel and stick wallpaper. Not only is it super simple to apply to the wall, but it's also temporary, allowing you to change it up any time you want. It's an affordable option to choose while decorating your farmhouse style bedroom.
You can also use peel and stick wallpaper to get other farmhouse style looks in your bedroom. This can include anything from barn stars, barn animals, or something more simple such as stripes and checkered patterns. Decide on your accent wall or overall wall colors and themes before decorating the rest of your room. This will help you create a consistent and coordinated look throughout your entire bedroom. Combine this with the rest of these ideas, and you'll get the perfect farmhouse style on a budget!
---
Searching for more farmhouse style inspiration? Shop our selection of Farmhouse Country Decor to find decorative accents, bed and bath collections, kitchen linens, furniture, and much more!
---
Read Next: 5 Farmhouse Decorating Tips For Small Spaces