Items We Adore: Product Picks for Memorial Day
The trees are budding, flowers are blooming and the sun is so bright, we have to wear shades! Summer is so close and we're excited to kick off the season with a long weekend for Memorial Day. As travel plans are being sorted and cookouts are being organized, you'll need a few extra items to make your holiday weekend go smoothly. Here are this week's Items We Adore: Product Picks for Memorial Day.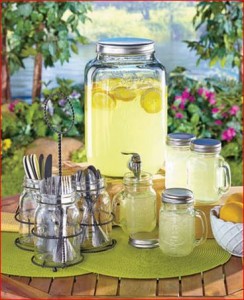 Mason Jar Entertaining Collection gives any gathering a hint of country charm. The Set of 4 Mugs includes silvertone lids that screw on the handled jars. In addition to being cute drinkware, they can also be used for food storage and countless craft projects. Fill up the Flatware Caddy with silverware to easily transport it to the dinner table. Three glass jars sit in the black metal rack so you can carry them with one hand. The Beverage Dispenser looks like a giant mason jar with a spigot at the bottom. It comes with a screw-on lid and is perfect for picnics and family gatherings. For cold beverages only.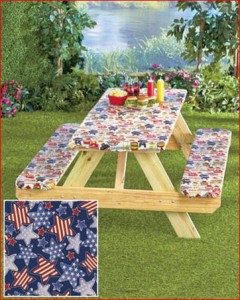 Transform the look of any picnic table with a vibrantly colored 3-Pc. Picnic Table Cover set. It's great for use on a picnic table in your backyard, forest preserve, parks or public picnic areas. Table cover and seat covers fit standard size picnic tables up to 42″ x 82″ tabletop and 8-1/2″ x 82″ seats. Covers have elastic binding for a custom fit. 
Enjoy a break from you hectic life and relax in our Swinging Chair Hammock. Hang it from a tree or on a stand (not included). Made of cotton canvas, it's held up by ropes on a wood frame. Features a foam-cushioned seat and back for extra comfort. Strong and durable, it holds up to 265 pounds.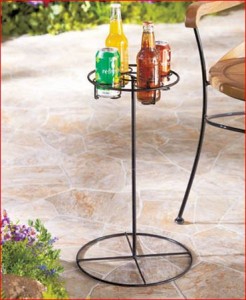 Outdoor Beverage Table is a practical way to hold up to 4 drinks while outdoors. Each 12-oz. can or bottle fits securely into the holder. It's perfect for the patio, deck, beach, or any outdoor spot. Simple assembly required. Sturdy metal construction.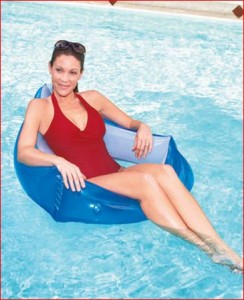 The triangle design of the Splash and Play Pool Lounge will have you relaxing in comfort. Its raised backrest helps to support your back as you float. Made of sturdy vinyl with safety valves.