Items We Adore: LTD's Product Picks for Kids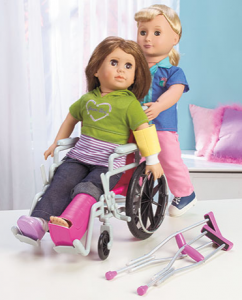 Though we haven't even carved the turkey, the kids are already counting down the days until they can dump their stockings on the floor and tear through gifts under the Christmas tree. Even if you've already bought the big gifts, there are still all sorts of little items to surprise your kids with, so we picked out a few of our favorite items to give you ideas. Here are today's Items We Adore: LTD's Product Picks for Kids.
Playing Doctor My Girl Wheelchair & Crutch Set has everything an 18″ girl doll needs to make a speedy recovery from a broken leg, ankle or arm. Each piece is designed to look like the real thing. The collapsible wheelchair has wheels that really turn and working brakes. The crutches are sized to fit an 18″ doll. Plastic. For ages 8 and up.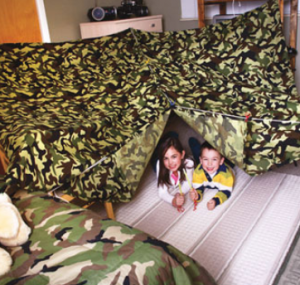 Playing Architect  Kids can build their very own fort with this complete Build a Fort Kit. Use the fabric panels (equipped with loops for stringing), rope, clips and suction cups to make a private playland. Once it's built, kids can use the light wands to illuminate the area inside the fort for hours of imaginative fun! Kit also includes a handy storage bag. Adult supervision suggested during assembly. For ages 3 and up.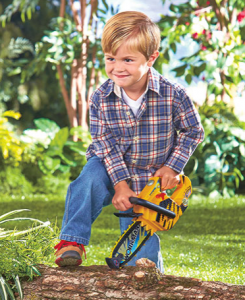 Playing Handy Man The tools of this Workman Tool Play Set are perfect for your future contractor. The Tool Belt with Helmet has all the needed tools and proper protection, and everything fits neatly on the belt. The Realistic Sound Power Chainsaw (14-1/2″W x 4-5/8″D x 7″H) has a realistic rotating chain action. Requires 3 "AA" batteries. Plastic. For ages 3 and up.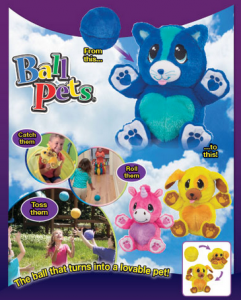 Playing Ball Roly-poly Ball Pets are plush balls with a surprise–they pop open to become a huggable furry friend. Roll it closed and it's a ball ready to toss and catch. Open it up for a plush pet you'll love to cuddle. Each character features a heart design on its stomach. Take it anywhere to play with open or closed. 5″ dia., closed. 5″W x 2-1/2″D x 8-1/2″H, open. Polyester. Imported.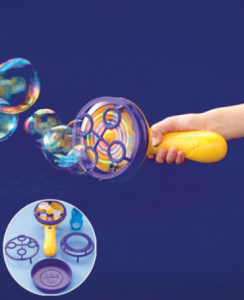 Playing Whimsically Delight kids with this Light-Up Motorized Bubble Storm. It comes with 2 different attachments, one for giant bubbles and one for tons of little bubbles. Easy to use–just dip the blaster into the tray of solution. A button on the handle controls fan movement and light-up designs. Comes with a jar of bubble solution to get you started. Includes 3 "AAA" batteries. Plastic. For ages 3 and up.